Abstract
This study investigates the effects of operational innovations, such as application of advanced information technology (IT) systems and supported knowledge and skills (SKSs), on care quality and customer loyalty in the healthcare industry. A research model is proposed based on previous studies and examined the relationships among the constructs using the structural equation modeling approach. Research data were collected through a survey of patients and employees of participating hospitals in Korea, with a patient and an employee as one set. The results of the study indicate that operational innovations result in improved customer closeness, which is associated with IT systems usage and SKSs for delivery of quality care, which have a positive impact on patient satisfaction and customer loyalty. Thus, hospital managers should encourage employees to generate new ideas for work efficiency, care quality, customer loyalty, and organizational performance.
Access options
Buy single article
Instant access to the full article PDF.
US$ 39.95
Tax calculation will be finalised during checkout.
Subscribe to journal
Immediate online access to all issues from 2019. Subscription will auto renew annually.
US$ 79
Tax calculation will be finalised during checkout.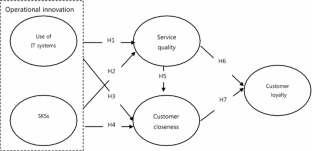 References
André B, Ringdal G, Loge J, Rannestad T, Laerum H, Kaasa S (2008) Experiences with the implementation of computerized tools in health care units: a review article. Int J Hum Comput Interact 24(8):753–775

Andreassen T, Lindestad B (1997) Customer loyalty and complex services: the impact of corporate image on quality, customer satisfaction and loyalty for customers with varying degrees of service expertise. Int J Serv Ind Manag 8(4):1–32

Barclay D, Higgins C, Thompson R (1995) The partial least squares (PLS) approach to causal modeling: personal computer adoption and use as an illustration. Technol Stud 2(2):285–324

Barki H, Titah R, Boffo C (2007) Information system use–related activity: an expanded behavioral conceptualization of individual-level information system use. Inf Syst Res 18(2):173–192

Barlow J, Roehrich J, Wright S (2013) Europe sees mixed results from public–private partnerships for building and managing health care facilities and services. Health Aff 32(1):146–154

Barnes J (1997) Closeness, strength, and satisfaction: examining the nature of relationships between providers of financial services and their retail customers. Psychol Market 14(8):765–790

Beltrán-Martín I, Roca-Puig V, Escrig-Tena A, Bou-Llusar J (2008) Human resource flexibility as a mediating variable between high performance work systems and performance. J Manag 34(5):1009–1044

Birken S, Lee S-Y, Weiner B, Chin M, Schaefer C (2013) Improving the effectiveness of health care innovation implementation: middle managers as change agents. Med Care Res Rev 70(1):29–45

Block D (2013) Disruptive innovation: contributing to a value-based health care system. Phys Exec 39(5):46–50

Bowen D, Siehl C, Schneider B (1989) A framework for analyzing customer service orientations in manufacturing. Acad Manag Rev 14(1):75–95

Brown T (2006) Confirmatory factor analysis for applied research. The Guilford Press, New York

Brown M, Bussell J (2011) Medication adherence: WHO cares? Mayo Clin Proc 86(4):304–314

Burton-Jones A, Straub D (2006) Reconceptualizing system usage: an approach and empirical test. Inf Syst Res 17(3):228–246

Buttar H (2016) Global care assistance and automation robots market, forecast to 2021. Frost & Sullivan. https://ww2.frost.com/

Carpenter D (2004) Capital and IT. Hosp Health Netw 78(5):7–9

Chesbrough H (2011) Open services innovation. Jossey-Bass, San Francisco

Consoli D, Mina A (2009) An evolutionary perspective on health innovation systems. J Evolut Econ 19(2):297–319

Drucker P (1998) The discipline of innovation. Harv Bus Rev 76(6):149–157

Eid M, Lischetzke T, Nussbeck F, Trierweiler L (2003) Separating trait effects from trait-specific method effects in multitrait–multimethod models: a multiple-indicator CT-C (M–1) model. Psychol Methods 8(1):38–60

Ennis K, Harringto D (2001) Quality management in Irish healthcare. Serv Ind J 21(1):149–168

Ferlie E, Fitzgerald L, Wood M, Hawkins S (2005) The nonspread of innovations: the mediating role of professionals. Acad Manag J 48:117–134

Fisher R (1955) Statistical methods and scientific induction. J Roy Stat Soc 17(1):69–78

Fosstenløkken S, Løwendahl B, Revang Ø (2003) Knowledge development through client interaction. Organ Stud 24:859–879

Frei F (2008) The four things a service business must get right. Harv Bus Rev 86(4):70–80

Furey T (1991) How information power can improve service quality. Plan Rev 19(3):24–26

Giorgio A (2011) ICT for telemedicine and health care innovation. Recent Pat Biomed Eng 4(2):110–125

Gnanlet A, Yayla-Kullu H (2013) Impact of national culture on the quality of information delivery in service. Serv Bus 8(1):135–169

Goldstein S, Schweikhart S (2002) Empirical support for the Baldrige award framework in US hospitals. Health Care Manag Rev 27(1):62–75

Goldstein S, Ward P, Leong G, Butler T (2002) The effect of location, strategy, and operations technology on hospital performance. J Oper Manag 20:63–75

Greenwood R, Hinings C, Brown J (1990) P2 form strategic management: corporate practices in professional partnerships. Acad Manag J 33:725–755

Gupta V, Gollakota K, Srinivasan R (2009) Business policy and strategic management: concepts and applications. PHI Learning Private Limited, New Delhi

Hallowell R, Schlesinger L, Zornitsky J (1996) Internal service quality, customer and job satisfaction: linkages and implications for management. Hum Resour Plann 19(2):20–31

Harkness J (2011) Guidelines for best practice in cross-cultural surveys. Survey Research Center, Institute for Social Research, University of Michigan, Michigan

Hartline M, Ferrell O (1996) The management of customer contact service employees: an empirical investigation. J Market 60(4):52–70

Hau L, Anh P, Thuy P (2017) The effects of interaction behaviors of service frontlines on customer participation in the value co-creation: a study of health care service. Serv Bus 11(2):253–277

Hay J, Hill A (2006) Service guarantee strength: the key to service quality. J Oper Manag 24(6):753–764

Herzlinger R (2013) Innovating in health care-framework, vol 314-017. Harvard Business School Background Note, Boston, pp 1–54

Heskett J, Thomas O, Loveman G, Sasser W, Schlesinger L (1994) Putting the service-profit chain to work. Harv Bus Rev 72(3):164–174

Homburg C, Stock R (2004) The link between salespeople's job satisfaction and customer satisfaction in a business-to-business context: a dyadic analysis. J Acad Mark Sci 32(2):144–158

Innovation 360 (2015) Operational innovation design workshop. http://i360institute.com/operational-innovation-design/

Karimi J, Somers T, Gupta Y (2001) Impact of information technology management practices on customer service. J Manag Inf Syst 17(4):125–158

Kenagy J (2001) A brief commentary on disruptive innovation in health care: US senate committee on commerce, science and transportation. http://commerce.senate.gov/hearings/072301Kenagy.pdf. Accessed 22 Dec 2015

Kim S, Choi J (1999) A study on strategy for improving health care service through quality function deployment. J Korean Soc Qual Manag 27(1):1–19

Koppel R, Metlay J, Cohen A, Abaluck B, Localio A, Kimmel S, Strom B (2005) Role of computerized physician order entry systems in facilitating medical errors. J Am Med Assoc 293(10):1197–1203

Korea Tourism Organization (2009). http://english.visitkorea.or.kr/enu/index.kto

Kreye M, Roehrich J, Lewis M (2015) Servitizing manufacturers: the importance of service complexity and contractual and relational capabilities. Prod Plan Control 26(14–15):1233–1246

Kubr M (2002) Management consulting: a guide to the profession, 4th edn. International Labour Organization, Geneva

Langabeer J (2007) Health care operations management. Jones and Bartlett, Sudbury

Langabeer J, Rose J (2003) Creating demand driven supply chains: concepts, economics, and strategies for demand driven organizations, 2nd edn. Spiro Press, London

Larivière B, Bowen D, Andreassen T, Kunz W, Sirianni N, Voss C, Wünderlich N, Keyser A (2017) Service encounter 2.0: an investigation into the roles of technology, employees and customers. J Bus Res. https://doi.org/10.1016/j.jbusres.2017.03.008

Lee S (2003) Korea: from the land of morning calm to IT hot bed. Acad Manag Exec 17(2):7–18

Lee T (2010) Turning doctors into leaders. Harv Bus Rev 88(4):50–58

Lee D (2015) The effect of operational innovation and QM practices on organizational performance in the healthcare sector. Int J Qual Innov 1(8):1–14

Lee D (2017) A model for designing healthcare service based on the patient experience. Int J Healthc Manag. https://doi.org/10.1080/20479700.2017.1359956

Lee S, Olson D (2010) Convergenomics: strategic innovation in the convergence era. Gower, Burlington

Lee S, Lee D, Kang C (2012) The impact of high performance work systems in the health care industry: employee reactions, service quality, customer satisfaction, and customer loyalty. Serv Indus J 32(1):17–36

Lee D, Hong K, Kim N (2016) Effects of hospital leadership, organizational systems, and ESWOS on medical error reduction. Serv Bus 10(1):159–177

Levine M, Birnbaum H (1998) Integrated health management: the patient-centred future of demand management. Dis Manag Health Outcomes 3(1):11–22

Li L, Benton W (2006) Hospital technology and nurse staffing management decisions. J Oper Manag 24:676–691

Liaw S (2002) Understanding user perceptions of world-wide web environments. J Comput Assist Learn 18(2):137–148

Lindlar J (2007) Electronic health record use and the quality of ambulatory care in the US. Arch Intern Med 167(13):1400–1405

Macintyre M, Bestwick S (2012) Opportunities to improve health visiting services through lean thinking in case studies in service innovation. In: Macaulay l, Miles I, Wilby J, Tan Y, Zhao L, Theodoulidis B (eds) Case studies in service innovation. Springer, New York, pp 95–100

Maizes V, Rakel D, Niemiec C (2009) Integrative medicine and patient-centered care. Explor J Sci Heal 5(5):277–289

Meyer S, Collier D (2001) An empirical test of the causal relationships in the Baldrige health care pilot criteria. J Oper Manag 19(4):403–425

Mishra A, Shah R (2009) In union lies strength: collaborative competence in new product development and its performance effects. J Oper Manag 27(4):324–338

Morash E (2001) Supply chain strategies, capabilities, and performance. Transp J 41(1):37–54

National Institute of Standards and Technology (NIST) (2017) 2017–2018 Baldrige excellence framework (Health Care). Gaithersburg, MD: Baldrige Performance Excellence Program. https://www.nist.gov/baldrige/self-assessing/baldrige-sector/health-care

Nemeth C, Cook R (2007) Healthcare IT as a source of resilience. International Conference on Systems, Management and Cybernetics, pp. 3408–3412

Nunnally J (1978) Psychometric theory, 2nd edn. McGraw Hill, New York

Parasuraman A, Zeithaml V, Berry L (1988) SERVQUAL: a multiple-item scale for measuring customer perception of service quality. J Retail 64(1):12–40

Peters T, Waterman R (1982) In search of excellence: lessons from America's best-run companies. Warner Books, New York

Platt R (2007) Speed bumps, potholes, and tollbooths on the road to panacea: making best use of data. Health Affair 26(2):w153–w155

Porter M, Teisberg E (2004) Redefining competition in health care. Harv Bus Rev 82(6):1–15

Pritschet L, Powell D, Horne Z (2016) Marginally significant effects as evidence for hypotheses: changing attitudes over four decades. Psychol Sci 27(7):1036–1042

Raposo M, Alves H, Duarte P (2009) Dimensions of service quality and satisfaction in healthcare: a patient's satisfaction index. Serv Bus 3(1):85–100

Rosenberg N (2009) Some critical episodes in the progress of medical innovation: an Anglo-American perspective. Res Policy 38(2):234–242

Sawhney R, Piper C (2002) Value creation through enriched marketing-operations interfaces: an empirical study in the printed circuit board industry. J Oper Manag 20(3):259–272

Stock G, McFadden K, Gowen C III (2007) Organizational culture, critical success factors, and the reduction of hospital errors. Int J Prod Econ 106:368–392

Tamayo-Torres I, Gutierrez-Gutierrez L, Haro-Dominguez M (2010) Innovation and operative real options as ways to affect organisational learning. Int J Technol Manag 49(4):421–438

Tan K (2002) Supply chain management: practices, concerns, and performance issues. J Supply Chain Manag 38(1):42–53

Thakur R, Hsu S, Fontenot G (2012) Innovation in healthcare: issues and future trends. J Bus Res 65(4):562–569

Windrum P (2014) Third sector organizations and the co-production of health innovations. Manag Decis 52(6):1046–1056

Yoon S, Choi D, Park J (2007) Service orientation: its impact on business performance in the medical service industry. Serv Indus J 27(4):371–388
Acknowledgements
This research was supported by the Bisa Research Grant of Keimyung University in 2015.
About this article
Cite this article
Hong, K., Lee, D. Impact of operational innovations on customer loyalty in the healthcare sector. Serv Bus 12, 575–600 (2018). https://doi.org/10.1007/s11628-017-0355-4
Received:

Accepted:

Published:

Issue Date:
Keywords
Operational innovation

Customer closeness

Service quality

Customer loyalty