Abstract
This paper develops a research model to examine the effect of e-service quality dimensions on customer-perceived value and customer loyalty. Based on a survey of 235 online customers, we identify five key e-service quality dimensions: care, reliability, products portfolio, ease of use, and security. Our empirical results show that all the five dimensions have significant and positive impacts on customer-perceived value which, in turn, increases customer loyalty. We further examine the mediating role of customer-perceived value in the relationship between each e-service quality and customer loyalty. The results suggest that customer-perceived value plays a partially mediating role in the effect of ease of use, care, product portfolio, and reliability on customer loyalty, and a fully mediating role in the relationship between security and customer loyalty. Managers may be in a position to benefit by employing the model presented in this study in an effort to improve service performance and, hence, retain customers.
Access options
Buy single article
Instant access to the full article PDF.
USD 39.95
Price excludes VAT (USA)
Tax calculation will be finalised during checkout.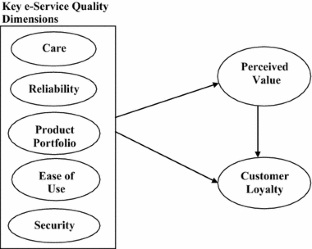 References
Bagozzi RP, Yi Y (1988) On the evaluation of structural equation models. J Acad Market Sci 16(1):74–94

Barcia SM (2000) Internet pharmacies: all hype with no help. Health Manag Technol 21(4):24–25

Baron RM, Kenny DA (1986). The moderator–mediator variable distinction in social psychological research: conceptual, strategic, and statistical considerations. J Personal Soc Psychol 51(6):1173–1182

Bolton RN, Lemon KN (1999) A dynamic model of customers' usage of services: usage as an antecedent and consequence of satisfaction. J Mark Res 36(2):171–186

Boulding W, Kalra A, Staelin R, Zeithaml VA (1993) A dynamic process model of service quality: from expectations to behavioral intentions. J Mark Res 30:7–27

Chen Z, Dubinsky AJ (2003) A conceptual model of perceived customer value in e-commerce: a preliminary investigation. Psychol Mark 20(4):323–347

Chiu HC, Hsieh YC, Kao CY (2005) Website quality and customer's behavioural intention: an exploratory study of the role of information asymmetry. Total Qual Manag Bus Excell 16(2):185–197

Cho N, Park S (2001) Development of electronic commerce user-consumer satisfaction index (ECUSI) for Internet shopping. Ind Manag Data Syst 101(8):400–405

Cohen RJ, Swerdlik MK, Smith DK (1992) Psychological testing and assessment: An introduction to tests and measurement. Mayfield Publishing Company, Mountain View

Cox J, Dale BG (2001) Service quality and e-commerce: an exploratory analysis. Manag Serv Qual 11(2):121–131

Cronin JJ, Brady MK, Hult GTM (2000) Assessing the effects of quality, value, and customer satisfaction on consumer behavioral intentions in service environments. J Retail 76(2):193–218

Davis FD (1989) Perceived usefulness, perceived ease of use, and user acceptance of information technology. MIS Q 13(3):319–340

Doll WJ, Torkzadeh G (1988) The measurement of end-user computing satisfaction. MIS Q 12:259–274

Doll WJ, Xia W, Torkzadeh G (1994) A confirmatory factor analysis of the end-user computing satisfaction instrument. MIS Q 18:43–461

Feinberg R, Kadam R (2002) E-CRM Web service attributes as determinants of customer satisfaction with retail Web sites. Int J Serv Ind Manag 13(5):432–451

Fornell C (1992) A national customer satisfaction barometer: the Swedish experience. J Market 56(1):6–21

Heim GR, Sinha KK (2001) Operational drivers of customer loyalty in electronic retailing: an empirical analysis of electronic food retailers. Manuf Serv Oper Manag 3(3):264–271

Hendrickson AR, Collins MR (1996) An assessment of structure and causation of is usage. Database Adv Inf Syst 27:1–67

Ho CT, Lin WC (2010) Measuring the service quality of internet banking: scale development and validation. Eur Bus Rev 22(1):5–24

Ibanez VA, Hartmann P, Calvo PZ (2006) Antecedents of customer loyalty in residential energy markets: service quality, satisfaction, trust and switching costs. Serv Ind J 26:633–650

Jiang L, Yang Z, Jun M (2013) Measuring consumer perception of online shopping convenience. J Serv Manag 24(2):191–214

Kehoe C, Pitkow J, Sutton K, Aggarwal G, Rogers JD (1999) Results of GVU's tenth world wide web user survey. Graphics Visualization and Usability Center, College of Computing, Georgia Institute of Technology, Atlanta, GA

Kim EB, Eom SB (2002) Designing effective cyber store user interface. Ind Manag Data Syst 102(5):241–251

Lee G, Lin H (2005) Customer perceptions of e-service quality in online shopping. Int J Retail Distrib Manag 33(2):161–176

Levesque T, McDougall GHG (1996) Determinants of customer satisfaction in retail banking. Int J Bank Mark 14:12–20

Li HF (2007) The impact of website quality dimensions on customer satisfaction in the B2C e-commerce context. Total Qual Manag Bus Excell 18(4):363–378

Liu C, Arnett KP (2000) Exploring the factors associated with web site success in the context of electronic commerce. Inf Manag 38:23–34

McMullan R, Gilmore A (2008) Customer loyalty: an empirical study. Eur J Mark 42:1084–1094

Nunnally JC, Bernstein IH (1994) Psychometric theory. New York: McGraw-Hall

Oliver RL, DeSarbo WS (1988) Response determinants in satisfaction judgments. J Consum Res 14:495–508

Page C, Lepkowska-White E (2002) Web equity: a framework for building consumer value in online companies. J Consum Mark 19(2/3):231–248

Parasuraman A, Grewal D (2000) The impact of technology on the quality-value-loyalty chain: a research agenda. J Acad Mark Sci 28(1):168–174

Parasuraman A, Zeithaml VA, Berry LL (1988) SERVQUAL: a multiple-item scale for measuring consumer perceptions of service quality. J Retail 64(1):12–40

Parasuraman A, Zeithaml VA, Berry LL (1991) Refinement and reassessment of the SERVQUAL scale. J Retail 67(4):420–450

Parasuraman A, Zeithaml VA, Malholtra A (2005) E-S-QUAL: a multiple-item scale for assessing electronic service quality. J Serv Res 7(3):213–235

Podsakoff PM, Organ DW (1986) Self-reports in organizational research: problems and prospects. J Manag 12(4):531–543

Pollack BL (2009) Linking the hierarchical service quality model to customer satisfaction and loyalty. J Serv Mark 23(1):42–50

Ranaweera C, Neely A (2003) Some moderating effects on the service quality-customer retention link. Int J Oper Prod Manag 23(2):230–248

Sheehan KB, Hoy MG (2000) Dimensions of privacy concerns among online consumers. J Public Policy Mark 19(1):62–73

Srinivasan SS, Anderson R, Ponnavolu K (2002) Customer loyalty in e-commerce: an exploration of its antecedents and consequences. J Retail 78(1):41–50

Szymanski DM, Hise RT (2000) E-satisfaction: an initial examination. J Retail 76(3):309–322

Teo HH, Oh LB, Liu C, Wei KK (2003) An empirical study of the effect of interactivity on web user attitude. Int J Hum Comput Stud 58(3):281–305

Tsao WC, Tseng YL (2011) The impact of electronic-service quality on online shopping behavior. Total Qual Manag Bus Excell 22(9):1007–1024

Wang CY (2010) Service quality, perceived value, corporate image, and customer loyalty in the context of varying levels of switching costs. Psychol Mark 27(3):252–262

Wolfinbarger MF, Gilly MC (2003) eTailQ: dimensionalizing, measuring and predicting eTail quality. J Retail 79(3):183–198

Yang Z, Peterson RT (2004) Customer perceived value, satisfaction, and loyalty: the role of switching costs. Psychol Mark 21(10):799–822

Yang Z, Jun M, Peterson RT (2004) Measuring customer perceived online service quality: scale development and managerial implications. Int J Oper Prod Manag 24(11):1149–1174

Yang Z, Cai S, Zhou Z, Zhou N (2005) Development and validation of an instrument to measure user perceived service quality of information presenting Web portals. Inf Manag 42(4):575–589

Yen HJR, Gwinner KP (2003) Internet retail customer loyalty: the mediating role of relational benefits. Int J Serv Ind Manag 14(5):483–500

Yen CH, Lu HP (2008) Effects of e-service quality on loyalty intention: an empirical study in online auction. Manag Serv Qual 18(2):127–146

Zeithaml VA, Berry LL, Parasuraman A (1996) The behavioral consequences of service quality. J Mark 60:31–46

Zeithaml VA, Parasuraman A, Malhotra A (2002) Service quality delivery through Web sites: a critical review of extant knowledge. J Acad Mark Sci 30(4):362–375

Zeng F, Hu Z, Chen R, Yang Z (2009) Determinants of online service satisfaction and their impacts on behavioral intentions. Total Qual Manag Bus Excell 20(8):953–969

Zhang X, Prybutok VR (2004) An empirical study of online shopping: a service perspective. Int J Serv Technol Manag 5(1):1–13
Acknowledgments
The authors acknowledge grants from the Research Grant Council of Hong Kong SAR (CityU 196513), City University of Hong Kong (9680022) and National Science Foundation of China (71172215).
Additional information
Ling Jiang, Minjoon Jun and Zhilin Yang contributed equally to this work.
About this article
Cite this article
Jiang, L., Jun, M. & Yang, Z. Customer-perceived value and loyalty: how do key service quality dimensions matter in the context of B2C e-commerce?. Serv Bus 10, 301–317 (2016). https://doi.org/10.1007/s11628-015-0269-y
Received:

Accepted:

Published:

Issue Date:

DOI: https://doi.org/10.1007/s11628-015-0269-y
Keywords