Abstract
Although the different perspectives of outsourcing—strategic versus economic—are taken into account in this research, our main objective is not to analyze the main reasons underlying this logic or to explain the decision behind outsourcing different activities. Instead, we aim to carry out a thorough analysis of the relationship between the characteristics of different service activities in terms of complexity, from a development point of view and the amount of knowledge firms' gain from it and the theoretical approach underlying the outsourcing process. In this article, we test this proposal by analyzing the decisions to outsource services in R&D activities in the agrochemical industry.
Access options
Buy single article
Instant access to the full article PDF.
US$ 39.95
Tax calculation will be finalised during checkout.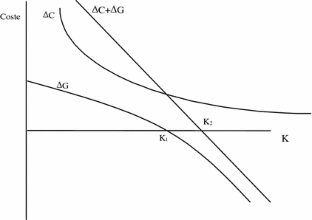 Notes
1.

The findings of this study are part of a wider research project which has studied outsourcing activities in Spanish agrochemical firms. For this article, we have only used the information on R&D activities.
References
Amese F, Dragoste L, Nollet J, Ponce S (2001) Issues on partnering: evidences from subcontracting in aeronautics. Technovation 21:559–569

Argyres N (1996) Evidence on the role of firm capabilities in vertical integration decisions. Strategic Manage J 17:129–150

Armour H, Teece D (1980) Vertical integration and technological innovation. Rev Econ Stat 60:470–474

Audretsch D, Menkveld A, Thurik R (1996) The decision between internal and external R&D. J Inst Theor Econ 152:519–530

Bailey W, Masson R, Raeside R (2002) Outsourcing in Edinburgh and the Lothians. Eur J Purch Suppl 8:83–95

Balakrishnan S, Wernerfelt B (1986) Technical change, competition and vertical integration. Strategic Manage J 7:347–359

Barney J (1999) How a firm's capabilities affect boundary decisions. Sloan Manage Rev 40(3):137–145

Barreyre PY (1988) The concept of impartition poilicies: a different approach to vertical integration strategies. Strategic Manage J 9:507–520

Bartlett C, Ghoshal S (1987) Managing across borders: new strategic requirements. Sloan Manage Rev 29(1):7–17

Bettis R, Bradley S, Hamel G (1992) Outsourcing and industrial decline. Acad Manage Exec 6(1):7–22

Bidault F, Fischer W (1994) Technology transactions: networks over markets. R&D Manage 24(4):373–386

Brickley J, Smith C, Zimmerman J (1997) Vertical integration and outsourcing. In: Irwin RD (ed) Managerial economic and organizational architecture, vol 15. Times Mirror Higher Education Group, Inc. Company, Los Angeles, CA, pp 351–381

Bryce D, Useem M (1998) The impact of corporate outsourcing on company value. Eur Manage J 16(6):635–643

Caloghirou Y, Kastelli I, Tsakanikas A (2004) Internal capabilities and external knowledge sources: complements or substitutes for innovative performance? Technovation 24:29–39

Caputo M, Zirpoli F (2002) Supplier involvement in automotive component design. Int J Technol Manage 23(1,2,3):129–154

Chiesa V, Manzini R, Pizzurno E (2004) The externalisation of R&D activities and the growing market of product development services. R&D Manage 34(1):65–76

Collis D, Montgomery C (1998) Corporate strategy. A resource-based approach. McGraw-Hill, New York

Conner K, Prahalad CK (1996) A resource-based theory of the firm: knowledge versus opportunism. Organ Sci 7(5):477–501

D'Acosta AP (2002) Software outsourcing and development policy implications: an Indian perspective. Int J Technol Manage 24(7–8):705–723

Dierickx I, Cool K (1989) Asset stock accumulation and sustainability of competitive advantage. Manage Sci 35(12):1504–1513

Domberger S (1998) The contracting organization. A strategic guide to outsourcing. Oxford University Press, Oxford

Earl M (1996) The risks of outsourcing IT. Sloan Manage Rev 37:335–357

Espino-Rodríguez T, Padrón-Robaina V (2005) The management perception of the strategic outsourcing services: an empirical examination in the hotel sector. Serv Ind J 25(5):689–708

Espino-Rodríguez T, Padrón-Robaina V (2006) A review of outsourcing from the resource-based view of the firm. Int J Manag Rev 8(1):49

Finlay P, King R (1999) IT sourcing: a research framework. Int J Technol Manage 17(1–2):109–128

Foss N (1996) Capabilities and the theory of the firm. Rev Econ Ind 77:7–28

García Vázquez JM (1995) La subcontratación: Hacia adelante, ¿con marcha atrás? Alta Dirección 182:67–87

Grant R (1996) Toward a knowledge-based theory of the firm. Strategic Manage J 17:109–122

Gupta M, Zhender D (1994) Outsourcing and its impact on operations strategy. Product Inventory Manage J 3:70–75

Helfat C (1994) Firm-specificity in corporate applied R&D. Organ Sci 5(2):173–184

Helfat C (1997) Know-how and asset complementarity and dynamic capability accumulation: the case of R&D. Strategic Manage J 18(5):339–360

Hendry J (1995) Culture, community and networks: the hidden cost of outsourcing. Eur Manage J 13(2):193–200

Hill CW, Jones G (1998) Strategic management theory. An integrated approach, 4th edn. Houghton Mifflin Company, Boston, NY

Hodgson G (1998) Competence and contract in the theory of the firm. J Econ Behav Organ 35:179–201

Hoecht A, Trott P (2006) Innovation risks of strategic outsourcing. Technovation 26:672–681

Jiang B, Frazier G, Prater E (2006) Outsourcing effects on firms' operational performance: an empirical study. Int J Oper Product Manage 26(12):1280

Kakabadse A, Kakabadse N (2005) Outsourcing: current and future trends. Thunderbird Int Bus Rev 47(2):183–204

Klepper R, Jones W (1997) Outsourcing information technology, systems and services. Prentice Hall, Upper Saddle River, NJ

Lacity M, Willcocks L, Feeny D (1996) The value of selective IT sourcing. Sloan Manage Rev 37(3):13–25

Langlois RN (1995) Capabilities and the theory of the firm. Paper for the colloquium in honour of G.B. Richardson, St. John's College, Oxford. 4–6 January

Langlois RN (1997) Transaction-cost economics in real time. In: Foss N (ed) Resources, firms, and strategies. A reader in the resource-based perspective, vol 20. Oxford University Press, Oxford, pp 286–305

Langlois RN, Foss N (1997) Capabilities and governance: the rebirth of production in the theory of economic organization. 1–33. ISBN 87-7873-020-1

Leiponen A (2005) Core complementarities of the corporation: organization of an innovating firm. Manage Decis Econ 26(6):351

Long C, Vickers-Koch M (1995) Using core capabilities to create competitive advantage. Organ Dyn 24(1):7–22

Lorenzoni G, Lipparini A (1999) The leveraging of interfirm relationships as a distinctive organizational capability: a longitudinal study. Strategic Manage J 20:317–338

Madhok A (1996) The organization of economic activity: transaction costs, firm capabilities, and the nature of governance. Organ Sci 7(5):577–590

McFarlan FW, Nolan R (1995) How to manage an IT outsourcing alliance. Sloan Manage Rev 36(2):9–23

Menguzzato M, Renau JJ (1995) Estrategias de empresa y teoría de los costes de transacción. Inf Coml Esp 746:7–24

Milgrom P, Roberts J (1993) Economía, Organización y Gestión de empresa. Ariel Economía, Barcelona

Ordini A, Silvestri G (2008) Recruitment and selection services: efficiency and competitive reasons in the outsourcing of HR practices. Int J Hum Resour Manage 19(2):372–391

Paju T (2007) Conceptual model of R&D offshore outsourcing. J Glob Bus Technol 3(1):49–62

Piachaud BS (2002) Outsourcing in the pharmaceutical manufacturing process: an examination of the CRO experience. Technovation 22:81–90

Poppo L, Zenger T (1998) Testing alternative theories of the firm: transaction cost, knowledge-based, and measurement explanations for make-or-buy decisions in information services. Strategic Manage J 19:853–877

Quinn JB (1999) Strategic outsourcing: leveraging knowledge capabilities. Sloan Manage Rev 40(4):9–19

Quinn JB, Hilmer FG (1994) Strategic outsourcing. Sloan Manage Rev 35(4):43–55

Quinn JB, Doorley T, Paquette P (1990) Beyond products: services-based strategy. Harvard Bus Rev 68(2):58–65

Tapon F (1989) A transaction costs analysis of innovations in the organization of pharmaceutical R&D. J Econ Behav Organ 12:197–213

Ulset S (1996) R&D outsourcing and contractual governance: an empirical study of commercial R&D projects. J Econ Behav Organ 30:63–82

Van Heemst J (1984) Sub-contracting between small-scale enterprises in developing countries: a note. J Ind Econ 32:373–376

Van Laarhoven P, Sharman G (1995) Las alianzas de logística: la experiencia europea. Harvard Bus Rev 66:86–93

Venkatesan R (1992) Strategic sourcing: to make or not to make. Harvard Bus Rev 70(6):98–107

Walker G, Weber D (1984) A transaction cost-approach to make-or-buy decisions. Admin Sci Quart 29(3):373–391

Williamson O (1981) The economics of organization: the transaction cost approach. Am J Soc 87:548–577

Williamson O (1985) The mechanisms of governance. Free Press, New York
About this article
Cite this article
Redondo-Cano, A., Canet-Giner, M.T. Outsourcing agrochemical services: economic or strategic logic?. Serv Bus 4, 237–252 (2010). https://doi.org/10.1007/s11628-009-0089-z
Received:

Accepted:

Published:

Issue Date:
Keywords
Outsourcing

R&D activities

Agrochemical services industry

Strategic approach

Economic logic