Abstract
As the application of the Internet has grown rapidly, electronic commerce is expected to become increasingly prosperous. In addition, since the launching of the Internet, more media in advertising have appeared. Online customer experiences and Web 2.0 are believed to be two of the driving forces behind the growth in online sales. A more advanced advertising medium is thus needed to stimulate customers' purchasing intentions. One creative medium of advertising on the Internet is instructional video advertising. It provides instructions on how to operate the products being sold and/or on how the products function. Hence, the customers may in this way view the advertising, and finally the intention to purchase may be triggered. In order to explore how Internet instructional video advertising may affect customers' purchasing intentions, we propose a new model that adopts the theory of reasoned action, the technology acceptance model, and others. We perform the survey to analyze how instructional video advertising may impact customers' purchasing intentions.
Access options
Buy single article
Instant access to the full article PDF.
US$ 39.95
Tax calculation will be finalised during checkout.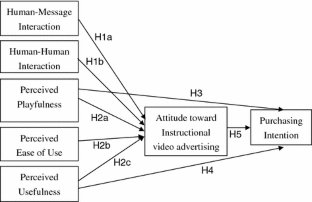 References
Ahn T, Ryu S, Han I (2007) The impact of web quality and playfulness on user acceptance of online retailing. Inf Manag 44(3):263–275

Alvarez G (2008) Magic quadrant for E-commerce. Retrieved March 12, 2009, from Gartner website: http://www.gartner.com/7_search/Options.jsp?f=2&keywords=&op=31&bop=0

Ariely D (1998) Controlling the information flow: on the role of interactivity in consumers' decision making and preferences. Ph.D. Dissertation, Fuqua School of Business, Duke University

Barnett LA (1990) Playfulness: definition, design, and measurement. Play Cult 3(4):319–336

Barnett LA (1991) The playful child: measurement of a disposition to play. Play Cult 4(1):51–74

Bentler PM, Bonett DG (1980) Significance tests and goodness-of-fit in the analysis of covariance structures. Psychol Bull 88(3):588–606

Chung J, Tan FB (2004) Antecedents of perceived playfulness: an exploratory study on user acceptance of general information-searching websites. Inf Manag 4(1):869–881

Cook WA (1994) Is it interactive media, or hyperactive media? J Advert Res 34(1):7–9

Csikszentmihalyi M (1975) Beyond boredom and anxiety. Jossey Bass, San Francisco

Davis FD (1986) A technology acceptance model for empirically testing new end-user information systems: theory and result. Dissertation, MIT

Davis FD (1993) User acceptance of information technology: system characteristics, user perceptions and behavioral impacts. Int J Man Mach Stud 38(3):475–487

Davis FD, Bagozzi RP, Warshaw PR (1989) User acceptance of computer technology: a comparison of two theoretical models. Manag Sci 35(8):982–1002

Davis FD, Bagozzi RP, Warshaw PR (1992) Extrinsic and intrinsic motivation to use computers in the workplace. J Appl Soc Psychol 22(14):1111–1132

De Souza R, Hale K, Nakao A, Ng F. (2008). Forecast: IT Services, Worldwide, 2008–2012. Retrieved March 12, 2009, from Gartner website: http://www.gartner.com/DisplayDocument?ref=g_search&id=713907&subref=advsearch

Fishbein M, Ajzen I (1975) Belief, attitude, intention and behavior: an introduction to theory and research. Addison-Wesley, Reading

Flaherty DH (1985) Protecting privacy in two-way electronic services. Knowledge Industry Publications, White Plains

Hair JF, Black B, Babin B, Anderson RE, Tatham RL (2005) Multivariate data analysis, 6th edn. Prentice Hall, NY

Kelley LD, Jugenheimer DW (2006) Advertising account planning: a practical guide. M.E. Sharpe Inc, New York

Ko H, Cho CH, Roberts MS (2005) Internet uses and gratifications. J Advert 34(2):57–70

Kuo YF (2003) A study on service quality of community web sites. Total Qual Manag 14(4):461–473

Lewis HG, Nelson C (1999) Advertising age handbook of advertising. NTC/Contemporary Publishing Group, Chicago

Lieberman JN (1965) Playfulness and divergent thinking: an investigation of their relationship at the kindergarten level. J Genet Psychol 107(1):219–224

Lieberman JN (1977) Playfulness: its relationship to imagination and creativity. Academic Press, New York

Lin CS, Wu S, Tsai RJ (2005) Integrating perceived playfulness into an expectation-confirmation model for web portal context. Inf Manag 42(5):683–693

Moon JW, Kim YG (2001) Extending the TAM for a world-wide-web context. Inf Manag 38(4):217–230

Morris M, Ogan C (1996) The internet as mass audience. J Commun 46(1):39–50

Pavlik JV (1996) Cultural and commercial perspectives. New Media Technology, Viacom Company

Preece J (2001) Sociability and usability in online communities: determining and measuring success. Behav Inform Technol 20(5):347–356

Rafaeli S, Sudweeks F (1997) Networked interactivity. J Comput Mediat Commun 2(4). Retrieved March 12, 2009, from Ascusc.org website: http://www.ascusc.org/jcmc/vol2/issue4/rafaeli.sudweeks.html

Rogers EM (1995) Diffusion of innovations, 4th edn. Free Press, New York

Segars AH, Grover V (1993) Re-examining perceived ease of use and usefulness: a confirmatory factor analysis. MIS Q 17(4):17–25

Steuer J (1992) Defining virtual reality: dimensions determining telepresence. J Commun 42(4):73–93

Sukpanich N, Chen LD (1999) Measuring consumers' attitudes to web advertising. Elec Mark 9(1/2):20–24

Tully J, Hale K, Hahn WL, Hardcastle J, Correia JM, Brant KF (2008) Dataquest insight: IT markets remain resilient in 2008 and will grow moderately in the next three to five years. Retrieved March 12, 2009, from Gartner website: http://www.gartner.com/DisplayDocument?ref=g_search&id=741014&subref=advsearch

Wells W, John B, Sandra M (1992) Advertising principles and practice, Englewood Cliffs. Prentice Hall, New Jersey

Williams Frederick, Ronald ER, Everett MR (1988) Research methods and the new media. Free Press, New York

Yan R, Pei Z (2009) Retail services and firm profit in a dual-channel market. J Retail Consum Serv 16(4):306–314
About this article
Cite this article
Huarng, KH., Yu, T.HK. & Huang, J.J. The impacts of instructional video advertising on customer purchasing intentions on the Internet. Serv Bus 4, 27–36 (2010). https://doi.org/10.1007/s11628-009-0081-7
Received:

Accepted:

Published:

Issue Date:
Keywords
Interactivity

Playfulness

Technology acceptance model

Theory of reasoned theory