Abstract
This article concerns the ability of smell to assist the development and communication of retail brand image. It presents a number of propositions regarding ambient smell and the retail environment derived from the literature—including the potential for novel ambient aromas to act as a distinctive element in a retailer's marketing mix. Empirical testing is achieved through a 'natural experiment' in a large electrical store using fragranced and unfragranced conditions. An environmental psychology base was used to develop an in-store questionnaire, supported by direct measurement of customer dwell times and subsequent interviews. In total, 329 questionnaires were returned and 429 customer groups were timed in the two departments where the experiment occurred. Significant differences in consumer perceptions of the store's environmental attributes were identified, despite the fact that less than 10% of respondents questioned were aware of the use of in-store fragrances. The qualitative interviews provided some initial confirmation for the more complex propositions concerning the memory of scents.
This is a preview of subscription content, log in to check access.
Access options
Buy single article
Instant unlimited access to the full article PDF.
US$ 39.95
Price includes VAT for USA
Subscribe to journal
Immediate online access to all issues from 2019. Subscription will auto renew annually.
US$ 99
This is the net price. Taxes to be calculated in checkout.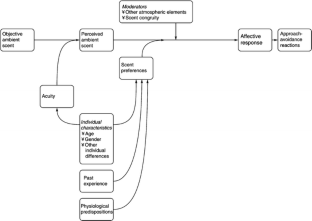 References
Aggleton JP, Waskett L (1999) The ability of odours to serve as state-dependent cues for real-world memories: can Viking smells aid the recall of Viking experiences? Br J Psychol 90(1):1–7

Areni C, Kim D (1994) The influence of in-store lighting on consumers' examination of merchandise in a wine store. Int J Res Mark 11(2):117–115

Baker J, Parasuraman D, Grewal A (1994) The influence of store environment on quality inferences and store image. J Acad Mark Sci 22:328–339

Baker J, Parasuraman D, Grewal A, Glenn BV (2002) The influence of multiple store environment cues on perceived merchandise values and patronage intentions. J Mark 66(April):120–141

Baron RA (1990) Environmentally-induced positive affect: its impact on self-efficacy, task performance, negotiation and conflict. J Appl Soc Psychol 20:368–384

Bearden WO, Netemeyer RG (1999) Handbook of marketing scales. 2nd edn. Sage, Thousand Oaks

Belk RW (1975) Situational variables and consumer behavior. J Consum Res 2(December):157–164

Bellizi J, Crowley A, Hasty R (1983) The effect of color in store design. J Retail 59(Spring):21–45

Biswas RK (ed) (2001) Metropolis now!, Springer, Wien

Bitner MJ (1992) Servicescapes: the impact of physical surroundings on customers and employees. J Mark 56(April):57–71

Blackwell L (1995) Visual cues and their effects on odour assessment. Nutr Food Sci 5:24–28

Bloch PH, Ridgway NM, Dawson A (1994) The shopping mall as a consumer habitat. J Retail 70(1):23–42

Bone PF, Ellen PS (1999) Scents in the marketplace: explaining a fraction of olfaction. J Retail 75(2):243–262

Chebat JC, Chebat CG, Vaillant D (2001) Environmental background music and in-store selling. J Bus Res 54(2):115–123

Crowded House (1993) Skin feeling. Together alone. Audio CD. Label: Capitol ASIN: B000002TME Catalogue number: CDESTU2215

Davies BJ, Kooijman D, Ward P (2003) The sweet smell of success: olfaction in retailing. J Mark Manage19:611–627

Davies BJ, Ward P (2002) Managing retail consumption. Wiley, Chichester

Dickson J, Albaum G (1977) A method for developing tailor-made semantic differential for specific marketing content areas. J Mark Res 14:87–91

Donovan RJ, Rossiter JR (1982) Store atmosphere: an environmental psychology approach. J Retail 58(Spring):34–57

Donovan RJ, Rossiter JR, Marcoolyn G, Nesdale A (1994) Store atmosphere and purchasing behavior. J Retail 70:283–294

Doyle S, Broadbridge A (1999) Differentiation by design: the importance of retailer repositioning and differentiation. Int J Retail Distrib Manage 27(2):72–83

Draaisma D (2001) 'Geur en herinnering' [Smell and memory]. In: Douwe Draaisma (ed) Waarom het leven sneller gaat als je ouder wordt [Why life is going faster when you get older]. Groningen: Historische uitgeverij, pp 37–50

Dube L, Morin S (2001) Background music pleasure and store evaluation intensity effects and psychological mechanisms. J Bus Res 54(2):107

Gulas CS, Bloch PH (1995) Right under our noses: Ambient scent and consumer responses. J Bus Psychol 10(1):87–98

Halloway M (1999) The ascent of scent. Sci Am 99(281):42

Harrison GW, List J (2004) Field experiments. J Econ Lit XLII:1009–1055

Krauel K, Pause BM (2001) Pre-attentive odor processing. In: Lorig TS (ed) Compendium of olfactory research, explorations in aroma-chology: investigating the sense of smell and human response to odors 1995–2000. Kendall-Hunt, Dubuque

Kooijman D (2003) Shop-image and interaction: the use of senses in consumption space. In: McDonagh D, Gyi D, Hekkert P, van Erp J (eds) Design and emotion. Taylor & Francis, London

Lorig TS (ed) (2001) Compendium of olfactory research, explorations in aroma-chology: investigating the sense of smell and human response to odors 1995–2000, Kendall-Hunt, Dubuque

Lorig TS (1989) Human EEG and odor response. Prog Neurobiol 33:387–398

North AC, Hargreaves DJ (1999) The influence of in-store music on wine selections. J Appl Psychol 84:271–276

Mattila AS, Wirtz J (2001) Congruency of scent and music as a driver of in-store evaluations and behavior. J Retail 77:273

McDonagh D, Gyi D, Hekkert P, van Erp J (eds) (2003) Design and emotion, Taylor & Francis, London

McPherson A, Moran A (1994) The significance of fragrance and olfactory acuity for consumer household market. J Consum Stud Home Econ 18:239–251

Mehrabian A, Russell JA (1974) An approach to environmental psychology. MIT Press, Cambridge

Merrilees B, Miller D (2001) Superstore interactivity: a new self-service paradigm of retail service? Int J Retail Distrib Manage 29:379–389

Milliman RE (1982) The effect of background music upon the shopping behavior of supermarket patrons. J Mark 46:86–91

Milliman RE (1986) The effect of background music on the behavior of restaurant patrons. J Consum Res 13:286–289

Mitchell DJ (1994) For the smell of it all: functions and effects of olfaction in consumer behavior. Adv Consum Res 21:330

Mitchell DJ, Kahn BE, Knasko SC (1995) There's something in the air: effects of congruent or incongruent ambient odor on consumer decision making. J Consum Res 22(2):229–238

Mostert M (1998) Oraliteit [Orality]. Amsterdam University Press, Amsterdam

Orth UR, Bourrain A (2005) Optimum stimulation level theory and the differential impact of olfactory stimuli on consumer exploratory tendencies. Adv Consum Res 32:613–619

Spangenberg ER, Crowley AE, Henderson PW (1996) Improving the store environment: do olfactory cues affect evaluations and behaviours? J Mark 60(2):67–80

Spies K, Hesse F (1997) Store atmosphere, mood and purchasing behaviour. Int J Res Mark 14(1):1–17

Strugnell C, Jones L (1999) Customer perceptions and opinions of fragrances in household products. Nut Food Sci 99(4):21–24

Süskind P (1989) Perfume. Penguin Books (first publication: Das Parfum, die Geschichte eines Mörders, 1985)

Tai SHC, Fung AMC (1997) Application of an environmental psychology model to in-store buying behaviour. Int Rev Retail Distrib Cons Res 7:311–337

Turley L, Milliman R (2000) Atmospheric effects on shopping behavior: A review of the experimental evidence. J Bus Res 44(2):193–211

Urry J (1999) Sensing the city. In: Judd DR, Fainstein SS (eds) The tourist city. Yale University Press, New Haven, pp 71–88

Wakefield KL, Blodgett G (1996) The effect of the servicescape on customers' behavioural intentions in leisure service settings. J Serv Mark 10(6):45–61

Wells WD (1964) EQ, son of EQ and the reaction profile. J Mark 28:45–52
About this article
Cite this article
Ward, P., Davies, B.J. & Kooijman, D. Olfaction and the retail environment: examining the influence of ambient scent. Service Business 1, 295–316 (2007) doi:10.1007/s11628-006-0018-3
Received:

Accepted:

Published:

Issue Date:
Keywords
Smell

Scent

Retail brand image

Retail environment

Human olfaction