Abstract
Approaches for in vitro regeneration and fabrication of synthetic seeds were formulated to support restoration in the wild and genetic manipulation of Ceropegia barnesii (categorized as endemic and endangered). MS medium augmented with 4 mg L−1 benzyl adenine was most advantageous for the production of multiple shoots from nodal explants. Fabrication of synthetic seeds was accomplished by sodium alginate encapsulation of nodes from microshoots. The most favorable medium combination for the induction of multiple shoots from synthetic seeds was MS medium complemented with 4 mg L−1 benzyl adenine and 1 mg L−1 gibberelic acid. Following root induction promoted by half strength MS basal medium augmented with indolebutyric acid, multiple shoots were subjected to hardening. Influence of vesicular-arbuscular mycorrhizal fungi on the hardening trials was investigated and it was observed that dual inoculation of Glomus aggregatum and G. intraradices enhanced the survival rate. The encapsulated nodes of C. barnesii were tested for their capability to endure different temperatures during storage and the optimal temperature for storage was found to be 4°C. A methodology for initiation of somatic embryogenesis from C. barnesii is also reported here, but embryos could not be induced to develop further. The micropropagated plants were reintroduced in to their natural habitat. This is the first report on micropropagation of C. barnesii.
Access options
Buy single article
Instant access to the full article PDF.
US$ 39.95
Tax calculation will be finalised during checkout.
Subscribe to journal
Immediate online access to all issues from 2019. Subscription will auto renew annually.
US$ 79
Tax calculation will be finalised during checkout.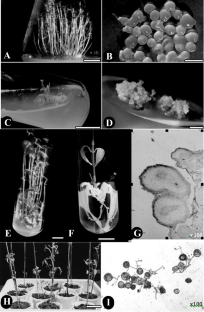 References
Ananthan R, Narmatha Bai V, Murugan C, Gopalan R (2012) Rediscovery of Ceropegia barnesii Bruce & Chatterjee (Asclepiadaceae) from the type locality – Nilgiris, Western Ghats, India. J Econ Taxon Bot 36:57–58

Baghel S, Bansal YK (2014) Synergistic effect of BAP and GA3 on in vitro flowering of Guizotiaabyssinica Cass.-a multipurpose oil crop. Physiol Mol Biol Plants 20(2):241–247

Beena MR, Martin KP (2003) In vitro propagation of the rare medicinal plant Ceropagia candelabrum L. through somatic embryogenesis. In vitro Cell Dev Biol - Plant 39:510–513

Beena MR, Martin KP, Kirti PB, Hariharan M (2003) Rapid in vitro propagation of medicinally important Ceropegia candelabrum. Plant Cell Tissue Organ Cult 72:285–289

Bliss BJ, Landherr L, de Pamphilis CW, Ma H, Hu Y, Siela NM (2009) Regeneration and plantlet development from somatic tissues of Aristolochia fimbriata. Plant Cell Tissue Organ Cult 98:105–114

Botta B, Olio GD, Ferrari F et al (1989) Cell suspension cultures of Cassia didimobotrya: optimization of growth and secondary production by the orthogonal design method. J Plant Physiol 135:290–294

Bruyns PV (2003) Three new succulent species of Apocynaceae (Asclepiadoideae) from southern Africa. Kew Bull 58:427–435

BSI (2002) Studies on rare and endangered species. http://www.envfor.nic.in/bsi/research.html

CITES (2007) Proposals resulting from reviews by the plants committees. Prop 11:01

Dennis Thomas T, Shankar S (2009) Multiple shoot induction and callus regeneration in Sarcostemma brevistigma Wight & Arnott, a rare medicinal plant. Plant Biotechnol Rep 3:67–74

Devi CS, Srinivasan VM (2008) In vitro propagation of Gymnema sylvestre. Asian J Plant Sci 7:660–665

Ganapathi TR, Suprasanna P, Bapat VA, Rao PS (1992) Propagation of banana through encapsulated shoot tips. Plant Cell Rep 11:571–575

Good R (1952) An atlas of the Asclepiadaceae. New Phytol 5:98–209

Hassan R, Archana G, Amir SMN, Amir M (2013) Optimization of multiple shoot induction and plant regeneration in Indian barley (Hordeum vulgare) cultivars using mature embryos. Saudi J Biol Sci 20:251–255

Islam MS, Bari MA (2012) In vitro regeneration protocol for artificial seed production in an important medicinal plant Mentha arvensis L. J Biol Sci 20:99–108

Jagtap A, Singh NP (1999) Fasc. Flora of India 24. Botanical Survey of India, Kolkata, India

Khan N, Maqsood A, Ishfaq H, Nadeem A, Shaghef E, Muhammad A (2015) Optimizing the concentrations of plant growth regulators for in vitro shoot cultures, callus induction and shoot regeneration from calluses of grapes. J Int des Sciences de la Vigneet du Vin 49:37–45

Komalavalli N, Rao MV (1997) In vitro micropropagation of Gymnema elegans W & A – a rare medicinal plant. Indian J Exp Biol 35:1088–1092

Komalavalli N, Rao MV (2000) In vitro micropropagation of Gymnema sylvestre: multipurpose medicinal plant. Plant Cell Tissue Organ Cult 61:97–105

Kondamudi R, Suman K, Swamy KN, Murthy KSR (2017) Role of antioxidant enzymes in acclimatization of Ceropegia spiralis Wt., C. pusilla Wt. and Arn. and C. juncea Roxb. Int J Adv Res Bot 3:19–27

Ludwig-Muller J (2000) Indole-3-butyric acid in plant growth and development. J Plant Growth Regul 32:219–230

Mallikarjuna B, UshaNagalakshmi R, Rama Gopal G (2016) Providing an artificial endosperm for the effective conservation and exchange of the genetic material of Glochidion velutinum Wt., an important ethno-medicinal plant. Int J Clin Biol Sci 1:53–62

Malpure NV, Kamble MY, Yadav SR (2006) A new species of Ceropegia L. (Asclepiadaceae) from the Western Ghats of India with a note on series Attenuatae Huber. Curr Sci 91:1140–1142

Muhammad U, Sana M, Fatima B (2005) In vitro multiple shoot induction from nodal explants of citrus cultivars. J Cent Eur Agric 6:435–442

Murashige T, Skoog F (1962) A revised medium for rapid growth and bio assays with tobacco tissue cultures. Plysiol Plant 15:473–497

Murthy KSR, Kondamudi R, Chandrasekhara Reddy M, Karuppusamy S, Pullaiah T (2012) Check-list and conservation strategies of the genus Ceropegia in India. Int J Biodivers Conserv 4:304–315

Nadkarni KM (1976) Indian Materia Medica, Vol 1. Popular Prakashan, Bombay, India

Phillips JM, Hayman DS (1970) Improved procedures for clearing roots and staining parasitic vesicular-arbuscular mycorrhizal fungi for rapid assessment of infection. Trans Br Mycol Soc 55:158–161

Pooja M, Shekhawat NS, Manoj KR, Vinod K, Gehlot HS (2014) Evaluation of aeroponics for clonal propagation of Caralluma edulis, Leptadenia reticulata and Tylophora indica – three threatened medicinal asclepiads. Physiol Mol Biol Plants 20:365–373

Prabudesai VR, Narayanasami S (1974) Organogenesis in tissue culture of certain asclepiads. Z Phlazenphysiol 71:181–185

Pramanik TK, Datta SK (1986) Plant regeneration and ploidy variation in culture derived plants of Asclepias curassavica L. Plant Cell Rep 5(3):219–222

Remya M, Narmatha Bai V, Mutharaian VN (2013) In vitro regeneration of Aristolochia tagala and production of artificial seeds. Biol Plant 57:210–218

Shah SN, Wani TA (2016) Family Asclepiadaceae: a reservoir of medicinal plants with special importance on Gymnemasylvestre r.Br. -an overview. Adv Biomed Pharma 3:59–77

Sharma N, Rakesh Singh RP (2016) In vitro propagation and conservation of Bacopa monnieri L. In: Mohan Jain S (ed) Protocols for In Vitro Cultures and Secondary Metabolite Analysis of Aromatic and Medicinal Plants, vol 1391. Springer Link, New Tork, pp 153–171

Siddique I, Bukhari NAW (2017) Synthetic seed production by encapsulating nodal segment of Capparis decidua (Forsk.), in vitro regrowth of plantlets and their physio biochemical studies. Agrofor Syst. https://doi.org/10.1007/s10457-017-0120-7

Vasane SR, Kothari RM (2008) An integrated approach to primary and secondary hardening of banana Var grand naine. Ind J Biochem 7:240–245

Xiuli S, William SC, Frederi CKG, Gmitter (2010) In vitro shoot proliferation and rootinduction of shoot tip explants from mature male plants of Casuarina cunninghamiana Miq. HortScience 45:797–800
Electronic supplementary material
About this article
Cite this article
Ananthan, R., Mohanraj, R. & Narmatha Bai, V. In vitro regeneration, production, and storage of artificial seeds in Ceropegia barnesii, an endangered plant. In Vitro Cell.Dev.Biol.-Plant 54, 553–563 (2018). https://doi.org/10.1007/s11627-018-9934-x
Received:

Accepted:

Published:

Issue Date:
Keywords
Ceropegia

Auxins

Cytokinins

Encapsulated nodes

Storage

Direct regeneration

Organogenesis

Somatic embryogenesis