Abstract
In this study, we compared the transcriptome profiles of fertile versus sterile buds of a stably inherited genic male sterile AB line of Chinese cabbage using the Illumina high-throughput sequencing platform. Based on the analysis of gene expression levels, we detected 1013 differentially expressed genes (DEGs), including 907 that were upregulated and 106 that were downregulated in fertile buds. In addition, 481 genes were specifically differentially expressed. Among these, some DEGs were previously shown to play important roles in pollen and anther development, including AMS, MS2, ms35/myb26, and so on. We also performed gene ontology (GO) analysis to reveal the main biological functions of the DEGs. Only 19 GO terms were significantly enriched. Kyoto Encyclopedia of Genes and Genomes (KEGG) pathway enrichment analysis was performed to uncover significantly enriched metabolic pathways and signal transduction pathways involving the DEGs, revealing five significantly enriched KEGG pathways that are pentose and glucuronate interconversions; alanine, aspartate, and glutamate metabolism; cysteine and methionine metabolism; ascorbate and aldarate metabolism; and starch and sucrose metabolism. These results could potentially explain the difference between fertile and sterile buds. Finally, we analyzed the expression patterns of 31 DEGs using qRT-PCR, which verified the reliability of the transcriptome sequencing results. Analysis of the transcriptome data provides valuable information for in-depth analysis of the molecular mechanism underlying pollen development, and it lays the foundation for clarifying the functions of these crucial genes and elucidating the sterility mechanism in Chinese cabbage.
Access options
Buy single article
Instant access to the full article PDF.
US$ 39.95
Tax calculation will be finalised during checkout.
Subscribe to journal
Immediate online access to all issues from 2019. Subscription will auto renew annually.
US$ 79
Tax calculation will be finalised during checkout.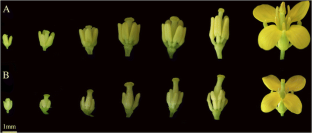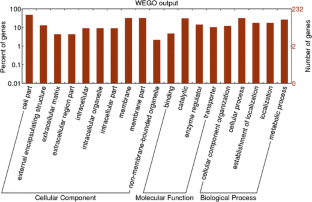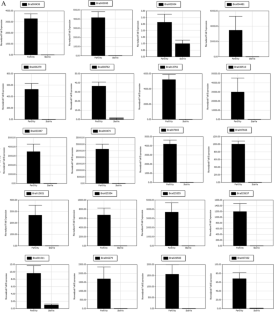 References
Aarts MG, Hodge R, Kalantidis K, Florack D, Wilson ZA, Mulligan BJ, Stiekema WJ, Scott R, Pereira A (1997) The Arabidopsis MALE STERILITY 2 protein shares similarity with reductases in elongation/condensation complexes. Plant J 12(3):615–623

An H, Yang Z, Yi B, Wen J, Shen J, Tu J, Ma C, Fu T (2014) Comparative transcript profiling of the fertile and sterile flower buds of pol CMS in B. napus. BMC Genomics 15:258

Ariizumi T, Hatakeyama K, Hinata K, Inatsugi R, Nishida I, Sato S, Kato T, Tabata S, Toriyama K (2004) Disruption of the novel plant protein NEF1 affects lipid accumulation in the plastids of the tapetum and exine formation of pollen, resulting in male sterility in Arabidopsis thaliana. Plant J 39:170–181

Ariizumi T, Toriyama K (2011) Genetic regulation of sporopollenin synthesis and pollen exine development. Annu Rev Plant Biol 62:437–60

Audic S, Claverie JM (1997) The significance of digital gene expression profiles. Genome Res 7:986–995

Bosch M, Hepler PK (2005) Pectin methylesterases and pectin dynamics in pollen tubes. Plant Cell 17(12):3219–3226

Cao J (2012) The pectin lyases in Arabidopsis thaliana evolution, selection and expression profiles. PLoS One 7(10), e46944

Chang L, Zhiyong L, Xueling Y, Yiheng W, Qian M, Hui F (2014) Transcriptome analysis of the Chinese cabbage (Brassica rapa ssp. pekinensis) petal using RNA-Seq. J Hortic 1:114

Chapple RM, Chaudhury AM, Blomer KC, Farrell LB, Dennis ES (1996) Construction of a YAC contig of 2 megabases around the MS1 gene in Arabidopsis thaliana. Aust J Plant Physiol 23(4):453–465

Chaudhury AM (1993) Nuclear genes controlling male fertility. Plant Cell 5(10):1277–1283

Coimbra S, Costa M, Jones B, Mendes MA, Pereira LG (2009) Pollen grain development is compromised in Arabidopsis agp6 agp11 null mutants. J Exp Bot 60(11):3133–3142

Dong X, Feng H, Xu M, Lee J, Kim YK, Lim YP, Piao Z, Park YD, Ma H, Hur Y (2013) Comprehensive analysis of genic male sterility-related genes in Brassica rapa using a newly developed Br300K oligomeric chip. PLoS One 8, e72178

Fengying W, Lianjiu S, Yulong W, Xiaohui L, Bing Z, Yuxiu Q (2001) Breeding of nuclear male sterile line in qingmaye type of Chinese cabbage. Acta Hortic Sin 28(2):133–138

Francis KE, Lam SY, Copenhaver GP (2006) Separation of Arabidopsis pollen tetrads is regulated by QUARTET1, a pectin methylesterase gene. Plant Physiol 142:1004–1013

Guilan K, Zhiya Z, Yanzhi S, Lugang Z, Limin Z (1992) Breeding of alloplasmic male sterile line CMS3411-7 in Chinese cabbage (Brassica campestris L. ssp. pekinensis (Lour.) Olsson) and its application. Acta Hortic Sin 19(4):333–340

Havey MJ (2004) The use of cytoplasmic male sterility for hybrid seed production. Molecular Biology and Biotechnology of Plant Organelles, Springer Netherlands, pp 623–634

Huang L, Cao J, Ye W, Liu T, Jiang L, Ye Y (2008) Transcriptional differences between the male-sterile mutant bcms and wild-type Brassica campestris ssp. chinensis reveal genes related to pollen development. Plant Biol (Stuttg) 10(3):342–55

Huang L, Ye Y, Zhang Y, Zhang A, Liu T, Cao J (2009) BcMF9, a novel polygalacturonase gene, is required for both Brassica campestris intine and exine formation. Ann Bot 104:1339–1351

Hui F, Yutang W, Suning Z (1995) Inheritance of and utilization model for genic male sterility in Chinese cabbage (Brassica pekinensis Rupr.). Acta Hortic Sin 402:133–140

Hui F, Yutang W, Shujuan J, Gang J, Jusheng J, Wenjun D (1996) Multiple allele model for genic male sterility in Chinese cabbage. Acta Hortic Sin 467:133–142

Jiang L, Yang SL, Xie LF, Puah CS, Zhang XQ, Yang WC, Sundaresan V, Ye D (2005) VANGUARD1 encodes a pectin methylesterase that enhances pollen tube growth in the Arabidopsis style and transmitting tract. Plant Cell 17:584–596

Kanehisa M, Araki M, Goto S, Hattori M, Hirakawa M, Itoh M, Katayama T, Kawashima S, Okuda S, Tokimatsu T, Yamanishi Y (2008) KEGG for linking genomes to life and the environment. Nucleic Acids Res 36:D480–484

Kang J, Zhang G, Bonnema G, Fang Z, Wang X (2008) Global analysis of gene expression in flower buds of Ms-cd1 Brassica oleracea conferring male sterility by using an Arabidopsis microarray. Plant Mol Biol 66:177–192

Livak KJ, Schmittgen TD (2001) Analysis of relative gene expression data using real-time quantitative PCR and the 2(−Delta Delta C(T)) method. Methods 25:402–408

Lou P, Kang J, Zhang G, Bonnema G, Fang Z, Wang X (2007) Transcript profiling of a dominant male sterile mutant (Ms-cd1) in cabbage during flower bud development. Plant Sci 172:111–119

Markovic O, Janecek S (2001) Pectin degrading glycoside hydrolases of family 28: sequence-structural features, specificities and evolution. Protein Eng 14:615–631

Mascarenhas JP (1989) The male gametophyte of flowering plants. Plant Cell 1:657–664

Mortazavi A, Williams BA, McCue K, Schaeffer L, Wold B (2008) Mapping and quantifying mammalian transcriptomes by RNA-Seq. Nat Methods 5:621–628

Pacini E, Guarnieri M, Nepi M (2006) Pollen carbohydrates and water content during development, presentation, and dispersal: a short review. Protoplasma 228:73–77

Palusa SG, Golovkin M, Shin SB, Richardson DN, Reddy AS (2007) Organ-specific, developmental, hormonal and stress regulation of expression of putative pectate lyase genes in Arabidopsis. New Phytol 174:537–550

Shufang Z, Zhaohua S, Xueyun Z (1990) Breeding of interactive genic male sterile line in Chinese cabbage (Brassica pekinensis Rupr.) and utilization model. Acta Hortic Sin 17:117–125

Sorensen AM, Kröber S, Unte US, Huijser P, Dekker K, Saedler H (2003) The Arabidopsis ABORTED MICROSPORES (AMS) gene encodes a MYC class transcription factor. Plant J 33:413–423

Thorbly GJ, Shumukov L, Vizir IY, Yang CY, Mulligan BJ, Wilson ZA (1997) Fine-scale molecular genetic (RFLP) and physical mapping of a 8.9 cM region on the top arm of Arabidopsis chromosome 5 encompassing the male sterility gene, ms1. Plant J 12(2):471–479

Trapnell C, Pachter L, Salzberg SL (2009) TopHat: discovering splice junctions with RNA-Seq. Bioinformatics 25:1105–1111

Wang L, Feng Z, Wang X, Wang X, Zhang X (2010) DEGseq: an R package for identifying differentially expressed genes from RNA-seq data. Bioinformatics 26:136–138

Wang Y, Yu X, Cao J (2004) Isolation and characterization of BcMF3, a gene expressed only in maintainer line in Chinese cabbage-pak-choi (Brassica campestris L. ssp. chinensis Makino var. communis Tsen et Lee). J Genet Genomics 31(11):1302–1308

Wang Z, Gerstein M, Snyder M (2009) RNA-Seq: a revolutionary tool for transcriptomics. Nat Rev 10(1):51–63

Wei M, Song M, Fan S, Yu S (2013) Transcriptomic analysis of differentially expressed genes during anther development in genetic male sterile and wild type cotton by digital gene-expression profiling. BMC Genomics 14:97

Wilson ZA, Zhang DB (2009) From Arabidopsis to rice: pathways in pollen development. J Exp Bot 60:1479–1492

Xie DX, Feys BF, James S, Manuela NR, Turner JG (1998) COl l: an Arabidopsis gene required for jasmonate-regulated defense and fertility. Science 280:1091–1094

Xinke N, Feiyan W, Huihong Z, Xiusheng L (1980) The selection and utilization of Chinese cabbage (Brassica pekinensis Rupr.) of male sterile AB line. Acta Hortic Sin 7:25–32

Yadav S, Yadav PK, Yadav D, Yadav D, Yadav KDS (2009) Pectin lyase: a review. Process Biochem 44:1–10

Yang C, Xu Z, Song J, Conner K, Vizcay Barrena G, Wilson ZA (2007) Arabidopsis MYB26/MALE STERILE35 regulates secondary thickening in the endothecium and is essential for anther dehiscence. Plant Cell 19:534–548

Zhang Q, Huang L, Liu T, Yu X, Cao J (2008) Functional analysis of a pollen-expressed polygalacturonase gene BcMF6 in Chinese cabbage (Brassica campestris L. ssp. chinensis Makino). Plant Cell Rep 27:1207–1215
Additional information
Chang Liu and Zhiyong Liu contributed equally to this work.
Editor: Ewen Mullins
About this article
Cite this article
Liu, C., Liu, Z., Li, C. et al. Comparative transcriptome analysis of fertile and sterile buds from a genetically male sterile line of Chinese cabbage. In Vitro Cell.Dev.Biol.-Plant 52, 130–139 (2016). https://doi.org/10.1007/s11627-016-9754-9
Received:

Accepted:

Published:

Issue Date:
Keywords
Chinese cabbage

Male sterile

Transcriptome

DEGs

KEGG analysis