Abstract
The therapeutic value of Eucomis species is well recognized in African traditional medicine. As a potential approach to improve growth and phytochemical content in Eucomis autumnalis subspecies autumnalis, the effect of agar (Bacteriological Agar No. 1 Oxoid) and gellan gum (GELRITE™) was evaluated using different explant sources and plant growth regulator (PGR) combinations. After 10 wk, the growth parameters were measured and phytochemical levels in 50% methanol (MeOH) extracts of the dried regenerated plantlets were determined using colorimetric methods. The highest mean shoot number (ca. 9 per explant) was observed in gellan gum-solidified media using a benzyladenine (BA) and α-naphthaleneacetic acid (NAA) treatment. Regardless of the gelling agent or PGR applied, the (initial/primary) explant source (LDL = leaf explant derived from primary leaf regenerants and LDB = leaf explant derived from primary bulb regenerants) significantly influenced all the parameters with the exception of shoot length and number of bigger shoots (≥5 mm). In most cases, the regenerants from agar-solidified media contained higher levels of flavonoids and phenolics. In terms of PGRs, the BA + NAA treatment had the highest shoot proliferation (fourfold higher than PGR-free) and number of larger shoots in LDL (gellan gum) and LDB (agar and gellan gum) regenerants. Generally, the evaluated factors (gelling agent, explant source, and PGR) significantly affected the concentrations of all the phytochemicals with the exception of total phenolic content. Taken together, the current study justifies the need to fully evaluate the manner in which in vitro culture conditions/factors affect the overall outcome of micropropagation endeavors.
Access options
Buy single article
Instant access to the full article PDF.
US$ 39.95
Tax calculation will be finalised during checkout.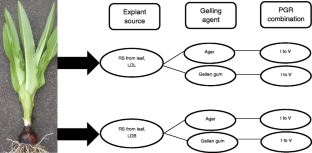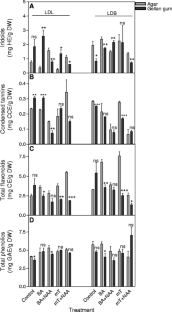 References
Aasim M, Khawar KM, Ozcan S (2009) Comparison of shoot regeneration on different concentrations of thidiazuron from shoot tip explant of cowpea on gelrite and agar containing medium. Not Bot Hort Agrobot Cluj 37:89–93

Amoo SO, Van Staden J (2013) Influence of plant growth regulators on shoot proliferation and secondary metabolite production in micropropagated Huernia hystrix. Plant Cell Tiss Organ Cult 112:249–256

Aremu AO, Bairu MW, Doležal K, Finnie JF, Van Staden J (2012a) Topolins: a panacea to plant tissue culture challenges? Plant Cell Tiss Organ Cult 108:1–16

Aremu AO, Bairu MW, Finnie JF, Van Staden J (2012b) Stimulatory role of smoke–water and karrikinolide on the photosynthetic pigment and phenolic contents of micropropagated 'Williams' bananas. Plant Growth Regul 67:271–279

Arthur GD, Stirk WA, Van Staden J (2004) Screening of aqueous extracts from gelling agents (agar and gelrite) for root-stimulating activity. S Afr J Bot 70:595–601

Baque MA, Lee E-J, Paek K-Y (2010) Medium salt strength induced changes in growth, physiology and secondary metabolite content in adventitious roots of Morinda citrifolia: the role of antioxidant enzymes and phenylalanine ammonia lyase. Plant Cell Rep 29:685–694

Barbas E, Jay-Allemand C, Doumas P, Chaillou S, Cornu D (1993) Effects of gelling agents on growth, mineral composition and naphthoquinone content of in vitro explants of hybrid walnut tree (Juglans regia × Juglans nigra). Ann Forest Sci 50:177–186

Berger K, Schaffner W (1995) In vitro propagation of the leguminous tree Swartzia madagascariensis. Plant Cell Tiss Organ Cult 40:289–291

Berrios E, Gentzbittel L, Serieys H, Alibert G, Sarrafi A (1999) Influence of genotype and gelling agents on in vitro regeneration by organogenesis in sunflower. Plant Cell Tiss Organ Cult 59:65–69

Bornman CH, Vogelman TC (1984) Effect of rigidity of gel medium on benzyladenine-induced adventitious bud formation and vitrification in vitro in Picea abies. Plant Physiol 61:501–512

Coenen C, Lomax TL (1997) Auxin-cytokinin interactions in higher plants: old problems and new tools. Trends Plant Sci 2:351–356

Conner AJ, Meredith CP (1984) An improved polyurethane support for monitoring growth in plant cell cultures. Plant Cell Tiss Organ Cult 3:59–68

Corchete MP, Diez JJ, Valle T (1993) Micropropagation of Ulmus pumila L. from mature trees. Plant Cell Rep 12:534–536

Coste A, Vlase L, Halmagyi A, Deliu C, Coldea G (2011) Effects of plant growth regulators and elicitors on production of secondary metabolites in shoot cultures of Hypericum hirsutum and Hypericum maculatum. Plant Cell Tiss Organ Cult 106:279–288

Debergh PC (1983) Effect of agar brand and concentration on the tissue culture medium. Physiol Plant 59:270–276

DiCosmo F, Misawa M (1995) Plant cell and tissue culture: alternatives for metabolite production. Biotechnol Adv 13:425–453

Dixon RA, Paiva NL (1995) Stress-induced phenylpropanoid metabolism. Plant Cell 7:1085–1097

Doležal K, Popa I, Kryštof V, Spíchal L, Fojtíková M, Holub J, Lenobel R, Schmülling T, Strnad M (2006) Preparation and biological activity of 6-benzylaminopurine derivatives in plants and human cancer cells. Bioorg Med Chem 14:875–884

Dörnenburg H, Knorr D (1995) Strategies for the improvement of secondary metabolite production in plant cell cultures. Enzy Micro Technol 17:674–684

Ebrahim MKH, Ibrahim AI (2000) Influence of medium solidification and pH value on in vitro propagation of Maranta leuconeura cv. Kerchoviana. Sci Hortic 86:211–221

Fatima A, Khan SJ (2010) Some factors affecting the in vitro growth of Stevia rebaudiana Bertoni. Iran J Plant Physiol 1:61–68

Fiuk A, Rybczyński JJ (2008) Genotype and plant growth regulator-dependent response of somatic embryogenesis from Gentiana spp. leaf explants. In Vitro Cell Dev Biol – Plant 44:90–99

Franck T, Kevers C, Gaspar T, Dommes J, Deby C, Greimers R, Serteyn D, Deby-Dupont G (2004) Hyperhydricity of Prunus avium shoots cultured on gelrite: a controlled stress response. Plant Physiol Biochem 42:519–527

George EF (1993) Plant propagation by tissue culture, part 1: the technology. Exegetics Ltd, London, UK

Henderson WE, Kinnersley AM (1988) Corn starch as an alternative gelling agent for plant tissue culture. Plant Cell Tiss Organ Cult 15:17–22

Ibrahim AI (1994) Effect of gelling agent and activated charcoal on the growth and development of Cordyline terminalis cultured in vitro. Proc First Conf Ornam Hortic 1:55–67

Islam MT, Dembele DP, Keller ERJ (2005) Influence of explant, temperature and different culture vessels on in vitro culture for germplasm maintenance of four mint accessions. Plant Cell Tiss Organ Cult 81:123–130

Ivanova M, Van Staden J (2011) Influence of gelling agent and cytokinins on the control of hyperhydricity in Aloe polyphylla. Plant Cell Tiss Organ Cult 104:13–21

Jaleel CA, Gopi R, Gomathinayagam M, Panneerselvam R (2009) Traditional and non-traditional plant growth regulators alters phytochemical constituents in Catharanthus roseus. Process Biochem 44:205–209

Karalija E, Parić A (2011) The effect of BA and IBA on the secondary metabolite production by shoot culture of Thymus vulgaris L. Biologica Nyssana 2:29–35

Koetle MJ, Finnie JF, Van Staden J (2010) In vitro regeneration in Dierama erectum Hilliard. Plant Cell Tiss Organ Cult 103:23–31

Levieille G, Wilson G (2002) In vitro propagation and iridoid analysis of the medicinal species Harpagophytum procumbens and H. zeyheri. Plant Cell Rep 21:220–225

Masondo NA, Finnie JF, Van Staden J (2014) Pharmacological potential and conservation prospect of the genus Eucomis (Hyacinthaceae) endemic to southern Africa. J Ethnopharmacol 151:44–53

McCartan SA, Van Staden J (1998) Micropropagation of the medicinal plant, Scilla natalensis Planch. Plant Growth Regul 25:177–180

Murashige T, Skoog F (1962) A revised medium for rapid growth and bio assays with tobacco tissue cultures. Physiol Plant 15:473–497

Nordström A, Tarkowski P, Tarkowska D, Norbaek R, Åstot C, Doležal K, Sandberg G (2004) Auxin regulation of cytokinin biosynthesis in Arabidopsis thaliana: a factor of potential importance for auxin-cytokinin-regulated development. Proc Natl Acad Sci U S A 101:8039–8044

Ownes LD, Wozniak CA (1991) Measurement and effect of gel matric potential and expressibility on production of morphogenic callus by cultured sugarbeet leaf discs. Plant Cell Tiss Organ Cult 26:127–133

Pierik RLM (1987) In vitro culture of higher plants. Kluwer Publishers, Dordrecht, The Netherlands

Quiala E, Cañal M-J, Meijón M, Rodríguez R, Chávez M, Valledor L, de Feria M, Barbón R (2012) Morphological and physiological responses of proliferating shoots of teak to temporary immersion and BA treatments. Plant Cell Tiss Organ Cult 109:223–234

Rao SR, Ravishankar GA (2002) Plant cell cultures: chemical factories of secondary metabolites. Biotechnol Adv 20:101–153

Rojas-Martínez L, Visser RGF, de Klerk G-J (2010) The hyperhydricity syndrome: waterlogging of plant tissues as a major cause. Prop Ornam Plants 10:169–175

Sakakibara H, Takei K, Hirose N (2006) Interactions between nitrogen and cytokinin in the regulation of metabolism and development. Trends Plant Sci 11:440–448

Santoro MV, Nievas F, Zygadlo J, Giordano W, Banchio E (2013) Effect of growth regulators on biomass and the production of secondary metabolites in peppermint (Mentha piperita) micropropagated in vitro. Amer J Plant Sci 4:49–55

Saw NMMT, Riedel H, Cai Z, Kütük O, Smetanska I (2012) Stimulation of anthocyanin synthesis in grape (Vitis vinifera) cell cultures by pulsed electric fields and ethephon. Plant Cell Tiss Organ Cult 108:47–54

Scholten HJ, Pierik RLM (1998) Agar as a gelling agent: chemical and physical analysis. Plant Cell Rep 17:230–235

Shen X, Kane ME, Chen J (2008) Effects of genotype, explant source, and plant growth regulators on indirect shoot organogenesis in Dieffenbachia cultivars. In Vitro Cell Dev Biol – Plant 44:282

Taylor JLS, Van Staden J (2001) In vitro propagation of Eucomis L'Herit species—plants with medicinal and horticultural potential. Plant Growth Regul 34:317–329

Tripathi L, Tripathi JN (2003) Role of biotechnology in medicinal plants. Trop J Pharm Res 2:243–253

Tsay H-S, Lee C-Y, Agrawal D, Basker S (2006) Influence of ventilation closure, gelling agent and explant type on shoot bud proliferation and hyperhydricity in Scrophularia yoshimurae—a medicinal plant. In Vitro Cell Dev Biol – Plant 42:445–449

Veramendi J, Villafranca MJ, Sota V, Mingo-Castel AM (1997) Gelrite as an alternative to agar for micropropagation and microtuberization of Solanum tuberosum L. cv. Baraka. In Vitro Cell Dev Biol – Plant 33:195–199
Acknowledgments
Financial support from the National Research Foundation, Pretoria and the University of KwaZulu-Natal (Pietermaritzburg), South Africa is appreciated (NAM). AOA thank Claude Leon Foundation for postdoctoral fellowship. Dr. K. Doležal and the team at Laboratory of Growth Regulators, Palacký University and Institute of Experimental Botany AS CR, Czech Republic are acknowledged for providing the meta-topolin. We thank Mrs. Alison Young (UKZN Botanical Garden) for maintaining the plants in the greenhouse and Dr. C. Potgieter (Bews Herbarium) for assisting with plant identification. Drs. M. Moyo and S. O. Amoo are thanked for their valuable suggestions on the manuscript.
About this article
Cite this article
Masondo, N.A., Aremu, A.O., Finnie, J.F. et al. Growth and phytochemical levels in micropropagated Eucomis autumnalis subspecies autumnalis using different gelling agents, explant source, and plant growth regulators. In Vitro Cell.Dev.Biol.-Plant 51, 102–110 (2015). https://doi.org/10.1007/s11627-014-9646-9
Received:

Accepted:

Published:

Issue Date:
Keywords
Agar

Asparagaceae

Auxins

Cytokinins

Gellan gum

Phenolics