Abstract
Sandalwood (Santalum album L.) is a small evergreen, hemi-parasitic tree having more than 18 woody species that are mostly distributed in South Asia, Australia, and Hawaii. Its economical importance is derived from its heartwood oil, but its difficult propagation makes conservation essential. The percentage of seed germination is poor and germination time exceeds 12 mo. Vegetative propagation can be accomplished by grafting, air layering, or with root suckers, but the production of clones is inefficient and time consuming. In this study, efficient plant regeneration was achieved via indirect organogenesis from callus cultures derived from leaf tissues of S. album. Callus induction was induced when leaf explants were cultured on woody plant media (WPM) supplemented with either thidiazuron (TDZ) or 2,4-dichlorophenoxyacetic acid. The highest callus frequency (100%) was obtained when leaf tissue was cultured in the medium with 0.4 mg l−1 TDZ. Fresh weight (141.92 mg) and dry weight (47 mg) of leaf-derived callus were highest in the medium supplemented with 0.8 mg l−1 TDZ. The WPM medium supplemented with 2.5 mg l−1 BA + 0.4 mg l−1 NAA was the most effective, producing the highest number of shoot buds (24.6) per callus. The highest number of shoots per explant (20.67) and shoot length (5.17 cm) were observed in media supplemented with 5.0 mg l−1 BA and 3.0 mg 1−1 Kn, respectively. Plantlets were rooted on WPM medium with different concentrations of indole-3-butyric acid (IBA). The highest rooting percentage (91.67) and survival were achieved using WPM media with 1.5 mg l−1 IBA. All plantlets survived acclimatization, producing healthy plants in the greenhouse. The current investigation showed efficient in vitro regeneration capabilities of S. album from leaf explants.
This is a preview of subscription content, log in to check access.
Access options
Buy single article
Instant access to the full article PDF.
US$ 39.95
Price includes VAT for USA
Subscribe to journal
Immediate online access to all issues from 2019. Subscription will auto renew annually.
US$ 99
This is the net price. Taxes to be calculated in checkout.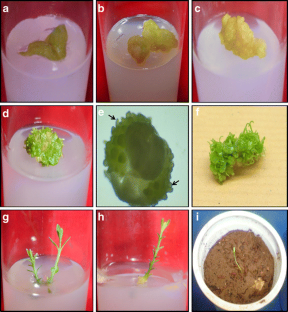 References
Ali A, Ahmad T, Abbasi NA, Hafiz IA (2009) Effect of different concentrations of auxins on in vitro rooting of olive cultivar 'moraiolo'. Pak J Bot 41:1223–1231

Azad MAK, Yokota S, Ohkubo TY, Andoh Y, Yahara S, Yoshizawa N (2005) In vitro regeneration of the medicinal woody plant Phellodendron amurense Rupr. through excised leaves. Plant Cell Tissue Organ Cult 80:43–50

Bapat VA, Rao PS (1979) Somatic embryogenesis and plantlet formation in tissue culture of sandalwood (Santalum album L.). Ann Bot 44:629–630

Brand J (2005) Western Australian sandalwood (Santalum spicatum) establishment guide for farmland in the Wheat belt. Forest Products Commission, Perth

Capelle SC, Mok DWS, Kirchner SC (1983) Effects of TDZ on cytokinin autonomy and the metabolism of N6-(DELTA2-isopentenyl)[8-14C] adenosine in callus tissues of Phaseolus lunatus L. Plant Physiol 73:796–802

Chandra I, Bhanja P (2002) Study of organogenesis in vitro from callus tissue of Flacourtia jangomas (Lour.) Raeusch through scanning electron microscopy. Curr Sci 83:476–479

Huetteman CA, Preece JE (1993) Thidiazuron: a potent cytokinin for woody plant tissue culture. Plant Cell Tissue Organ Cult 33:105–119

IUCN (2012) IUCN red list of threatened species. Version 2012.2. www.iucnredlist.org. Cited 7 Jan 2013.

Janarthanam B, Seshadri S (2008) Plantlet regeneration from leaf derived callus of Vanilla planifolia Andr. In Vitro Cell Dev Biol Plant 44:84–89

Krikorian AD (1995) Hormones in tissue culture and micropropagation. In: Davies PJ (ed) Plant hormones: physiology, biochemistry and molecular biology. Kluwer, Dordrecht, pp 774–796

Lakshmi Sita G, Raghava Ram NV, Vaidyanathan CS (1979) Differentiation of embryoids and plantlets from shoot callus of sandalwood. Plant Sci Lett 15:265–270

Lloyd G, McCown B (1981) Commercially-feasible micropropagation of mountain laurel, Kalmia latifolia, by use of shoot-tip culture. Proc Intl Plant Prop Soc 30:421–427

Maina SM, Emongor Q, Sharma K, Gichuki ST, Gathaara M, De Villiers SM (2010) Surface sterilant effect on the regeneration efficiency from cotyledon explants of groundnut (Arachis hypogea L.) varieties adapted to eastern and Southern Africa. Aff J Biotechnol 9:2866–2871

Metivier PS, Young EC, Patel KR, Thorpe TA (2007) In vitro rooting of microshoots of Cotinus coggygria Mill, a woody ornamental plant. In Vitro Cell Dev Biol Plant 43:119–123

Mungole AJ, Doifode VD, Kamble RB, Chaturvedi A, Prakash Z (2011) In vitro callus induction and shoot regeneration in Physalis minima L. Ann Bio Res 2:79–85

Murthy BNS, Murch SJ, Saxena PK (1998) Thidiazuron: a potent regulator of in vitro plant morphogenesis. In Vitro Cell Dev Biol Plant 34:267–275

Rao NM, Ganeshaiah KN, Shankar RU (2007) Assessing threats and mapping sandal resources to identify genetic 'hot-spot' for in-situ conservation in peninsular India. Conserv Genet 8:925–935

Rao PS, Bapat VA (1992) Micropropagation of sandalwood (Santalum album L.). In: Bajaj YPS (ed) Biotechnology in agriculture and forestry, high-tech and micropropagation II. Vol 18. Springer, Berlin, pp 193–210

Rugkhla A (1997) Intra-specific and inter-specific hybridization between Santalum spicatum and S. album. PhD thesis, Murdoch University, Perth, Western Australia

Sahai A, Shahzad A, Anis M (2010) High frequency plant production via shoot organogenesis and somatic embryogenesis from callus in Tylophora indica, an endangered plant species. Turk J Bot 34:11–20

Schwarz OJ, Beaty RM (2000) Organogenesis. In: Trigiano RN, Gray DJ (eds) Plant tissue culture concept and laboratories exercises. CRC Press, Washington DC

Shukla SK, Mishra SK (2009) In vitro plant regeneration from seedling explants of Stereospermum personatum D.C.: a medicinal tree. Trees 23:409–413

Thomas JC, Katterman ER (1986) Cytokinin activity induced by TDZ. Plant Physiol 81:681–683

Vyas S, Joshi N, Tak K, Purohit SD (2005) In vitro adventitious shoot bud differentiation and plantlet regeneration in Feronia limonia L. (Swingle). In Vitro Cell Dev Biol Plant 41:296–302

Viswanath S, Dhanya B, Rathore TS (2008) Financial viability of sandal (Santalum album L.) cultivation practices. In: Proceedings of national seminar on conservation, improvement, cultivation and management of sandal. Institute of Wood Science and Technology, Bangalore India, pp 158–164

Wang J, Lu Y, Wang Q, Liu K, Song Y, Bi K (2011) An efficient callus proliferation protocol and rhaponticin accumulation of Rheum franzenbachii Munt., a medicinal plant. J Plant Biochem Biotechnol 20:252–257

Wood HN, Braun AC (1967) The role of kinetin (6-furfurylaminopurine) in promoting division in cells of Vinca rosea L. Plant Growth Regul 144:244–250
Acknowledgments
The authors gratefully acknowledge the Plant Tissue Culture Laboratory, Department of Agricultural Biotechnology, Anand Agricultural University, Anand, Gujarat, India, for providing laboratory facilities.
About this article
Cite this article
Singh, C.K., Raj, S.R., Patil, V.R. et al. Plant regeneration from leaf explants of mature sandalwood (Santalum album L.) trees under in vitro conditions. In Vitro Cell.Dev.Biol.-Plant 49, 216–222 (2013). https://doi.org/10.1007/s11627-013-9495-y
Received:

Accepted:

Published:

Issue Date:
Keywords
Callus induction

Callus frequency

Shoot bud

Sandalwood

Acclimatization