Abstract
Azadirachtin, a well-known biopesticide, is a secondary metabolite extracted from the seeds of Azadirachta indica. In the present study, azadirachtin was produced in hairy roots of A. indica, generated by Agrobacterium rhizogenes-mediated transformation of leaf explants. Liquid cultures of A. indica hairy roots were developed with a liquid-to-flask volume ratio of 0.15. The kinetics of growth and azadirachtin production were established in a basal plant growth medium containing MS medium major and minor salts, Gamborg's medium vitamins, and 30 g l−1 sucrose. The highest azadirachtin accumulation in the hairy roots (up to 3.3 mg g−1) and azadirachtin production (∼44 mg l−1) was obtained on Day 25 of the growth cycle, with a biomass production of 13.3 g l−1 dry weight. To enhance the production of azadirachtin, a Plackett–Burman experimental design protocol was used to identify key medium nutrients and concentrations to support high root biomass production and azadirachtin accumulation in hairy roots. The optimal nutrients and concentrations were as follows: 40 g l−1 sucrose, 0.19 g l−1 potassium dihydrogen phosphate, 3.1 g l−1 potassium nitrate, and 0.41 g l−1 magnesium sulfate. Concentrations were determined by a central composite design protocol and verified in shake-flask cultivation. The optimized medium composition yielded a root biomass production of 14.2 g l−1 and azadirachtin accumulation of 5.2 mg g−1, which was equivalent to an overall azadirachtin production of 73.84 mg l−1, 68% more than that obtained under non-optimized conditions.
Access options
Buy single article
Instant access to the full article PDF.
USD 39.95
Price includes VAT (USA)
Tax calculation will be finalised during checkout.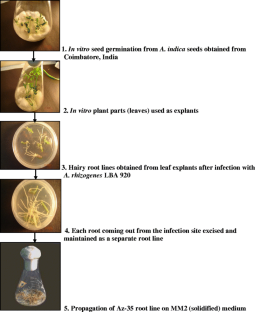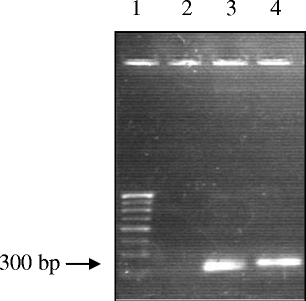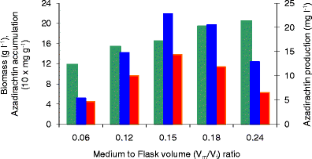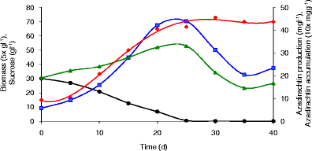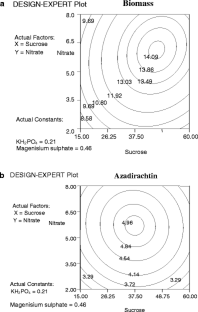 References
Allan E.; Eeswara J.; Jarvis A.; Mordue (Luntz) A.; Morgan E.; Stuchbury T. Induction of hairy root cultures of Azadirachta indica A. Juss. and their production of azadirachtin and other important insect bioactive metabolites. Plant Cell Rep. 21: 374–379; 2002.

Amaral P. F. F.; Almeida A. P. R.; Peixoto T.; Rocha-Leão; Coutinho J. A. P.; Coelho M. A. Z. Beneficial effects of enhanced aeration using perfluorodecalin in Yarrowia lipolytica cultures for lipase production. World J. Microbiol. Biotechnol. 23: 339–344; 2007.

Balaji K.; Veeresham C.; Srisilam K.; Kokate C. Azadirachtin, a novel biopesticide from cell cultures of Azadirachta indica. J. Plant Biotechnol. 5: 121–129; 2003.

Box G. E. P.; Meyer R. D. Some new ideas in the analysis of screening designs. J. Res. Nat. Bur. Stand. 90: 495–502; 1985.

Buitelaar R. M.; Tramper J. Strategies to improve the production of secondary metabolites with plant cell cultures: a literature review. J. Biotechnol. 23: 111–141; 1992.

Chattopadhyay S.; Srivastava A. K.; Bisaria V. S. Optimization of culture parameters for production of podophyllotoxin in suspension culture of Podophyllum hexandrum. Appl. Biochem. Biotechnol. 102–103: 381–393; 2002.

Chauhan K.; Trivedi U.; Patel K. C. Application of Response Surface Methodology for Optimization of Lactic Acid Production Using Date Juice. J. Microbiol. Biotechnol. 16: 1410–1415; 2006.

Dubois M.; Gilf K. A.; Hamilton J. K.; Roberts P. A.; Smith F. Colorimetric method for determination of sugars and related substances. Anal. Chem. 28: 350–356; 1956.

Elibol M. Optimization of medium composition for actinorhodin production by Streptomyces coelicolor A3(2) with response surface methodology. Process Biochem. 39: 1057–1062; 2004.

Gaden E. L. Improved shaken flask performance. Biotechnol. Bioeng. 4: 99–103; 1962.

Gamborg O. L.; Miller R. A.; Ojima K. Nutrient requirements of suspension cultures of soybean root cells. Exp. Cell Res. 50: 151–158; 1968.

Giri A.; Narasu M. L. Transgenic hairy roots: recent trends and applications. Biotechnol. Adv. 18: 1–22; 2000.

Govindchari T. R. Chemistry and biological investigation on Azadirachta indica (the neem tree). Curr. Sci. 63: 117–122; 1992.

Han Y.; Li Z. Y.; Miao X. L.; Zhang F. L. Statistical optimization of medium components to improve the chitinase activity of Streptomyces sp. da11 associated with the South China Sea sponge Craniella australiensis. Process Biochem. 43: 1088–1093; 2008.

Hymavathi M.; Sathish T.; Brahmaiah P.; Prakasham R. S. Impact of carbon and nitrogen sources on L-asparaginase production by isolated Bacillus circulans (MTCC 8574): Application of saturated Plackett–Burman design. Chem. Biochem. Eng. Q. 24: 473–480; 2010.

Jin K. S.; Lee H. K.; Yim J. H. Statistical optimization of medium components for the production of prodigiosin by Hahella chejuensis KCTC 2396. J. Microbiol. Biotechnol. 18: 1903–1907; 2008.

Kanokwaree K.; Doran P. M. The extent to which external oxygen transfer limits growth in shake flask culture of hairy roots. Biotechnol. Bioeng. 55: 520–526; 1997.

Kiran R. R. S.; Konduri R.; Rao G. H.; Madhu G. M. Statistical optimization of endo-polygalacturonase production by overproducing mutants of Aspergillus niger in solid-state fermentation. J. Biochem. Tech. 2: 154–157; 2010.

Kumar S. S.; Gupta R. An extracellular lipase from Trichosporon asahii MSR 54: medium optimization and enantioselective deacetylation of phenyl ethyl acetate. Process Biochem. 43: 1054–1060; 2008.

Lu W.; Li J.; Yu P. Optimization of critical medium components for higher phycocyanin holo-α subunit production in Escherichia coli using statistical approach. African J. Biotechnol. 8: 4251–4259; 2009.

Mordue A. J.; Blackwell A. Azadirachtin: an update. J. Insect. Physiol. 39: 903–924; 1993.

Murashige T.; Skoog F. A revised medium for rapid growth and bioassays with tobacco tissue cultures. Physiol. Plant 15: 473–497; 1962.

Naveena B. J.; Altaf M.; Bhadriah K.; Reddy G. Selection of medium components by Plackett–Burman design for production of L (+) lactic acid by Lactobacillus amylophilus GV6 in SSF using wheat bran. Biores. Technol. 96: 485–490; 2005.

Plackett R. L.; Burman J. P. The design of optimum multifactorial experiments. Biometrika 33: 305–325; 1946.

Prakash G.; Bhojwani S. S.; Srivastava A. K. Production of azadirachtin from plant tissue culture: State of the art and future prospects. Biotechnol. Bioprocess Eng. 7: 185–193; 2002.

Prakash G.; Emmannuel C. J. S. K.; Srivastava A. K. Variability of azadirachtin in Azadirachta indica (neem) and batch kinetics studies of cell suspension culture. Biotechnol. Bioprocess Eng. 10: 198–204; 2005.

Prakash G.; Srivastava A. K. Statistical media optimization for cell growth and azadirachtin production in Azadirachta indica (A. Juss) suspension cultures. Process Biochem. 40: 3795–3800; 2005.

Prakash G.; Srivastava A. K. Modeling of azadirachtin production by Azadirachta indica and its use for feed forward optimization studies. Biochem. Eng. 29: 62–68; 2006.

Prakash G.; Srivastava A. K. Azadirachtin production in stirred tank reactors by Azadirachta indica suspension culture. Process Biochem. 42: 93–97; 2007.

Prakash G.; Srivastava A. K. Statistical elicitor optimization studies for the enhancement of azadirachtin production in bioreactor Azadirachta indica cell cultivation. Biochem. Eng. J. 40: 218–226; 2008.

Prakasham R. S.; Rao C. S.; Rao R. S.; Lakshmi G. S.; Sarma P. N. L-asparaginase production by isolated Staphylococcus sp. – 6A: design of experiment considering interaction effect for process parameter optimization. J. Appl. Microbiol. 102: 1382–1391; 2007.

Rajendran A.; Palanisamy A.; Thangavelu V. Evaluation of medium components by Plackett–Burman statistical design for lipase production by Candida rugosa and kinetic modeling. Chinese J. Biotechnol. 24: 436–444; 2008.

Rao K. J.; Kim C. H.; Rhee S. K. Statistical optimization of medium for the production of recombinant hirudin from Saccharomyces cerevisiae using response surface methodology. Process Biochem. 35: 639–647; 2000.

Raval K. N.; Hellwing S.; Prakash G.; Plasencia R. A.; Srivastava A.; Buchs J. Necessity of a two-stage process for the production of Azadirachtin related limonoids in suspension cultures of Azadirachta indica. J. Biosci. Bioeng. 96: 16–22; 2003.

Satdive R. K.; Fulzele D. P.; Eapen S. Enhanced production of azadirachtin by hairy root cultures of Azadirachta indica A. Juss by elicitation and media optimization. J. Biotechnol. 128: 281–289; 2007.

Sayyad S. A.; Panda B. P.; Javed S.; Ali M. Screening of nutrient parameters for lovastatin production by Monascus purpureus MTCC 369 under submerged fermentation using Plackett–Burman design. Res. J. Microbiol. 2: 601–605; 2007.

Schmutterer H. Properties and potential of natural pesticides from the Neem trees. Azadirachta indica. Ann. Rev. Entomol. 35: 271–297; 1990.

Srivastava S.; Srivastava A. K. Studies on phosphate uptake by Acinetobacter calcoaceticus under aerobic conditions. Enzyme Microb. Tech. 36: 362–368; 2005.

Srivastava S.; Srivastava A. K. Hairy roots: A novel source for large-scale production of high-value secondary metabolites. Crit. Rev. Biotechnol. 27: 29–43; 2007.

Srivastava S.; Srivastava A. K. Recent advances of in vitro azadirachtin production. In: Ramawat K. G.; Merillon J. M. (eds) Biotechnology: Bioactive molecules and medicinal plants. Springer, Heidelberg, pp 234–250; 2008.

Theodore K.; Panda T. Application of response surface methodology to evaluate the influence of temperature and initial pH on the production of β-1,3-glucanase and carboxymethylcellulase from Trichoderma harzianum. Enzyme Microb. Tech. 17: 1043–1049; 1995.

Tyssedal J.; Samset O. Analysis of the 12 run Plackett–Burman design. Technical Report 8, Department of Mathematical Sciences. The Norwegian University of Science and Technology, Trondheim, Norway; 1997.
Acknowledgement
The financial support by Department of Biotechnology, Ministry of Science and Technology, New Delhi (India) for the execution of above project is gratefully acknowledged.
About this article
Cite this article
Srivastava, S., Srivastava, A.K. Statistical medium optimization for enhanced azadirachtin production in hairy root culture of Azadirachta indica . In Vitro Cell.Dev.Biol.-Plant 48, 73–84 (2012). https://doi.org/10.1007/s11627-011-9395-y
Received:

Accepted:

Published:

Issue Date:
Keywords
Azadirachtin

Hairy roots

Azadirachta indica

Medium composition

Plackett–Burman design

Response surface methodology