Abstract
Berberis buxifolia Lam., known as "Calafate", is a plant native to Argentina that exhibits antimicrobial activity. This biological activity is attributed to the isoquinoline alkaloid berberine. The aim of this research was to test the antimicrobial properties of different extracts of this species, taking berberine as the reference molecule, and to examine if the expression of bacterial multidrug resistance (MDR) efflux pumps could be responsible for possible resistance mechanisms. To this end, a wild-type and a mutant strain of Staphylococcus aureus with a defective MDR efflux pump were used and the minimum inhibitory concentrations of the extracts were determined. The studies were carried out with infusions of in vivo shoots and "Calafate" commercial tea, as well as with the media derived from shoot cultures incubated with different plant growth regulators (thidiazuron, picloram, and jasmonic acid). As far as antimicrobial activity is concerned, all the extracts tested were significantly more effective than berberine standard. "Calafate" commercial tea and shoot tea had inhibitory concentrations similar to the one observed for ampicillin standard. The media from the shoot cultures, however, were significantly more effective than all the others, particularly the one derived from jasmonic acid, suggesting the presence of compounds that could be acting synergistically with berberine. There were no differences in antimicrobial activity against the wild-type and the mutant S. aureus; no definite conclusions could be drawn concerning the relationship between MDR pumps and possible pathogen resistance to extracts of B. buxifolia.
Access options
Buy single article
Instant access to the full article PDF.
US$ 39.95
Tax calculation will be finalised during checkout.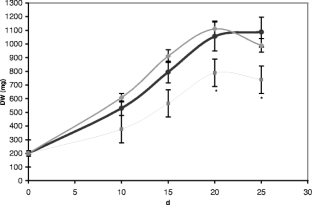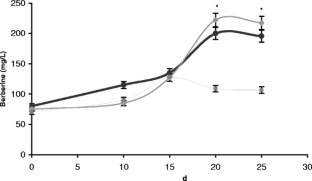 References
Arena M. E.; Martinez-Pastur G.; Vater G. In vitro propagation of Berberis buxifolia Lam. Biocell. 24: 1–8; 2000.

Bhandari D. K.; Nath G.; Ray A. B.; Twari P. V. Antimicrobial activity of crude extracts from Berberis asiatica stem bark. Pharm. Biol. 38: 254–257; 2000.

Caraballo A.; Caraballo B. Preliminary assessment of medicinal plants used as antimalarials in the southeastern Venezuelan Amazon. Rev. Soc. Bras. Med. Trop. 372: 186–188; 2004 <http://www.scielo.br/scielo.php?script = sci_arttext&pid = S0037>.

Fatehi M.; Saleh T. M.; Fatehi-Hassanabad Z.; Farrokhfal K.; Jafarzadeh M.; Davodi S. A pharmacological study on Berberis vulgaris fruit extract. J. Ethnopharmacol. 102: 46–52; 2005.

Freile, M. L.; Giannini, F.; Pucci, G.; Sturniolo, A.; Rodero, L.; Pucci, O.; et al. Antimicrobial activity of aqueous extracts and of berberine isolated from Berberis heterophylla. Fitoterpia. 74: 702–705; 2003.

Frick S.; Kutchan T. M. Molecular cloning and functional expression of O-methyltransferases common to isoquinoline alkaloid and phenylpropanoid biosynthesis. Plant J. 17: 329–339; 1999.

Gibbons S. Anti-staphylococcal plant natural products. Nat. Prod. Rep. 21: 263–277; 2004.

Gibbons S.; Oluwatuyi M.; Kaatz G. W. A novel inhibitor of multidrug efflux pumps in Staphylococcus aureus. J. Antimicrob. Chemother. 51: 13–17; 2003.

Guz N. R.; Stermitz F. R. Synthesis and structures of regioisomeric hydnocarpin-type flavonolignans. J. Nat. Prod. 63: 1140–1145; 2000.

Hara M.; Kitamura T.; Fukui H.; Tabata M. Induction of berberine biosynthesis by cytokinins in Thalictrum minus cell suspension culture. Plant Cell Rep. 12: 70–73; 1993.

Hara M.; Morio H.; Yazaki K.; Tanaka S.; Tabata M. Separation and characterization of cytokinin-inducible (S)-tetrahydroberberine oxidases controlling berberine biosíntesis in Thalictrum minus cell cultures. Phytochemistry. 38: 89–93; 1995.

Hara M.; Tanaka S.; Tabata M. Induction of a specific methyltransferase activity regulating berberine biosíntesis by cytokinin in Thalictrum minus cell cultures. Phytochemistry. 36: 327–332; 1994.

Hsieh P. C.; Siegel S. A.; Rogers B.; Davis D.; Lewis K. Bacteria lacking a multidrug pump: a sensitive tool for drug discovery. Proc. Natl. Acad. Sci. U. S. A. 95: 6602–6606; 1998.

Ivanoska N.; Philipov S. Study on the anti-inflammatory action of Berberis vulgaris root extracts, alkaloid fractions and pure alkaloid. Int. J. Inmunopharmaco. 18: 553–561; 1997.

Jayakumaran A.; Fair P.; Sudhakaram J.; Madhusana R.; Ramakrishna S. Berberine synthesis by callus and cell suspension cultures of Coscinium fenestratum. Plant Cell Tiss. Org. Cult. 29: 7–10; 1992.

Jorgensen J. H.; Doern G. V.; Ferraro M. J.; Knapp C. C.; Swenson J. M.; Washington J. A. Multicenter evaluation of the use of Haemophilus test medium for broth microdilution, antimicrobial susceptibility testing of Streptococcus pneumoniae and development of quality control limits. J. Clin. Microbiol. 30: 961–966; 1992.

Koo L.; Seang K. Inhibitory effect of protoberberine alkaloids from the roots of Coptis japonica on chatecolamine biosynthesis in PC12 cells. Planta Med. 62: 31–34; 1996.

Kuo C. L.; Chi C. W.; Liu T. Y. The anti-inflammatory potential of berberine in vitro and in vivo. Cancer Lett. 203: 127–137; 2004.

Markham P. N.; Westhaus E.; Klyachko K.; Johnson M. E.; Neyfakh A. A multiple novel inhibitors of the NorA multidrug transporter of Staphylococcus aureus. Antimicrob. Agents Chemother. 43: 2404–2408; 1999.

Morel C.; Stermitz F. R.; Tegos G.; Lewis K. Isoflavones as potentiators of antimicrobial activity. J. Agric. Food Chem. 51: 5677–5679; 2003.

Murashige T.; Skoog F. A revised medium for rapid growth and bioassays with tobacco tissue cultures. Physiol. Plant. 15: 473–497; 1962.

Nakagawa K.; Konagai A.; Fukui H.; Tabata M. Release and crystallization of berberine in the liquid medium of Thalictrum minus cell suspension cultures. Plant Cell Rep. 3: 254–257; 1984.

National Committee for Clinical Laboratory Standards. Methods for antimicrobial susceptibility testing of anaerobic bacteria, 3rd edition; Approved Standard. NCCLS Document M11-A3, Vol. 13, No. 26. Villanova, NCCLS; 1993.

Neyfakh A. A. The ostensible paradox of multidrug recognition. J. Mol. Microbiol. Biotechnol. 3: 151–154; 2001.

Pozo M. J.; Van Loon L. C.; Pieterse C. M. J. Jasmonates-signals in plant-microbe interactions. J. Plant Growth Regul. 23: 211–222; 2005.

Raskin, I.; Ribnicky, D.; Komarnytsky, S.; Ilic, N.; Poulev, A.; Borisjuk, N.; et al. Plants and human health in the twenty-first century. Trends Biotechnol. 20: 522–531; 2002.

Stermitz F. R.; Beeson T. D.; Mueller P. J.; Hsiang J-F.; Lewis K. Staphylococcus aureus MDR efflux pump inhibitors from a Berberis and a Mahonia (sensu strictu) species. Biochem. Syst. Ecol. 29: 793–798; 2001.

Stermitz F. R.; Cashman K. K.; Halligan K. M.; Morel C.; Tegos G. P.; Lewis K. Polyacylated neohesperidosides from Geranium caespitosum: bacterial multidrug resistance pump inhibitors. Bioorg. Med. Chem. Lett. 13: 1915–1918; 2003.

Stermitz F. R.; Lorenz P.; Tawara J.; Zenewicz L.; Lewis K. Synergy in a medicinal plant: antimicrobial action of berberine potentiated by 5-methoxyhydnocarpin, a multidrug pump inhibitor. Proc. Natl. Acad. Sci. 97: 1433–1437; 2000a.

Stermitz F. R.; Scriven L. N.; Tegos G.; Lewis K. Two flavonols from Artemisa annua which potentiate the activity of berberine and norfloxacin against a resistant strain of Staphylococcus aureus. Planta Med. 68: 1140–1441; 2002.

Stermitz F. R.; Tawara-Matsuda J.; Lorenz P.; Mueller P.; Zenewicz L.; Lewis K. 5-Methoxyhydnocarpin-D and Pheophorbide A: Berberis species components that potentiate berberine growth inhibition of resistant Staphylococcus aureus. J. Nat. Prod. 63: 1146–1149; 2000b.

Tegos G.; Stermitz F. R.; Lomovskaya O.; Lewis K. Multidrug pump inhibitors uncover the potential activity of plant antimicrobials. Antimicrob. Agents Chemother. 46: 3133–3141; 2002.

Tukey J. W. Some selected quick and easy methods of statistical analysis. Trans. NY Acad. Sci. Ser. II. 16: 88–97; 1953.

Villinski R. J.; Dumas E. R.; Chai H-B.; Pezzuto J. M.; Angerhofer C. K.; Gafner S. Antibacterial activity and alkaloid content of Berberis thunbergii, Berberis vulgaris and Hydrastis canadensis. Pharm. Biol. 41: 551–557; 2003.
Acknowledgements
Both the S. aureus 4222 parent strain and the norA mutant KLE 820 were a kind gift from Dr. Frank R. Stermitz (Colorado State University, USA). The researchers also wish to acknowledge Dr. Miriam Arena for providing the B. buxifolia plants. We are also thankful to Dr. Osvaldo H. Caso (†) for his advice and fruitful discussions.
About this article
Cite this article
Pitta-Alvarez, S.I., Medina-Bolivar, F., Alvarez, M.A. et al. In vitro shoot culture and antimicrobial activity of Berberis buxifolia Lam. In Vitro Cell.Dev.Biol.-Plant 44, 502 (2008). https://doi.org/10.1007/s11627-008-9136-z
Received:

Accepted:

Published:
Keywords
Berberine

Jasmonic acid

MDR pumps

Picloram

Shoot culture

Thidiazuron