Abstract
Extracellular vesicles (EVs) are mediators of intercellular communication by transporting cargo containing proteins, lipids, mRNA, and miRNA. There is increasing evidence that EVs have various roles in regulating migration, invasion, stemness, survival, and immune functions. Previously, we have found that EVs from Kaposi's sarcoma-associated herpesvirus (KSHV)-infected human endothelial cells have the potential to activate the complement system. Although many studies have shown that the physical properties of EVs can be changed by their storage condition, there have been few studies for the stability of biological activity of EVs in various storage conditions. In this study, we investigated various conditions to identify the best conditions to store EVs with functional stability for 25 d. Furthermore, the correlation between the function and other characteristics of EVs, including the expression of EV markers, size distribution, and particle number, were also analyzed. Our results demonstrated that storage temperature is an important factor to maintain the activity of EVs and would be useful information for basic research and clinical application using EVs.
This is a preview of subscription content, log in to check access.
Access options
Buy single article
Instant access to the full article PDF.
US$ 39.95
Price includes VAT for USA
Subscribe to journal
Immediate online access to all issues from 2019. Subscription will auto renew annually.
US$ 99
This is the net price. Taxes to be calculated in checkout.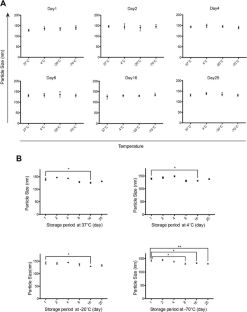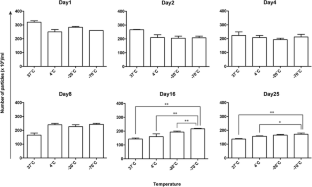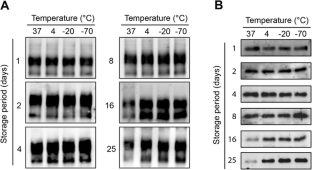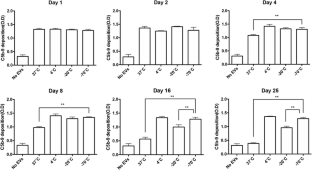 References
Bai L, Shao H, Wang H, Zhang Z, Su C, Dong L, Yu B, Chen X, Li X, Zhang X (2017) Effects of mesenchymal stem cell-derived exosomes on experimental autoimmune uveitis. Sci Rep 7:4323

Bosch S, de Beaurepaire L, Allard M, Mosser M, Heichette C, Chretien D, Jegou D, Bach JM (2016) Trehalose prevents aggregation of exosomes and cryodamage. Sci Rep 6:36162

Burke J, Kolhe R, Hunter M, Isales C, Hamrick M, Fulzele S (2016) Stem cell-derived exosomes: a potential alternative therapeutic agent in Orthopaedics. Stem Cells Int 2016:5802529

Ge Q, Zhou Y, Lu J, Bai Y, Xie X, Lu Z (2014) miRNA in plasma exosome is stable under different storage conditions. Molecules 19:1568–1575

Jeon H, Lee JS, Yoo S, Lee MS (2014) Quantification of complement system activation by measuring C5b-9 cell surface deposition using a cell-ELISA technique. J Immunol Methods 415:57–62

Jeon H, Yoo SM, Choi HS, Mun JY, Kang HG, Lee J, Park J, Gao SJ, Lee MS (2017) Extracellular vesicles from KSHV-infected endothelial cells activate the complement system. Oncotarget 8:99841–99860

Jeyaram A, Jay SM (2017) Preservation and storage stability of extracellular vesicles for therapeutic applications. AAPS J 20:1

Kalra H, Adda CG, Liem M, Ang CS, Mechler A, Simpson RJ, Hulett MD, Mathivanan S (2013) Comparative proteomics evaluation of plasma exosome isolation techniques and assessment of the stability of exosomes in normal human blood plasma. Proteomics 13:3354–3364

Maroto R, Zhao Y, JamaluddinM, Popov VL,Wang H, KalubowilageM, Zhang Y, Luisi J, Sun H, Culbertson CT, Bossmann SH, Motamedi M, Brasier AR (2017) Effects of storage temperature on airway 342 exosome integrity for diagnostic and functional analyses. J 343 Extracell Vesicles 6:1359478

Nolte-'t Hoen E, Cremer T, Gallo RC, Margolis LB (2016) Extracellular vesicles and viruses: are they close relatives? Proc Natl Acad Sci U S A 113:9155–9161

Osterman CJ, Lynch JC, Leaf P, Gonda A, Ferguson Bennit HR, Griffiths D, Wall NR (2015) Curcumin modulates pancreatic adenocarcinoma cell-derived exosomal function. PLoS One 10:e0132845

Raposo G, Stoorvogel W (2013) Extracellular vesicles: exosomes, microvesicles, and friends. J Cell Biol 200:373–383

Roma-Rodrigues C, Fernandes AR, Baptista PV (2014) Exosome in tumour microenvironment: overview of the crosstalk between normal and cancer cells. Biomed Res Int 2014:179486

Todorova D, Simoncini S, Lacroix R, Sabatier F, Dignat-George F (2017) Extracellular vesicles in angiogenesis. Circ Res 120:1658–1673

Welch JL, Madison MN, Margolick JB, Galvin S, Gupta P, Martinez-Maza O, Dash C, Okeoma CM (2017) Effect of prolonged freezing of semen on exosome recovery and biologic activity. Sci Rep 7:45034

Wendler F, Favicchio R, Simon T, Alifrangis C, Stebbing J, Giamas G (2017) Extracellular vesicles swarm the cancer microenvironment: from tumor-stroma communication to drug intervention. Oncogene 36:877–884

Whiteside TL (2016) Exosomes and tumor-mediated immune suppression. J Clin Invest 126:1216–1223

Yoo SM, Ahn AK, Seo T, Hong HB, Chung MA, Jung SD, Cho H, Lee MS (2008) Centrifugal enhancement of Kaposi's sarcoma-associated virus infection of human endothelial cells in vitro. J Virol Methods 154:160–166

Zhao H, Yang L, Baddour J, Achreja A, Bernard V, Moss T, Marini JC, Tudawe T, Seviour EG, San Lucas FA, Alvarez H, Gupta S, Maiti SN, Cooper L, Peehl D, Ram PT, Maitra A, Nagrath D (2016) Tumor microenvironment derived exosomes pleiotropically modulate cancer cell metabolism. Elife 5:e10250
Funding
This work was supported by the Basic Science Research Program through the National Research Foundation of Korea (NRF-2017R1A2B4002405). SJP is partially supported by a fellowship from Eulji University Graduate School.
About this article
Cite this article
Park, S.J., Jeon, H., Yoo, S. et al. The effect of storage temperature on the biological activity of extracellular vesicles for the complement system. In Vitro Cell.Dev.Biol.-Animal 54, 423–429 (2018). https://doi.org/10.1007/s11626-018-0261-7
Received:

Accepted:

Published:

Issue Date:
Keywords
Extracellular vesicles

Exosome

Complement system

KSHV

Storage

Stability

Temperature