Abstract
Primary hepatocyte culture is a crucial tool for investigations of liver function and for evaluating the toxic effects of drugs. In addition, chromosomal analysis of hepatocytes could also prove useful for understanding the mechanisms of hepatocarcinogenesis. However, cultivation of primary hepatocytes for chromosome analysis has been hampered by the specific equipment and skill required to perform the in situ perfusion step necessary for isolation of primary hepatocytes. In the present study, we aimed to establish a simple and efficient method of isolating hepatocytes suitable for chromosome analysis. We performed hepatocyte isolation without using collagenase perfusion, instead digesting liver tissues using collagenase in tubes. In addition, we examined hepatocyte and bone marrow cell (BMC) co-culture and cultivation of hepatocytes with medium containing BMC culture medium supernatants. We found that hepatocyte viability and attachment rate were significantly improved, both by co-culture with BMCs and medium containing BMC culture media supernatants, with the latter also significantly increasing the mitotic index. Using this simple method of isolation and cultivation, we could successfully perform chromosomal analysis of mouse primary hepatocytes. This method has the potential to help understand the mechanisms underlying chromosomal instability-mediated hepatocarcinogenesis.
Access options
Buy single article
Instant access to the full article PDF.
USD 39.95
Price excludes VAT (USA)
Tax calculation will be finalised during checkout.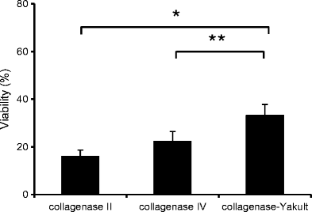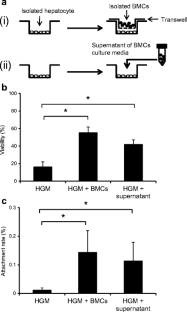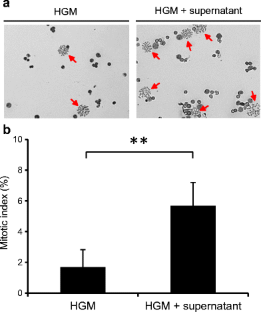 References
Ariyoshi K, Suzuki K, Goto M et al (2009) Introduction of a normal human chromosome 8 corrects abnormal phenotypes of Werner syndrome cells immortalized by expressing an hTERT gene. J Radiat Res 50:253–259. doi:10.1269/jrr.08111

Berry MN, Friend DS (1969) High-yield preparation of isolated rat liver parenchymal cells: a biochemical and fine structural study. JCell Biol 43:506–520

Bhandari RN, Riccalton LA, Lewis AL et al (2001) Liver tissue engineering: a role for co-culture systems in modifying hepatocyte function and viability. Tissue Eng 7:345–357. doi:10.1089/10763270152044206

Cho CH, Berthiaume F, Tilles AW, Yarmush ML (2008) A new technique for primary hepatocyte expansion in vitro. Biotechnol Bioeng 101:345–356. doi:10.1002/bit.21911

Feitelson MA, Sun B, Satiroglu Tufan NL et al (2002) Genetic mechanisms of hepatocarcinogenesis. Oncogene 21:2593–2604. doi:10.1038/sj.onc.1205434

Forner A, Llovet JM, Bruix J (2012) Hepatocellular carcinoma. Lancet 379:1245–1255. doi:10.1016/S0140-6736(11)61347-0

Gu J, Shi X, Chu X et al (2009) Contribution of bone marrow mesenchymal stem cells to porcine hepatocyte culture in vitro. Biochem Cell Biol 87:595–604. doi:10.1139/o09-017

Ijima H, Matsuo T, Kawakami K (2008) The mixed coculture effect of primary rat hepatocytes and bone marrow cells is caused by soluble factors derived from bone marrow cells. J Biosci Bioeng 105:226–231. doi:10.1263/jbb.105.226

Lee J-S, Thorgeirsson SS (2005) Genetic profiling of human hepatocellular carcinoma. Semin Liver Dis 25:125–132. doi:10.1055/s-2005-871192

Narumi K, Ashizawa K, Takashima R et al (2012) Development of a repeated-dose liver micronucleus assay using adult rats: an investigation of diethylnitrosamine and 2,4-diaminotoluene. Mutat Res—Genet Toxicol Environ Mutagen 747:234–239. doi:10.1016/j.mrgentox.2012.05.012

Seglen PO (1976) Chapter 4 preparation of isolated rat liver cells. Methods Cell Biol 13:29–83. doi:10.1016/S0091-679X(08)61797-5
Acknowledgements
The authors would like to thank I. Asari and other laboratory members for technical and secretarial assistance and Dr. Shimada at the National Institute of Radiological Sciences for technical assistance and Dr. BJ Blyth for helpful discussion and critical reading of the manuscript.
All animal experiments were conducted according to the Hirosaki University guidelines for animal experimentation, and the research protocol was approved in advance by the Ethics Committee.
About this article
Cite this article
Ariyoshi, K., Fujishima, Y., Miura, T. et al. Rapid isolation of murine primary hepatocytes for chromosomal analysis. In Vitro Cell.Dev.Biol.-Animal 53, 474–478 (2017). https://doi.org/10.1007/s11626-017-0132-7
Received:

Accepted:

Published:

Issue Date:

DOI: https://doi.org/10.1007/s11626-017-0132-7
Keywords