Abstract
Islet transplantation provides curative treatments to patients with type 1 diabetes, but donor shortage restricts the broad use of this therapy. Thus, generation of alternative transplantable cell sources is intensively investigated worldwide. We previously showed that bone marrow-derived mesenchymal stem cells (bmMSCs) can be reprogrammed to pancreatic-like cells through simultaneously forced suppression of Rest/Nrsf (repressor element-1 silencing transcription factor/neuronal restrictive silencing factor) and Shh (sonic hedgehog) and activation of Pdx1 (pancreas and duodenal transcription factor 1). We here aimed to reprogram bmMSCs further along the developmental pathway towards the islet lineages by improving our previous strategy and by overexpression of Ngn3 (neurogenin 3) and NeuroD1 (neurogenic differentiation 1), critical regulators of the development of endocrine pancreas. We showed that compared to the previous protocol, the overexpression of only Pdx1 and Ngn3 reprogrammed bmMSCs into cells with more characteristics of islet endocrine lineages verified with bioinformatic analyses of our RNA-Seq datasets. These analyses indicated 2325 differentially expressed genes including those involved in the pancreas and islet development. We validated with qRT-PCR analysis selective genes identified from the RNA-Seq datasets. Thus, we reprogrammed bmMSCs into islet endocrine-like cells and advanced the endeavor to generate surrogate functional insulin-secreting cells.
Access options
Buy single article
Instant access to the full article PDF.
USD 39.95
Price includes VAT (USA)
Tax calculation will be finalised during checkout.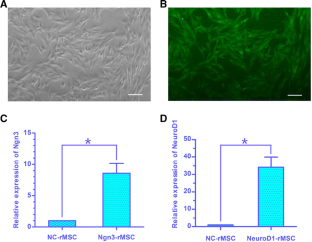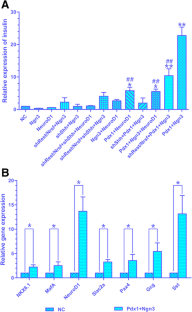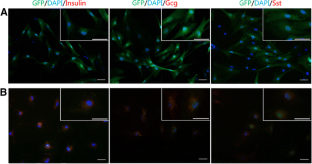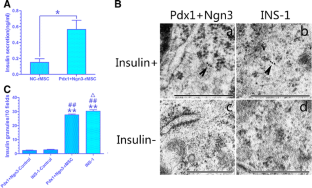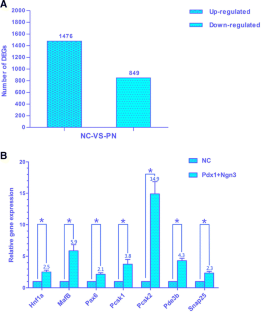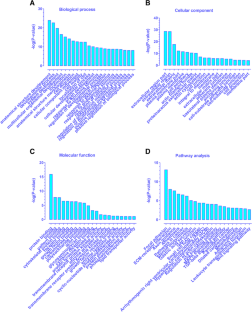 References
Audic S, Claverie JM (1997) The significance of digital gene expression profiles. Genome Res 7:986–995

Caplice NM, Bunch TJ, Stalboerger PG, Wang S, Simper D, Miller DV, Russell SJ, Litzow MR, Edwards WD (2003) Smooth muscle cells in human coronary atherosclerosis can originate from cells administered at marrow transplantation. Proc Natl Acad Sci U S A 100:4754–4759

Chambers SM, Studer L (2011) Cell fate plug and play: direct reprogramming and induced pluripotency. Cell 145:827–830

Chen Y, Carlessi R, Walz N, Cruzat VF, Keane K, John AN, Jiang FX, Carnagarin R, Dass CR, Newsholme P (2016) Pigment epithelium-derived factor (PEDF) regulates metabolism and insulin secretion from a clonal rat pancreatic beta cell line BRIN-BD11 and mouse islets. Mol Cell Endocrinol 426:50–60

Collombat P, Mansouri A, Hecksher-Sorensen J, Serup P, Krull J, Gradwohl G, Gruss P (2003) Opposing actions of Arx and Pax4 in endocrine pancreas development. Genes Dev 17:2591–2603

Ding Y, Bushell A, Wood KJ (2010) Mesenchymal stem-cell immunosuppressive capabilities: therapeutic implications in islet transplantation. Transplantation 89:270–273

English K, French A, Wood KJ (2010) Mesenchymal stromal cells: facilitators of successful transplantation? Cell Stem Cell 7:431–442

Gradwohl G, Dierich A, LeMeur M, Guillemot F (2000) Neurogenin3 is required for the development of the four endocrine cell lineages of the pancreas. Proc Natl Acad Sci U S A 97:1607–1611

Guo L, Li Q, Wang W, Yu P, Pan H, Li P, Sun Y, Zhang J (2009) Apelin inhibits insulin secretion in pancreatic beta-cells by activation of PI3-kinase-phosphodiesterase 3B. Endocr Res 34:142–154

Guo QS, Zhu MY, Wang L, Fan XJ, Lu YH, Wang ZW, Zhu SJ, Wang Y, Huang Y (2012) Combined transfection of the three transcriptional factors, PDX-1, NeuroD1, and MafA, causes differentiation of bone marrow mesenchymal stem cells into insulin-producing cells. Exp Diabetes Res 2012:672013

IDF (2015) Diabetes Atlas,7th edition, http://www.diabetesatlas.org/.

Jiang Y, Jahagirdar BN, Reinhardt RL, Schwartz RE, Keene CD, Ortiz-Gonzalez XR, Reyes M, Lenvik T, Lund T, Blackstad M et al (2002) Pluripotency of mesenchymal stem cells derived from adult marrow. Nature 418:41–49

Karaoz E, Aksoy A, Ayhan S, Sariboyaci AE, Kaymaz F, Kasap M (2009) Characterization of mesenchymal stem cells from rat bone marrow: ultrastructural properties, differentiation potential and immunophenotypic markers. Histochem Cell Biol 132:533–546

Karnieli O, Izhar-Prato Y, Bulvik S, Efrat S (2007) Generation of insulin-producing cells from human bone marrow mesenchymal stem cells by genetic manipulation. Stem Cells 25:2837–2844

Krause DS, Theise ND, Collector MI, Henegariu O, Hwang S, Gardner R, Neutzel S, Sharkis SJ (2001) Multi-organ, multi-lineage engraftment by a single bone marrow-derived stem cell. Cell 105:369–377

Kubo A, Stull R, Takeuchi M, Bonham K, Gouon-Evans V, Sho M, Iwano M, Saito Y, Keller G, Snodgrass R (2011) Pdx1 and Ngn3 overexpression enhances pancreatic differentiation of mouse ES cell-derived endoderm population. PLoS One 6, e24058

Li HT, Jiang FX, Shi P, Zhang T, Liu XY, Lin XW, Pang XN (2012) In vitro reprogramming of rat bone marrow-derived mesenchymal stem cells into insulin-producing cells by genetically manipulating negative and positive regulators. Biochem Biophys Res Commun 420:793–798

Li L, Li F, Qi H, Feng G, Yuan K, Deng H, Zhou H (2008) Coexpression of Pdx1 and betacellulin in mesenchymal stem cells could promote the differentiation of nestin-positive epithelium-like progenitors and pancreatic islet-like spheroids. Stem Cells Dev 17:815–823

Limbert C, Path G, Ebert R, Rothhammer V, Kassem M, Jakob F, Seufert J (2011) PDX1- and NGN3-mediated in vitro reprogramming of human bone marrow-derived mesenchymal stromal cells into pancreatic endocrine lineages. Cytotherapy 13:802–813

Livak KJ, Schmittgen TD (2001) Analysis of relative gene expression data using real-time quantitative PCR and the 2(−Delta Delta C(T)) Method. Methods 25:402–408

Lois C, Hong EJ, Pease S, Brown EJ, Baltimore D (2002) Germline transmission and tissue-specific expression of transgenes delivered by lentiviral vectors. Science 295:868–872

MacDonald MJ, Smith AD 3rd, Hasan NM, Sabat G, Fahien LA (2007) Feasibility of pathways for transfer of acyl groups from mitochondria to the cytosol to form short chain acyl-CoAs in the pancreatic beta cell. J Biol Chem 282:30596–30606

Moriscot C, de Fraipont F, Richard MJ, Marchand M, Savatier P, Bosco D, Favrot M, Benhamou PY (2005) Human bone marrow mesenchymal stem cells can express insulin and key transcription factors of the endocrine pancreas developmental pathway upon genetic and/or microenvironmental manipulation in vitro. Stem Cells 23:594–603

Ohta Y, Kitanaka A, Mihara K, Imataki O, Ohnishi H, Tanaka T, Taminato T, Kubota Y (2011) Expression of CD38 with intracellular enzymatic activity: a possible explanation for the insulin release induced by intracellular cADPR. Mol Cell Biochem 352:293–299

Okamoto R, Yajima T, Yamazaki M, Kanai T, Mukai M, Okamoto S, Ikeda Y, Hibi T, Inazawa J, Watanabe M (2002) Damaged epithelia regenerated by bone marrow-derived cells in the human gastrointestinal tract. Nat Med 8:1011–1017

Papp B, Plath K (2013) Epigenetics of reprogramming to induced pluripotency. Cell 152:1324–1343

Trajkovski I, Lavrac N, Tolar J (2008) SEGS: search for enriched gene sets in microarray data. J Biomed Inform 41:588–601

Yuan H, Li J, Xin N, Zhao Z, Qin G (2010) Expression of Pdx1 mediates differentiation from mesenchymal stem cells into insulin-producing cells. Mol Biol Rep 37:4023–4031

Zhao M, Amiel SA, Ajami S, Jiang J, Rela M, Heaton N, Huang GC (2008) Amelioration of streptozotocin-induced diabetes in mice with cells derived from human marrow stromal cells. PLoS One 3:e2666

Zhao S, Wehner R, Bornhauser M, Wassmuth R, Bachmann M, Schmitz M (2010) Immunomodulatory properties of mesenchymal stromal cells and their therapeutic consequences for immune-mediated disorders. Stem Cells Dev 19:607–614

Zywert A, Szkudelska K, Szkudelski T (2014) Inhibition of phosphodiesterase 3B in insulin-secreting cells of normal and streptozocin-nicotinamide-induced diabetic rats: implications for insulin secretion. J Physiol Pharmacol 65:425–433
Acknowledgments
This work was supported by the National Basic Research Program of China (2012CB518 103), National Natural Science Foundation of China (81370883), Doctoral Fund of Ministry of Education of China (20132104110020), the Doctor Start-up Fund of Liaoning Province (20141168), and Clinical Capability Construction Project for Liaoning Provincial Hospitals (LNCCC-D50-2015). The funding agencies do not have any roles in study design, in the collection, analysis and interpretation of data, in the writing of the manuscript, and in the decision to submit the article for publication. All animals used were approved by the Ethics Review Committee for Animal Experimentation of China Medical University and were obtained from and bred in the university's Laboratory Animal Center.
Ethics declarations
Conflict of interest
The authors declare that they have no conflicts of interest.
About this article
Cite this article
Li, HT., Jiang, FX., Shi, P. et al. In vitro reprogramming of rat bmMSCs into pancreatic endocrine-like cells. In Vitro Cell.Dev.Biol.-Animal 53, 157–166 (2017). https://doi.org/10.1007/s11626-016-0087-0
Received:

Accepted:

Published:

Issue Date:
Keywords
Mesenchymal stem cells

Reprogramming

Pancreatic endocrine lineage cells

Lentivirus vector

RNA-Seq