Abstract
The objective of the present study was to assess the in vitro anticancer activity of 70% methanolic extract of Terminalia belerica (TBME) against human lung (A549) and human breast (MCF-7) carcinoma and its possible mechanism. TBME showed significant cytotoxicity to both A549 and MCF-7 cells, whereas, no cytotoxicity was found in non-malignant WI-38 cells. Flow cytometric analysis was then performed and 100 μg/ml of TBME was selected as the effective concentration inducing apoptosis in A549 and MCF-7. At this concentration, TBME caused DNA fragmentation pattern of apoptosis. Furthermore, mechanism of apoptosis induction was demonstrated using western blotting and Bax/Bcl-2 ratio in both types of the cells was found increased, which leads to the activation of caspase cascade along with the cleavage of PARP. These results suggested that TBME is able to induce anticancer effects on both lung and breast cancer cell lines through the modulation of Bcl-2 family proteins.
Access options
Buy single article
Instant access to the full article PDF.
US$ 39.95
Tax calculation will be finalised during checkout.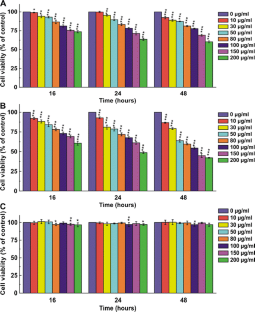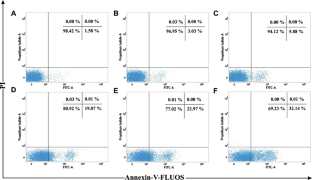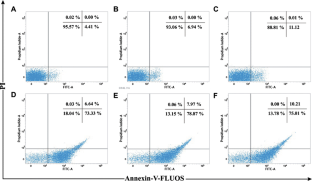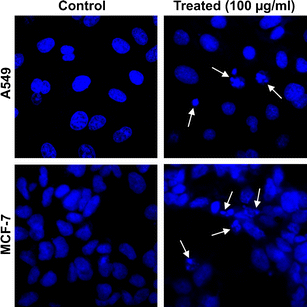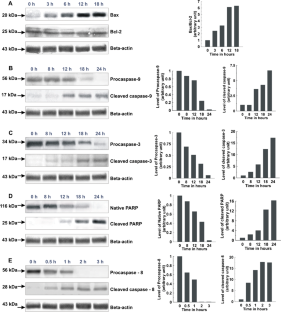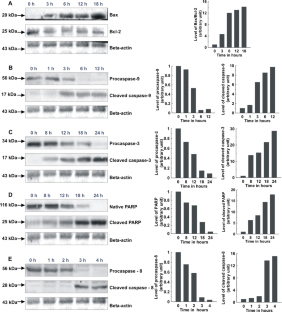 References
Allen R. T.; Hunter 3rd W. J.; Agrawal D. K. Morphological and biochemical characterization and analysis of apoptosis. J Pharmacol Toxicol 37: 215–228; 1997.

Anto R. J.; Mukhopadhyay A.; Denning K.; Aggarwal B. B. Curcumin (diferuloylmethane) induces apoptosis through activation of caspase-8, BID cleavage and cytochrome c release: its suppression by ectopic expression of Bcl-2 and Bcl-xl. Carcinogenesis 23: 143–150; 2002.

Aqil F.; Ahmad I. Antibacterial properties of traditionally used Indian medicinal plants. Method Find Exp Clin 29: 79–92; 2007.

Cancer Fact sheet GLOBOCAN 2008 (2012). http://www.who.int/mediacentre/factsheets/fs297/en/.

Chan K. T.; Meng F. Y.; Li Q.; Ho C. Y.; Lam T. S.; To Y.; Lee W. H.; Li M.; Chu K. H.; Toh M. Cucurbitacin B induces apoptosis and S phase cell cycle arrest in BEL-7402 human hepatocellular carcinoma cells and is effective via oral administration. Cancer Lett 294: 118–124; 2010.

Christiansen S.; Autschbach R. Doxorubicin in experimental and clinical heart failure. Eur J Cardio-Thorac 30: 611–616; 2006.

Elizabeth K. M. Antimicrobial activity of Terminalia bellerica. Indian J Clin Biochem 20: 150–153; 2005.

Ghate N. B.; Hazra B.; Sarkar R.; Mandal N. In vitro anticancer activity of Spondias pinnata bark on human lung and breast carcinoma. Cytotechnology DOI; 2013. doi:10.1007/s10616-013-9553-7.

Gokhale S. B.; Kokate C. K.; Purohit A. P. Pharmacognosy. Nirali Prakashan, Pune; 2003.

Gupta S.; Afaq F.; Mukhtar H. Involvement of nuclear factor-kappa B, Bax and Bcl-2 in induction of cell cycle arrest and apoptosis by apigenin in human prostate carcinoma cells. Oncogene 21: 3727–3738; 2002.

Harbornen J. B.; Baxter H. Phytochemical dictionary: a handbook of bioactive compounds from plants. Taylor and Francis, London; 1995.

Hazra B.; Sarkar R.; Biswas S.; Mandal N. Comparative study of the antioxidant and reactive oxygen species scavenging properties in the extracts of the fruits of Terminalia chebula, Terminalia belerica and Emblica officinalis. BMC Complement Altern Med 10: 20; 2010.

Hu W.; Kavanagh J. J. Anticancer therapy targeting the apoptotic pathway. Lancet Oncol. 4: 721–729; 2003.

Kaur S.; Michael H.; Arora S.; Harkonen P. L.; Kumar S. The in vitro cytotoxic and apoptotic activity of Triphala—an Indian herbal drug. J Ethnopharmacol 97: 15–20; 2005.

Kondawar M. S.; Kamble K. G.; Mali D. S. Quantitative estimation of gallic acid and ascorbic acid in a marketed herbal medicine: Triphala Churna by high performance thin layer chromatography. Int J PharmTech Res 3: 1593–1599; 2011.

Kumudhavalli M. V.; Vyas M.; Jayakar B. Phytochemical and pharmacological evaluation of the plant fruit of Terminalia belerica Roxb. Int J Pharm Life Sci 1: 1–11; 2010.

Martinez V.; Barberá O.; Sánchez-Parareda J.; Marco J. A. Phenolic and acetylenic metabolites from Artemisia assoana. Phytochemistry 26: 2619–2624; 1987.

Meenakshii N.; Teoh P. L.; Azimahtol Hawariah L. P.; Hasidah S. Styrylpyrone derivative (SPD) induced apoptosis in ovarian cancer cells correlates with down-regulation of BCL-2 and MAPK but up-regulation of BAX without altering of p53 and c-JUN protein levels. J Trop Med Plants 1: 1–3; 2000.

Meshram G.; Patil B.; Shinde D.; Metangale G. Effect of Epigallocatechin gallate isolated from Terminalia bellerica fruit rind on glucoamylase activity in vitro. J Appl Pharm Sci 1: 115–117; 2011.

Miyashita T.; Reed J. C. Tumor suppressor p53 is a direct transcriptional activator of the human bax gene. Cell 80: 293–299; 1995.

Mukherjee A. K.; Basu S.; Sarkar N.; Ghosh A. C. Advances in cancer therapy with plant-based natural products. Curr Med Chem 8: 1467–1486; 2001.

Orren D. K.; Petersen L. N.; Bohr V. A. Persistent DNA damage inhibits S-phase and G2 progression, and results in apoptosis. Mol Biol Cell 8: 1129–1142; 1997.

Park M. T.; Kang J. A.; Choi J. A.; Kang C. M.; Kim T. H.; Bae S.; Kang S.; Kim S.; Choi W. I.; Cho C. K.; Chung H. Y.; Lee Y. S.; Lee S. J. Phytosphingosine induces apoptotic cell death via caspase 8 activation and Bax translocation in human cancer cells. Clin Cancer Res 9: 878–885; 2003.

Pinmai K.; Chunlaratthanabhorn S.; Ngamkitidechakul C.; Soonthornchareon N.; Hahnvajanawong C. Synergistic growth inhibitory effects of Phyllanthus emblica and Terminalia bellerica extracts with conventional cytotoxic agents: Doxorubicin and cisplatin against human hepatocellular carcinoma and lung cancer cells. World J Gastroentero 14: 1491–1497; 2008.

Reed J. C. Double identity for proteins of the Bcl-2 family. Nature 387: 773–776; 1997.

Robert E. B. Method for estimation of tannin in grain sorghum. Agron J 63: 511–512; 1971.

Sabu M. C.; Kuttan R. Antidiabetic and antioxidant activity of Terminalia belerica Roxb. Indian J Exp Biol 47: 270–275; 2009.

Sadasivam S, Manickam A (1997) "Biochemical Methods," New Age International (P) Ltd, New Delhi.

Shi Y.; Sahu R. P.; Srivastava S. K. Triphala inhibits both in vitro and in vivo xenograft growth of pancreatic tumor cells by inducing apoptosis. BMC Cancer 8: 294; 2008.

Singh D. K.; Srivastava B.; Sahu A. Spectroscopic determination of rauwolfia alkaloids: estimation of reserpine in pharmaceuticals. Analytical Sciences 20: 571–573; 2004.

Strobel T.; Swanson L.; Korsmeyer S.; Cannistra S. A. BAX enhances paclitaxel-induced apoptosis through a p53-independent pathway. Proc Natl Acad Sci USA 93: 14094–14099; 1996.

Thornberry N. A. The caspase family of cysteine proteases. Br Med Bull 53: 478–490; 1997.

Tian Z.; Shen J.; Moseman A. P.; Yang Q.; Yang J.; Xiao P.; Wu E.; Kohane I. S. Dulxanthone A induces cell cycle arrest and apoptosis via up-regulation of p53 through mitochondrial pathway in HepG2 cells. Int J Cancer 122: 31–38; 2008.

Valsaraj R.; Pushpangadan P.; Smitt U. W.; Adsersen A.; Christensen S. B.; Sittie A.; Nyman U.; Nielsen C.; Olsen C. E. New Anti-HIV-1, antimalarial, and antifungal compounds from Terminalia bellerica. J Nat Prod 60: 739–742; 1997.

Von Hoff D. D.; Layard M. W.; Basa P.; Davis Jr. H. L.; Von Hoff A. L.; Rozencweig M.; Muggia F. M. Risk factors for doxorubicin-induced congestive heart failure. Ann Int Med 91: 710–717; 1979.

Wang Y. N.; Qin J.; Zheng X. Y.; Bai Y.; Yang K.; Xie L. P. Diallyl trisulfide induces Bcl-2 and caspase-3-dependent apoptosis via downregulation of Akt phosphorylation in human T24 bladder cancer cells. Phytomedicine 17: 363–368; 2010.
Acknowledgments
The authors would like to acknowledge Mr. Ranjit K. Das and Mr. Pradip K. Mallick for their technical assistance.
Conflict of interests
The authors declare that they have no conflicts of interest.
About this article
Cite this article
Ghate, N.B., Hazra, B., Sarkar, R. et al. Alteration of Bax/Bcl-2 ratio contributes to Terminalia belerica-induced apoptosis in human lung and breast carcinoma. In Vitro Cell.Dev.Biol.-Animal 50, 527–537 (2014). https://doi.org/10.1007/s11626-013-9726-x
Received:

Accepted:

Published:

Issue Date:
Keywords
Terminalia belerica

Anticancer

Apoptosis

A549

MCF-7

Bax/Bcl-2