Abstract
The gills contain essential cells for respiration and osmoregulation, whereas the hepatopancreas is the site of digestion, absorption, and nutrients storage. The aim of this work was to separate and characterize gill and hepatopancreatic cells of the mangrove crab, Ucides cordatus. For gills, the methodology consisted of an enzymatic cellular dissociation using Trypsin at 0.5%, observation of cellular viability with Tripan Blue, and separation of cells using discontinuous sucrose gradient at concentrations of 10%, 20%, 30%, and 40%. The hepatopancreatic cells were dissociated by magnetic stirring, with posterior separation by sucrose gradient at the same concentrations above. For gills, a high cellular viability was observed (92.5±2.1%), with hemocyte cells in 10% sucrose layer (57.99 ± 0.17%, *P < 0.05), principal cells in the 20% sucrose layer (57.33 ± 0.18, *P < 0.05), and thick cells and pillar cells in the 30% and 40% sucrose layers, respectively (39.54 ± 0.05%, *P < 0.05; and 41.81 ± 0.04%, *P < 0.05). The hepatopancreatic cells also showed good viability (79.22 ± 0.02%), with the observation of embryonic (E) cells in the 10% sucrose layer (67.87 ± 0.06%, **P < 0.001), resorptive (R) and fibrillar (F) cells in the 20% and 30% sucrose layers (44.71 ± 0.06%, **P < 0.001, and 43.25 ± 0.01%, *P < 0.05; respectively), and blister (B) cells in the 40% sucrose layer (63.09 ± 0.03%, **P < 0.001). The results are a starting point for in vitro studies of heavy metal transport in isolated cells of the mangrove crab U. cordatus, subjected to contamination by metals in the mangrove habitat where they are found.
Access options
Buy single article
Instant access to the full article PDF.
USD 39.95
Price includes VAT (USA)
Tax calculation will be finalised during checkout.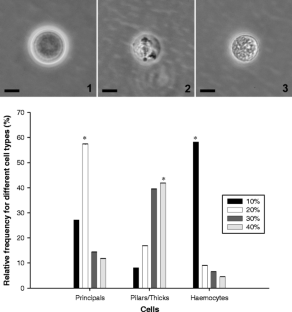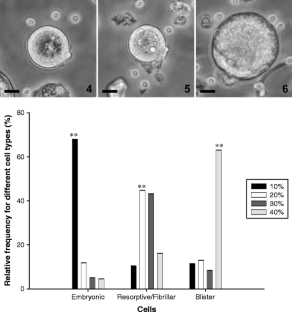 References
Al-Mohanna S. Y.; Nott J. A. Functional cytology of the hepatopancreas of Penaeus semisulcatus (Crustacea: Decapoda) during the moult cycle. Mar Biol 101: 503–544; 1989.

Al-Mohanna S. Y.; Nott J. D. B-cells and ingestion in the hepatopancreas of Penaeus semisulcatus (Crustacea:Decapoda). J Mar Biol Assoc U K 66: 403–414; 1986.

Chavez-Crooker P.; Garrido N.; Ahearn G. A. Copper transport by lobster hepatopancreatic epithelial cells separated by centrifugation elutriation: measurements with the fluorescent dye Phen Green. J Exp Biol 204: 1433–1444; 2001.

Freire C. A.; Onken H.; Mcnamara J. C. Review. A structure function analysis of ion transport in crustacean gills and excretory organs. Comp Biochem Physiol 3: 04–23; 2007.

Gibson R.; Barker P. L. The decapod hapatopancreas. Oceanog Mar Biol Ann Rev 17: 285–346; 1979.

Hopkin S. P.; Nott J. A. Studies on the digestive cycle of the shore crab Carcinus maenas (L.) with special reference to the B cells in the hepatopancreas. J Mar Biol Assoc U K 60: 891–907; 1980.

Icely J. D.; Nott J. A. Digestion and absorption: digestive system and associated organs. In: Harrison F. W.; Humes A. G. (eds) Microscopic anatomy of invertebrates: Decapod, Crustacea. Wily-Liss Inc, New York, pp 147–201; 1992.

Lawson S. L.; Jones M. B.; Moate R. M. Effect of copper on the ultrastructure of the gill epithelium of Carcinus maenas (Decapoda: Brachyura). Mar Poll Bull 31: 63–72; 1995.

Mulford A. L.; Villena A. J. Cell cultures from crustaceans: Shrimps, crabs and crayfish. In: Mothersill C and Austin B. Aquatic invertebrate cell culture. Springer, Berlin, pp 63–134; 2000.

Rinderhagen M.; Ritterhoff J.; Zauke G. P. Crustaceans as bioindicators. Env Res Forum 9: 161–194; 2000.

Ringwood A H, Hoguet J, Keppler CJ, Gielazyn ML, Ward B P, and Rourk A R (2003) Cellular Biomarkers (Lysosomal Destabilization, Glutathione & Lipid Peroxidation) in Three Common Estuarine Species: A Methods Handbook. Mar Res.

Tennant J. R. Evaluation of the trypan blue technique for determination of cell viability. Transplantation 2: 6; 1964.
Acknowledgments
The authors express their appreciation to PIBIC-Mackenzie, Mackpesquisa, and FAPESP for the financial support, and to all the laboratory colleagues.
About this article
Cite this article
Ortega, P., e Sá, M.G., Custódio, M.R. et al. Separation and viability of gill and hepatopancreatic cells of a mangrove crab Ucides cordatus . In Vitro Cell.Dev.Biol.-Animal 47, 346–349 (2011). https://doi.org/10.1007/s11626-011-9402-y
Received:

Accepted:

Published:

Issue Date:
Keywords
Ucides cordatus

Gills

Hepatopancreas

Enzymatic dissociation

Isolated cells