Abstract
Species identification of cell lines and detection of cross-contamination are crucial for scientific research accuracy and reproducibility. Whereas short tandem repeat profiling offers a solution for a limited number of species, primarily human and mouse, the standard method for species identification of cell lines is enzyme polymorphism. Isoezymology, however, has its own drawbacks; it is cumbersome and the data interpretation is often difficult. Furthermore, the detection sensitivity for cross-contamination is low; it requires large amounts of the contaminant present and cross-contamination within closely related species may go undetected. In this paper, we describe a two-pronged molecular approach that addresses these issues by targeting the mitochondrial genome. First, we developed a multiplex PCR-based assay to rapidly identify the most common cell culture species and quickly detect cross-contaminations among these species. Second, for speciation and identification of a wider variety of cell lines, we amplified and sequenced a 648-bp region, often described as the "barcode region" by using a universal primer mix targeted at conserved sequences of the cytochrome C oxidase I gene (COI). This method was challenged with a panel of 67 cell lines from 45 diverse species. Implementation of these assays will accurately determine the species of cell lines and will reduce the problems of misidentification and cross-contamination that plague research efforts.
Access options
Buy single article
Instant access to the full article PDF.
US$ 39.95
Tax calculation will be finalised during checkout.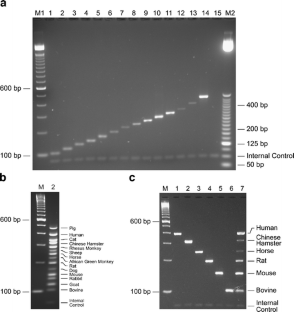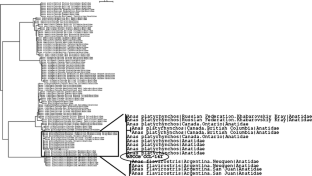 References
Alexander, D.S.; Sipley, J.D.; Quigley, J.P. Autoactivation of avian urokinase-type plasminogen activator (uPA). A novel mode of initiation of the uPA/plasmin cascade. J Biol Chem 273(13):7457–61; 1998.

Buehring, G.C.; Eby, E.A.; Eby M.J. Cell line cross-contamination: how aware are Mammalian cell culturists of the problem and how to monitor it? In Vitro Cell Dev Biol Anim 40(7):211–5; 2004.

Chatterjee, R. Cell biology. Cases of mistaken identity. Science 315(5814):928–31; 2007.

Cywinska, A.; Hunter, F.F.; Hebert, P.D. Identifying Canadian mosquito species through DNA barcodes. Med Vet Entomol 20(4):413–24; 2006.

Farris, A.D.; Koelsch, G.; Pruijn, G.J.; van Venrooij, W.J.; Harley, J.B. Conserved features of Y RNAs revealed by automated phylogenetic secondary structure analysis. Nucleic Acids Res 27(4):1070–8; 1999.

Folmer, O.; Black, M.; Hoeh, W.; Lutz, R.; Vrijenhoek, R. DNA primers for amplification of mitochondrial cytochrome c oxidase subunit I from diverse metazoan invertebrates. Mol Mar Biol Biotechnol 3(5):294–9; 1994.

Harris, N.L.; Gang, D.L.; Quay, S.C.; Poppema, S; Zamecnik, P.C.; Nelson-Rees, W.A.; O'Brien, S.J. Contamination of Hodgkin's disease cell cultures. Nature 289(5795):228–30; 1981.

Hay, R.J.; Chen, T.J.; Macy, M.L.; Reid, Y.A. Replay to "Cell, lines and DNA fingerprinting". In Vitro Cell Dev Biol 28A:593–594; 1992.

Hebert, P.D.; Cywinska, A.; Ball, S.L.; deWaard, J.R. Biological identifications through DNA barcodes. Proc Biol Sci 270(1512):313–321; 2003a

Hebert, P.D.; Ratnasingham, S.; deWaard, J.R. Barcoding animal life: cytochrome c oxidase subunit 1 divergences among closely related species. Proc Biol Sci 270 Suppl 1:S96–9; 2003b.

Hebert, P.D.; Penton, E.H.; Burns, J.M.; Janzen, D.H.; Hallwachs, W. Ten species in one: DNA barcoding reveals cryptic species in the neotropical skipper butterfly Astraptes fulgerator. Proc Natl Acad Sci U S A 101(41):14812–7; 2004

Ivanova, N.V.; deWaard, J.R.; Hebert, P.D.N. An inexpensive, automation-friendly protocol for recovering high-quality DNA. Molecular Ecology Notes 6:992–1002; 2006.

Ivanova, N.V.; Zemlak, T.S.; Hanner, R.H.; Hebert, P.D.N. Universal primer cocktails for fish DNA barcoding. Molecular Ecology Notes 7(4):544–548; 2007.

Kerr, K.C.R.; Stoeckle, M.Y.; Dove, C.J.; Weight, L.A.; Francis, C.M.; Hebert, P.D.N. Comprehensive DNA barcode coverage of North American birds. Mol Ecol Notes 7(4):535–543; 2007.

Langdon, S.P. Cell culture contamination: an overview. Methods Mol Med 88:309–17; 2004.

Lincoln, C.K.; Gabridge M.G. Cell culture contamination: sources, consequences, prevention, and elimination. Methods Cell Biol 57:49–65; 1998.

Liu, M.Y.; Lin, S.C.; Liu, H.; Candal, F.; Vafai, A. Identification and authentication of animal cell culture by polymerase chain reaction amplification and DNA sequencing. In Vitro Cell Dev Biol Anim 39(10):424–7; 2003.

Lorenz, J.G.; Jackson, W.E.; Beck, J.C.; Hanner, R. The problems and promise of DNA barcodes for species diagnosis of primate biomaterials. Philos Trans R Soc Lond B Biol Sci 360(1462):1869–77; 2005.

Marcovici, M.; Prier, J.E.. Enhancement of St. Louis arbovirus plaque formation by neutral red. J Virol 2(3):178–81; 1968.

Markovic, O.; Markovic, N. Cell cross-contamination in cell cultures: the silent and neglected danger. In Vitro Cell Dev Biol Anim 34(1):1–8; 1998.

Masters, J.R. HeLa cells 50 years on: the good, the bad and the ugly. Nat Rev Cancer 2(4):315–9; 2002.

Nelson-Rees, W.A.; Daniels, D.W.; Flandermeyer, R.R. Cross-contamination of cells in culture. Science 212(4493):446–52; 1981.

Parodi, B.; Aresu, O.; Bini, D.; Lorenzini, R.; Schena, F.; Visconti, P.; Cesaro, M.; Ferrera, D.; Andreotti V.; Ruzzon T. Species identification and confirmation of human and animal cell lines: a PCR-based method. Biotechniques 32(2):432–4, 436, 438–40; 2002.

Povey, S.; Hopkinson, D.A.; Harris, H.; Franks, L.M. Characterisation of human cell lines and differentiation from HeLa by enzyme typing. Nature 264(5581):60–3; 1976.

Ratnasingham, S.; Hebert, P. The Barcode of Life Database. Mol. Ecol. Notes 7(3):355–364; 2007.

Ryder, O.A.; McLaren, A.; Brenner, S.; Zhang, Y.P.; Benirschke, K. DNA banks for endangered animal species. Science 288(5464):275–7; 2000.

Sick, C.; Schultz, U.; Munster, U.; Meier, J.; Kaspers, B.; Staeheli, P. Promoter structures and differential responses to viral and nonviral inducers of chicken type I interferon genes. J Biol Chem 273(16):9749–54; 1998.

Smith, M.A.; Fisher, B.L.; Hebert, P.D. DNA barcoding for effective biodiversity assessment of a hyperdiverse arthropod group: the ants of Madagascar. Philos Trans R Soc Lond B Biol Sci 360(1462):1825–34; 2005

Stacey, G.N. Cell contamination leads to inaccurate data: we must take action now. Nature 403(6768):356; 2000.

Steube, K.G.; Meyer, C.; Uphoff, C.C.; Drexler, H.G. A simple method using beta-globin polymerase chain reaction for the species identification of animal cell lines—a progress report. In Vitro Cell Dev Biol Anim 39(10):468–75; 2003.

Ward, R.D.; Zemlak, T.S.; Innes, B.H.; Last, P.R.; Hebert, P.D. DNA barcoding Australia's fish species. Philos Trans R Soc Lond B Biol Sci 360(1462):1847–57; 2005.

Wolf, K.; Burke, C.N.; Quimby, M.C. Duck viral enteritis: microtiter plate isolation and neutralization test using the duck embryo fibroblast cell line. Avian Dis 18(3):427–34; 1974.
Acknowledgments
Research at Guelph was supported through funding to the Canadian Barcode of Life Network from Genome Canada (through the Ontario Genomics Institute), NSERC and other sponsors listed at http://www.BOLNET.ca. The authors thank Jeff Benson for his help with the sequencing analysis.
About this article
Cite this article
Cooper, J.K., Sykes, G., King, S. et al. Species identification in cell culture: a two-pronged molecular approach. In Vitro Cell.Dev.Biol.-Animal 43, 344–351 (2007). https://doi.org/10.1007/s11626-007-9060-2
Received:

Accepted:

Published:

Issue Date:
Keywords
DNA barcode

Sequencing

PCR

Cytochrome C oxidase I (COI)

Species-specific primers