Abstract
We illustrate how human population has been mostly ignored with regard to climate policy by conducting a systematic review of the literature in the context of social justice and six transformative steps for climate change mitigation. Despite this, implementing socially just population policies could make substantial contributions to climate mitigation and adaptation while also promoting social justice and gender equity. We detail how this is possible using a number of policy examples, including increasing the availability of voluntary family planning services and improving education for girls and young women.
Access options
Buy single article
Instant access to the full article PDF.
US$ 39.95
Tax calculation will be finalised during checkout.
Subscribe to journal
Immediate online access to all issues from 2019. Subscription will auto renew annually.
US$ 79
Tax calculation will be finalised during checkout.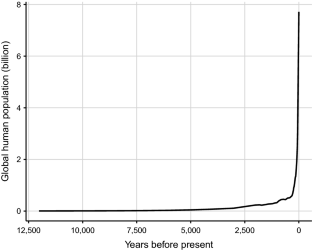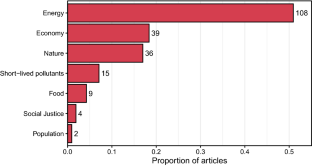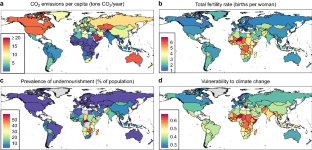 References
Bongaarts J, O'Neill BC (2018) Global warming policy: Is population left out in the cold? Science 361:650–652

Cassidy ES, West PC, Gerber JS, Foley JA (2013) Redefining agricultural yields: from tonnes to people nourished per hectare. Environ Res Lett 8:034015

Chen C, Noble I, Hellmann J, et al (2015) University of Notre Dame global adaptation index country index technical report. ND-GAIN: South Bend, IN, USA

Crippa M, Oreggioni G, Guizzardi D et al (2019) Fossil CO2 and GHG emissions of all world countries. Publication Office of the European Union, Luxemburg

Dodson JC, Dérer P, Cafaro P, Götmark F (2020) Population growth and climate change: addressing the overlooked threat multiplier. Sci Total Environ 748:141346

FAOSTAT (2020) FAOSTAT Database on Agriculture. In: FAOSTAT Database on Agriculture. http://faostat.fao.org/. Accessed 26 Jun 2020

Goldewijk KK, Beusen A, Doelman J, Stehfest E (2017) Anthropogenic land use estimates for the Holocene–HYDE 3.2. Earth Syst Sci Data 9:927–953

Gore T (2015) Extreme Carbon Inequality: Why the Paris climate deal must put the poorest, lowest emitting and most vulnerable people first

Graves A, Rosa L, Nouhou AM, et al (2019) Avert catastrophe now in Africa's Sahel. Nature Publishing Group

Guillebaud J (2016) Voluntary family planning to minimise and mitigate climate change. bmj 353:i2102

Kanemoto K, Moran D, Hertwich EG (2016) Mapping the carbon footprint of nations. Environ Sci Technol 50:10512–10517

Levy BS, Patz JA (2015) Climate change, human rights, and social justice. Ann Glob Health 81:310–322

Patel P (2017) Forced sterilization of women as discrimination. Public Health Rev 38:1–12

Ripple WJ, Wolf C, Newsome TM et al (2020) World scientists' warning of a climate emergency. Bioscience 70:8–12

Stephenson J, Newman K, Mayhew S (2010) Population dynamics and climate change: what are the links? J Public Health 32:150–156

The World Bank (2020) World Development Indicators. https://data.worldbank.org/. Accessed 26 Aug 2019

Wiedmann T, Lenzen M, Keyßer LT, Steinberger JK (2020) Scientists' warning on affluence. Nat Commun 11:1–10

Wilkinson K, Crystal Chissell, Jonathan Foley, et al (2020) The Drawdown Review: Climate Solutions for a New Decade. Project Drawdown

Young MH, Mogelgaard K, Hardee K (2009) Projecting population, projecting climate change population in IPCC scenarios. Population (English Edition)
Acknowledgements
We thank John Guillebaud and Jan Greguš for reviewing an early draft of this paper.
Additional information
Publisher's Note
Springer Nature remains neutral with regard to jurisdictional claims in published maps and institutional affiliations.
Handled by Alexander Gonzalez Flor, University of the Philippines Open University Faculty of Information and Communication Studies, Philippines.
Supplementary Information
Below is the link to the electronic supplementary material.
About this article
Cite this article
Wolf, C., Ripple, W.J. & Crist, E. Human population, social justice, and climate policy. Sustain Sci (2021). https://doi.org/10.1007/s11625-021-00951-w
Received:

Accepted:

Published:
Keywords
Climate mitigation

Climate adaptation

Population policy