Abstract
One key intervention to mitigate biodiversity loss and climate change is natural habitat restoration. However, although restoration provides benefits to both the current generation and future generations, future generations typically reap most of the benefits, and the costs that are paid by the current generation are burdens that were inflicted upon them by previous generations. Despite the importance of restoration, its role in intergenerational common-pool resource games has largely gone unexplored. Here, we devise a novel intergenerational common-pool resource game with two phases—extraction and restoration—to investigate how participants' decisions are influenced by the previous generation and how restoration is influenced by emotions. All groups overexploited the resource pool during the extraction phase, but individuals extracted proportionally more resource when they had unsustainable previous generations. Having unsustainable previous generations also lowered success rate of rescuing overexploited resources through restoration. Individuals belonging to the first generation experienced more guilt and contributed more to restoration. In general, guilt and anger were positively related to the individual's contribution to restoration. These results suggest that unsustainable behaviors in the current generation may have cascade effects that will reinforce environmental degradation in future generations.
Access options
Buy single article
Instant access to the full article PDF.
USD 39.95
Price includes VAT (USA)
Tax calculation will be finalised during checkout.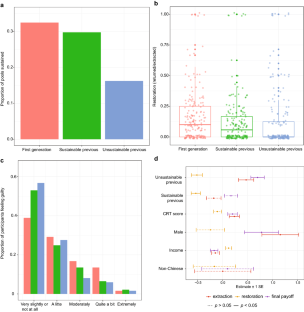 References
Andrews TM, Delton AW, Kline R (2018) High-risk high-reward investments to mitigate climate change. Nat Clim Chang 8:890–894

Bang HM, Koval CZ, Wade-Benzoni KA (2017) It's the thought that counts over time: The interplay of intent, outcome, stewardship, and legacy motivations in intergenerational reciprocity. J Exp Soc Psychol 73:197–210

Barlow J, Lennox GD, Ferreira J, Berenguer E, Lees AC, Mac Nally R et al (2016) Anthropogenic disturbance in tropical forests can double biodiversity loss from deforestation. Nature 535:144–147

Barrett S, Dannenberg A (2014) Sensitivity of collective action to uncertainty about climate tipping points. Nat Clim Chang 4:36–39

Bates D, Mächler M, Bolker B, Walker S (2015) Fitting Linear Mixed-Effects Models Using lme4. J Stat Softw 67:1–48

Bissing-Olson MJ, Fielding KS, Iyer A (2016) Experiences of pride, not guilt, predict pro-environmental behavior when pro-environmental descriptive norms are more positive. J Environ Psychol 45:145–153

Brancalion PHS, Niamir A, Broadbent E, Crouzeilles R, Barros FSM, Almeyda Zambrano AM et al (2019) Global restoration opportunities in tropical rainforest landscapes. Sci Adv 5:eaav3223. https://doi.org/10.1126/sciadv.aav3223

Brozyna C, Guilfoos T, Atlas S (2018) Slow and deliberate cooperation in the commons. Nat Sustain 1:184–189

Campitelli G, Gerrans P (2014) Does the cognitive reflection test measure cognitive reflection? A mathematical modeling approach. Mem Cognit 42:434–447

Chen DL, Schonger M, Wickens C (2016) oTree—An open-source platform for laboratory, online, and field experiments. J Behav Exp Financ 9:88–97

Clewell A, Aronson J (2013) The SER primer and climate change. Ecol Manag Restor 14:182–186

Crouzeilles R, Curran M, Ferreira MS, Lindenmayer DB, Grelle CE, Rey Benayas JM (2016) A global meta-analysis on the ecological drivers of forest restoration success. Nat Commun 7:11666. https://doi.org/10.1038/ncomms11666

Cunsolo A, Ellis NR (2018) Ecological grief as a mental health response to climate change-related loss. Nat Clim Chang 8:275

Dullinger S, Essl F, Rabitsch W, Erb K-H, Gingrich S, Haberl H et al (2013) Europe's other debt crisis caused by the long legacy of future extinctions. Proc Natl Acad Sci 110:7342–7347

Essl F, Dullinger S, Rabitsch W, Hulme PE, Hülber K, Jarošík V et al (2011) Socioeconomic legacy yields an invasion debt. Proc Natl Acad Sci 108:203–207

Fehr E, Gachter S (2002) Altruistic punishment in humans. Nature 415:137–140. https://doi.org/10.1038/415137a

Ferguson MA, Branscombe NR (2010) Collective guilt mediates the effect of beliefs about global warming on willingness to engage in mitigation behavior. J Environ Psychol 30:135–142

Fischer M-E, Irlenbusch B, Sadrieh A (2004) An intergenerational common pool resource experiment. J Environ Econ Manag 48:811–836

Frederick S (2005) Cognitive reflection and decision making. J Econ Perspect 19:25–42

Grolleau G, Mzoughi N, Napoleone C, Pellegrin C (2020) Do activating legacy concerns make farmers more likely to support conservation programmes? J Environ Econ Policy. https://doi.org/10.1080/21606544.2020.1807410

Hanberry BB, Noss RF, Safford HD, Allison SK, Dey DC (2015) Restoration is preparation for the future. J Forest 113:425–429

Harth NS, Leach CW, Kessler T (2013) Guilt, anger, and pride about in-group environmental behaviour: different emotions predict distinct intentions. J Environ Psychol 34:18–26

Hauser OP, Rand DG, Peysakhovich A, Nowak MA (2014) Cooperating with the future. Nature 511:220–223. https://doi.org/10.1038/nature13530

Henrich J, McElreath R, Barr A, Ensminger J, Barrett C, Bolyanatz A, Ziker J (2006) Costly punishment across human societies. Science 312:1767–1770

Hervé M (2020) RVAideMemoire: testing and plotting procedures for biostatistics. R package version 0.9–77.

Hothorn T, Bretz F, Westfall P (2008) Simultaneous inference in general parametric models. Biometr J 50:346–363

Hurlstone MJ, Price A, Wang S, Leviston Z, Walker I (2020) Activating the legacy motive mitigates intergenerational discounting in the climate game. Glob Environ Chang 60:102008

Jacquet J, Hagel K, Hauert C, Marotzke J, Röhl T, Milinski M (2013) Intra-and intergenerational discounting in the climate game. Nat Clim Chang 3:1025–1028

Jagau S, van Veelen M (2017) A general evolutionary framework for the role of intuition and deliberation in cooperation. Nat Hum Behav 1:1–6

Kahneman D, Knetsch JL, Thaler RH (1991) Anomalies: The endowment effect, loss aversion, and status quo bias. Journal of Economic perspectives 5:193–206

Kocher MG, Pahlke J, Trautmann ST (2013) Tempus fugit: time pressure in risky decisions. Manage Sci 59:2380–2391

Laurance WF, Williamson GB (2001) Positive feedbacks among forest fragmentation, drought, and climate change in the Amazon. Conserv Biol 15:1529–1535

Lawrence D, Vandecar K (2015) Effects of tropical deforestation on climate and agriculture. Nat Clim Chang 5:27–36

Lohse J, Waichman I (2020) The effects of contemporaneous peer punishment on cooperation with the future. Nat Commun 11:1815. https://doi.org/10.1038/s41467-020-15661-7

Milinski M, Sommerfeld RD, Krambeck H-J, Reed FA, Marotzke J (2008) The collective-risk social dilemma and the prevention of simulated dangerous climate change. Proc Natl Acad Sci 105:2291–2294

Milkoreit M (2015) Hot deontology and cold consequentialism–an empirical exploration of ethical reasoning among climate change negotiators. Clim Change 130:397–409

Rand DG (2016) Cooperation, fast and slow: Meta-analytic evidence for a theory of social heuristics and self-interested deliberation. Psychol Sci 27:1192–1206

Rand DG, Arbesman S, Christakis NA (2011) Dynamic social networks promote cooperation in experiments with humans. Proc Natl Acad Sci USA 108:19193–19198. https://doi.org/10.1073/pnas.1108243108

Rand DG, Greene JD, Nowak MA (2012) Spontaneous giving and calculated greed. Nature 489:427–430. https://doi.org/10.1038/nature11467

Rand DG, Peysakhovich A, Kraft-Todd GT, Newman GE, Wurzbacher O, Nowak MA et al (2014) Social heuristics shape intuitive cooperation. Nat Commun 5:3677. https://doi.org/10.1038/ncomms4677

Rodrigues J, Nagowski N, Mussel P, Hewig J (2018) Altruistic punishment is connected to trait anger, not trait altruism, if compensation is available. Heliyon 4:e00962

Rocha JC, Schill C, Saavedra-Díaz LM, Moreno RDP, Maldonado JH (2020) Cooperation in the face of thresholds, risk, and uncertainty: experimental evidence in fisher communities from Colombia. PLoS ONE 15:e0242363

Schneider CR, Zaval L, Weber EU, Markowitz EM (2017) The influence of anticipated pride and guilt on pro-environmental decision making. PLoS ONE 12:e0188781

Severson AW, Coleman EA (2015) Moral frames and climate change policy attitudes. Soc Sci Q 96:1277–1290

Skatova A, Spence A, Leygue C, Ferguson E (2017) Guilty repair sustains cooperation, angry retaliation destroys it. Sci Rep 7:46709. https://doi.org/10.1038/srep46709

Suding K, Higgs E, Palmer M, Callicott JB, Anderson CB, Baker M et al (2015) Committing to ecological restoration. Science 348:638–640

Swim JK, Stern PC, Doherty TJ, Clayton S, Reser JP, Weber EU et al (2011) Psychology's contributions to understanding and addressing global climate change. Am Psychol 66:241

Thomson KS, Oppenheimer DM (2016) Investigating an alternate form of the cognitive reflection test. Judgm Decis Mak 11:99

Toplak ME, West RF, Stanovich KE (2014) Assessing miserly information processing: an expansion of the Cognitive Reflection Test. Think Reason 20:147–168

Tost LP, Johnson HH (2019) The prosocial side of power: how structural power over subordinates can promote social responsibility. Organ Behav Hum Decis Process 152:25–46

Tost LP, Wade-Benzoni KA, Johnson HH (2015) Noblesse oblige emerges (with time): power enhances intergenerational beneficence. Organ Behav Hum Decis Process 128:61–73

Verdone M, Seidl A (2017) Time, space, place, and the Bonn Challenge global forest restoration target. Restor Ecol 25:903–911

Wade-Benzoni KA (2002) A golden rule over time: reciprocity in intergenerational allocation decisions. Acad Manag J 45:1011–1028

Wade-Benzoni KA (2019) Legacy motivations & the psychology of intergenerational decisions. Curr Opin Psychol 26:19–22

Wade-Benzoni KA, Hernandez M, Medvec V, Messick D (2008) In fairness to future generations: the role of egocentrism, uncertainty, power, and stewardship in judgments of intergenerational allocations. J Exp Soc Psychol 44:233–245

Wade-Benzoni KA, Sondak H, Galinsky AD (2010) Leaving a legacy: Intergenerational allocations of benefits and burdens. Business Ethics Quart 20:7–34

Wade-Benzoni KA, Tost LP (2009) The egoism and altruism of intergenerational behavior. Pers Soc Psychol Rev 13:165–193

Wang S, Leviston Z, Hurlstone M, Lawrence C, Walker I (2018) Emotions predict policy support: why it matters how people feel about climate change. Glob Environ Chang 50:25–40

Young TP (2000) Restoration ecology and conservation biology. Biol Cons 92:73–83

Zaval L, Markowitz EM, Weber EU (2015) How will I be remembered? Conserving the environment for the sake of one's legacy. Psychol Sci 26:231–236. https://doi.org/10.1177/0956797614561266

Zeng Y, Sarira TV, Carrasco LR, Chong KY, Friess DA, Lee JSH et al (2020) Economic and social constraints on reforestation for climate mitigation in Southeast Asia. Nat Clim Change 10(9):842–844
Acknowledgements
We thank Yuchen Zhang for experiment assistance. We acknowledge research funds from the National Parks Board and the Ministry of National Development, Singapore.
Ethics declarations
Competing interests
The authors declare no competing interests.
Additional information
Publisher's Note
Springer Nature remains neutral with regard to jurisdictional claims in published maps and institutional affiliations.
Handled by Federico Demaria, Institut de Ciència i Tecnologia Ambientals (ICTA - UAB), Spain.
Supplementary Information
Below is the link to the electronic supplementary material.
About this article
Cite this article
Chang, Cc., Kristensen, N.P., Nghiem, T.P.L. et al. Cooperating with the future through natural resources restoration. Sustain Sci 16, 1285–1293 (2021). https://doi.org/10.1007/s11625-021-00945-8
Received:

Accepted:

Published:

Issue Date:
Keywords
Experimental game

Intergenerational reciprocity

Intergenerational equity

Social heuristics hypothesis

Cognitive reflection