Abstract
Hundreds of sustainability programs have emerged at universities and colleges around the world over the past 2 decades. A prime question for employers, students, educators, and program administrators is what competencies these programs develop in students. This study explores convergence on competencies for sustainability programs. We conducted a Delphi study with 14 international experts in sustainability education on the framework of key competencies in sustainability by Wiek et al. (Sustain Sci 6: 203–218, 2011), the most frequently cited framework to date. While experts generally agreed with the framework, they propose two additional competencies, suggest a hierarchy of competencies, and specify learning objectives for students interested in a career as sustainability researcher. The refined framework can inform program development, implementation, and evaluation to enhance employability of graduates and facilitate comparison of sustainability programs worldwide.
This is a preview of subscription content,
to check access.
Access this article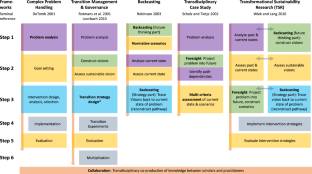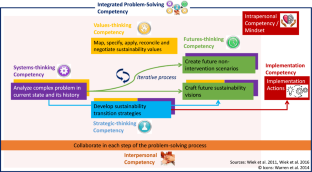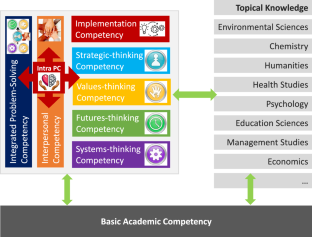 Similar content being viewed by others
Notes
Two experts participated with their teams. While they provided their contribution to the Delphi-study as one team, they are now listed individually as co-authors.

Respondent 10 is marked with an (*) as this respondent withdrew their participation due to a conflict of interest.

In the remainder, we use the term transdisciplinary research methods as short shrift for methodologies facilitating collaborative research between academics and practitioners with action research being one of them. Interdisciplinarity refers to collaborative research among academics from different disciplines.

Bloom's Revised Taxonomy (RT) was developed by Anderson et al. (2001). It builds on Bloom's Original Taxonomy (OT) from 1956 while addressing its shortcomings: (1) The OT combined 'having knowledge' with the cognitive processes of 'acquiring knowledge' into one dimension. The RT breaks this into four dimensions of knowledge: factual: knowing the basic elements of a discipline, conceptual: knowing the relationships among the basic elements, procedural: knowing how to do something and metacognitive: knowledge about cognition, awareness of own cognition. (2) The OT presents learning objectives hierarchically within one knowledge dimension. The RT presents them in a matrix, connecting the four dimensions of knowledge with the six levels of learning objectives (Remember, Understand, Apply, Analyse, Evaluate, Create) (Amer 2006).

Dweck (1999, 2006) defined mindset as a self-perception or self-theory that people hold about themselves and applied the concept of mindset to people's self-perceptions as learners (intelligent or unintelligent learner), or in their professional or personal lives (being a good teacher, being a bad parent). Glossary of Education Reform (2013).
References
Amer A (2006) Reflections on Bloom's revised taxonomy. Electron J Res Educ Psychol 4(1):213–230

Anderson L, Krathwohl R, Airasian P, Cruikshank K, Mayer R, Pintrich P, Raths J, Wittrock M (eds) (2001) Taxonomy for learning, teaching, and assessing: a revision of Bloom's taxonomy. Longman, New York

Australian Council of Environmental Deans and Directors (ACEDD) (2014) Environment and sustainability learning and teaching academic standards statement project. https://environmentltas.gradschool.edu.au/. Accessed 22 July 2020

Barber J (2016) Are you career competent? Inside higher education. https://www.insidehighered.com/advice/2016/08/29/importance-knowing-competencies-employers-seek-essay. Accessed Jan 25, 2020

Barth M (2015) What are we striving for? Learning objectives and educational goals. Implementing sustainability in higher education: learning in an age of transformation, 1st edn. Routledge, New York, pp 55–69

Barth M (2019) Change Agents für das 21. Jahrhundertausbilden—NachhaltigkeitswissenschaftenalsStudiengang. In: Michelsen G, Barth M, Fischer D (eds) BildungfürnachhaltigeEntwicklung in der Hochschule: Wege und Wirkungen am Beispiel der Leuphana Universität Lüneburg. Budrich, Opladen

Barth M, Godemann J, Rieckmann M, Stoltenberg U (2007) Developing key competencies for sustainable development in higher education. Int J Sustain High Educ 8(4):416–430. https://doi.org/10.1108/14676370710823582

Barth M, Rieckmann M (2012) Academic staff development as a catalyst for curriculum change towards education for sustainable development: an output perspective. J Clean Prod 26(2012):28–36. https://doi.org/10.1016/j.jclepro.2011.12.011

Bettencourt LMA, Kaur J (2011) Evolution and structure of sustainability science. Proc Natl Acad Sci 108(49):19540–19545. https://doi.org/10.1073/pnas.1102712108

Biggs J (1996) Enhancing teaching through constructive alignment. High Educ 32(3):347–364

Brundiers K et al (2019) Supplement information on the Delphi study results of "key competencies in sustainability—towards an agreed-upon reference framework". Report. National Council for Science and the Environment (NCSE), Washington

Brundiers K, Wiek A (2017) Beyond interpersonal competency: teaching and learning professional skills in sustainability. Educ Sci 7(1):18. https://doi.org/10.3390/educsci7010039

Brundiers K, Wiek A, Redman CL (2010) Real-world learning opportunities in sustainability: from classroom into the real world. Int J Sustain High Educ 11(4):308–324. https://doi.org/10.1108/14676371011077540

Burns H (2016) Self-care as a way of being: fostering inner work in a graduate sustainability leadership course. Ecopsychology 8(4):250–256

CASEL (n.d.) Collaborative for academic, social, and emotional learning. https://casel.org/what-is-sel/. Accessed 22 July 2020

Cebrián G, Junyent M (2015) Competencies in education for sustainable development: exploring the student teachers' views. Sustainability (Switzerland) 7(3):2768–2786. https://doi.org/10.3390/su7032768

Cebrián G, Junyent M, Mulà I (2020) Competencies in education for sustainable development: emerging teaching and research developments. Sustainability (Switzerland) 12(2):579. https://doi.org/10.3390/su12020579

de Haan G (2006) The BLK '21' programme in Germany: a 'Gestaltungskompetenz'-based model for education for sustainable development. Environ Educ Res 12(1):19–32. https://doi.org/10.1080/13504620500526362

Delors J (1996) Learning: the treasure within; report to UNESCO of the International Commission on Education for the Twenty-first Century (highlights). UNESCO Publishing. https://unesdoc.unesco.org/ark:/48223/pf0000109590. Accessed 22 July 2020

Demssie YN, Wesselink R, Biemans HJ, Mulder M (2019) Think outside the European box: identifying sustainability competencies for a base of the pyramid context. J Clean Prod. https://doi.org/10.1016/j.jclepro.2019.02.255

DeTombe DJ (2001) COMPRAM, a method for handling complex societal problems. Eur J Oper Res 128:266–281

Dlouhá J, Heras R, Mulà I, Salgado FP, Henderson L (2019) Competences to address SDGs in higher education—a reflection on the equilibrium between systemic and personal approaches to achieve transformative action. Sustainability 11(13):3664

Dweck CS (1999) Self-theories: their role in motivation, personality and development. Psychology Press, Philadelphia

Dweck CS (2006) Mindset: the new psychology of success. Random House, New York

Educating Future Change Agents Research Program (2019) Educating future change agents research project. https://www.leuphana.de/en/research-centers/cgsc/research-projects/educating-future-change-agents.html. Accessed 22 July 2020

Engle EW, Barsom SH, Vandenbergh L, Sterner GE III, Alter TR (2017) Developing a framework for sustainability meta-competencies. Int J Sustain High Educ 1(4):285–303

Figueres Ch (n.d.) Global Ooptimism. https://globaloptimism.com/. Accessed 22 July 2020

Foucrier T, Wiek A (2019) Adoption of the key competencies in sustainability in programs and courses around the world. Report. Arizona State University, Tempe

Frank P, Stanszus LS (2019) Transforming consumer behavior: introducing self-inquiry-based and self-experience-based learning for building personal competencies for sustainable consumption. Sustainability 11(9):2550. https://doi.org/10.3390/su11092550

Funtowicz S, Ravetz J (1993) Science for the post-normal age. Futures 31(7):735–755

Gardiner S, Rieckmann M (2015) Pedagogies of preparedness: use of reflective journals in the operationalisation and development of anticipatory competence. Sustainability 7(8):10554–10575. https://doi.org/10.3390/su70810554

Giangrande N, White RM, East M, Jackson R, Clarke T, SaloffCoste M, Penha-Lopes G (2019) A competency framework to assess and activate education for sustainable development: addressing the UN sustainable development goals 4.7 challenge. Sustainability 11(10):2832

Glasser H, Hirsh J (2016) Toward the development of robust learning for sustainability core competencies. Sustainability 9(3):121–134. https://doi.org/10.1089/sus.2016.29054

Glossary of Education Reform (2013) Growth Mindset. https://www.edglossary.org/growth-mindset/. Accessed 25 Jan 2020

Goleman D, Boyatzis RE (2017) Emotional intelligence has 12 elements. Which do you need to work on? Harvard Business Review. https://hbr.org/2017/02/emotional-intelligence-has-12-elements-which-do-you-need-to-work-on. Accessed 22 July 2020

Habron G (2012) Competency-based sustainability specialization at Michigan State University. Sustainability. https://doi.org/10.1089/SUS.2012.9912

Habron G (2019) Scaffolding applied learning and sustainable development goals in the Furman University Sustainability Science Program. Sustainability. https://doi.org/10.1089/sus.2018.0036

Haider LJ, Hentati-Sundberg J, Giusti M et al (2018) The undisciplinary journey: early-career perspectives in sustainability science. Sustain Sci 13(1):191–204. https://doi.org/10.1007/s11625-017-0445-1

Hart DD, Buizer JL, Foley JA, Gilbert LE, Graumlich LJ, Kapuscinski AR, Kramer JG, Palmer MA, Peart DR, Silka L (2016) Mobilizing the power of higher education to tackle the grand challenge of sustainability: Lessons from novel initiatives. Elementa Sci Anthr 4:000090. https://doi.org/10.12952/journal.elementa.000090

Heinrichs H, Wiek A, Martens P, Michelsen G (2016) Introduction. In: Heinrichs H, Martens P, Michelsen G, Wiek A (eds) Sustainability science: an introduction. Springer, Dordrecht, p 1

InTeGrate (20198) Interdisciplinary teaching about earth for a sustainable future. competencies and learning outcomes.https://serc.carleton.edu/integrate/programs/workforceprep/competencies_and_LO.html. Accessed 1 Sep 2019

ISSP (2020) International Society of Sustainability Professionals. https://www.sustainabilityprofessionals.org/. Accessed 16 May 2020.

Johnson E, Edwards D, Simon J (2019) The Falk School of sustainability and environment. Chatham University, Pittsburgh

Kajikawa Y, Saito O, Takeuchi K (2017) Academic landscape of 10 years of sustainability science. Sustain Sci 12(6):869–873

Kates RW (2011) What kind of a science is sustainability science? Proc Natl Acad Sci 108(49):19449–19450. https://doi.org/10.1073/pnas.1116097108

Lang DJ, Wiek A, Bergmann M, Stauffacher M, Martens P, Moll P, Swilling M, Thomas C (2012) Transdisciplinary research in sustainability science—practice, principles and challenges. Sustain Sci 7(Supplement 1):25–43

Loorbach D (2010) Transition management for sustainable development: a prescriptive, complexity-based governance framework. Governance 23:161–183

Lotz-Sisitka H, Wals AEJ, Kronlid D, McGarry D (2015) Transformative, transgressive social learning: rethinking higher education pedagogy in times of systemic global dysfunction. Curr Opin Environ Sustain 16:73–80. https://doi.org/10.1016/j.cosust.2015.07.018

Lozano R, Merrill M, Sammalisto K, Ceulemans K, Lozano F (2017) Connecting competencies and pedagogical approaches for sustainable development in higher education: a literature review and framework proposal. Sustainability 9(11):1889. https://doi.org/10.3390/su9101889

Lozano R, Barreiro-Gen M, Lozano FJ, Sammalisto K (2019) Teaching sustainability in European higher education institutions: assessing the connections between competences and pedagogical approaches. Sustainability 11(6):1602

Meijers AWM, Borghuis VAJ, Mutsaers EJPJ, van Overveld CWAM, Perrenet JC (2005) Academic criteria for bachelor and master curricula, 2nd edn. University of Twente, Eindhoven

Miller TR, Wiek A, Sarewitz D, Robinson J, Olsson L, Kriebel D, Loorbach D (2014) The future of sustainability science: a solutions-oriented research agenda. Sustain Sci 9(2):239–246. https://doi.org/10.1007/s11625-013-0224-6

NACE (2020) National Association of Colleges and Employers. Career readiness defined. https://www.naceweb.org/career-readiness/competencies/career-readiness-defined/. Accessed 25 Jan 2020

National Research Council (2012) Education for life and work: developing transferable knowledge and skills in the 21st century. In: Pellegrino JW, Hilton ML (eds) Committee on designing deeper learning and 21st century skills, board on testing and assessment and board on science education, division of behavioral and social sciences and education. The National Academies Press, Washington. https://doi.org/10.17226/13398

O'Byrne D, Dripps W, Nicholas KA (2015) Teaching and learning sustainability: an assessment of the curriculum content and structure of sustainability degree programs in higher education. Sustain Sci 10(1):43–59. https://doi.org/10.1007/s11625-014-0251-y

Oberlack C, Breu T, Giger M, Harari N, Herweg K, Mathez-Stiefel S-L, Schneider F (2019) Theories of change in sustainability science: Understanding how change happens. GAIA Ecol Perspect Sci Soc 28(2):106–111. https://doi.org/10.14512/gaia.28.2.8

OECD (2005) The definition and selection of key competencies. Executive Summary. https://www.oecd.org/pisa/35070367.pdf. Accessed 22 July 2020

Ojala M (2012) Hope and climate change: the importance of hope for environmental engagement among young people. Environ Educ Res 18(5):625–642. https://doi.org/10.1080/13504622.2011.637157

Okoli C, Pawlowski SD (2004) The Delphi method as a research tool: an example, design considerations and applications. Inf Manag 42(1):15–29. https://doi.org/10.1016/j.im.2003.11.002

Papenfuss J, Merritt E, Manuel-Navarrete D, Cloutier S, Eckard B (2019) Interacting pedagogies: a review and framework for sustainability education. J Sustain Edu 20. http://www.susted.com/wordpress/content/interacting-pedagogies-a-review-and-framework-for-sustainability-education_2019_04/. Accessed 22 July 2020

Redman A, Wiek A (2020) Competencies for advancing transformations towards sustainability

Redman A, Wiek A, Barth M (2020) Current practice of assessing students' sustainability competencies—a review of tools. Sustain Sci

Rieckmann M (2012) Future-oriented higher education: which key competencies should be fostered through university teaching and learning? Futures 44(2):127–135

Robinson JB (2003) Future subjunctive: backcasting as social learning. Futures 35:839–856

Rotmans J, Kemp RV, Asselt M (2001) More evolution than revolution: transition management in public policy. Foresight 3(1):17

Roy SG, Souza SP, McGreavy B, Druschke CG, Hart D, Gardner K (2019) Evaluating core competencies and learning outcomes for training the next generation of sustainability researchers. Sustain Sci. https://doi.org/10.1007/s11625-019-00707-7

Sadler R (2013) Making competent judgments of competency. In: Blömeke S, Zlatkin-Troitschanskaia O, Kuhn C, Fege J (eds) Modeling and measuring competencies in higher education: tasks and challenges. Sense Publishers, Rotterdam, pp 13–27

Salgado FP, Abbott D, Wilson G (2018) Dimensions of professional competencies for interventions towards sustainability. Sustain Sci 13(1):163–177. https://doi.org/10.1007/s11625-017-0439-z

Scholz RW, Tietje O (2002) Embedded case study methods: integrating quantitative and qualitative knowledge. Sage, Thousand Oaks

Seemiller C (2013) The student leadership competencies guidebook: designing intentional leadership learning and development. John Wiley and Sons Incorporated, San Francisco

Shephard K, Rieckmann M, Barth M (2018) Seeking sustainability competency and capability in the ESD and HESD literature: an international philosophical hermeneutic analysis. Environ Educ Res. https://doi.org/10.1080/13504622.2018.1490947

Stephenson J, Spector S, Hopkins D, McCarthy A (2018) Deep interventions for a sustainable transport future. Transp Res Part D Transp Environ 61:356–372. https://doi.org/10.1016/j.trd.2017.06.031

Sterling S, Glasser H, Rieckmann M, Warwick P (2017) "More than scaling up": a critical and practical inquiry into operationalizing sustainability competencies. In: Corcoran PB, Weakland JP, Wals AEJ (eds) Envisioning futures for environmental and sustainability education. Wageningen Academic Publishers, Wageningen, pp 153–168

Teodorescu T (2006) Competence versus competency: what is the difference? Perform Improv. https://doi.org/10.1002/pfi.4930451027

Tongco MDC (2007) Purposive sampling as a tool for informant selection. Ethnobot Res Appl 5:147–158

Transgressive Learning (n.d.) http://transgressivelearning.org/. Accessed 22 July 2020

United Nations (2015) Sustainable development goals. https://www.un.org/sustainabledevelopment/sustainable-development-goals/. Accessed 22 July 2020

United Nations Economic Commission for Europe (UNECE) (2012) Steering Committee on Education for Sustainable Development.. Learning for the future: competencys in education for sustainable development, Publication number: 1LVDO1202

United Nations Educational, Scientific and Cultural Organization, UNESCO (2017) Education for sustainable development goals: learning objectives. UNESCO, Paris, France. https://unesdoc.unesco.org/images/0024/002474/247444e.pdf. Accessed 22 July 2020

United Nations Educational, Scientific and Cultural Organization, UNESCO (2018) Issues and trends in education for sustainable development. UNESCO, Paris

VanWynsberghe R, Herman AC (2015) Education for social change and pragmatist theory: five features of educative environments designed for social change. Int J Lifelong Educ 34(3):268–283. https://doi.org/10.1080/02601370.2014.988189

Vare P, Arro G, de Hamer A, del Gobbo G, de Vries G, Farioli F, Kadji-Beltran C et al (2019) Devising a competence-based training program for educators of sustainable development: lessons learned. Sustainability 11(7):1890. https://doi.org/10.3390/su11071890

Vincent S, Rao S, Fu Q, Gu K, Huang X, Lindaman K, Mittleman E, Nguyen K, Rosenstein R, Suh Y (2017) Scope of interdisciplinary environmental, sustainability, and energy baccalaureate and graduate education in the United States. National Council for Science and the Environment, Washington

Wals AEJ (2015) Beyond unreasonable doubt: education and learning for socio-ecological sustainability in the anthropocene, Wageningen, NL. https://library.wur.nl/WebQuery/wurpubs/494121. Accessed 22 July 2020

Waltner EM, Rieß W, Mischo C (2019) Development and validation of an instrument for measuring student sustainability competencies. Sustainability 11(6):1717

Wamsler C (2018) Mind the gap: the role of mindfulness in adapting to increasing risk and climate change. Sustain Sci 13:1121–1135. https://doi.org/10.1007/s11625-017-0524-3

Wamsler C, Brossmann J, Hendersson H, Kristjansdottir R, McDonald C, Scarampi P (2018) Mindfulness in sustainability science, practice, and teaching. Sustain Sci 13(1):143–162. https://doi.org/10.1007/s11625-017-0428-2

Warren A, Archambault L, Foley RW (2014) Sustainability education framework for teachers: developing sustainability literacy through futures, values, systems, and strategic thinking. J Sustain Edu 6(4):23–28

Wiek A, Lang DJ (2016) Transformational sustainability research methodology. In: Heinrichs H, Martens P, Michelsen G, Wiek A (eds) Sustainability science: an Iintroduction. Springer, Dordrecht, pp 31–41

Wiek A, Withycombe L, Redman CL (2011) Key competencies in sustainability: a reference framework for academic program development. Sustain Sci 6(2):203–218. https://doi.org/10.1007/s11625-011-0132-6

Wiek A, Harlow J, Melnick R, van der Leeuw S, Fukushi K, Takeuchi K, Farioli F, Yamba F, Blake A, Geiger C, Kutter R (2015) Sustainability science in action—a review of the state of the field through case studies on disaster recovery, bioenergy, and precautionary purchasing. Sustain Sci 10(1):17–31

Wiek A, Bernstein M, Foley R, Cohen M, Forrest N, Kuzdas C, Kay B, Withycombe Keeler L (2016) Operationalising competencies in higher education for sustainable development. In: Barth M, Michelsen G, Rieckmann M, Thomas I (eds) 2016 Handbook of higher education for sustainable development. Routledge, London, pp 241–260

Wilhelm S, Förster R, Zimmermann AB (2019) Implementing competence orientation: towards constructively aligned education for sustainable development in university-level teaching-and-learning. Sustainability 11(7):1891

Yarime M, Trencher G, Mino T et al (2012) Establishing sustainability science in higher education institutions: towards an integration of academic development, institutionalization, and stakeholder collaborations. Sustain Sci 7:101–113
Acknowledgements
We thank the two anonymous reviewers for their detailed and thoughtful comments and suggestions. We also like to thank the experts who participated in the study and Drs. Elyzabeth Engle, Eban Goodstein, Ian Thomas, and Arnim Wiek for their valuable comments to earlier versions of the manuscript.
Additional information
Handled by Mark W Anderson,University of Maine School of Economics Winslow Hall, United States.
Publisher's Note
Springer Nature remains neutral with regard to jurisdictional claims in published maps and institutional affiliations.
About this article
Cite this article
Brundiers, K., Barth, M., Cebrián, G. et al. Key competencies in sustainability in higher education—toward an agreed-upon reference framework. Sustain Sci 16, 13–29 (2021). https://doi.org/10.1007/s11625-020-00838-2
Received:

Accepted:

Published:

Issue Date:

DOI: https://doi.org/10.1007/s11625-020-00838-2
Keywords