Abstract
In the United States of America, urban areas of the arid Southwest are prone to drought risk and changing precipitation patterns; future water supplies are uncertain. A collaborative working group of researchers and practitioners developed alternative future scenarios for 2060—sustainable water futures—that incorporate standard and novel water-adaptation strategies for the Phoenix metropolitan area (hereafter "Phoenix") in central Arizona, USA. The authors adapted WaterSim-6, a water policy and planning model, to explore differences in water demand and supply for three scenarios as influenced by (1) runoff from the rivers that supply surface water to Phoenix, (2) population growth, (3) water use efficiency, (4) annual rainfall, and (5) land-cover land-use changes. Centralized water-management strategies (direct and indirect potable water reuse and reclaimed supplies) and decentralized strategies (rainwater harvesting and greywater use) were explored. We observed decreased reliance on surface water supplies, offset by increased municipal groundwater pumping in the Strategic scenario, but by alternative water supplies (non-potable water sources including greywater, reclaimed water, and rainwater harvested) in the Desert Wetland and Almost Zero Waste (AZW) scenarios. Even under modest policy implementation and service-connection adoption rates associated with our Strategic scenario, by 2060 alternative supplies from non-potable sources could offset 30% or more of outdoor water demand. Aggressive policy implementations associated with the AZW scenario suggest that up to 80% of outdoor water demand could likewise be met. The WaterSim platform combined with co-produced future scenarios illuminates tradeoffs in support of decision making for long-term sustainability of a water-limited region.
Access options
Buy single article
Instant access to the full article PDF.
US$ 39.95
Tax calculation will be finalised during checkout.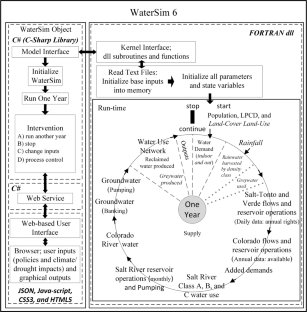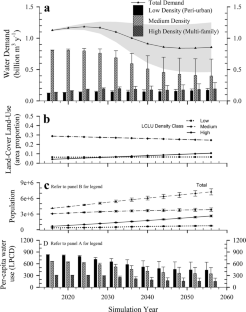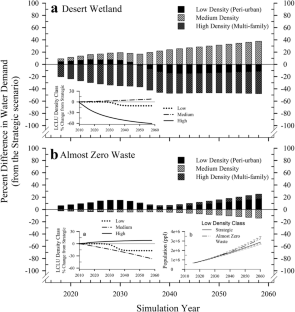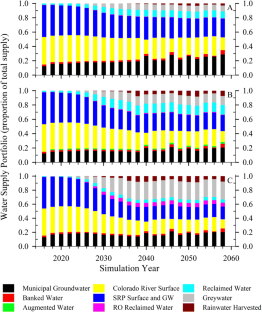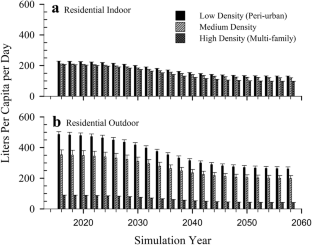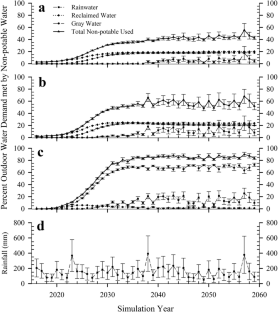 References
Arizona Dept. of Water Resources (2011) Phoenix AMA assessment summary sheet https://www.azwatergov/AzDWR/WaterManagement/Assessments/documents/PhxAMA_AssessmentSummarySheet.pdf. Accessed 17 June 2019.

Arizona Dept. of Water Resources (2016) Phoenix AMA: AZWaterManagementSuccess_ 2015.jpg. Accessed 3 May 2019.

Ballinger A, Kunkel K (2019) Scenarios of climate extremes: Phoenix AZ urban resilience to extreme events (internal report)

Balling RC, Gober P, Jones N (2008) Sensitivity of residential water consumption to variations in climate: an intraurban analysis of Phoenix Arizona. Water Resour Res 44:W10401. https://doi.org/10.1029/2007WR006722

Cayan DR, Das T, Pierce DW, Barnett TP, Tyree M, Gershunov A (2010) PNAS 107:21271–21276

Chang H-I, Castro CL, Carrillo CM, Dominguez F (2015) The more extreme nature of US warm season climate in the recent observational record and two ''well-performing'' dynamically downscaled CMIP3 models. J Geophys Res Atmos 120:8244–8263. https://doi.org/10.1002/2015JD023333

Chang H, Bonnette MR, Stoker P, Crow-Miller B, Wentz E (2017) Determinants of single family residential water use across scales in four western US cities. Sci Total Environ 596–597:451–464

Cook BI, Ault TR, Smerdon JE (2015) Unprecedented 21st century drought risk in the American Southwest and Central Plains. Sci Adv. https://doi.org/10.1126/sciadv1400082

Dawadi S, Ajmad S (2012) Changing climatic conditions in the Colorado River Basin: implications for water resources management. J Hydrol 430–431:127–141

DeOreo WB, Mayer P, Dziegielewski B, Kiefer J (2016) Residential end uses of water version 2 water research foundation PDF report #4309b. pp 363.

Gammage G Jr (2016) The future of the Suburban City lessons from Sustaining Phoenix. Island Press, Washington, p 191

Gammage G Jr, Clark–Johnson S, Daugherty D, Hart W, Stigler M (2011) Watering the sun Corridor: Managing choices in Arizona's Megapolitan Area. Morrison Institute for Public Policy Arizona State University Tempe AZ USA, pp 38.

Garfin G, Franco G, Blanco H, Comrie A, Gonzalez P, Piechota T, Smyth R, Waskom R (2014) Southwest. In: Melillo JM, Richmond TC, Yohe GW (eds) Climate change impacts in the United States: the Third National Climate Assessment US Global Change Research Program

Gober P (2018) Building resilience for uncertain water futures. Palgrave Macmillan, New York, p 213

Gober P, Kirkwood CW (2010) Vulnerability assessment of climate–induced water shortage in Phoenix. Proc Natl Acad Sci USA 107:21295–21299

Gober P, Larson KL, Quay R, Polsky C, Chang H, Shandas V (2013) Why land planners and water managers don't talk to one another and why they should! Soci Nat Resour 26:356–364

Gober P, White DD, Quay R, Sampson DA, Kirkwood CW (2014) Socio-hydrology modelling for an uncertain future, with examples from the USA and Canada. In: model fusion: integrating environmental models to solve real world problems. Geological Society of London, Special Publications Series.

Gober P, Sampson DA, Quay R, White D, Chow WTL (2016) Urban adaptation to mega-drought: anticipatory water modeling policy and planning for the urban Southwest. Sustain Cities Soc 27:497–504. https://doi.org/10.1016/jscs201605001

Groffman PM, Kareiva P, Carter S, Grimm NB, Lawler J, Mack M, Matzek V, Tallis H (2014) Ecosystems biodiversity and ecosystem services. In: Melillo JM, Richmond TC, Yohe GW (Eds) Climate change impacts in the United States: the Third National Climate Assessment US Global Change Research Program

Hausfather Z, Peters GP (2020) Emissions—the 'business as usual' story is misleading. Nature 577:618–620

Intergovernmental Panel on Climate Change (2007) Climate change 2007: synthesis report contribution of working groups I, II and III to the Fourth Assessment Report of the Intergovernmental Panel on Climate Change ISBN 92-9169-122-4 https://www.ipccch/publications_and_data/publications_ipcc_fourth_assessment_report_synt-hesis_reporthtm. Accessed Oct 2018.

Iwaniec DM, Cook E, Davidson M, Berbes-Blazquez M, Georgescu M, Krayenhoff S, Middel A, Sampson D, Grimm N (2020) The co-production of sustainable future scenarios. Landscape Urban Plan. https://doi.org/10.1016/j.landurbplan.2020.103744

Iwaniec DM, Wiek A (2014) Advancing sustainability visioning practice in planning—the general plan update in Phoenix Arizona. J Plann Practice Res 29:543–568. https://doi.org/10.1080/026974592014977004

Iwaniec DM, Childers DL, Vanlehn K, Wiek A (2014) Studying teaching and applying sustainability visions using systems modeling. Sustainability 6:4452–4469. https://doi.org/10.3390/su6074452

Kiefer JC, Clayton JM, Dziegielewski B, Henderson J (2013) Analysis of changes in water use under regional climate change scenarios. Water Research Foundation Denver CO USA, pp 51.

Larson KL, Cook EM, Strawhacker C, Hall SJ (2010) The influence of diverse values ecological structure and geographic context on residents' multifaceted landscaping decisions. Hum Ecol 38:747–761. https://doi.org/10.1007/s10745-010-9359-6

Larson KL, Polsky C, Gober P, Chang H, Shandas V (2013) Vulnerability of water systems to the effects of climate change and urbanization: a comparison of Phoenix Arizona and Portland Oregon (USA). Environ Manage 52:179–195. https://doi.org/10.1007/s00267-013-0072-2

Larson KL, Stotts R, Wutich A, Brewis A, White D (2016) Cross-cultural perceptions of water risks and solutions across select sites. Soc Nat Resour 29:1049–1064

Li X, Myint S, Zhang Y, Galletti C, Zhang X, Turner B (2014) Object-based land-cover classification for metropolitan Phoenix Arizona using aerial photography. Int J Appl Earth Observ Geoinf 33:321–330

Luong TM, Castro CL, Chang H-I, Lahmers T, Adams DK, Ochoa-Moya CA (2017) The more extreme nature of North America monsoon precipitation in the southwestern United States as revealed by a historical climatology of simulated severe weather events. J Appl Meteorol Climatol 56:2509–2530

Marlow DR, Moglia M, Cook S, Beale DJ (2013) Towards sustainable urban water management: a critical reassessment. Water Res 47:7150–7161

McDonald RI, Douglas I, Revenga C, Hale R, Grimm N, Grönwall J, Fekete B (2011) Global urban growth and the geography of water availability quality and delivery. Ambio 40:437–446

Milly P, Betancourt J, Falkenmark M, Hirsch RM, Kundzewicz ZW, Lettenmaier DP, Stouffer RJ (2008) Climate change: stationary is dead: whither water management? Science 319:573–574

Mini C, Hogue TS, Pincetl S (2014) Estimation of residential outdoor water use in Los Angeles, California. Landsc Urban Plan 127:124–135

Mitchell VG (2006) Applying integrated urban water management concepts: a review of Australian experience. Environ Manage 37:589–605

Oron G, Adel M, Agmon V, Friendler E, Halperin R, Leshem E, Weinberg D (2014) Greywater use in Israel and worldwide: standards and prospects. Water Res 58:92–101

Ouyang Y, Wentz EA, Ruddell BL, Harlan SL (2014) A multi-scale analysis of single-family residential water use in the Phoenix metropolitan area. J Am Water Resour Assoc 50:448–467

Petrie M, Collins S, Gutzler D, Moore D (2014) Regional trends and local variability in monsoon precipitation in the northern Chihuahuan Desert USA. J Arid Environ 103:63–70. https://doi.org/10.1016/jjaridenv201401005

Polebitski AS, Palmer RN (2010) Seasonal residential water demand forecasting for census tracts. J Water Resour Plan Manage. https://doi.org/10.1061/(ASCE)WR1943-54520000003

Quay R (2010) Anticipatory governance—a tool for climate change adaptation. J Am Plan Assoc 76:496–511

Quay R (2015) Planning for demand uncertainty in integrated water resource planning. J Am Water Works Assoc 107:32–41. https://doi.org/10.5942/jawwa20151070030

Radcliffe J (2015) Water recycling in Australia—during and after the drought. Environ Sci Water Res Technol 1:554–562

Rajagopal S, Dominguez F, Gupta HV, Troch PA, Castro CL (2014) Physical mechanisms related to climate-induced drying of two semiarid watersheds in the Southeastern United States. J Hydrometeorology 15:1404–1418

Sampson DA, Quay R, White DD (2016) Anticipatory modeling for water supply sustainability in Phoenix Arizona. Environ Sci Policy 55:36–46. https://doi.org/10.1016/j/envsci201508014

Sampson DA, Escobar V, Tschudi MK, Lant T, Gober P (2011) A provider–based water planning and management model—WaterSim 4 0—for the Phoenix Metropolitan Area. J Environ Manage 92:2596–2610

SAS (2013) SAS/STAT User's Guide Release 92 edition. SAS Institute Cary NC

Seshadri R, Dominguez F, Gupta HV, Troch PA, Castro CL (2014) Physical mechanisms related to climate-induced drying of two semiarid watersheds in the southwestern United States. J Hydrometeorol 15:1404–1418

Thomas JF, Gomboso J, Oliver JE, Ritchie VA (1997) Wastewater re-use stormwater management and the national water reform agenda. Report to the sustainable land and water resources management committee and the council of Australian Governments National Water Reform Task Force

United Nations Department of Economic and Social Affairs Population Division (2016) The World's Cities in 2016—Data Booklet (ST/ESA/SERA/392)

US Bureau of Reclamation Colorado River Basin Water Supply and Demand Study (Online) (2012) https://www.usbrgov/lc/region/programs/crbstudyhtml. Accessed 10 Jan 2018.

Vorosmarty CJ, McIntyre PB, Gessner MO, Dudgeon D, Prusevich A, Green P, Glidden S, Bunn SE, Sullivan CA, Liermann CR, Davies PM (2010) Global threats to human water security and river biodiversity. Nature 468:334

Vorosmarty CJ, Green P, Salisbury J, Lammers RB (2000) Global water resources: vulnerability from climate change and population growth. Science 289:284–288

Walsh CJ, Fletcher TD, Burns MJ (2012) Urban Stormwater Runoff: a new class of environmental flow problem. PLoS ONE 7(9):e45814. https://doi.org/10.1371/journalpone0045814

Withycombe Keeler L, Wiek A, White DD, Sampson DA (2015) Linking stakeholder survey scenario analysis and simulation modeling to explore the long-term impacts of regional water governance regimes. Environ Sci Policy 48:237–249
Acknowledgements
Funding from National Science Foundation cooperative agreement #SES-09513666 (Decision Center for a Desert City) and Grant #DEB-1832016 (Central Arizona–Phoenix LTER) is acknowledged. MJD, NBG, and DMI were supported in part by NSF Cooperative Agreement #SES-1444755 (UREx SRN) and EMC by CONICYT-FONDECYT 3150290 (Chile) during the analysis and writing of the manuscript. We are grateful to the many participants in the SFS, including city, county, state, and non-governmental organizations, who co-developed the scenarios over a period of two years. We also thank insightful comments from anonymous reviewers.
Additional information
Publisher's Note
Springer Nature remains neutral with regard to jurisdictional claims in published maps and institutional affiliations.
Electronic supplementary material
Below is the link to the electronic supplementary material.
About this article
Cite this article
Sampson, D.A., Cook, E.M., Davidson, M.J. et al. Simulating alternative sustainable water futures. Sustain Sci 15, 1199–1210 (2020). https://doi.org/10.1007/s11625-020-00820-y
Received:

Accepted:

Published:

Issue Date:
Keywords
Anticipatory

Adaptation

Alternative supplies

Strategic water use