Abstract
The need to train sustainability scientists and engineers to address the complex problems of our world has never been more apparent. We organized an interdisciplinary team of instructors from universities in the states of Maine, New Hampshire, and Rhode Island who designed, taught, and assessed a multi-university course to develop the core competencies necessary for advancing sustainability solutions. Lessons from the course translate across sustainability contexts, but our specific focus was on the issues and trade-offs associated with dams. Dams provide numerous water, energy, and cultural services to society while exacting an ecological toll that disrupts the flow of water, fish, and sediment in rivers. Like many natural resource management challenges, effective dam decisions require collaboration among diverse stakeholders and disciplines. We linked key sustainability principles and practices related to interdisciplinarity, stakeholder engagement, and problem-solving to student learning outcomes that are generalizable beyond our dam-specific context. Students and instructors co-created class activities to build capacity for interdisciplinary collaboration and encourage student leadership and creativity. Assessment results show that students responded positively to activities related to stakeholder engagement and interdisciplinary collaboration, particularly when practicing nested discussion and intrapersonal reflection. These activities helped broaden students' perspectives on sustainability problems and built greater capacity for constructive communication and student leadership.
This is a preview of subscription content, log in to check access.
Access options
Buy single article
Instant access to the full article PDF.
US$ 39.95
Tax calculation will be finalised during checkout.
Subscribe to journal
Immediate online access to all issues from 2019. Subscription will auto renew annually.
US$ 99
Tax calculation will be finalised during checkout.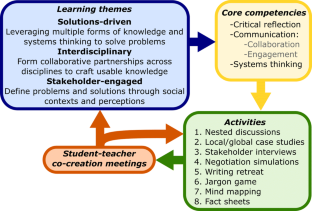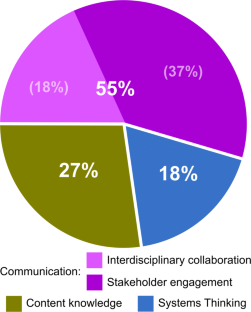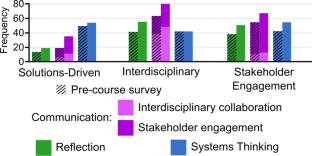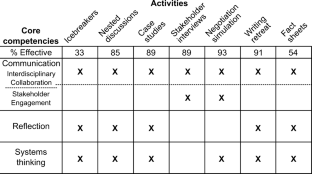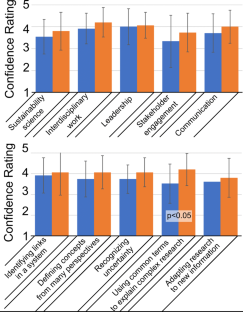 References
Addor N, Ewen T, Johnson L et al (2015) From products to processes: academic events to foster interdisciplinary and iterative dialogue in a changing climate. Earth's Futur 3:289–297. https://doi.org/10.1002/2015EF000303

Anderson TW (1958) An introduction to multivariate statistical analysis, 2nd edn. Wiley, New York

Ashcraft C, Susskind L (2008) Long river: confronting the challenges of instream flow. Harvard Law School, Cambridge

Barth M, Michelsen G (2013) Learning for change: an educational contribution to sustainability science. Sustain Sci 8:103–119. https://doi.org/10.1007/s11625-012-0181-5

Barth M, Godeman J, Rieckmann M, Stoltenberg U (2007) Developing key competencies for sustainable development in higher education. Int J Sustain High Educ 8:416–430. https://doi.org/10.1108/14676370710823582

Brewer GD (1999) The challenges of interdisciplinarity. Policy Sci 32:327–337. https://doi.org/10.1023/A:1004706019826

Cash DW, Clark WC, Alcock F et al (2003) Knowledge systems for sustainable development. Proc Natl Acad Sci USA 100:8086–8091. https://doi.org/10.1073/pnas.1231332100

Choi BCK, Pak AWP (2006) Multidisciplinarity, interdisciplinarity and transdisciplinarity in health research and policy: 1. Definitions, objectives, and evidence of effectiveness. Clin Investig Med 29:351–364. https://doi.org/10.1002/eji.201090065

Clark WC, van Kerkhoff L, Lebel L, Gallopin GC (2016) Crafting usable knowledge for sustainable development. Proc Natl Acad Sci 113:4570–4578. https://doi.org/10.1073/pnas.1601266113

Cook C, Heath F, Thompson RL, Thompson B (2001) Score reliability in web- or internet-based surveys: unnumbered graphic rating scales versus likert-type scales. Educ Psychol Meas 61:697–706

Corbin J, Strauss A (2008) Basics of qualitative research: techniques and procedures for developing grounded theory. Sage Publications, Thousand Oaks

Creswell JW (2014) Research design: qualitative, quantitative, and mixed methods approaches. Sage, Thousand Oaks

Daniels SE, Walker GB (2012) Lessons from the trenches: twenty years of using systems thinking in natural resource conflict situations. Syst Res Behav Sci 29:104–115. https://doi.org/10.1002/sres.2100

Dewulf A, François G, Pahl-Wostl C, Taillieu T (2007) A framing approach to cross-disciplinary research collaboration: experiences from a large-scale research project on adaptive water management. Ecol Soc 12:14

Druschke CG, Hychka KC (2015) Manager perspectives on communication and public engagement in ecological restoration project success. Ecol Soc 20(1):58. https://doi.org/10.5751/ES-07451-200158

Gardner SK (2013) Paradigmatic differences, power, and status: a qualitative investigation of faculty in one interdisciplinary research collaboration on sustainability science. Sustain Sci 8:241–252. https://doi.org/10.1007/s11625-012-0182-4

Habron G, Goralnik L, Thorp L (2012) Embracing the learning paradigm to foster systems thinking. Int J Sustain High Educ 13(4):378–393. https://doi.org/10.1108/09544780610660013

Hart DD, Buizer JL, Foley JA et al (2016) Mobilizing the power of higher education to tackle the grand challenge of sustainability: lessons from novel initiatives. Elem Sci Anthr 4:000090. https://doi.org/10.12952/journal.elementa.000090

Heemskerk M, Wilson K, Pavao-Zuckerman M (2003) Conceptual models as tool for communication across disciplines. Conserv Ecol 7:8

Jackson FR (1993) Seven strategies to support a culturally responsive pedagogy. J Read 37:298–303. https://doi.org/10.2307/40017437(CR–Copyright ©; 1993 International)

Jasanoff S (2004) Ordering knowledge, ordering society. In: Jasanoff S (ed) States of knowledge: the co-production of science and the social order. Routledge, New York, NY, pp 25–98

Kagan S (1989) The structural approach to cooperative learning. Educ Leadersh 47:12–15

Kates RW, Clark WC, Corell R et al (2001) Sustainability science. Science 292:641–642

Knowlton JL, Halvorsen KE, Handler RM, O'Rourke M (2014) Teaching interdisciplinary sustainability science teamwork skills to graduate students using in-person and web-based interactions. Sustainability 6(12):9428–9440. https://doi.org/10.3390/su6129428

Komives SR (2011) Advancing Leadership Education. In: Komives SR, Dugan JP, Owen JE, Slack C, Wagner W (eds) Student leadership development, 2nd edn. Wiley, San Francisco, CA, pp 1–32

Lang DJ, Wiek A, Bergmann M et al (2012) Transdisciplinary research in sustainability science: practice, principles, and challenges. Sustain Sci 7:25–43. https://doi.org/10.1007/s11625-011-0149-x

Lindenfeld LA, Hall DM, Mcgreavy B et al (2012) Creating a place for environmental communication research in sustainability science. Environ Commun A J Nat Cult 6:23–43

Lyman F (1987) Think-pair-share: an expanding teaching technique. MAA-CIE Coop News 1:1–2

McGreavy B, Druschke CG, Sprain L et al (2016) Environmental communication pedagogy for sustainability: developing core capacities to engage with complex problems. Appl Environ Educ Commun 0389:1–14. https://doi.org/10.1080/1533015X.2016.1181018

McGreavy B, Druschke CG, Sprain L et al (2017) Praxis-based environmental communication training: innovative activities for problem solving. In: Milstein T, Pileggi M, Morgan E (eds) Environmental communication pedagogy and practice. Routledge, New York, pp 229–238

Meyer SR, Levesque VR, Bieluch KH et al (2016) Sustainability science graduate students as boundary spanners. J Environ Stud Sci 6:344–353. https://doi.org/10.1007/s13412-015-0313-1

Morse WC, Nielsen-pincus M, Force JE, Wulfhorst JD (2007) Bridges and barriers to developing and conducting interdisciplinary graduate-student team research. Ecol Soc 12:8

Neuendorf KA (2017) The content analysis guidebook. Sage Publications, Thousand Oaks

Opperman JJ, Royte J, Banks J et al (2011) The Penobscot river, Maine, USA: a basin-scale approach to balancing power generation and ecosystem restoration. Ecol Soc 16:04. https://doi.org/10.5751/ES-04117-160307

Roy SG, Uchida E, de Souza SP et al (2018) A multiscale approach to balance trade-offs among dam infrastructure, river restoration, and cost. Proc Natl Acad Sci 115:12069–12074. https://doi.org/10.1073/pnas.1807437115

Scodanibbio L, Mañez G (2005) The World Commission on Dams: a fundamental step towards integrated water resources management and poverty reduction? A pilot case in the lower Zambezi, Mozambique. Phys Chem Earth 30:976–983. https://doi.org/10.1016/j.pce.2005.08.045

Seemiller C (2013) The student leadership competencies guidebook: designing intentional leadership learning and development. Wiley, USA

Senecah SL (2004) The trinity of voice: the role of practical theory in planning and evaluating the effectiveness of environmental participatory processes. In: Depoe SP, Delicath JW, Elsenbeer M-FA (eds) Communication and public participation in environmental decision making, 1st edn. State University of New York Press, Albany, pp 13–33

Sprain L, Timpson WM (2012) Pedagogy for sustainability science: case-based approaches for interdisciplinary instruction pedagogy for sustainability science: case-based approaches for interdisciplinary instruction. pp 37–41. https://doi.org/10.1080/17524032.2012.714394

Stauffacher M, Walter AI, Lang DJ et al (2006) Learning to research environmental problems from a functional socio-cultural constructivism perspective: the transdisciplinary case study approach. Int J Sustain High Educ 7:252–275. https://doi.org/10.1108/14676370610677838

Tamura M, Uegaki T (2012) Development of an educational model for sustainability science: challenges in the mind-skills-knowledge education at Ibaraki University. Sustain Sci 7:253–265. https://doi.org/10.1007/s11625-011-0156-y

Tamura M, Onuki M, Sekiyama M et al (2018) Developing joint educational programs in sustainability science across different universities: a case study from Japan. Sustain Sci 13:849–860. https://doi.org/10.1007/s11625-017-0503-8

Thompson JL (2009) Building collective communication competence in interdisciplinary research teams. J Appl Commun Res 37:278–298. https://doi.org/10.1080/00909880903025911

Thoren H, Persson J (2013) The philosophy of interdisciplinarity: sustainability science and problem-feeding. J Gen Philos Sci 44:337–355. https://doi.org/10.1007/s10838-013-9233-5

Trott CD, Weinberg AE, McMeeking LBS (2018) Prefiguring sustainability through participatory action research experiences for undergraduates: reflections and recommendations for student development. Sustainability 10:3332. https://doi.org/10.3390/su10093332

van der Leeuw S, Wiek A, Harlow J, Buizer J (2012) How much time do we have? Urgency and rhetoric in sustainability science. Sustain Sci 7:115–120. https://doi.org/10.1007/s11625-011-0153-1

Voorberg WH, Bekkers VJJM, Tummers LG (2015) A systematic review of co-creation and co-production: embarking on the social innovation journey. Public Manag Rev 17:1333–1357. https://doi.org/10.1080/14719037.2014.930505

Walker GB, Senecah SL, Daniels SE (2006) From the forest to the river: citizens' views of stakeholder engagement. Hum Ecol Rev 13:193–202

Wamsler C, Brossmann J, Hendersson H et al (2018) Mindfulness in sustainability science, practice, and teaching. Sustain Sci 13:143–162. https://doi.org/10.1007/s11625-017-0428-2

Westberg L, Hallgren L, Setterwall A (2010) Communicative skills development of administrators: a necessary step for implementing participatory policies in natural resource management. Environ Commun A J Nat Cult 4:225–236. https://doi.org/10.1080/17524031003755309

Whitmer A, Ogden L, Lawton J et al (2010) The engaged university: providing a platform for research that transforms society. Front Ecol Environ 8(6):314–321. https://doi.org/10.1890/090241

Wiek A, Withycombe L, Redman CL (2011) Key competencies in sustainability: a reference framework for academic program development. Sustain Sci 6:203–218. https://doi.org/10.1007/s11625-011-0132-6

Wiek A, Farioli F, Fukushi K, Yarime M (2012) Sustainability science: bridging the gap between science and society. Sustain Sci 7:1–4. https://doi.org/10.1007/s11625-011-0154-0

Wiesendanger KD, Bader L (1992) Cooperative grouping in literacy instruction. Read Horizons 32:403–410

Wiggins G, McTighe J (eds) (2005) Understanding by design, 2nd edn. Pearson, New York

Winowiecki L, Smukler S, Shirley K et al (2011) Tools for enhancing interdisciplinary communication. Sustain Sci Pract Policy 7:74–80

Woods C (2007) Researching and developing interdisciplinary teaching: towards a conceptual framework for classroom communication. High Educ 54:853–866. https://doi.org/10.1007/s10734-006-9027-3

World Commission on Dams (2000) Dams and development: a new framework for decision-making. In Asmal K (ed). Earthscan, London, UK. Retrieved from https://insights.ovid.com/crossref?an=00001703-201102000-00012

Yarime M, Trencher G, Mino T et al (2012) Establishing sustainability science in higher education institutions: towards an integration of academic development, institutionalization, and stakeholder collaborations. Sustain Sci 7:101–113. https://doi.org/10.1007/s11625-012-0157-5

Zarin DJ, Kainer KA, Putz FE et al (2003) Integrated graduate education and research in neotropical working forests. J For 101:31–37
Acknowledgements
The data used in this paper are available upon request. This Grant was supported by NSF- 1539071 to K. Gardner, P. Kirshen, D. Hart, E. Uchida, and A. Gold. This paper benefitted from comments by two anonymous reviewers, and contributions by A. Gold, V. Levesque, C. Ashcraft, J. Zydlewski, K. Wilson, all participating students, all stakeholders, and members of the future of dams cohort.
Additional information
Publisher's Note
Springer Nature remains neutral with regard to jurisdictional claims in published maps and institutional affiliations.
Handled by Masaru Yarime, Hong Kong University of Science and Technology, Hong Kong.
Electronic supplementary material
Below is the link to the electronic supplementary material.
About this article
Cite this article
Roy, S.G., de Souza, S.P., McGreavy, B. et al. Evaluating core competencies and learning outcomes for training the next generation of sustainability researchers. Sustain Sci 15, 619–631 (2020). https://doi.org/10.1007/s11625-019-00707-7
Received:

Accepted:

Published:

Issue Date:
Keywords
Sustainability science

Pedagogy

Interdisciplinary

Class

Course

Evaluation