Abstract
This article presents an integrated theoretical model, drawing from sustainability transition research and attitude theory, to explain public perceptions of urban water sustainability transitions and public support for transformational water-management strategies. We test the model with empirical data from a random-sample residential survey in three cities in the western United States dependent on Colorado River water: Phoenix, Arizona, Denver, Colorado, and Las Vegas, Nevada. As one of the most heavily managed and over-allocated transboundary river systems in the world, sustainable water management of the Colorado River is critical to the future of the region. Cities face increasing pressure on water resources as population, development, and uncertainty about the future increase. While a growing number of scholars focus on sustainability transitions, a few studies focus explicitly on the role of the public as fundamental actors. This is despite the acknowledgement that public support may constrain or enable transitions and that major societal changes will affect the public in numerous and critical ways. We hypothesize that environmental orientation, procedural knowledge, perceived personal responsibility, trust in government, and socio-economic resources predict public perceptions of the need for transitions and public support for transformational water-management strategies. We use ANOVA to identify differences between cities, and confirmatory factor analysis and structural equation modeling to evaluate the conceptual model. Results provide partial support for the hypothesized model and the findings replicate across cities. The findings suggest several policy implications for basin-wide and city-scale water management in the Colorado River basin.
Access options
Buy single article
Instant access to the full article PDF.
USD 39.95
Price includes VAT (USA)
Tax calculation will be finalised during checkout.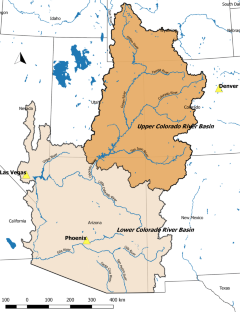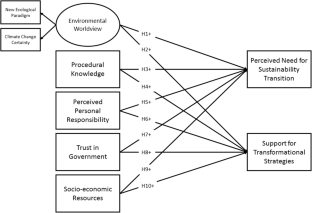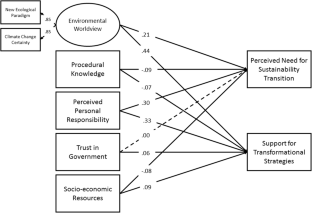 References
Ajzen I (1991) The theory of planned behavior. Organ Behav Hum Decis Process 50(2):179–211

Ajzen I, Fishbein M (1977) Attitude-behavior relations: a theoretical analysis and review of empirical research. Psychol Bull 84(5):888–918. https://doi.org/10.1037/0033-2909.84.5.888

Ajzen I, Fishbein M (2000) Attitudes and the attitude-behavior relation: reasoned and automatic processes. Eur Rev Soc Psychol 11(1):1–33. https://doi.org/10.1080/14792779943000116

American Association for Public Opinion Research (AAPOR) (2016) Standard definitions: final dispositions of case codes and outcome rates for surveys. 9th ed. http://www.aapor.org/AAPOR_Main/media/publications/Standard-Definitions20169theditionfinal.pdf

American National Election Studies (2016) Survey questions. http://www.electionstudies.org/CoreUtility/all.htm

Anderson WM (2012) New ecological paradigm (NEP) scale. In: Spellerberg IF (ed) The Berkshire encyclopedia of sustainability: measurements, indicators, and research methods for sustainability. Berkshire Publishing Group, Great Barrington, pp 260–262

Arizona Department of Water Resources (ADWR) (2014) A strategic vision for water supply sustainability. http://www.azwater.gov/AzDWR/Arizonas_Strategic_Vision/

Ault TR, Mankin JS, Cook BI, Smerdon JE (2016) Relative impacts of mitigation, temperature, and precipitation on 21st-century megadrought risk in the American Southwest. Sci Adv 2(10):e1600873. https://doi.org/10.1126/sciadv.1600873

Avelino F (2011) Power in transition: empowering discourses on sustainability transitions. Erasmus University, Rotterdam. http://hdl.handle.net/1765/30663

Avelino F, Wittmayer JM (2016) Shifting power relations in sustainability transitions: a multi-actor perspective. J Environ Policy Plan 18(5):628–649. https://doi.org/10.1080/1523908X.2015.1112259

Bennett NJ (2016) Using perceptions as evidence to improve conservation and environmental management. Conserv Biol 30(3):582–592. https://doi.org/10.1111/cobi.12681

Bennett NJ, Dearden P (2014) Why local people do not support conservation: community perceptions of marine protected area livelihood impacts, governance and management in Thailand. Mar Policy 44:107–116. https://doi.org/10.1016/j.marpol.2013.08.017

Bicket M, Vanner R (2016) Designing policy mixes for resource efficiency: the role of public acceptability. Sustainability 8(4):366. https://doi.org/10.3390/su8040366

Bos JJ, Brown RR (2012) Governance experimentation and factors of success in socio-technical transitions in the urban water sector. Technol Forecast Soc Change 79(7):1340–1353. https://doi.org/10.1016/j.techfore.2012.04.006

Bouckaert G, Van de Walle S (2003) Comparing measures of citizen trust and user satisfaction as indicators of 'good governance': difficulties in linking trust and satisfaction indicators. Int Rev Adm Sci 69(3):329–343

Brown RR, Farrelly MA, Loorbach DA (2013) Actors working the institutions in sustainability transitions: the case of Melbourne's stormwater management. Glob Environ Change 23(4):701–718. https://doi.org/10.1016/j.gloenvcha.2013.02.013

Castle SL, Thomas BF, Reager JT, Rodell M, Swenson SC, Famiglietti JS (2014) Groundwater depletion during drought threatens future water security of the Colorado River basin. Geophys Res Lett 41(16):5904–5911. https://doi.org/10.1002/2014GL061055

Chappin EJ, Ligtvoet A (2014) Transition and transformation: a bibliometric analysis of two scientific networks researching socio-technical change. Renew Sustain Energy Rev 30:715–723. https://doi.org/10.1016/j.rser.2013.11.013

Chen X, Peterson MN, Hull V, Lu C, Lee GD, Hong D, Liu J (2011) Effects of attitudinal and sociodemographic factors on pro-environmental behaviour in urban China. Environ Conserv 38(1):45–52. https://doi.org/10.1017/S037689291000086X

Child M, Breyer C (2017) Transition and transformation: a review of the concept of change in the progress towards future sustainable energy systems. Energy Policy 107:11–26. https://doi.org/10.1016/j.enpol.2017.04.022

Chilvers J, Longhurst N (2016) Participation in transition: reconceiving public engagements in energy transitions as co-produced, emergent and diverse. J Environ Policy Plann 18(5):585–607. https://doi.org/10.1080/1523908X.2015.1110483

Christensen NS, Wood AW, Voisin N, Lettenmaier DP, Palmer RN (2004) The effects of climate change on the hydrology and water resources of the Colorado River basin. Clim Change 62:337–363

Colorado Water Conservation Board (CWCB) (2015) Colorado's water plan. Denver: Colorado Water Conservation Board. https://www.colorado.gov/pacific/cowaterplan/plan

Cook BI, Ault TR, Smerdon JE (2015) Unprecedented 21st century drought risk in the American southwest and central plains. Sci Adv 1(1):e1400082. https://doi.org/10.1126/sciadv.1400082

de Haan FJ, Rotmans J (2018) A proposed theoretical framework for actors in transformative change. Technol Forecast Soc 128:275–286. https://doi.org/10.1016/j.techfore.2017.12.017

De Haan FJ, Rogers BC, Frantzeskaki N, Brown RR (2015) Transitions through a lens of urban water. Environ Innov Soc Transit 15:1–10. https://doi.org/10.1016/j.eist.2014.11.005

Dillman DA, Smyth JD, Christian LM (2014) Internet, phone, mail, and mixed-mode surveys: the tailored design method. Wiley, Hoboken

Domènech L, Saurí D (2010) Socio-technical transitions in water scarcity contexts: public acceptance of greywater reuse technologies in the Metropolitan Area of Barcelona. Resour Conserv Recycl 55(1):53–62. https://doi.org/10.1016/j.resconrec.2010.07.001

Dunlap RE (1998) Lay perceptions of global risk: public views of global warming in cross-national context. Int Soc 13(4):473–498. https://doi.org/10.1177/026858098013004004

Dunlap R, Jones R (2002) Environmental concern: conceptual and measurement issues. In: Dunlap R, Michelson W (eds) Handbook of environmental sociology. Greenwood, London, pp 482–524

Dunlap RE, Van Liere KD, Mertig AG, Jones RE (2000) New trends in measuring environmental attitudes: measuring endorsement of the new ecological paradigm: a revised NEP scale. J Soc Issues 56(3):425–442. https://doi.org/10.1111/0022-4537.00176

Elzen B, Wieczorek A (2005) Transitions towards sustainability through system innovation. Technol Forecast Soc Change 72(6):651–661

Enders CK, Bandalos DL (2001) The relative performance of full information maximum likelihood estimation for missing data in structural equation models. Struct Equ Model 8(3):430–457

Farrelly M, Brown R (2011) Rethinking urban water management: experimentation as a way forward? Glob Environ Change 21(2):721–732. https://doi.org/10.1016/j.gloenvcha.2011.01.007

Fischer LB, Newig J (2016) Importance of actors and agency in sustainability transitions: a systematic exploration of the literature. Sustainability 8(5):476. https://doi.org/10.3390/su8050476

Frisk E, Larson KL (2011) Educating for sustainability: competencies practices for transformative action. J Sustain Educ 2:1–20

Gearey M, Jeffrey P (2006) Concepts of legitimacy within the context of adaptive water management strategies. Ecol Econ 60(1):129–137. https://doi.org/10.1016/j.ecolecon.2006.02.014

Geels FW (2002) Technological transitions as evolutionary reconfiguration processes: a multi-level perspective and a case-study. Res Policy 31(8–9):1257–1274. https://doi.org/10.1016/S0048-7333(02)00062-8

Geels FW (2005) Co-evolution of technology and society: the transition in water supply and personal hygiene in the Netherlands (1850–1930)—a case study in multi-level perspective. Technol Soc 27(3):363–397. https://doi.org/10.1016/j.techsoc.2005.04.008

Geels FW (2006) The hygienic transition from cesspools to sewer systems (1840–1930): the dynamics of regime transformation. Res Policy 35(7):1069–1082. https://doi.org/10.1016/j.respol.2006.06.001

Geels FW (2010) Ontologies, socio-technical transitions (to sustainability), and the multi-level perspective. Res Policy 39(4):495–510. https://doi.org/10.1016/j.respol.2010.01.022

Geels FW (2011) The multi-level perspective on sustainability transitions: responses to seven criticisms. Environ Innov Soc Transit 1(1):24–40. https://doi.org/10.1016/j.eist.2011.02.002

Geels FW (2014) Regime resistance against low-carbon transitions: introducing politics and power into the multi-level perspective. Theory Cult Soc 31(5):21–40

Geels FW, Schot J (2007) Typology of sociotechnical transition pathways. Res Policy 36(3):399–417. https://doi.org/10.1016/j.respol.2007.01.003

Gober P (2013) Getting outside the water box: the need for new approaches to water planning and policy. Water Resour Manag 27(4):955–957

Gober P (2018) Building resilience for uncertain water futures. Palgrave Macmillan, Cham

Gonzalez P, Garfin GM, Breshears DD, Brooks KM, Brown HE, Elias EH, Gunasekara A, Huntly N, Maldonado JK, Mantua NJ, Margolis HG, McAfee S, Middleton BR, Udall BH (2018) Southwest. In: Reidmiller DR, Avery CW, Easterling DR, Kunkel KE, Lewis KLM, Maycock TK, Stewart BC (eds) Impacts, risks, and adaptation in the United States: Fourth National Climate Assessment, vol II. U.S. Global Change Research, Washington, DC. https://doi.org/10.7930/NCA4.2018.CH25

Grin J, Rotmans J, Schot J (2010) Transitions to sustainable development: new directions in the study of long term transformative change. Routledge, New York

Groves RM, Fowler FJ Jr, Couper MP, Lepkowski JM, Singer E, Tourangeau R (2011) Survey methodology, vol 561. Wiley, Hoboken

Hartley TW (2006) Public perception and participation in water reuse. Desalination 187(1–3):115–126. https://doi.org/10.1016/j.jenvman.2008.02.003

Heberlein TA (2012) Navigating environmental attitudes. Conserv Biol 26(4):583–585. https://doi.org/10.1111/j.1523-1739.2012.01892.x

Hölscher K, Wittmayer JM, Loorbach D (2017) Transition versus transformation: what's the difference? Environ Innov Soc Transit 27(1):1–3

Hölscher K, Avelino F, Wittmayer JM (2018) Empowering actors in transition management in and for cities. In: Frantzeskaki N, Hölscher K, Bach M, Avelino F (eds) Co-creating sustainable urban futures. Future City, vol 11. Springer, Cham, pp 131–158

Howe PD, Mildenberger M, Marlon JR, Leiserowitz A (2015) Geographic variation in opinions on climate change at state and local scales in the USA. Nat Clim Change 5(6):596–603. https://doi.org/10.1038/nclimate2583

Hu LT, Bentler PM (1999) Cutoff criteria for fit indexes in covariance structure analysis: conventional criteria versus new alternatives. Struct Equ Model Multidiscip J 6(1):1–55. https://doi.org/10.1080/10705519909540118

Huijts NM, Molin EJ, Steg L (2012) Psychological factors influencing sustainable energy technology acceptance: a review-based comprehensive framework. Renew Sustain Energy Rev 16(1):525–531. https://doi.org/10.1016/j.rser.2011.08.018

Hundley N (2009) Water and the west: the Colorado River compact and the politics of water in the American West. University of California Press, Oakland

Hurlimann A, Dolnicar S (2010) When public opposition defeats alternative water projects–the case of Toowoomba Australia. Water Res 44(1):287–297. https://doi.org/10.1016/j.watres.2009.09.020

Hurlimann A, Dolnicar S (2016) Public acceptance and perceptions of alternative water sources: a comparative study in nine locations. Int J Water Resour Dev 32(4):650–673. https://doi.org/10.1080/07900627.2016.1143350

Itaoka K, Saito A, Akai M (2005) Public acceptance of CO2 capture and storage technology: a survey of public opinion to explore influential factors. Greenh Gas Control Technol 7(1):1011–1019. https://doi.org/10.1016/B978-008044704-9/50102-6

Kaiser FG, Ranney M, Hartig T, Bowler PA (1999) Ecological behavior, environmental attitude, and feelings of responsibility for the environment. Eur Psychol 4(2):59

Kline RB (2005) Principles and practice of structural equation modeling. Guilford Press, New York

Kollmuss A, Agyeman J (2002) Mind the gap: why do people act environmentally and what are the barriers to pro-environmental behavior? Environ Educ Res 8(3):239–260. https://doi.org/10.1080/13504620220145401

Kuzdas C, Wiek A, Warner B, Vignola R, Morataya R (2014) Sustainability appraisal of water governance regimes: the case of Guanacaste, Costa Rica. Environ Manag 54(2):205–222. https://doi.org/10.1007/s00267-014-0292-0

Larson KL (2010) An integrated theoretical approach to understanding the sociocultural basis of multidimensional environmental attitudes. Soc Nat Res 23(9):898–907. https://doi.org/10.1080/08941920903373524

Larson KL, Casagrande D, Harlan SL, Yabiku ST (2009a) Residents' yard choices and rationales in a desert city: social priorities, ecological impacts, and decision tradeoffs. Environ Manag 44(5):921–937. https://doi.org/10.1007/s00267-009-9353-1

Larson KL, White DD, Gober P, Harlan S, Wutich A (2009b) Divergent perspectives on water resource sustainability in a public–policy–science context. Environ Sci Policy 12(7):1012–1023. https://doi.org/10.1016/j.envsci.2009.07.012

Larson KL, Ibes DC, White DD (2011) Gendered perspectives about water risks and policy strategies: a tripartite conceptual approach. Environ Behav 43(3):415–438. https://doi.org/10.1177/0013916510365253

Lienert J, Monstadt J, Truffer B (2006) Future scenarios for a sustainable water sector: a case study from Switzerland. Environ Sci Technol 40(2):436–442. https://doi.org/10.1021/es0514139

Loorbach D, Frantzeskaki N, Thissen W (2011) A transition research perspective on governance for sustainability. In: Jaeger C, Tàbara J, Jaeger J (eds) European research on sustainable development. Springer, Berlin, pp 73–89. https://doi.org/10.1007/978-3-642-19202-9_7

Loorbach D, Frantzeskaki N, Avelino F (2017) Sustainability transitions research: transforming science and practice for societal change. Ann Rev Environ Resour 42:599–626. https://doi.org/10.1146/annurev-environ-102014-021340

Markard J, Raven R, Truffer B (2012) Sustainability transitions: an emerging field of research and its prospects. Res Policy 41(6):955–967. https://doi.org/10.1016/j.respol.2012.02.013

McClanahan TR, Abunge CA (2016) Perceptions of fishing access restrictions and the disparity of benefits among stakeholder communities and nations of south-eastern Africa. Fish Fish 17(2):417–437. https://doi.org/10.1111/faf.12118

Meadowcroft J (2009) What about the politics? Sustainable development, transition management, and long term energy transitions. Policy Sci 42(4):323

National Research Council (2007) Colorado River Basin water management: evaluating and adjusting to hydroclimatic variability. National Academies Press, Washington, DC

Olsson P, Galaz V, Boonstra W (2014) Sustainability transformations: a resilience perspective. Ecol Soc 19(4):1. https://doi.org/10.5751/ES-06799-190401

Rip A, Kemp R (1998) Technological change. In: Rayner S, Malone EL (eds) Human choice and climate change—resources and technology. Battelle Press, Columbus, pp 327–399

Rivera A, Unibazo J, Leon P, Vásquez-Lavín F, Ponce R, Mansur L, Gelcich S (2017) Stakeholder perceptions of enhancement opportunities in the Chilean small and medium scale mussel aquaculture industry. Aquaculture 479:423–431. https://doi.org/10.1016/j.aquaculture.2017.06.015

Rotmans J, Kemp R, Van Asselt M (2001) More evolution than revolution: transition management in public policy. Foresight 3(1):15–31. https://doi.org/10.1108/14636680110803003

Russell S, Fielding K (2010) Water demand management research: a psychological perspective. Water Resour Res 46(5):w05302. https://doi.org/10.1029/2009WR008408

Schultz PW, Zelezny L (1999) Values as predictors of environmental attitudes: evidence for consistency across 14 countries. J Environ Psychol 19(3):255–265. https://doi.org/10.1006/jevp.1999.0129

Schultz PW, Nolan JM, Cialdini RB, Goldstein NJ, Griskevicius V (2007) The constructive, destructive, and reconstructive power of social norms. Psychol Sci 18(5):429–434. https://doi.org/10.1111/j.1467-9280.2007.01917.x

Schwartz SH, Bilsky W (1987) Toward a universal psychological structure of human values. J Personal Soc Psychol 53(3):550–562

Shove E, Walker G (2010) Governing transitions in the sustainability of everyday life. Res Policy 39(4):471–476. https://doi.org/10.1016/j.respol.2010.01.019

Smith A, Stirling A (2010) The politics of social-ecological resilience and sustainable socio-technical transitions. Ecol Soc 15(1):11

Smith A, Stirling A, Berkhout F (2005) The governance of sustainable socio-technical transitions. Res Policy 34(10):1491–1510. https://doi.org/10.1016/j.respol.2005.07.005

Southern Nevada Water Authority (SWNA) (2015) Water resource plan 2015. https://www.snwa.com/assets/pdf/wr_plan.pdf

Steg L, Vlek C (2009) Encouraging pro-environmental behaviour: an integrative review and research agenda. J Environ Psychol 29(3):309–317. https://doi.org/10.1016/j.jenvp.2008.10.004

Steg L, Perlaviciute G, van der Werff E (2015) Understanding the human dimensions of a sustainable energy transition. Front Psychol 6:805. https://doi.org/10.3389/fpsyg.2015.00805

Stern PC, Dietz T, Guagnano GA (1995) The new ecological paradigm in social-psychological context. Environ Behav 27(6):723–743. https://doi.org/10.1177/0013916595276001

Stolee G, Caton S (2018) Twitter, Trump, and the base: a shift to a new form of presidential talk? Signs Soc 6(1):147–165. https://doi.org/10.1086/694755

Sullivan A, White DD, Larson KL, Wutich A (2017) Towards water sensitive cities in the Colorado River basin: a comparative historical analysis to inform future urban water sustainability transitions. Sustainability 9(5):761. https://doi.org/10.3390/su9050761

Sullivan A, White DD, Hanemann M (2019) Designing collaborative governance: insights from the drought contingency planning process for the lower Colorado River basin. Environ Sci Policy 91:39–49. https://doi.org/10.1016/j.envsci.2018.10.011

Thogersen J (2009) The motivational roots of norms for environmentally responsible behavior. Basic Appl Soc Psychol 31(4):348–362. https://doi.org/10.1080/01973530903317144

Turner RA, Fitzsimmons C, Forster J, Mahon R, Peterson A, Stead SM (2014) Measuring good governance for complex ecosystems: perceptions of coral reef-dependent communities in the Caribbean. Glob Environ Change 29:105–117. https://doi.org/10.1016/j.gloenvcha.2014.08.004

Udall B, Overpeck J (2017) The twenty-first century Colorado River hot drought and implications for the future. Water Resour Res 53(3):2404–2418. https://doi.org/10.1002/2016WR019638

U.S. Bureau of Reclamation (USBOR) (2012) Managing water in the West: Colorado River Basin water supply and demand study executive summary. https://www.usbr.gov/watersmart//bsp/docs/finalreport/ColoradoRiver/CRBS_Executive_Summary_FINAL.pdf

U.S. Bureau of Reclamation (USBOR) (2018a) Another dry year in the Colorado River Basin increases the need for additional state and federal actions. https://www.usbr.gov/newsroom/newsrelease/detail.cfm?RecordID=62170

U.S. Bureau of Reclamation (USBOR) (2018b) Colorado River system 5-year projected future conditions. https://www.usbr.gov/lc/region/g4000/riverops/crss-5year-projections-APR2018.html

U.S. Department of Interior (USDOI), Bureau of Reclamation (2000) Colorado river interim surplus criteria: final environmental impact statement, vol 1. Washington, DC

Van den Bergh JC, Truffer B, Kallis G (2011) Environmental innovation and societal transitions: introduction and overview. Environ Innov Soc Transit 1(1):1–23. https://doi.org/10.1016/j.eist.2011.04.010

Walker G, Cass N (2007) Carbon reduction, 'the public' and renewable energy: engaging with socio-technical configurations. Area 39(4):458–469. https://doi.org/10.1111/j.1475-4762.2007.00772.x

Webb EL, Maliao RJ, Siar SV (2004) Using local user perceptions to evaluate outcomes of protected area management in the Sagay Marine Reserve, Philippines. Environ Conserv 31(2):138–148. https://doi.org/10.1017/S0376892904001377

White DD, Keeler LW, Wiek A, Larson KL (2015) Envisioning the future of water governance: a survey of central Arizona water decision makers. Environ Pract 17(1):25–35. https://doi.org/10.1017/S1466046614000489

Whitfield SC, Rosa EA, Dan A, Dietz T (2009) The future of nuclear power: value orientations and risk perception. Risk Anal 29(3):425–437. https://doi.org/10.1111/j.1539-6924.2008.01155.x

Wiek A, Larson KL (2012) Water, people, and sustainability—a systems framework for analyzing and assessing water governance regimes. Water Resour Manag 26(11):3153–3171. https://doi.org/10.1007/s11269-012-0065-6

Wittmayer J, Avelino F, van Steenbergen F, Loorbach D (2016) Actor roles in transition: insights from sociological perspectives. Environ Innov Soc Transit. 24:45–56. https://doi.org/10.1016/j.eist.2016.10.003

Wu L (2012) Exploring the new ecological paradigm scale for gauging children's environmental attitudes in China. J Environ Eduac 43(2):107–120. https://doi.org/10.1080/00958964.2011.616554

Ziegler A (2017) Political orientation, environmental values, and climate change beliefs and attitudes: an empirical cross country analysis. Energy Econ 63:144–153. https://doi.org/10.1016/j.eneco.2017.01.022
Acknowledgements
This material is based upon work supported by the National Science Foundation under Grant no. SES-1462086.
Additional information
Publisher's Note
Springer Nature remains neutral with regard to jurisdictional claims in published maps and institutional affiliations.
Handled by: Jagath Kaluarachchi, Utah State University, United States.
About this article
Cite this article
White, D.D., Rauh, E.K., Sullivan, A. et al. Public attitudes toward urban water sustainability transitions: a multi-city survey in the western United States. Sustain Sci 14, 1469–1483 (2019). https://doi.org/10.1007/s11625-019-00658-z
Received:

Accepted:

Published:

Issue Date:
Keywords
Attitude theory

Climate change

Colorado River

Water resource management

Transformations