Abstract
Climate change poses significant risk to island communities; however, there has been limited quantitative investigation into local people's perception toward the risk. This study applied Best–Worst Scaling (BWS) to understand residents' anxieties about potential incidents caused by climate change in Amami islands, Japan. Through an interview with stakeholders, we selected five potential incidents for our BWS attributes: damage caused by typhoon and heavy rain (typhoon), damage caused by flood and a landslide (flood), damage from a drought (drought), damage from ciguatera fish poisoning (ciguatera), and incident caused by jellyfish (jellyfish). Changes in frequencies of the abovementioned incidents have already been observed in Japan. In 2016, we conducted a questionnaire survey of residents in Amami islands and received over 700 valid responses to BWS questions. Results showed that the average respondent was most anxious about the risk of typhoon, followed by flood, drought, ciguatera, and jellyfish. Furthermore, a comparative analysis did not find large variations among the islands in the residents' anxiety ranking concerning the incidents, but the degrees of their anxieties were different. The Amami-Oshima residents, for example, had relatively higher anxieties about flood, whereas the Okinoerabujima residents showed higher anxiety about drought. These findings support that their risk perceptions are determined by their experience and surrounding environments. Understanding the sensitivity of residents to climate change risk will encourage stakeholders to communicate and enhance climate change adaptation in local communities.
Access options
Buy single article
Instant access to the full article PDF.
US$ 39.95
Tax calculation will be finalised during checkout.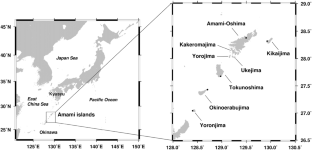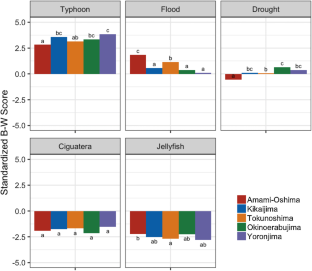 Notes
1.

The Mann–Kendall tests were performed using XLSTAT 2018 software; the results showed that no significant trends were detected.

2.

3.
References
Adger WN (2006) Vulnerability. Glob Environ Change 16:268–281

Adger WN, Dessai S, Goulden M, Hulme M, Lorenzoni I, Nelson DR, Naess LO, Wolf J, Wreford A (2009) Are there social limits to adaptation to climate change? Clim Change 93:335–354

Jones AK, Jones DL, Edwards-Jones G, Cross P (2013) Informing decision making in agricultural greenhouse gas mitigation policy: a Best–Worst Scaling survey of expert and farmer opinion in the sheep industry. Environ Sci Policy 29:46–56

Albert S, Leon JX, Grinham AR, Church JA, Gibbes BR, Woodroffe CD (2016) Interactions between sea-level rise and wave exposure on reef island dynamics in the Solomon Islands. Environ Res Lett 11:054011

Brulle RJ, Carmichael J, Jenkins JC (2012) Shifting public opinion on climate change: an empirical assessment of factors influencing concern over climate change in the US, 2002–2010. Clim Change 114:169–188

Buckley PJ, Pinnegar JK, Painting SJ, Terry G, Chilvers J, Lorenzoni I, Gelcich S, Duarte CM (2017) Ten thousand voices on marine climate change in Europe: different perceptions among demographic groups and nationalities. Front Mar Sci 4:206. https://doi.org/10.3389/fmars.2017.00206

Chateau-Degat M-L, Chinain M, Cerf N, Gingras S, Hubert B, Dewailly É (2005) Seawater temperature, Gambierdiscus spp. variability and incidence of ciguatera poisoning in French Polynesia. Harmful Algae 4:1053–1062

Cinner JE, McClanahan TR, Graham NAJ, Daw TM, Maina J, Stead SM, Wamukota A, Brown K, Bodin Ö (2012) Vulnerability of coastal communities to key impacts of climate change on coral reef fisheries. Glob Environ Change 22:12–20

Cinner JE, Adger WN, Allison EH, Barnes ML, Brown K, Cohen PJ, Gelcich S, Hicks CC, Hughes TP, Lau J, Marshall NA, Morrison TH (2018) Building adaptive capacity to climate change in tropical coastal communities. Nat Clim Change 8:117–123

Dai J, Kesternich M, Löschel A, Ziegler A (2015) Extreme weather experiences and climate change beliefs in China: an econometric analysis. Ecol Econ 116:310–321

Finn A, Louviere JJ (1992) Determining the appropriate response to evidence of public concern: the case of food safety. J Public Policy Marketing 11:12–25

Fischhoff B (2006) Risk perception and communication unplugged: 20 years of process 1. Risk Anal 15:137–145

Frondel M, Simora M, Sommer S (2017) Risk perception of climate change: empirical evidence for Germany. Ecol Econ 137:173–183

Fukuyo Y (1981) Taxonomical study on benthic dinoflagellates collected in coral reefs. Nippon Suisan Gakkaishi 47:967–978

Glenk K, Eory V, Colombo S, Barnes A (2014) Adoption of greenhouse gas mitigation in agriculture: an analysis of dairy farmers' perceptions and adoption behaviour. Ecol Econ 108:49–58

Hatayama Y, Ishikawa A, Natsuike M, Takeichi Y, Ajisaka T, Sawayama S, Imai I (2011) First report of the benthic dinoflagellate of the genus Gambierdiscus from western Wakasa Bay in the Sea of Japan. Nippon Suisan Gakkaishi 77:685–687

Hoegh-Guldberg O, Bruno JF (2010) The impact of climate change on the world's marine ecosystems. Science 328:1523–1528

IUCN (2018) IUCN World Heritage Evaluations 2018 (IUCN evaluations of nominations of natural and mixed properties to the World Heritage List). https://whc.unesco.org/archive/2018/whc18-42com-inf8B2-en.pdf. Accessed 16 Oct 2018

Jiang C, Shaw KS, Upperman CR, Blythe D, Mitchell C, Murtugudde R, Sapkota AR, Sapkota A (2015) Climate change, extreme events and increased risk of salmonellosis in Maryland, USA: evidence for coastal vulnerability. Environ Int 83:58–62

Kahan DM, Peters E, Wittlin M, Slovic P, Ouellette LL, Braman D, Mandel G (2012) The polarizing impact of science literacy and numeracy on perceived climate change risks. Nat Clim Change 2:732

Keller C, Siegrist M, Gutscher H (2006) The role of the affect and availability heuristics in risk communication. Risk Anal 26:631–639

Koike K, Ishimaru T, Murano M (1991) Distributions of benthic dinoflagellates in Akajima Island, Okinawa, Japan. Nippon Suisan Gakkaishi 57:2261–2264

Lazrus H (2012) Sea change: island communities and climate change. Ann Rev Anthropol 41:285–301

Lee TM, Markowitz EM, Howe PD, Ko C-Y, Leiserowitz AA (2015) Predictors of public climate change awareness and risk perception around the world. Nat Clim Change 5:1014

Lewis C, Bentlage B (2009) Clarifying the identity of the Japanese Habu-kurage, Chironex yamaguchii, sp. nov. (Cnidaria: Cubozoa: Chirodropida)

Louviere J, Lings I, Islam T, Gudergan S, Flynn T (2013) An introduction to the application of (case 1) Best–Worst Scaling in marketing research. Int J Res Mark 30:292–303

Louviere JJ, Flynn TN, Marley AA (2015) Best–Worst Scaling: theory, methods and applications. Cambridge University Press, Cambridge

Marley AAJ, Louviere JJ (2005) Some probabilistic models of best, worst, and best–worst choices. J Math Psychol 49:464–480

McMichael AJ, Woodruff RE, Hales S (2006) Climate change and human health: present and future risks. Lancet 367:859–869

Ministry of the Environment, Ministry of Education, C., Sports, Science and Technology, Ministry of Agriculture, F.a.F., Ministry of Land, I.a.T., the Japan Meteorological Agency (2018) Integrated report on observation, prediction and impact assessment of climate change 2018—climate change and its impacts in Japan, p 138

Mizuta R, Matsueda M, Endo H, Yukimoto S (2011) Future change in extratropical cyclones associated with change in the upper troposphere. J Clim 24:6456–6470

Mori T, Tsuge T (2017) Best–Worst Scaling survey of preferences regarding the adverse effects of tobacco use in China. SSM Popul Health 3:624–632

Neil Adger W, Arnell NW, Tompkins EL (2005) Successful adaptation to climate change across scales. Glob Environ Change 15:77–86

Nerem RS, Beckley BD, Fasullo JT, Hamlington BD, Masters D, Mitchum GT (2018) Climate-change-driven accelerated sea-level rise detected in the altimeter era. Proceedings of the National Academy of Sciences

Nishimura T, Sato S, Tawong W, Sakanari H, Uehara K, Shah MMR, Suda S, Yasumoto T, Taira Y, Yamaguchi H, Adachi M (2013) Genetic diversity and distribution of the ciguatera-causing dinoflagellate Gambierdiscus spp. (Dinophyceae) in coastal areas of Japan. PLOS One 8:e60882

Rachman SJ (1990) Fear and courage. WH Freeman/Times Books/Henry Holt & Co, New York

Rudd MA (2014) Scientists' perspectives on global ocean research priorities. Frontiers in Marine Science. https://doi.org/10.3389/fmars.2014.00036

Rudd MA, Fleishman E (2014) Policymakers' and scientists' ranks of research priorities for resource-management policy. Bioscience 64:219–228

Rudd MA, Lawton RN (2013) Scientists' prioritization of global coastal research questions. Mar Policy 39:101–111

Rudd MA, Ankley GT, Boxall AB, Brooks BW (2014) International scientists' priorities for research on pharmaceutical and personal care products in the environment. Integr Environ Assess Manag 10:576–587

Sjöberg L (2000) Perceived risk and tampering with nature. J Risk Res 3:353–367

Slovic P (1987) Perception of risk. Science 236:280–285

Smit B, Burton I, Klein RJT, Wandel J (2000) An anatomy of adaptation to climate change and variability. In: Kane SM, Yohe GW (eds) Societal adaptation to climate variability and change. Springer, Netherlands, pp 223–251

Smith JB, Schneider SH, Oppenheimer M, Yohe GW, Hare W, Mastrandrea MD, Patwardhan A, Burton I, Corfee-Morlot J, Magadza CHD, Füssel H-M, Pittock AB, Rahman A, Suarez A, van Ypersele J-P (2009) Assessing dangerous climate change through an update of the Intergovernmental Panel on Climate Change (IPCC) "reasons for concern". Proc Natl Acad Sci 106:4133–4137

Stevanović M, Popp A, Lotze-Campen H, Dietrich JP, Müller C, Bonsch M, Schmitz C, Bodirsky BL, Humpenöder F, Weindl I (2016) The impact of high-end climate change on agricultural welfare. Sci Adv 2(8):e1501452. https://doi.org/10.1126/sciadv.1501452

R Core Team (2018) R: A Language and environment for statistical computing

Thieken AH, Kreibich H, MüLler M, Merz B (2007) Coping with floods: preparedness, response and recovery of flood-affected residents in Germany in 2002. Hydrol Sci J 52:1016–1037

Weber EU (2006) Experience-based and description-based perceptions of long-term risk: why global warming does not scare us (Yet). Clim Change 77:103–120

Yoshida K, Sugi M, Mizuta R, Murakami H, Ishii M (2017) Future changes in tropical cyclone activity in high-resolution large-ensemble simulations. Geophys Res Lett 44:9910–9917

Zaalberg R, Midden C, Meijnders A, McCalley T (2009) Prevention, adaptation, and threat denial: flooding experiences in the Netherlands. Risk Anal 29:1759–1778
Acknowledgement
We acknowledge financial support from the Japan Society for the Promotion of Science (no. 16K00697), and the Ministry of the Environmental, Japan [Economics and Policy Study; ERTDF (S-15: Predicting and Assessing Natural Capital and Ecosystem Services (PANCES)]. We appreciate the Ministry of the Environment, the local governments and all respondents to the survey in the Amami Islands for their kind cooperation. We also thank Miyamoto, R., Mitsui, S., Mameno, K., and Uryu, S. for their support conducting the research.
Additional information
Handled by Takehisa Yamakita, Japan Agency for Marine-Earth Science and Technology, Japan.
About this article
Cite this article
Kubo, T., Tsuge, T., Abe, H. et al. Understanding island residents' anxiety about impacts caused by climate change using Best–Worst Scaling: a case study of Amami islands, Japan. Sustain Sci 14, 131–138 (2019). https://doi.org/10.1007/s11625-018-0640-8
Received:

Accepted:

Published:

Issue Date:
Keywords
Amami islands

Best–Worst Scaling

Climate change adaptation

Climate change communication

Island resident