Abstract
The planet's social–ecological systems are expected to change in rapid and surprising ways in the coming decades, with consequences for ecosystems, ecosystem services, and human well-being. One way to support local communities and decision-makers at higher scales in addressing such surprising changes is to develop scenarios that are locally actionable and that can inform understanding of social–ecological dynamics across scales. This study focuses on three areas that require advances for developing globally relevant scenarios that support local action: (1) mobilizing Indigenous and local knowledge (ILK) in scenarios; (2) using scenarios to explore agency to affect the future; (3) probing a vast range of plausible positive futures. For scenarios to be relevant to communities in supporting positive change, approaches that engage with ILK to explore how human action, or agency, can shape the future are needed, as well as positive scenarios that feature a wide range of good outcomes for nature and people to inspire and guide action. We propose a novel set of methods for participatory scenario planning—developed and tested through a case study in the Canadian Arctic—designed to carefully explore what 'positive futures' could mean to different populations faced with growing impacts from environmental and social change, and how positive outcomes can be achieved even in light of these changing dynamics. This scenario approach provides direction to engage multiple ways of knowing in developing knowledge about future changes that can direct sustainable action.
Access options
Buy single article
Instant access to the full article PDF.
USD 39.95
Price includes VAT (USA)
Tax calculation will be finalised during checkout.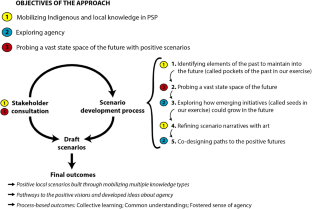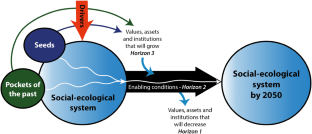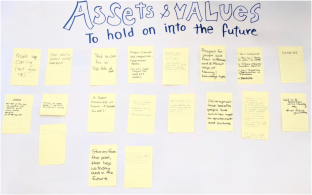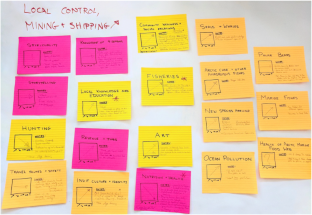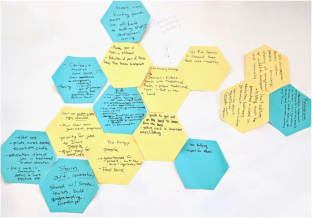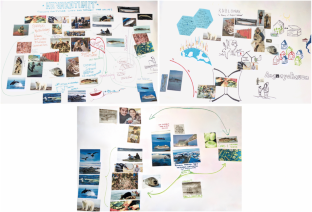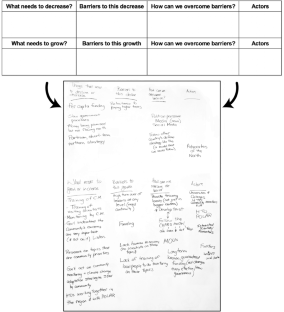 References
(AMAP) Arctic Monitoring and Assessment Programme (2017) Adaptation actions for a changing arctic: perspectives from the bering-chukchi-Beaufort region. AMAP, Olso

(DFO) Fisheries and Oceans Canada (2014) Integrated fisheries management plan, Cambridge Bay Arctic Char commercial fishery, Nunavut Settlement area. DFO Central Arctic Region, Resource Management and Aboriginal Affairs, Winnipeg, p 38

(MA) Millennium Ecosystem Assessment (2005) Ecosystems and human well-being: Synthesis. Island Press, Washington, p 137

(NTI) Nunavut Tunngavik Incorporated, Minister of Indigenous and Northern Affairs Canada and Federal Interlocutor for Métis and Non-Status Indians (2010) Nunavut land claims agreement. NTI, Minister of Indigenous and Northern Affairs Canada and Federal Interlocutor for Métis and Non-Status Indians, Ottawa, p 282

Akande VO, Hendriks AM, Ruiter RAC, Kremers SPJ (2015) Determinants of dietary behavior and physical activity among Canadian Inuit: a systematic review. Int J Behav Nutr Phys Act 12:84

Armitage D, Berkes F, Dale A, Kocho-Schellenberg E, Patton E (2011) Co-management and the co-production of knowledge: learning to adapt in Canada's Arctic. Global Environ Change 21:995–1004

Beach DM, Clark DA (2015) Scenario planning during rapid ecological change: lessons and perspectives from workshops with southwest Yukon wildlife managers. Ecol Soc 20(1):61

Bennett EM, Zurek M (2006) Integrating epistemologies through scenarios. In: Reid WV, Berkes F, Wilbanks T, Capistrano D (eds) Bridging scales and knowledge systems. Island Press, Washington, pp 275–294

Bennett EM, Carpenter SR, Peterson GD, Cumming GS, Zurek M, Pingali P (2003) Why global scenarios need ecology. Front Ecol Environ 1:322–329

Bennett EM, Solan M, Biggs R, McPhearson T, Norström AV, Olsson P, Pereira L, Peterson GD, Raudsepp-Hearne C, Biermann F, Carpenter SR, Ellis EC, Hichert T, Galaz V, Lahsen M, Milkoreit M, Martin López B, Nicholas KA, Preiser R, Vince G, Vervoort JM, Xu J (2016a) Bright spots: seeds of a good anthropocene. Front Ecol Environ 14:441–448

Bennett NJ, Kadfak A, Dearden P (2016b) Community-based scenario planning: a process for vulnerability analysis and adaptation planning to social-ecological change in coastal communities. Environ Dev Sustain 18:1771–1799

Biggs R, Raudsepp-Hearne C, Atkinson-Palombo C, Bohensky E, Boyd E, Cundill G, Fox H, Ingram S, Kok K, Spehar S, Tengo M, Timmer D, Zurek M (2007) Linking futures across scales: a dialog on multiscale scenarios. Ecol Soc 12(1):17

Bohnet IC (2010) Integrating social and ecological knowledge for planning sustainable land- and sea-scapes: experiences from the Great Barrier Reef region, Australia. Landsc Ecol 25:1201–1218

Brown K, Westaway E (2011) Agency, capacity, and resilience to environmental change: lessons from human development, well-being, and disasters. Ann Rev Environ Resour 36:321–342

Carpenter SR (2002) Ecological futures: building an ecology of the long now. Ecology 83:2069–2083

Carpenter SR, Bennett EM, Peterson GD (2006) Scenarios for ecosystem services: an overview. Ecol Soc 11(1):29

Carter NA, Dawson J, Knopp J, Joyce J, Weber M, Kochanowicz Z, Mussells O (2018) Arctic corridors and northern voices: governing marine transportation in the Canadian Arctic (Cambridge Bay, Nunavut community report). University of Ottawa, Ottawa, p 24

Dawson J, Pizzolato L, Howell SE, Copland L, Johnston ME (2018) Temporal and spatial patterns of ship traffic in the Canadian Arctic from 1990 to 2015. Arctic 71:15–26

Decker DJ, Riley SJ, Siemer WF (2012) Human dimensions of wildlife management, 2nd edn. Johns Hopkins University Press, Baltimore

Evans K, Velarde SJ, Prieto R, Rao SN, Sertzen S, Dávila K, Cronkleton P, de Jong W (2006) Field guide to the future: four ways for communities to think ahead. In: Bennett EM, Zurek M (eds) Center for international forestry research (CIFOR), ASB. World Agroforestry Centre, Nairobi, p 87

FAO, IFAD and WFP (2015) The state of food insecurity in the world, Meeting the 2015 international hunger targets: taking stock of uneven progress. Food and Agriculture Organization (FAO), Rome, p 62

Fillion M, Laird B, Douglas V, Van Pelt L, Archie D, Chan HM (2014) Development of a strategic plan for food security and safety in the inuvialuit settlement region, Canada. Int J Circumpolar Health 73(1):25091

Fischer J, Dyball R, Fazey I, Gross C, Dovers S, Ehrlich PR, Brulle RJ, Christensen C, Borden RJ (2012) Human behavior and sustainability. Front Ecol Environ 10:153–160

Flynn M, Ford JD, Pearce T, Harper SL (2018) Participatory scenario planning and climate change impacts, adaptation and vulnerability research in the Arctic. Environ Sci Policy 79:45–53

Ford JD, Cameron L, Rubis J, Maillet M, Nakashima D, Willox AC, Pearce T (2016) Including Indigenous knowledge and experience in IPCC assessment reports. Nat Clim Chang 6:349–353

Friesen TM (2004) Contemporaneity of dorset and thule cultures in the North American Arctic: new radiocarbon dates from Victoria Island, Nunavut. Curr Anthropol 45(5):685–691

Gagné D, Blanchet R, Lauziere J, Vaissiere E, Vezina C, Ayotte P, Dery S, O'Brien HT (2012) Traditional food consumption is associated with higher nutrient intakes in Inuit children attending childcare centres in Nunavik. Int J Circumpolar Health 71(1):18401

Henrichs T, Zurek M, Eickhout B, Kok K, Raudsepp-Hearne C, Ribeiro T, van Vuuren D, Volkery A (2010) Scenario development and analysis for forward-looking ecosystem assessments. In: Ash N, Blanco H, Brown C, Garcia K, Henrichs T, Lucas N, Raudsepp-Hearne C, Simpson RD, Scholes R, Tomich TP, Vira B, Zurek M (eds) Ecosystems and human well-being. A manual for assessment practitioners. Island Press, Washington

IPBES (2016) The methodological assessment report on scenarios and models of biodiversity and ecosystem services. In: Ferrier S et al (eds) Secretariat of the intergovernmental science-policy platform on biodiversity and ecosystem services, Bonn, p 348

Kok MTJ, Kok K, Peterson GD, Hill R, Agard J, Carpenter SR (2017) Biodiversity and ecosystem services require IPBES to take novel approach to scenarios. Sustain Sci 12:177–181

Loring PA, Gerlach SC (2015) Searching for progress on food security in the North American North: a research synthesis and meta-analysis of the peer-reviewed literature. Arctic 68:380–392

Lundquist CJ, Pereira HM, Alkemade R, den Belder E, Carvalho Ribeiro S, Davies K et al (2017) Visions for nature and nature's contributions to people for the 21st century, NIWA science and technology series Report No. 83. NIWA, Auckland, p 123

Mistry J, Tschirhart C, Verwer C, Glastra R, Davis O, Jafferally D, Haynes L, Benjamin R, Albert G, Xavier R, Bovolo I, Berardi A (2014) Our common future? Cross-scalar scenario analysis for social-ecological sustainability of the Guiana Shield, South America. Environ Sci Policy 44:126–148

Nel JL, Roux DJ, Driver A, Hill L, Maherry A, Snaddon K, Petersen C, Smith-Adao LB, Van Deventer H, Reyers B (2015) Knowledge co-production and boundary work to promote implementation of conservation plans. Conserv Biol 30(1):176–188

Nieto-Romero M, Milcu A, Leventon J, Mikulcak F, Fischer J (2016) The role of scenarios in fostering collective action for sustainable development: lessons from central Romania. Land Use Policy 50:156–168

Olsson P, Gunderson LH, Carpenter SR, Ryan P, Lebel L, Folke C, Holling CS (2006) Shooting the rapids: navigating transitions to adaptive governance of social-ecological systems. Ecol Soc 11(1):18

Oteros-Rozas E, Martin López B, Daw TM, Bohensky EL, Butler JRA, Hill R, Martin-Ortega J, Quinlan A, Ravera F, Ruiz-Mallèn I, Thyresson M, Mistry J, Palomo I, Peterson GD, Plieninger T, Waylen KA, Beach DM, Bohnet IC, Hamann M, Hanspach J, Hubacek K, Lavorel S, Vilardy SP (2015) Participatory scenario planning in place-based social-ecological research: insights and experiences from 23 case studies. Ecol Soc 20(4):32

Palomo I, Martin López B, Lopez-Santiago C, Montes C (2011) Participatory scenario planning for protected areas management under the ecosystem services framework: the Donana social-ecological system in Southwestern Spain. Ecol Soc 16(1):23

Pereira LM, Hichert T, Hamann M, Preiser R, Biggs R (2018) Using futures methods to create transformative spaces: visions of a good Anthropocene in southern Africa. Ecol Soc 23(1):19

Pohl C, Rist S, Zimmermann A, Fry P, Gurung GS, Schneider F, Speranza CI, Kiteme B, Boillat S, Serrano E (2010) Researchers' roles in knowledge co-production: experience from sustainability research in Kenya, Switzerland, Bolivia and Nepal. Sci Public Policy 37:267–281

Rathwell KJ, Armitage D (2016) Art and artistic processes bridge knowledge systems about social-ecological change: An empirical examination with Inuit artists from Nunavut. Canada, Ecol Soc, p 21

Rickards L, Wiseman J, Edwards T, Biggs C (2014) The problem of fit: scenario planning and climate change adaptation in the public sector. Environ Plan C 32:641–662

Rosa IMD, Pereira HM, Ferrier S, Alkemade R, Acosta LA, Akcakaya HR, den Belder E, Fazel AM, Fujimori S, Harfoot M, Harhash KA, Harrison PA, Hauck J, Hendriks RJJ, Hernández G, Jetz W, Karlsson-Vinkhuyzen SI, Kim H, King N, Kok MTJ, Kolomytsev GO, Lazarova T, Leadley P, Lundquist CJ, García Márquez J, Meyer C, Navarro LM, Nesshöver C, Ngo HT, Ninan KN, Palomo MG, Pereira LM, Peterson GD, Pichs R, Popp A, Purvis A, Ravera F, Rondinini C, Sathyapalan J, Schipper AM, Seppelt R, Settele J, Sitas N, van Vuuren D (2017) Multiscale scenarios for nature futures. Nat Eco Evo 1:1416–1419

Schultz W (2015) Manoa: The future is not binary. APF Compass, Methods Anthology Special Edition, 22–26 April 2015

Schuur EAG, McGuire AD, Schädel C, Grosse G, Harden JW, Hayes DJ, Hugelius G, Koven CD, Kuhry P, Lawrence DM, Natali SM, Olefeldt D, Romanovsky VE, Schaefer K, Turetsky MR, Treat CC, Vonk JE (2015) Climate change and the permafrost carbon feedback. Nature 520:171

Serreze MC, Barry RG (2011) Processes and impacts of Arctic amplification: a research synthesis. Glob Planet Change 77:85–96

Sharpe B, Hodgson A, Leicester G, Lyon A, Fazey I (2016) Three horizons: a pathways practice for transformation. Ecol Soc 21(2):47

Statistics Canada (2017a) Kitikmeot region, Nunavut. 2016 census profile. Statistics Canada Catalogue no. 98-316-x2016001, Ottawa. Released November 29, 2017. https://www12.statcan.gc.ca/census-recensement/2016/dp-pd/prof/index.cfm?Lang=E

Statistics Canada (2017b) Cambridge Bay, Nunavut. 2016 census profile. Statistics Canada Catalogue no. 98-316-x2016001, Ottawa. Released November 29, 2017. https://www12.statcan.gc.ca/census-recensement/2016/dp-pd/prof/index.cfm?Lang=E

Steiner N, Azetsu-Scott K, Hamilton J, Hedges K, Hu X, Janjua MY, Lavoie D, Loder J, Melling H, Merzouk A, Perrie W, Peterson I, Scarratt M, Sou T, Tallmann R (2015) Observed trends and climate projections affecting marine ecosystems in the Canadian Arctic. Environ Rev 23:191–239

Tengö M, Brondizio E, Elmqvist T, Malmer P, Spierenburg M (2014) Connecting diverse knowledge systems for enhanced ecosystem governance: the multiple evidence base approach. Ambio 43:579–591

Tengö M, Hill R, Malmer P, Raymond CM, Spierenburg M, Danielsen F, Elmqvist T, Folke C (2017) Weaving knowledge systems in IPBES, CBD and beyond—lessons learned for sustainability. Curr Opin Environ Sustain 26–27:17–25

Tompkins EL, Few R, Brown K (2008) Scenario-based stakeholder engagement: incorporating stakeholders preferences into coastal planning for climate change. J Environ Manage 88:1580–1592

Trochim WM (2006) The research methods knowledge base, 2nd edition. http://www.socialresearchmethods.net/kb/index.php (version current as of Oct 20, 2006)

van der Heijden K (1996) Scenarios: the art of strategic conversation. Wiley, New York, p 382

von Wirth T, Wissen Hayek U, Kunze A, Neuenschwander N, Stauffacher M, Scholz RW (2014) Identifying urban transformation dynamics: functional use of scenario techniques to integrate knowledge from science and practice. Technol Forecast Soc Change 89:115–130

Wachowich N, Scobie W (2010) Uploading selves: Inuit digital storytelling on YouTube. Études Inuit Stud 34:81–105

Wesche SD, Armitage DR (2014) Using qualitative scenarios to understand regional environmental change in the Canadian North. Reg Env Change 14:1095–1108

Wiek A, Iwaniec D (2014) Quality criteria for visions and visioning in sustainability science. Sustain Sci 9:497–512
Acknowledgements
We thank the Ekaluktutiak Hunters and Trappers Organization (EHTO) for their guidance and help as we were developing this participatory scenario planning project. We are extremely thankful to the seventeen participants of the workshop, and to all the community members who contributed to interviews, surveys, and focus groups. We thank the community of Cambridge Bay for supporting this research. Thank you to the fifteen scientists who contributed to the expert opinion survey on regional trends for climate change. Thank you to the Marine Environmental Observation–Prediction and Response (MEOPAR) network and the Northern Scientific Training Program (NSTP) for funding support. Thank you to Polar Knowledge Canada (POLAR) for funding and in-kind support. We thank the staff of POLAR for their assistance throughout this project. MF received scholarships from the W. Garfield Weston Foundation, the Fonds de Recherche du Québec—Nature et Technologies (FRQNT), MEOPAR, and the NSERC CREATE program in Environmental Innovation. This project is also supported by an NSERC Discovery Grant and EWR Steacie Fellowship to EMB. We thank all the team of Elena Bennett's laboratory for feedback during a test run for some of the scenario activities. We thank M. Les Harris, and professors Brent Else, James Ford, Murray M. Humphries, Donald McLennan, Jean-Sebastien Moore, C. J. Mundy, Garry Peterson, and Christopher T. Solomon for feedback and/or field support during this research. Thank you to the Inuit Circumpolar Council-Canada for giving a remote presentation at the workshop.
Ethics declarations
Conflict of interest
The authors declare that they have no conflict of interest.
Ethical approval
All procedures performed in studies involving human participants were in accordance with the ethical standards of the institutional and/or national research committee and with the 1964 Helsinki declaration and its later amendments or comparable ethical standards. This article does not contain any studies with animals performed by any of the authors.
Informed consent
Informed consent was obtained from all individual participants included in the study.
Additional information
Handled by Rajarshi DasGupta, The University of Tokyo, Japan
Electronic supplementary material
Below is the link to the electronic supplementary material.
About this article
Cite this article
Falardeau, M., Raudsepp-Hearne, C. & Bennett, E.M. A novel approach for co-producing positive scenarios that explore agency: case study from the Canadian Arctic. Sustain Sci 14, 205–220 (2019). https://doi.org/10.1007/s11625-018-0620-z
Received:

Accepted:

Published:

Issue Date:
Keywords
Scenarios

Participatory

Indigenous and local knowledge

Agency

Positive visioning

Knowledge co-production