Abstract
Inter- and transdisciplinarity are increasingly relevant concepts and research practices within academia. Although there is a consensus about the need to apply these practices, there is no agreement over definitions. Building on the outcomes of the first year of the COST Action TD1408 "Interdisciplinarity in research programming and funding cycles" (INTREPID), this paper describes the similarities and differences between interpretations of inter- and transdisciplinarity. Drawing on literature review and empirical results from participatory workshops involving INTREPID Network members from 27 different countries, the paper shows that diverse definitions of inter-and transdisciplinarity coexist within scientific literature and are reproduced by researchers and practitioners within the network. The recognition of this diversity did not hinder the definition of basic requirements for inter- and transdisciplinarity. We present five basic units considered as building blocks for this type of research. These building blocks are: (1) creation of collective glossaries, (2) definition of boundary objects, (3) use of combined problem- and solution-oriented approaches, (4) inclusion of a facilitator of inter-and transdisciplinary research within the team and (5) promotion of reflexivity by accompanying research. These were considered five basic units for effective inter- and transdisciplinary research although the 4th building block was also considered as "matrix" that holds all the others together.
Access options
Buy single article
Instant access to the full article PDF.
US$ 39.95
Tax calculation will be finalised during checkout.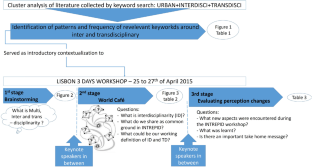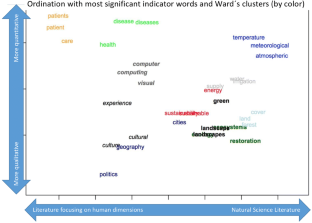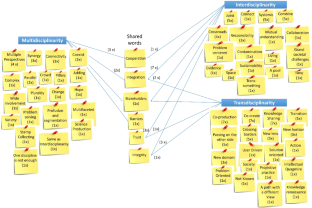 References
Abson DJ, von Wehrden H, Baumgartner S et al (2014) Ecosystem services as a boundary object for sustainability. Ecol Econ 103:29–37

Bergmann M, Brohmann B, Hoffmann E, Loibl MC, Rehaag R, Schramm E, Voss J-P (2005) Quality criteria of transdisciplinary research. In: A guide for the formative evaluation of research projects. Institut fuer sozial-oekologische Forschung (ISOE), p 76

Bergmann M, Jahn T, Knobloch T, Krohn W, Pohl C, Schramm E (2010) Methoden transdisziplinärer Forschung. Ein Überblick mit Anwendungsbeispielen. Campus Verlag, Frankfurt am Main

Bergmann M, Jahn T, Knobloch T, Krohn W, Pohl C, Schramm E (2012) Methods for transdisciplinary research. A primer for practice. Campus Verlag, s.l

Brandt P, Ernst A, Gralla F et al (2013) A review of transdisciplinary research in sustainability science. Ecol Econ 92:1–15

Broto VC, Allen A, Rapoport E (2012) Interdisciplinary perspectives on urban metabolism. J Ind Ecol 16(6):851–861

Bruce A et al (2004) Interdisciplinary integration in Europe: the case of the Fifth Framework programme. Futures 36(4):457–470

Change P-FfCaG (1997) Research on sustainability and global change—visions in science policy by Swiss Researchers. http://www.proclim.unibe.ch/visions.html

Childers DL, Pickett STA, Grove JM, Ogden L, Whitmer A (2014) Advancing urban sustainability theory and action: challenges and opportunities. Landsc Urban Plan 125:320–328

Choi S, Richards K (2017) Interdisciplinary discourse. Palgrave Macmillan, London

Christensen DR, Hansen LE, Krøgholt I, Stage C (2016) The participatory researcher: developing the concept of 'accompanying research'. Nord J Cult Policy 19(1):116–136

Cummings JN, Kiesler S (2005) Collaborative research across disciplinary and organizational boundaries. Soc Stud Sci 35(5):703–722

De Grandis G, Efstathiou S (2016) Introduction—grand challenges and small steps. Stud Hist Philos Sci C Stud Hist Philos Biol Biomed Sci 56:39–47

de Vos MG, Janssen PHM, Kok MTJ et al (2013) Formalizing knowledge on international environmental regimes: a first step towards integrating political science in integrated assessments of global environmental change. Environ Model Softw 44:101–112

DeFries RS, Ellis EC, Chapin FS et al (2012) Planetary opportunities: a social contract for global change science to contribute to a sustainable future. Bioscience 62(6):603–606

Dufrene M, Legendre P (1997) Species assemblages and indicator species: the need for a flexible asymmetrical approach. Ecol Monogr 67:345–366

EUCO (2013) Council Decision establishing the specific programme implementing Horizon 2020—the Framework Programme for Research and Innovation (2014–2020), 3 December 2013, European Council (EUCO) (2013/743/EU)

Fischer EV, Mackey KRM, Cusack DF et al (2012) Is pretenure interdisciplinary research a career risk? Eos Trans Am Geophys Union 93(32):311–312

Gibbons M (2011) The new production of knowledge. The dynamics of science and research in contemporary societies, Reprinted. Sage, Los Angeles  

Harris JA, Russell JY, Brown VA (eds) (2010) Tackling wicked problems through the transdisciplinary imagination. Earthscan, London, Washington, DC  

Hart DD, Bell KP, Lindenfeld LA, Jain S, Johnson TR, Ranco D, McGill B (2015) Strengthening the role of universities in addressing sustainability challenges: the Mitchell Center for Sustainability Solutions as an institutional experiment. Ecol Soc 20(2):4

Hirsch Hadorn G, Hoffmann-Reim H, Biber-Klemm S, Gorssenbacher-Mansuy W, Joye D, Pohl C, Wiesmann U, Zemp E (eds) (2008) Handbook of transdisciplinary research. Springer, New York

Jahn T (2008) Transdisziplinarität in der Forschungspraxis. In: Matthias Bergmann/Engelbert Schramm (eds) Transdisziplinäre Forschung, Integrative Forschungsprozesse verstehen und bewerten. Campus Verlag, Frankfurt/New York, pp 21–37

Jahn T, Bergmann M, Keil F (2012) Transdisciplinarity: between mainstreaming and marginalization. Ecol Econ 79:1–10

Jakobsen CH, Hels T, McLaughlin WJ (2004) Barriers and facilitators to integration among scientists in transdisciplinary landscape analyses: a cross-country comparison. For Policy Econ 6(1):15–31

Kajikawa Y, Tacoa F, Yamaguchi K (2014) Sustainability science: the changing landscape of sustainability research. Sustain Sci 9(4):431–438

Kates RW, Clark WC, Corell R et al (2001) Environment and development—sustainability science. Science 292(5517):641–642

Klein JT (1990) Interdisciplinarity. History, theory, and practice. Wayne State Univ. Press, Detroit  

Klein JT (2008) Evaluation of interdisciplinary and transdisciplinary research: a literature review. Am J Prev Med 35(2):S116–S123

Kueffer C, Hadorn GH, Bammer G, van Kerkhoff L, Pohl C (2007) Towards a publication culture in transdisciplinary research. Gaia 16(1):22–26

Kueffer C, Underwood E, Hirsch Hadorn G, Holderegger R, Lehning M, Pohl C, Schirmer M, Schwarzenbach R, Stauffacher M, Wuelser G, Edwards P (2012) Enabling effective problem-oriented research for sustainable development. Ecol Soc 17(4):8

Lang D, Wiek A, Bergmann M et al (2012) Transdisciplinary research in sustainability science—practice, principles, and challenges. Sustain Sci Pract Policy 7(1):25–43

Lawrence RJ (2015) Advances in transdisciplinarity: epistemologies, methodologies and processes. Futures 65(1):1–9

Lawrence RJ (2017) A trans-anthropo-logic of transdisciplinarity. In: Fam D, Palmer J, Riedy C, Mitchell C (eds) Transdisciplinary research and practice for sustainability outcomes. Routledge, Abingdon-on-Thames, pp. 253–259

Lawrence RJ, Despres C (2004) Futures of transdisciplinarity. Futures 36(4):397–405

Matson P (2009) The sustainability transition. Issues Sci Technol 25(4):39–42

Meadows DH, Wright D (2011) Thinking in systems. A primer. Chelsea Green Pub, White River Junction, Vt  

Miller TR, Wiek A, Sarewitz D et al (2014) The future of sustainability science: a solutions-oriented research agenda. Sustain Sci 9(2):239–246

National Research Council (2015) Enhancing the effectiveness of team science. The National Academies Press, Washington, DC

Okhuysen GA, Eisenhardt KM (2002) Integrating knowledge in groups: how formal interventions enable flexibility. Organ Sci 13(4):370–386

Palmer MA, Kramer JG, Boyd J, Hawthorne D (2016) Practices for facilitating interdisciplinary synthetic research: the National Socio-Environmental Synthesis Center (SESYNC). Curr Opin Environ Sustain 19:111–122

Piso Z, O'Rourke M, Weathers KC (2016) Out of the fog: catalyzing integrative capacity in interdisciplinary research. Stud Hist Philos Sci Part A 56:84–94

Pohl C (2011) What is progress in transdisciplinary research? Futures 43(6):618–626

Pohl C, Hirsch Hadorn G (2008) Methodological challenges of transdisciplinary research. Nat Sci Soc 16(2):111–121

Pombo O (2004) Interdisciplinaridade. Ambições e Limites. Relógio d'Água (edição apoiada pelo IPLB), Lisboa

Porter A, Rafols I (2009) Is science becoming more interdisciplinary? Measuring and mapping six research fields over time. Scientometrics 81(3):719–745

ProClim—Forum for Climate and Global Change (1997) Research on sustainability and global change—visions in science policy by Swiss researchers. Swiss Academy of Science, Bern

Repko AF, Szostak R (2017) Interdisciplinary research. Process and theory, 3rd edn. Sage, Los Angeles

Robinson J (2008) Being undisciplined: transgressions and intersections in academia and beyond. Futures 40(1):70–86

Roman CE, Lynch AH, Dominey-Howes D (2011) What is the Goal? Framing the climate change adaptation question through a problem-oriented approach. Wea Clim Soc 3(1):16–30

Scholz RW, Steiner G (2015) The real type and ideal type of transdisciplinary processes: part II-what constraints and obstacles do we meet in practice? Sustain Sci 10(4):653–671

Scholz RW, Tietje O (2002) Embedded case study methods. Integrating quantitative and qualitative knowledge. Sage, Thousand Oaks, Calif

Star SL, Griesemer JR (1989) Institutional ecology, translations' and boundary objects: amateurs and professionals in Berkeley's Museum of Vertebrate Zoology, 1907–39. Soc Stud Sci 19(3):387–420

Stauffacher M, Valsangiacomo A, Pohl C (2008) The interaction between science and society in transdisciplinary environment research. Gaia 17(4):396–398

Stokols D (2011) Transdisciplinary action research in landscape architecture and planning: prospects and challenges. Landsc J 30(1):1–5

Stokols D, Misra S, Moser RP, Hall KL, Taylor BK (2008) The ecology of team science. Understanding contextual influences on transdisciplinary collaboration. Am J Prev Med 35(2 Suppl):96–115

Tuana N (2013) Embedding philosophers in the practices of science: bringing humanities to the sciences. Synthese 190(11):1955–1973

van Rijnsoever FJ, Hessels LK (2011) Factors associated with disciplinary and interdisciplinary research collaboration. Res Policy 40(3):463–472

Vilsmaier U, Engbers M, Luthardt P, Maas-Deipenbrock RM, Wunderlich S, Scholz RW (2015) Case-based mutual learning sessions: knowledge integration and transfer in transdisciplinary processes. Sustain Sci 10(4):563–580

Wagner F, Ertner S (2016) Reallabore für nachhaltiges Wissen-Forschung für und mit Zukunft. GAIA-Ecol Perspect Sci Soc 25(1):57–58

Wagner CS, Roessner JD, Bobb K et al (2011) Approaches to understanding and measuring interdisciplinary scientific research (IDR): a review of the literature. J Inf 5(1):14–26

Wiek A (2007) Challenges of transdisciplinary research as interactive knowledge generation—experiences from transdisciplinary case study research. GAIA Ecol Perspect Sci Soc 16:52–57

Wiek A, Kay B (2015) Learning while transforming: solution-oriented learning for urban sustainability in Phoenix, Arizona. Curr Opin Environ Sustain 16:29–36
Acknowledgements
We are grateful to the EU for funding the COST INTREPID Workshop (TD 1408). We are grateful to the University of Lisbon for hosting the workshop on which this paper is based and for all the members of INTREPID cost action that are listed in http://www.intrepid-cost.eu/. The work of Helena Guimarães was supported by the Portuguese National Foundation for Science and Technology (Grant Number SFRH/BPD/95556/2013). We are extremely grateful for the reviewers and the editor who substantially helped to improve the quality and framing of this paper.
Additional information
Handled by Michael O'Rourke, Michigan State University, United States.
Electronic supplementary material
Below is the link to the electronic supplementary material.
About this article
Cite this article
von Wehrden, H., Guimarães, M.H., Bina, O. et al. Interdisciplinary and transdisciplinary research: finding the common ground of multi-faceted concepts. Sustain Sci 14, 875–888 (2019). https://doi.org/10.1007/s11625-018-0594-x
Received:

Accepted:

Published:

Issue Date:
Keywords
Interdisciplinarity

Transdisciplinarity

Research-practice

Collaboration

INTREPID