Abstract
The present article analyses a unique database of 220 dam-related environmental conflicts, retrieved from the Global Atlas on Environmental Justice (EJAtlas), and based on knowledge co-production between academics and activists. Despite well-known controversial, social, and environmental impacts of dams, efforts to increase renewable energy generation have reinstated the interest into hydropower development globally. People affected by dams have largely denounced such 'unsustainabilities' through collective non-violent actions. Nevertheless, we found that repression, criminalization, violent targeting of activists and assassinations are recurrent features of conflictive dams. Violent repression is particularly high when indigenous people are involved. Indirect forms of violence are also analysed through socio-economic, environmental, and health impacts. We argue that increasing repression of the opposition against unwanted energy infrastructures does not only serve to curb specific protest actions, but also aims to delegitimize and undermine differing understanding of sustainability, epistemologies, and world views. This analysis cautions that allegedly sustainable renewables such as hydropower often replicates patterns of violence within a frame of an 'extractivism of renewables'. We finally suggest that co-production of knowledge between scientists, activists, and communities should be largely encouraged to investigate sensitive and contentious topics in sustainability studies.
This is a preview of subscription content, log in to check access.
Access options
Buy single article
Instant access to the full article PDF.
US$ 39.95
Price includes VAT for USA
Subscribe to journal
Immediate online access to all issues from 2019. Subscription will auto renew annually.
US$ 99
This is the net price. Taxes to be calculated in checkout.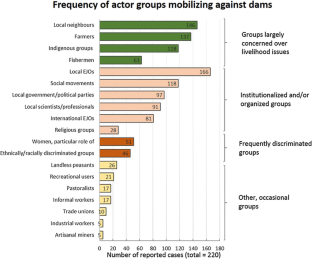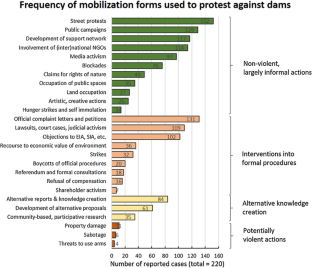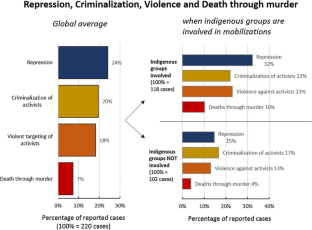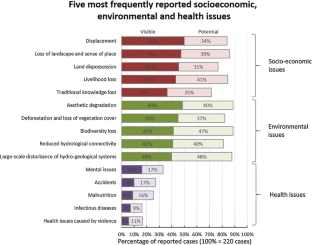 Notes
1.

2.

3.

4.

The analytical term 'Extractivism' commonly looks at materials extracted from local territories and exported across national boundaries, commodity chains and global trade (Moore 2000; Gudynas 2016). Electricity did not originally fall under these analytical lenses, or only when it serves mining activities, mineral processing plants, etc. However, if extractivism is understood as a mode of accumulation (Acosta 2013) through activities that "remove large quantities of natural resources" to be sent far away, we need to question the role of renewable energy infrastructures to extract electricity. More, hydro infrastructure also disrupts other natural resources like water in its specific ecological cycle, causes deforestation, mines rivers beds, etc. The hydropower extraction frontiers and entire riverbeds become sacrifice zones devoted to extraction and generation, thus creating forms of dependence and exclusion of a certain section of the society and economy.

5.

For a more general description of the data gathering process, see also Temper et al. (2015).

6.

Our database does not generally account for individual initiatives that fall outside a collective strategy of opposition, information to which we would not necessarily have access.

7.

8.

9.

At the time of writing, over 40,000 families in the Narmada valley are under serious threat of drowning in the area of the Sardar Sarovar dam. Authorities are determined to close the gates despite resettlement being not fully done and infringing this way the orders of the Supreme Court.

10.

11.
References
Acosta A (2013) El Buen Vivir: Sumak Kawsay, una oportunidad para imaginar otros mundos. Icaria, Barcelona

Aditjondro G, Kowalewski D (1994) Damning the dams in Indonesia: a test of competing perspectives. Asian Surv 34(4):381–395

Ahlers R, Budds J, Joshi D, Merme V, Zwarteveen M (2015) Framing hydropower as green energy: assessing drivers, risks and tensions in the Eastern Himalayas. Earth Syst Dyn 6:195–204

Amnesty International (2018) Annual Report India, London

Andreucci D, Kallis G (2017) Governmentality, development and the violence of natural resource extraction in Peru. Ecol Econ 134:95–103

Baviskar A (1995) The belly of the river: tribal conflicts over development in the Narmada Valley. In: Studies in social ecology and environmental history. Oxford University Press, Oxford

Becker HA, Vanclay F (2003) The international handbook of social impact assessment. Edward Elgar Publishing, Inc, Cheltenham

Bell D M, Pahl K (2018) Co-production: towards a utopian approach. Int J Soc Res Methodol 21(1):105–117

Bosshard P (2009) China dams the world. World Policy J 26(4):43–51

Bremer S, Meisch S (2017) Co-production in climate change research: reviewing different perspectives. WIREs Clim Change 8:e482. https://doi.org/10.1002/wcc.482

Brismar A (2004) Attention to impact pathways in EISs of large dam projects. Environ Impact Assess Rev 24:59–87

Brown P (1997) Popular epidemiology revisited. Curr Sociol 45:137–156

Buechler S, Sen D, Khandekar N, Scott C (2016) Re-linking governance of energy with livelihoods and irrigation in Uttarakhand, India. Water 8:437

Burma Rivers Network 2011 (2017) Statement of the Burma rivers network on the international day of action for rivers. http://burmariversnetwork.org/index.php?option=com_content&view=article&id=529:stop-damming-burmas-rivers&catid=23&Itemid=108. Last Accessed 05 Jul 2017

Ceceña AE (2004) Estrategias de construcción de una hegemonía sin límites. In Ceceña AE (ed) Hegemonías y emancipaciones en el siglo XXI. CLACSO, Buenos Aires, pp 20–32  

Censat Agua Viva and Mining Watch Colombia (2009) Tierras y conflicto—extracción de recursos, derechos humanos y la responsabilidad empresarial: compañías canadienses en Colombia, Inter Pares, Ottawa

Centro de Estudio para la Democracia (2016) Río Blanco: la reconstrucción histórica de la lucha por la defensa del Río Gualcarque, CESPAD, Tegucigalpa

Cernea M (1997) The risks and reconstruction model for resettling displaced populations. World Dev 25:1569–1587

Cole MA, Elliott RJR, Strobl E (2014) Climate change, hydro-dependency, and the African Dam Boom. World Dev 60:84–98

Conde M (2014) Activism mobilizing science. Ecol Econ 105:67–77

Conselho de Defesa dos Direitos da Pessoa Humana (CDDPH) (2010) Comissão especial "Atingidos por Barragens" Resoluções nos. 26/06, 31/06, 01/07, 02/07, 05/07. http://www.mabnacional.org.br/content/relat-rio-da-comiss-especial-do-conselho-defesa-dos-direitos-da-pessoa-humana-2010. Accessed 23 Feb 17

Declaration of Curitiba, affirming the right to life and livelihood of people affected by dams (1997). https://www.internationalrivers.org/resources/the-curitiba-declaration-3678

Declaration of Temaca (2010) http://www.gritomesoamerica.org/index.php/component/content/article/127-declaracion-encuentro-mundial-de-afectados-por-represas.html

Dwivedi R (2002) Models and methods in development-induced displacement. Dev Change 33:709–732

EJAtlas (2014) Sivens Dam on Tescou river, France. In: Atlas of environmental justice. http://ejatlas.org/conflict/testet-dam-france. Accessed 24 Feb 2017

EJAtlas (2015a) Kariba Dam, Zambia/Zimbabwe. In: Atlas of environmental justice. http://ejatlas.org/conflict/kariba-dam-zambia-zimbabwe. Accessed 24 Feb 2017

EJAtlas (2015b) Chixoy Dam and Rio Negro massacre, Guatemala. In: Atlas of environmental justice. http://ejatlas.org/conflict/chixoy-dam-guatemala. Accessed 24 Feb 2017

EJAtlas (2015c) Yacyreta Dam on the Parana River, Argentina-Paraguay. In: Atlas of environmental justice. http://ejatlas.org/conflict/yacyreta-dam-on-the-parana-river-argentina. Accessed 06 Apr 2017

EJAtlas (2016a) Proyecto Hidroeléctrico Agua Zarca, Honduras. In: Atlas of environmental justice. http://ejatlas.org/conflict/proyecto-hidroelectrico-agua-zarca-honduras. Accessed 24 Feb 2017

EJAtlas (2016b) Urra Dam on the Sinu River, Colombia In: Atlas of environmental justice. http://ejatlas.org/conflict/urra-dam-on-the-sinu-river-colombia. Accessed 27 Nov 2017

EJAtlas (2016c) Akosombo Dam, Ghana. In: Atlas of environmental justice. http://ejatlas.org/conflict/akosombo-hydroelectric-project-ghana. Accessed 24 Feb 2017

EJAtlas (2016d) Sardar Sarovar, India. In: Atlas of environmental justice. http://ejatlas.org/conflict/sardar-sarovar-dam-india. Accessed 24 Feb 2017

EJAtlas (2016e) Maheshwar Dam, India. In: Atlas of environmental justice. http://ejatlas.org/conflict/maheshwar-dam-narmada-valley-india. Accessed 24 Feb 2017

EJAtlas (2016f) Ralco HEP and Bio Bio Watershed hydro plans, Chile. In: Atlas of environmental justice. http://ejatlas.org/conflict/bio-bio-watershed-targeted-by-ministry-of-energys-hydro-plans-chile. Accessed 27 Feb 2017

EJAtlas (2016g) Hidro Santa Rita, Guatemala. In Atlas of environmental justice. http://ejatlas.org/conflict/hidro-santa-rita-monte-olivo-guatemala. Accessed 19 May 2017

EJAtlas (2016h) Hidroeléctrica El Naranjal, Veracruz, Mexico. In Atlas of environmental justice. http://ejatlas.org/conflict/el-naranjal-veracruz-mexico. Accessed 28 Feb 2017

EJAtlas (2017a) El Quimbo hydroelectric project, Colombia. In Atlas of environmental justice http://ejatlas.org/conflict/el-quimbo-hydroelectric-project-colombia. Accessed 24 Feb 2017

EJAtlas (2017b) Angostura hydropower project, Chile. In: Atlas of environmental justice. http://ejatlas.org/conflict/angostura-dam-chile. Accessed 05 Jul 2017

EJAtlas (2017c) Hidroelectricas y violencia en San Mateo Ixtatán, Guatemala. In: Atlas of environmental justice. http://ejatlas.org/conflict/san-mateo-ixtatan. Accessed 27 Nov 2017

EJAtlas (2017d) Proyecto hidroeléctrico Corpus Christi, Argentina-Paraguay. In Atlas of environmental justice. http://ejatlas.org/conflict/proyecto-hidroelectrico-corpus-christi. Accessed 27 Nov 2017

Erlewein A (2013) Disappearing rivers—the limits of environmental assessment for hydropower in India. Environ Impact Assess Rev 43:135–143

Erlewein A, Nüsser M (2011) Offsetting greenhouse gas emissions in the Himalaya? Clean development dams in Himachal Pradesh, India. Mt Res Dev 31(4): 293–304

Escobar A (1995) Encountering development: the making and unmaking of the third world. Princeton University Press, Princeton

Escobar A (2004) Development, violence and the new imperial order. Development 47(1):15–21

Escobar A (2008) Territories of difference: place, movements, life, redes. Duke University Press, Durham

Escobar A (2014) Sentipensar con la tierra. Nuevas lecturas sobre desarrollo, territorio y diferencia. Ediciones UNAULA (Colección Pensamiento vivo), Colombia

Escobar A (2017) Sustaining the pluriverse: the political ontology of territorial struggles in Latin America. In: The anthropology of sustainability. Palgrave Macmillan, New York, pp 237–256

Fals-Borda O (1987) The application of participatory action-research in Latin America. Int Sociol 2:329–347

Farmer P (1996) On suffering and structural violence: a view from below. Daedalus 125:261–283

Fearnside PM (1999) Social impacts of Brazil's Tucuruí Dam. Environ Manag 24:483–495

Fearnside PM (2004) Greenhouse gas emissions from hydroelectric dams: controversies provide a springboard for rethinking a supposedly "clean" energy source. An editorial comment. Clim Change 66:1–8

Fearnside PM (2015) Brazil's São Luiz do Tapajós Dam: the art of cosmetic environmental impact assessments, vol 8, pp 373–396

Fearnside PM (2016) Environmental and social impacts of hydroelectric dams in Brazilian Amazonia: implications for the aluminum industry. World Dev 77:48–65

Fearnside PM, Pueyo S (2012) Greenhouse-gas emissions from tropical dams. Nat Clim Change 2:382–384

Franco J, Feodoroff T, Kay S, Santos R (2014) The global water grab a primer. Transnational Institute, Amsterdam

Frontline Defenders (2016) Environmental rights defenders at risk in Peru. https://www.frontlinedefenders.org/en/statement-report/environmental-rights-defenders-risk-peru. Accessed 03 March 17

Galtung J (1969) Violence, peace, and peace research. J Peace Res 6:167–191

Global Witness (2015) How many more? https://http://www.globalwitness.org/en/campaigns/environmental-activists/how-many-more/. Accessed 05 Jul 2017

Global Witness (2016) On dangerous grounds. https://www.globalwitness.org/en/campaigns/environmental-activists/dangerous-ground/. Accessed 05 Jul 2017

Global Witness (2017) Honduras: el país más peligroso del mundo para el Activismo Ambiental. https://www.globalwitness.org/en/campaigns/environmental-activists/honduras-el-pa%C3%ADs-m%C3%A1s-peligroso-del-mundo-para-el-activismo-ambiental/. Accessed 05 Jul 2017

Goldman M (2001) Constructing an environmental state: eco-governmentality and other transnational practices of a "green". World Bank Soc Probl 48:499–523

Goldsmith E, Hildyard N (1984) The social and environmental effects of large dams. Sierra Club Books, San Francisco

Gregory D, Pred A (2007) Violent geographies: fear, terror, and political violence. Routledge, Abingdon

Grosfoguel R (2016) Del extractivismo económico al extractivismo epistémico y ontológico. Revista Internacional de Comunicación y Desarrollo 1(4)

Grumbine RE, Pandit MK (2013) Ecology. threats from India's Himalaya dams. Science 339:36–37

Gudynas E (2016) Teología de los extractivismos. Introducción a Tabula Rasa. Tabula Rasa (24):11–23

Haya B, Payal P (2011) Hydropower in the CDM: examining additionality and criteria for sustainability

Hildyard N et al (2012) Energy security for whom? For what? The Corner House, Manchester

Holterman D (2014) Slow violence, extraction and human rights defence in Tanzania: notes from the field. Resour Policy 40:59–65

Huber A, Joshi D (2015) Hydropower, anti-politics, and the opening of new political spaces in the eastern Himalayas. World Dev 76:13–25

International Hydropower Association (2017) Hydropower status report. https://www.hydropower.org/2017-hydropower-status-report. Accessed 05 Jul 2017

International Rivers (2012) The new great walls: a guide to China's overseas dam industry

Jasanoff S, 2004. States of Knowledge: The co-production of science and social order. Routledge, Abingdon

Kirchherr J, Charles KJ (2016) The social impacts of dams: a new framework for scholarly analysis. Environ Impact Assess Rev 60:99–114

Kuenzer C, Campbell I, Roch M, Leinenkugel P, Tuan VQ, Dech S (2013) Understanding the impact of hydropower developments in the context of upstream–downstream relations in the Mekong river basin. Sustain Sci 8:565–584

Le Billon P (2014) Wars of plunder conflicts, profits and the politics of resources. Columbia University Press, New York

Martínez-Alier J (2002) The environmentalism of the poor: a study of ecological conflicts and valuation. Edward Elgar, Cheltenham

Martínez-Alier J, Kallis G, Walter M, Temper L, Veuthey S (2010) Social metabolism, ecological distribution conflicts, and valuation languages. Ecol Econ

Martínez-Alier J, Temper L, Del Bene D, Scheidel A (2016) Is there a global environmental justice movement? J Peasant Stud 43:731–755

McCully P (1996) Silenced rivers: the ecology and politics of large dams. ZED Books, London

McCully P (2000) The use of a trilateral network: an activist's perspective on the formation of the World Commission on Dams. Am Univ Int Law Rev 16:1453

McDonald K, Bosshard P, Brewer N (2009) Exporting dams: China's hydropower industry goes global. J Environ Manag 90:S294-S302

Middleton C (2012) Transborder environmental justice in regional energy trade in mainland South-East Asia. Aust J South-East Asian Stud 5:292–315

Milanez F (2015) Memórias sertanistas: cem anos de indigenismo no Brasil. Edições Sesc São Paulo, São Paulo

Moore JW (2000) Sugar and the expansion of the early modern world-economy: Commodity frontiers, ecological transformation, and industrialization. Review (Fernand Braudel Center), pp 409–433

Navas G, Mingorria S, Aguilar-González B (2018) Violence in environmental conflicts: the need for a multidimensional approach. Sustain Sci. https://doi.org/10.1007/s11625-018-0551-8 (this feature)

Nixon R (2011) Slow violence and the environmentalism of the poor. Harvard University Press, Cambridge

Office of the United Nations High Commissioner for Human Rights (OHCHR) (2016) Environmental human rights defenders, report of the special rapporteur on the situation of human rights defenders. Accessed 05 Jul 17

Peluso NL, Watts M (2001) Violent environments. Cornell University Press, Ithaca

Plummer Braeckman J, Guthrie P (2016) Loss of value: effects of delay on hydropower stakeholders. Proc Inst Civ Eng Eng Sustain 169:253–264

Pottinger L (2008) Bad deal for the planet: why carbon offsets aren't working and how to create a fair global climate accord," dams, rivers and people report. International Rivers, Berkeley

Rodgers D, O'Neill B (2012) Infrastructural violence: Introduction to the special issue. Ethnography 13:401–412

Rosenberg DM, McCully P, Pringle CM (2000) Global-scale environmental effects of hydrological alterations: introduction. Bioscience 50:746

Santos BdeS (2014) Epistemologies of the south: justice against epistemicide. Paradigm Publishers, Boulder

Scheidel A, Sorman AH (2012) Energy transitions and the global land rush: Ultimate drivers and persistent consequences. Glob Environ Change 22(3):588–595

Scheidel A, Temper L, Demaria F, Martinez-Alier J (2018) Ecological distribution conflicts as forces for sustainability: an overview and conceptual framework. Sustain Sci. https://doi.org/10.1007/s11625-017-0519-0 (this feature)

Schlosberg D (2004) Reconceiving environmental justice: global movements and political theories. Environ Polics 13:517–540

Scott JC (1998) Seeing like a state: how certain schemes to improve the human condition have failed. Yale University Press, New Haven

Shrivastava A, Kothari A (2012) Churning the Earth: the making of Global India. Penguin Books Limited, London

Siciliano G, Urban F, Tan-Mullins M, Pichdara L, Kim S (2016) The political ecology of Chinese large dams in Cambodia: implications, challenges and lessons learnt from the Kamchay Dam. Water 8:405

Sovacool BK, Bulan LC (2013) They'll be dammed: the sustainability implications of the Sarawak Corridor of Renewable Energy (SCORE) in Malaysia. Sustain Sci 8:121–133

Springer S (2012) Neoliberalising violence: of the exceptional and the exemplary in coalescing moments. Area 44:136–143

Springer S, Le Billon P (2016) Violence and space: an introduction to the geographies of violence. Polit Geogr 52:1–3

Survival International (2010) Severe damage report. http://assets.survivalinternational.org/documents/373/Serious_Damage_final.pdf. Accessed 20 Feb 2018

Syvitski JPM (2008) Deltas at risk. Sustain Sci 3:23–32

Temper L, Del Bene D (2016) Transforming knowledge creation for environmental and epistemic justice. Curr Opin Environ Sustain 20:41–49

Temper L, Del Bene D, Martinez-Alier J (2015) Mapping the frontiers and front lines of global environmental justice: the EJAtlas. J Polit Ecol 22:256

Temper L, Walter M, Rodriguez I, Kothari A, Turhan E (2018) A perspective on radical transformations to sustainability: resistances, movements and alternatives. Sustain Sci. https://doi.org/10.1007/s11625-018-0543-8 (this feature)

Teran-Mantovani E (2017) Inside and beyond the Petro-State frontiers: geography of environmental conflicts in Venezuela's Bolivarian Revolution. Sustain Sci. https://doi.org/10.1007/s11625-017-0520-7 (this feature)

Urban F (2014) Large dams in Asia: contested environments between technological hydroscapes and social resistance, vol 34, pp 307–308

Urban F, Nordensvard J, Siciliano G, Li B (2015) Chinese overseas hydropower dams and social sustainability: the Bui Dam in Ghana and the Kamchay Dam in Cambodia. Asia Pac Policy Stud 2:573–589

World Commission on Dams (2000) Dams and development. A new framework for decision-making. Earthscan Publications Ltd, London

Xarxa per la Sobirania Energetica (2018) Tenim l'Energia. Icaria, Barcelona

Yacoub C (2015) Agua y Ecología Política: El extractivismo en la agroexportación, la minería y las hidroeléctricas en Latinoamérica. Duarte B, Boelens R (eds) Abya-Yala, Quito

Zarfl C, Lumsdon AE, Berlekamp J, Tydecks L, Tockner K (2014) A global boom in hydropower dam construction. Aquat Sci 77:161–170
Acknowledgements
This research has been supported by the ENVJUSTICE project, funded by the European Research Council (ERC—Grant agreement no. 695446). Daniela Del Bene and Leah Temper also acknowledge the support of the ACKnowl-EJ project, with the support of the Transformations to Sustainability Programme, coordinated by the International Social Science Council-ISSC (Grant number ISSC2015-TKN150317115354). We would like to thank all collaborators of the EJAtlas for their meticulous work and dedication in documenting the cases discussed here, as well as for their daily commitment for protecting and sustaining life. The constructive comments of three anonymous reviewers are acknowledged as well as from members of the ENVJUSTICE research team.
Additional information
Handled by Federico Demaria, ICTA UAB, Spain.
About this article
Cite this article
Del Bene, D., Scheidel, A. & Temper, L. More dams, more violence? A global analysis on resistances and repression around conflictive dams through co-produced knowledge. Sustain Sci 13, 617–633 (2018). https://doi.org/10.1007/s11625-018-0558-1
Received:

Accepted:

Published:

Issue Date:
Keywords
Hydroelectric dams

Violence

Extractivism

Ecological distribution conflicts

Renewable energies

Co-production of knowledge