Abstract
Smallholders rely on labor exchange and social support networks; however, little is known about the cooperative dynamics of these interlinked systems. Whereas cultural multi-level selection (CLMS) predicts group membership and changes in the dominant level of selection modulates cooperation, biological market theory (BMT) posits market size fluctuations affect cooperation. We assess these predictions by examining two dimensions of labor exchange, competitive helping and labor reciprocity, and their downstream impacts on social support in a Dominican community between 2007 and 2010. First, we analyze within-community labor organization. Next, we analyze how international regulatory change and the 2008–2009 World Trade Collapse affected local labor organization and its impacts on competitive helping and labor reciprocity. Finally, we show how labor dynamics affected social support. Analyses reveal that (1) village labor initially involved two levels (labor contracting and labor exchange) and the presence of a structured group who maintained higher rates of reciprocal labor relative to non-group members; (2) changes in the international commodities market reduced labor contracting, the size of the labor exchange market, and the dominant level of selection, resulting in less competitive helping, lower rates of reciprocity for group members, and more cliquish social support; and (3) as the global market for bay oil ameliorated, labor organization shifted back to a pre-recession structure, resulting in a larger labor market with more competitive helping and higher rates of reciprocity amongst group members. We highlight the utility of an integrated CMLS and BMT framework for analyzing cooperative dynamics and socio-economic systems sustainability.
This is a preview of subscription content, log in to check access.
Access options
Buy single article
Instant access to the full article PDF.
US$ 39.95
Price includes VAT for USA
Subscribe to journal
Immediate online access to all issues from 2019. Subscription will auto renew annually.
US$ 99
This is the net price. Taxes to be calculated in checkout.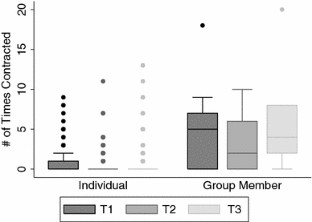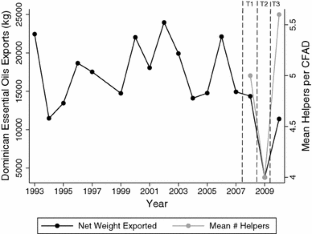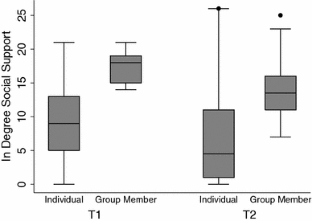 References
Ames GR, Barrow M, Borton C, Casey TE, Matthews WS, Nabney J (1971) Bay oil distillation in Dominica. Trop Sci 13:13–25

Anderson MG, Holcombe E, Blake JR, Ghesquire F, Holm-Nielsen N, Fisseha T (2011) Reducing landslide risk in communities: evidence from the Easter Caribbean. Appl Geogr 21(2):590–599

Baldwin RE (2009) The great trade collapse: causes, consequences, and prospects. Center for Economic Policy Research and VOXEU.org, Geneva

Barclay P (2004) Trustworthiness and competitive altruism can also solve the "tragedy of the commons". Evol Hum Behav 25:209–220

Barclay P (2011) Competitve helping increases with the size of biological markets and invades defection. J Theor Biol 281:47–55

Barclay P, Willer R (2006) Partner choice creates competitive altruism in humans. Proc R Soc B Biol Sci 274:749–753

Bems R, Johnson RC, Yi KM (2013) The great trade collapse. Annu Rev Econom 5:375–400

Bernard HR (2002) Research methods in anthropology: qualitative and quantitative approaches, 3rd edn. Altimira Press, Walnut Creek, CA

Borgatti SP, Everett MG, Freeman LC (2002) Ucinet for windows: software for social network analysis. Analytic Technologies, Harvard

Borgerhoff-Mulder M, Coppolillo P (2005) Conservation: linking ecology, economics, and culture. Princeton University Press, Princeton

Boyd R, Richerson PJ (2009) Culture and the evolution of human cooperation. Philos Trans R Soc B 364(1533):3281–3288

Caribbean Development Bank (2003) Country poverty assessment—final report, vol 1. Halcrow Group Limited, London

Caribbean Development Bank (2010) Country poverty assessment—Dominica, vol 1. Kairi Consultants Limited, Tunapuna

Cervantes-Godoy D, Kimura S, Antón J (2013) Smallholder risk management in developing countries. OECD food, agriculture and fisheries papers, No. 61. OECD Publishing, Paris. http://dx.doi.org/10.1787/5k452k28wljl-en

Demyttenaere JCR (2012) The new European Union Flavouring Regulation and its impact on essential oils: production of natural flavouring ingredients and maximum levels of restricted substances. Flavour Frag J 27:3–12

Demyttenaere JCR (2016) Recent EU legislation on flavors and fragrances and its impact on essential oils. In: Hünsü K, Baser C, Buchbauer G (eds) Handbook of essential oils: science, technology, and applications, 2nd edn. CRC Press, Boca Raton, pp 1071–1088

Dirks R (1972) Networks, groups, and adaptation in an Afro-Caribbean community. Man 4:565–585

Downey SS (2010) Can properties of labor-exchange networks explain the resilience of swidden agriculture? Ecol Soc 15(4):15

Duhaime G, Searles E, Usher PJ, Myers H, Fréchette P (2004) Social cohesion and living conditions in the Canadian arctic: from theory to measurement. Soc Indic Res 66:295–317

Erasmus CJ (1956) Culture, structure, and process: the occurrence and disappearance of reciprocal farm labor. Southwest J Anthropol 12(4):444–469

European Chemicals Agency (2009) Questions & Answers on Regulation (EC) No 1272/2008 on classification, labelling and packaging of substances and mixtures. ECHA, Helsinki

Fafchamps M (2006) Development and social capital. J Dev Stud 42(7):1180–1198

Fafchamps M, Gubert F (2007) The formation of risk sharing networks. J Dev Econ 83:326–350

Fu F, Hauert C, Nowak MA, Wang L (2008) Reputation-based partner choice promotes cooperation in social networks. Phys Rev E 78:1–8

Gilligan DO (2004) The economics of agricultural labor exchange with evidence from Indonesia. Unpublished dissertation. University Park, University of Maryland

Harvey CA, Rakotobe ZL, Rao NS, Dave R, Razafimahatratra H, Rabarijohn RH, Rajaofara H, MacKinnon JL (2014) Extreme vulnerability of smallholder farmers to agricultural risks and climate change in Madagascar. Philos Trans R Soc B 369(1639):20130089

Honychurch L (1995) The Dominica story: a history of the Island. Macmillian Education, Oxford

Horowitz MM (1967) Morne-Paysan: peasant village in Martinique. Holt, Reinhart, and Winston, New York

IFAD (2013) Smallholders, food security, and the environment. International Fund for Agricultural Development, Rome

IMF (2004) Dominica: interim poverty reduction strategy paper. International Monetary Fund, Washington, DC

Jaeggi AV, Hooper PL, Beheim BA, Kaplan H, Gurven M (2016) Reciprocal exchange patterned by market forces helps explain cooperation in a small-scale society. Curr Biol 26:2180–2187

Lyle HF III, Smith EA (2014) The reputational and social network benefits of prosociality in an Andean community. Proc Natl Acad Sci USA 111(13):4820–4825

Macfarlan SJ (2010) The logic of labor exchange in a dominican village: competitive altruism, biologic markets, and the nexus of male social relationships. Unpublished doctoral dissertation, Washington State University, Pullman, WA

Macfarlan SJ (2011) The dual-role method and ultimatum game performance. Field Method 23(1):102–114

Macfarlan SJ (2016) Social evolution: the force of the market. Curr Biol 26(16):R756–R758

Macfarlan SJ, Lyle H (2015) Multiple reputation domains and cooperative behavior in two Latin American communities. Philos Trnas R Soc B 370(1683):20150009

Macfarlan SJ, Quinlan RJ (2008) Kinship, family, and gender effects in the ultimatum game. Hum Nat 19:294–309

Macfarlan SJ, Remiker M, Quinlan RJ (2012) Competitive altruism explains labor exchange variation in a Dominican village. Curr Anthropol 35(1):118–124

Macfarlan SJ, Quinlan RJ, Remiker M (2013) Cooperative behaviour and prosocial reputation dynamics in a Dominican village. Proc R Soc B Biol Sci 280(1761):20130557. doi:10.1098/rspb.2013.0557

Macfarlan SJ, Walker RS, Flinn MV, Chagnon NA (2014) Lethal coalitionary aggression and long-term alliance formation among Yanomamö men. Proc Natl Acad Sci USA 111(47):1662–16669

McHale D, Laurie WA, Woof MA (1977) Composition of west Indian bay oil. Food Chem 2(1):19–25

McNamara JM, Bara Z, Fromhage L, Houston AI (2008) The coevolution of choosiness and cooperation. Nature 451:189–192

Moore MP (1975) Co-operative labour in peasant society. J Peasant Stud 2(3):270–291

Morton JF (2007) The impact of climate change on smallholder and subsistence agriculture. Proc Natl Acad Sci USA 104(50):19680–19685

Murphy S (2010) Changing perspectives: small-scale farmers, markets and globalization. International Institute for Environment and Development (IIED), London

Nesse RM (2007) Runaway social selection for displays of partner value and altruism. Biol Theory 2(2):143–155

Noe R, Hammerstein P (1994) Biological markets: supply and demand determine the effect of partner choice in cooperation, mutualism, and mating. Behav Ecol Sociobiol 35:1–11

Noe R, Hammerstein P (1995) Biological markets. TrEE 10(8):336–339

Ponte S (2000) From social negotiation to contract: Shifting strategies of farm labor recruitment in Tanzania under market liberalization. World Dev 28(6):1017–1030

Provinse JH (1937) Cooperative ricefield cultivation among the Siang Dyaks of Central Borneo. Am Anthropol 39(1):77–102

Quinlan MB (2004) From the bush: the frontline of health-care in a Caribbean village. Wadsworth, Belmont

Quinlan RJ (2006) Gender and risk in a matrifocal Caribbean community. Am Anthropol 106(3):464–479

Quinlan RJ, Flinn MV (2005) Kinship, sex, and fitness in a Caribbean community. Hum Nat 16(1):32–57

Regulation (EC) No 1223/2009 of the European Parliament and of the Council of 30 November 2009 on cosmetic products (2009) Off J Eur Union L342:59–209

Regulation (EC) No 1272/2008 of the European Parliament and of the Council on classification, labeling, and packaging of substances and mixtures, amending and repealing Directives 67/548/EEC and 1994/45/EC, and amending Regulation (EC) No 1907/2006 (2008) Off J Eur Union L353:1

Regulation (EC) No 1334/2008 of the European Parliament and of the Council of 16 December 2008 on flavourings and certain food ingredients with flavouring properties for use in and on foods and amending Council Regulation (EEC No 1601/91, Regulations *EC) No 2232/92 and (EC) No 110/2008 and Directive 2000/13/EC (2008) Off J Eur Union L354:34–50

Roberts G (1998) Competitive altruism: from reciprocity to the handicap principle. Proc R Soc Biol Sci B 265:427–431

Rosenberry W (1988) Political economy. Ann Rev Anthropol 17:161–185

Shelburne RC (2010) The global financial crisis and its impact on trade: The world and the European emerging economies. Discussion papers series 2010.2. United Nations Economic Commission for Europe, Geneva

Sugiyama L (2003) Illness, injury, and disability among Shiwiar forager-horticulturalists: implications of health-risk buffering for the evolution of human life history. Am J Phys Anthropol 123(4):371–389

Sugiyama LS, Sugiyama MS (2003) Social roles, prestige, and health risk: social niche specialization as a risk buffering strategy. Hum Nat 14(2):165–190

Swindell K (1985) Farm labour. Cambridge University Press, Cambridge

Tucker AO, Maciarello MJ, Adams RP, Landrum LR, Zanoni TA (1991) Volatile leaf oils of Caribbean Myrtaceae. I. Three varieties of Pimenta racemosa (Miller) J. Moore of the Dominican Republic and the commercial bay oil. J Essent Oil Res 3(5):323–329

United Nations (2011) Globally harmonized system of classification and labeling of chemicals (GHS), 4th edn. United Nations, New York

United Nations Statistical Division (2017) Data retrieved 1 Jan 2017, http://comtrade.un.org/

Waring TM, Kline MA, Brooks JS, Goff SH, Gowdy J, Janssen MA, Smaldino PE, Jacquet J (2015) A multilevel evolutionary framework for sustainability analysis. Ecol Soc 20(2):34

Waring TM, Goff SH, Smaldino PE (2017) The coevolution of economic institutions and sustainable consumption via cultural group selection. Ecol Econ 131:524–532

Wilson PJ (1969) Reputation and respectability: a suggestion for Caribbean ethnology. Man 4(1):70–84

Wilson PJ (1971) Caribbean crews: peer groups and male society. Caribb Stud 10(4):18–34

Wilson PJ (1973) Crab antics: the social anthropology of English-speaking Negro societies of the Caribbean. Yale University Press, New Haven
Acknowledgements
The authors thank Jeremy Brooks, Adrian Bell, and two anonymous reviewers for valuable comments that substantially improved the manuscript, the people of Bwa Mawego, Dominica for permitting this research, Juranie Durand for his expertise in bay oil distillation, and Robert Quinlan and Mark Flinn for introducing us to the site. SJM also thanks the Wasatch Experience, University of Utah, for discussions on socio-ecological systems sustainability.
Additional information
Handled by Jeremy Brooks, Ohio State University School of Environment and Natural Resources, United States.
Electronic supplementary material
Below is the link to the electronic supplementary material.
About this article
Cite this article
Macfarlan, S.J., Remiker, M. Cultural multi-level selection and biological market theory explain the coupled dynamics of labor exchange cooperation and social support. Sustain Sci 13, 59–70 (2018). https://doi.org/10.1007/s11625-017-0481-x
Received:

Accepted:

Published:

Issue Date:
Keywords
Reciprocity

Labor exchange

Social support

Smallholders

Cultural multi-level selection theory

Biological market theory