Abstract
Waste is increasingly being used as an alternative to conventional fossil fuels in cement kilns worldwide. This has led to the emergence of socio-environmental conflicts in many countries in which local groups articulate a common struggle against the cement industry, a new target within the international anti-incineration movement. This case report aims at characterising this emerging movement against waste incineration in cement kilns in Spain and explores its main four discursive dimensions in relation to the concept of environmental justice. We argue that the movement against waste incineration in cement kilns is incipient and growing in Spain, and it uses a distinctive vocabulary to refer to the environmental justice dimension of the struggle.
Access options
Buy single article
Instant access to the full article PDF.
US$ 39.95
Tax calculation will be finalised during checkout.
Subscribe to journal
Immediate online access to all issues from 2019. Subscription will auto renew annually.
US$ 79
Tax calculation will be finalised during checkout.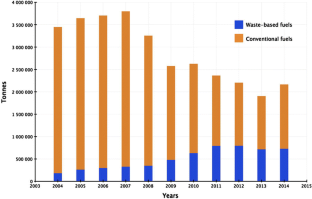 References
Agyeman J, Evans B (2004) 'Just sustainability': the emerging discourse of environmental justice in Britain? Geogr J 170(2):155–164

Bullard RD (1993) Confronting environmental racism: voices from the grassroots. South End Press, Boston

Bullard RD, Johnson GS (2000) Environmentalism and public policy: environmental justice: grassroots activism and Its Impact on public policy decision making. J Soc Issues 56(3):555–578

Bullard RD, Lewis J (1996) Environmental justice and communities of color. Sierra Club Books, San Francisco

Casas-Cortés MI, Osterweil M, Powell DE (2008) Blurring boundaries: recognizing knowledge-practices in the study of social movements. Anthropol Quart 81(1):17–58

Chatziaras N, Psomopoulos C, Themelis N (2016) Use of waste derived fuels in cement industry: a review. Manag Environ Qual Int J 27:178–193

Cole LW, Foster SR (2001) From the ground up: environmental racism and the rise of the environmental justice movement. NYU Press, New York

Conesa JA, Gálvez A, Mateos F, Martín-Gullón I, Font R (2008) Organic and inorganic pollutants from cement kiln stack feeding alternative fuels. J Hazard Mater 158(2):585–592

Davies AR (2006) Environmental justice as subtext or omission: examining discourses of anti-incineration campaigning in Ireland. Geoforum 37(5):708–724

Diario de León (2016) Una segunda sentencia del TSJCyL anula la autorización ambiental a la cementera Cosmos, 21/01/2014. http://www.diariodeleon.es/noticias/bierzo/segunda-sentencia-tsjcyl-anula-autorizacion-ambiental-cementera-cosmos_860873.html. Accessed 08 Dec 2016

Ecologistas en Acción (2015) El TS anula la incineración de residuos en la cementera de La Robla (León), 07/2015. http://www.ecologistasenaccion.org/article30452.html. Accessed 08 Dec 2016

Escobar A (2008) Territories of difference: place, movements, life, redes. Duke University Press, Durham

Europa Press (2015) El TS avala anular la autorización ambiental de la cementera de Montcada i Reixac, 30/07/2015. http://www.europapress.es/catalunya/noticia-ts-avala-anular-autorizacion-ambiental-cementera-montcada-reixac-20150730165039.html. Accessed 08 Dec 2016

European Commission (2016) Best available techniques (BAT) reference document for large combustion plants. http://eippcb.jrc.ec.europa.eu/reference/BREF/LCP_FinalDraft_06_2016.pdf. Accessed 28 June 2017

Fernández J (1999) El ecologismo español. Alianza Editorial, Madrid

Figueroa RM (2004) Bivalent environmental justice and the culture of poverty. Rutgers Univ J Law Urban Policy 1:27–42

Fischedick M, Roy J, Abdel-Aziz A, Acquaye A, Allwood JM, Ceron JP, Geng Y, Kheshgi H, Lanza A, Perczyk D, Price L, Santalla E, Sheinbaum C, Tanaka K (2014) Industry. In: Edenhofer OR, Pichs-Madruga Y, Sokona E, Farahani S, Kadner K, Seyboth A, Adler I, Baum S, Brunner P, Eickemeier B, Kriemann J, Savolainen S, Schlömer C, von Stechow T, Minx Zwickel JC (eds) Climate Change 2014: mitigation of climate change. Contribution of Working Group III to the Fifth Assessment Report of the Intergovernmental Panel on Climate Change. Cambridge University Press, Cambridge and New York

FLACEMA (2007) Valorización de Residuos en la Industria Cementera Europea: Estudio Comparado. http://www.flacema.org/images/stories/Articulos_MA/cuaderno20te9cnico20valorizacif3n20residuos20europa.pdf. Accesed 28 Aug 2017

FLACEMA (2016) Valorización de Residuos en la Industria Cementera en España (actualización año 2014). http://www.recuperaresiduosencementeras.org/show_doc.asp?id_doc=100. Accesed 29 Aug 2017

Frickel S (2004) Just science? Organizing scientist activism in the US environmental justice movement. Sci Cult 13(4):449–469

Fundació ENT (2015) Air pollution from waste disposal: not for public breath. Report Zero Waste Europe. http://www.zerowasteeurope.eu/downloads/air-pollution-from-waste-disposal-not-for-public-breath/. Accesed 28 Aug 2017

Fundación CEMA (2011) El uso de residuos como combustible en cementeras no genera riesgos añadidos para la salud de las personas. Madrid

García-Pérez J, López-Abente G, Castelló A, González-Sánchez M, Fernández-Navarro P (2015) Cancer mortality in towns in the vicinity of installations for the production of cement, lime, plaster, and magnesium oxide. Chemosphere 128:103–110

Genon G, Brizio E (2008) Perspectives and limits for cement kilns as a destination for RDF. Waste Manage 28:2375–2385

Gibbs M, Soyka P, Conneely D (2001) CO2 emissions from cement production. In: Good practice guidance and uncertainty management in national greenhouse gas inventories. Intergovernmental Panel on Climate Change (IPCC). 175–182. http://www.ipcc-nggip.iges.or.jp/public/gp/bgp/3_1_Cement_Production.pdf. Accessed 28 Aug 2017

Greenpeace (2012) La puerta de atrás de la incineración de residuos. Análisis económico-ambiental de la utilización de combustibles derivados de los residuos (CDR) en España. http://www.greenpeace.org/espana/Global/espana/report/contaminacion/cdr290512.pdf. Accessed 28 Aug 2017

Heede R (2014) Tracing anthropogenic carbon dioxide and methane emissions to fossil fuel and cement producers, 1854–2010. Clim Change 122(1–2):229–241

Irwin A (1995) Citizen science: a study of people, expertise and sustainable development. Psychology Press, London

Jiménez-Sánchez M (2005) El impacto político de los movimientos sociales: un estudio de la protesta ambiental en España. CIS, Madrid

Karstensen KH (2007) A literature review on co-processing of alternative fuels and raw materials and hazardous wastes in cement kilns. Department for Environmental Affairs and Tourism, Republic of South Africa, Pretoria, South Africa. http://www.aitec-ambiente.org/Portals/2/docs/pubblici/Documenti/Raccolta%20bibliografica/Coprocessing%20literature%20review%202007.pdf. Accessed 28 Aug 2017

Kikuchi R, Gerardo R (2009) More than a decade of conflict between hazardous waste management and public resistance: a case study of NIMBY syndrome in Souselas (Portugal). J Hazard Mater 172(2):1681–1685

Madlool NA, Saidura R, Hossaina MS, Rahim NA (2011) A critical review on energy use and savings in the cement industries. Renew Sustain Energy 15(4):2042–2060

Martinez-Alier J, Temper L, Del Bene D, Scheidel A (2016) Is there a global environmental justice movement? J Peasant Studies 43(3):731–755

McGurty EM (1997) From NIMBY to civil rights: the origins of the environmental justice movement. Environ Hist 2(3):301–323

Naredo JM (2009) La cara oculta de la crisis. El fin del boom inmobiliario y sus consecuencias, Revista de Economía Crítica 7:118–133

O'Brian MA (2008) Crisis of waste. Understanding the rubbish society. Routledge, New York and London

Pellow DN (2004) Garbage wars: the struggle for environmental justice in Chicago. Mit Press, Cambridge

Rootes C (2009) Environmental movements, waste and waste infrastructure: an introduction. Environ Polit 18(6):817–834

Rootes C (2013) From local conflict to national issue: when and how environmental campaigns succeed in transcending the local. Environ Polit 22(1):95–114

Sandbag (2016) The final carbon fatcat. How Europe's cement sector benefits and the climate suffers from flaws in the emissions trading scheme, report. https://sandbag.org.uk/wp-content/uploads/2016/08/The_Final_Carbon_Fatcat_-_Sandbag_-_March_2016_v3.3_CLEAN.pdf. Accessed 28 Aug 2017

Sarewitz D (2004) How Science makes environmental controversies worse. Environ Sci Policy 7(5):305–403

Schlosberg D (2009) Defining environmental justice: Theories, movements, and nature. Oxford University Press, Oxford

Schlosberg D (2013) Theorising environmental justice: the expanding sphere of a discourse. Environ Polit 22(1):37–55

Schuhmacher M, Domingo JL, Garreta J (2004) Pollutants emitted by a cement plant: health risks for the population living in the neighborhood. Environ Res 95:198–206

Sze J, London JK (2008) Environmental justice at the crossroads. Sociol Compass 2(4):1331–1354

Taylor DE (2000) The rise of the environmental justice paradigm injustice framing and the social construction of environmental discourses. Am Behav Sci 43(4):508–580

Temper L, del Bene D, Martinez-Alier J (2015) Mapping the frontiers and front lines of global environmental justice: the EJAtlas. J Polit Ecol 22:256–278

The Cement Sustainability Initiative (2017) https://www.wbcsdcement.org/. Accessed 6 July 2017

Urkidi L, Walter M (2011) Dimensions of environmental justice in anti-gold mining movements in Latin America. Geoforum 42(6):683–695

Walker G (2009) Globalizing environmental justice. The geography and politics of frame contextualization and evolution. Glob Soc Policy 9(3):355–382

Walker G (2012) Environmental justice: concepts, evidence and politics. Routledge, London

WWF International (2008) A blueprint for a climate friendly cement industry. Report for the WWF–Lafarge conservation partnership. Gland, Switzerland. http://d2ouvy59p0dg6k.cloudfront.net/downloads/english_report_lr_pdf.pdf. Accessed 28 Aug 2017

Wynne B (1992) Uncertainty and environmental learning: reconceiving science and policy in the preventive paradigm. Glob Environ Change 2(2):111–127

Zero Waste Europe (2016) Press Release: International NGOs State Support for Impacted Communities from Waste Incineration in Cement Plants. 16/11/2016. https://www.zerowasteeurope.eu/2016/11/press-release-international-ngos-state-support-for-impacted-communities-from-waste-incineration-in-cement-plants/. Accessed 06 July 2017
Additional information
Handled by Federico Demaria, icta uab, Spain.
About this article
Cite this article
Herrero, A., Vilella, M. 'We have a right to breathe clean air': the emerging environmental justice movement against waste incineration in cement kilns in Spain. Sustain Sci 13, 721–731 (2018). https://doi.org/10.1007/s11625-017-0473-x
Received:

Accepted:

Published:

Issue Date:
Keywords
Co-incineration

Local environmental struggles

Socio-environmental conflicts

Waste controversies

Zero waste

Environmental contestation