Abstract
The goal of ensuring water availability and sustainable management of water for all by 2030 is one of the top priorities of the UN-SDGs. The fragile institutional capabilities induce the transitioning towards the sustainable urban water paradigm to accommodate the complexities and uncertainties. This research methodically draws sustainable water management strategies to achieve water security after a critical literature review, trends and policy analysis, and scenario modeling of the study area. First, research systematically illustrated the analysis of unmet water demand and coverage during the study period (2015–2030) and evaluated the impact of external factors such as population growth, living standard, and climate change on the current water system of the Kathmandu Valley. The results showed that future water demand is likely to reach 765 MLD by the year 2030 from the estimated current demand of 388.1 MLD. Also, external factors will increase the pressure on the current water supply–demand systems, and hence exacerbate the water stress but result showed the negligible impact of climate change during the study period. The research explored the significance of "Melamchi Water Supply Project (MWSP)" and found that the effective implementation of MWSP will decrease the unmet water demand by 56–66% in the valley. In the second part, comparative analysis of different management strategies under four future scenarios (optimistic, moderate I and II and business-as-usual) were carried out. The comparative analysis revealed that the proposed optimal management strategy (under optimistic scenario) would lead to achieving 100% of water demand coverage by year 2027.
This is a preview of subscription content,
to check access.
Access this article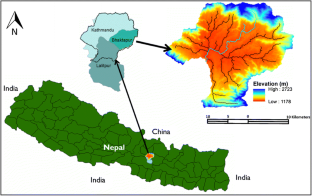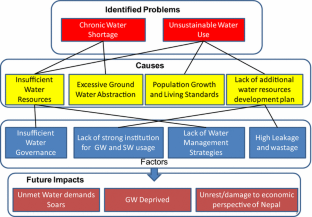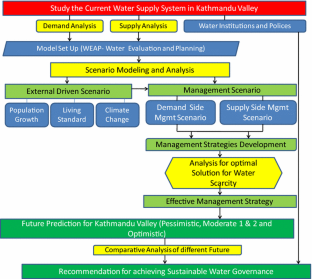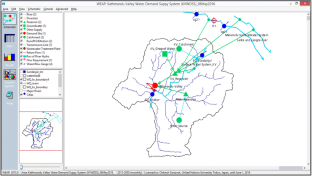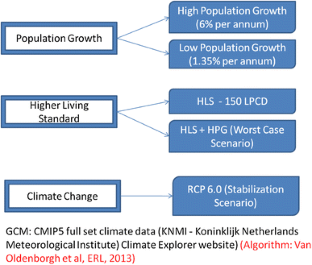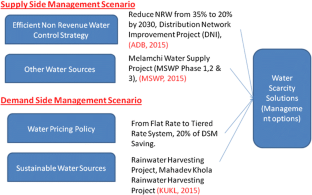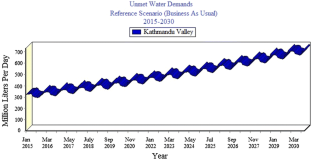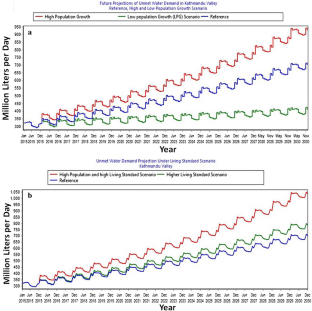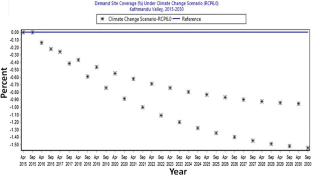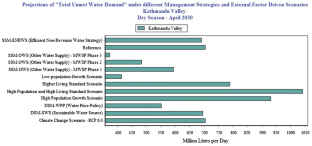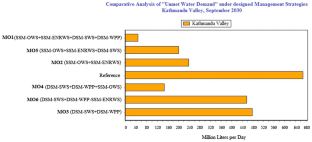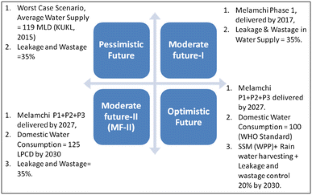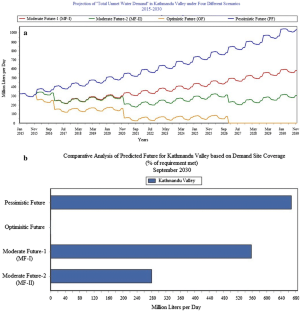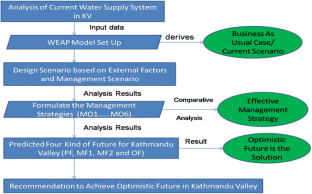 Similar content being viewed by others
References
Abrams L (2009) Water scarcity. https://www.africanwater.org/drought_water_scarcity.htm. Accessed 4 July 2015

ADB—Asian Development Bank (2013) Grant 0342-NEP: Kathmandu valley waste water management project. https://www.adb.org/printpdf/projects/43524-014/main. Accessed 25 July 2015

Akhtar R (2016) Climate change and geoecology of South and Southeast Asia: an introduction. In: climate change and human health scenario in South and Southeast Asia. Springer, Switzerland, pp 1–10

Al Radif A (1999) Integrated water resources management (IWRM): an approach to face the challenges of the next century and to avert future crises. Desalination 124(1–3):145–153

Alcamo J, Flörke M, Märker M (2007) Future long-term changes in global water resources driven by socio-economic and climatic changes. Hydrol Sci J 52(2):247–275

Bao C, He D (2015) The causal relationship between urbanization, economic growth and water use change in provincial China. Sustainability 7(12):16076–16085

Bhattarai M, Pant D, Molden D (2005) Socio-economics and hydrological impacts of Melamchi intersectoral and interbasin water transfer project, Nepal. Water Policy 7(2):163–180

Bhave AG, Mittal N, Mishra A, Raghuwanshi NS (2016) Integrated assessment of no-regret climate change adaptation options for reservoir catchment and command Areas. Water Resour Manager 30(3):1001–1018

Burn S, Maheepala S, Sharma A (2012) Utilising integrated urban water management to assess the viability of decentralised water solutions. Water Sci Technol 66(1):113–121

Butler D, Bell S, Ward S (2014) Retrofitting sustainable integrated water management. Urban retrofitting for sustainability: mapping the transition to 2050. Routledge, Abington, pp 211–221

CBS (2011) National population and housing census, 2011. Central Bureau of Statistics, Nepal

CBS (2014) National population and housing census 2014. Central Bureau of Statistics (CBS), Government of Nepal, Kathmandu

CIAMP (2010) Proposed Capital Investment Plan (2010–2025). Kathmandu valley water supply waste water system improvement, vol 1. Asian Development Bank, Manila, pp 1–114. https://www.adb.org/sites/default/files/project.../34304-04-nep-rp-draft-01.pdf

Conway G (2009) The science of climate change in Africa: impacts and adaptation. Grantham institute for climate change discussion paper, vol 1. p 24

Droogers P, Van Loon A, Immerzeel WW (2008) Quantifying the impact of model inaccuracy in climate change impact assessment studies using an agro-hydrological model. Hydrol Earth Syst Sci Discuss 12(2):669–678

Flato G, Marotzke J, Abiodun B, Braconnot P, Chou SC, Collins WJ, Cox P, Driouech F, Emori S, Eyring V, Forest C (2013) Evaluation of climate models. In: Climate change 2013: the physical science basis. Contribution of working group I to the fifth assessment report of the intergovernmental panel on climate change. Climate Change 2013, vol 5, pp 741–866

Granit J, Fogde M, Hoff H, Karlberg L, Kuylenstierna JL, Rosemarin A (2013) Unpacking the water-energy-food nexus: tools for assessment and cooperation along a continuum. In: Jägerskog A, Clausen TJ, Lexén K, Holmgren T (eds) Co-operation for a water wise world—partnerships for sustainable development. Stockholm International Water Institute, Stockholm, pp 45–50. http://www.sei-international.org/publications?pid=2353

Grigg NS (1997) Systemic analysis of urban water supply and growth management. J Urban Plan Dev 123(2):23–33

Hack J (2013) Payments for hydrological ecosystem services in integrated water resources management. Ph.D. Thesis, Technische Universität, Darmstadt, Germany, p 225

Haddeland I, Heinke J, Biemans H, Eisner S, Flörke M, Hanasaki N, Konzmann M, Ludwig F, Masaki Y, Schewe J, Stacke T (2014) Global water resources affected by human interventions and climate change. Proc Natl Acad Sci 111(9):3251–3256

Hamlat A, Errih M, Guidoum A (2013) Simulation of water resources management scenarios in western Algeria watersheds using WEAP model. Arab J Geosci 6(7):2225–2236

Hanemann WM (2006) The economic conception of water. Water Crisis: myth or reality, vol 61. CRC Press, Florida, pp 74–76

Harlin J, Kjellén M (2015) Water and development: from MDGs towards SDGs. Content:8. http://programme.worldwaterweek.org/sites/default/files/2015_www_report_web.pdf#page=8. Accessed 16 Feb 2017

Hellström D, Jeppsson U, Karrman E (2000) A framework for systems analysis of sustainable urban water management. Environ Impact Assess 20:311–321

HMGN/MFSC (2002) Nepal Biodiversity Strategy, published by His Majesty's Government of Nepal

Hoekstra AY, Mekonnen MM, Chapagain AK, Mathews RE, Richter BD (2012) Global monthly water scarcity: blue water footprints versus blue water availability. PLoS One 7(2):e32688

ICIMOD (2014) Annual report 2013. International Centre for Integrated Mountain Development (ICIMOD), Kathmandu

Immerzeel WW, Droogers P (2008) Calibration of a distributed hydrological model based on satellite evapotranspiration. J Hydrol 349(3):411–424

Ingol-Blanco E, McKinney DC (2009) Hydrologic modeling for assessing climate change impacts on the water resources of the Rio Conchos basin. In: World Environmental and Water Resources Congress 2009: Great Rivers, pp 1–10

IPCC-WGII (2007) Climate change 2007: Impacts, adaptation and vulnerability. In: Contribution of the working group II to the fourth assessment report of the intergovernmental panel on climate change summary for policy making. Cambridge University Press, New York

Jha PK (2012) Climate change: impact, adaptation and vulnerability in the water supply of Kathmandu Valley. WIT Trans Ecol Environ 155:563–574

Jha PK, Shrestha KK (2013) Climate change and urban water supply: adaptive capacity local government in Kathmandu City, Nepal. J For Livelihood 11(1):62–81

JICA (2014) Japan Internation Cooperation Agency. https://www.jica.go.jp/project/english/nepal/008/outline/index.html. Accessed 15 Apr 2014

KUKL (2011) Kathmandu Upatyaka Khanepani Limited. http://www.kathmanduwater.org/home/index.php. Accessed 25 Apr 2015

KUKL (2015) Eight anniversary report. Kathmandu Upatyaka Khanepani Limited (KUKL), Kathmandu

KUKLPID (2015) Kathmandu Upatyaka Khanepani Limited (KUKL) Project Implementation Directorate, Nepal. http://www.kuklpid.org.np/Home/Introduction. Accessed 12 July 2016

KVDA (2011) Kathmandu Valley Development Board. http://kvda.gov.np/Kathmandu-Valley.aspx. Accessed 20 Mar 2016

KVDA (2014) 20 years strategic development master plan (2015–2035) for Kathmandu valley (Draft), Kathmandu valley Development Authority (KVDA), Government of Nepal

KVDA (2015) 20 years strategic development master plan (2015–2035) for Kathmandu valley (Draft), Kathmandu valley Development Authority (KVDA), Government of Nepal

Lévite H, Sally H, Cour J (2003) Testing water demand management scenarios in a water-stressed basin in South Africa: application of the WEAP model. Phys Chem Earth Parts A/B/C 28(20):779–786

McCartney MP, Arranz R (2007) Evaluation of historic, current and future water demand in the Olifants River Catchment, vol 118. IWMI, Sri Lanka

Mitchell VG (2006) Applying integrated urban water management concepts: a review of Australian experience. Environ Manage 37(5):589–605

Mohanty A (2011) State of environment in Kathmandu Valley, Nepal: a special review. J Inst Eng 8(1–2):126–137

Mounir ZM, Ma CM, Amadou I (2011) Application of water evaluation and planning (WEAP): a model to assess future water demands in the Niger River (In Niger Republic). Modern Appl Sci 5(1):38

MWSP (2015) http://www.melamchiwater.gov.np/. Accessed June 23 2016

IUCN Nepal (2013) Enhancing ecosystems and livelihoods: delivering nature-based solutions to development challenges. IUCN Nepal Programme Framework 2013–2016. https://cmsdata.iucn.org/downloads/iucn_nepal_programme_framework_2013_2016.pdf. Accessed 7 Apr 2014

Null SE, Viers JH, Mount JF (2010) Hydrologic response and watershed sensitivity to climate warming in California's Sierra Nevada. PLoS One 5(4):e9932

O'Connor TP, Rodrigo D, Cannan A (2010) Total water management: the new paradigm for urban water resources planning. Water Resour 457:2149

Pandey VP, Shrestha S, Kazama F (2013) A GIS-based methodology to delineate potential areas for groundwater development: a case study from Kathmandu Valley, Nepal. Appl Water Sci 3(2):453–465

Pant PR, Dangol D (2009) Kathmandu valley profile. Briefing paper, Governance and Infrastructure Development Challenges in Kathmandu Valley

Portnov BA, Adhikari M, Schwartz M (2007) Urban growth in Nepal: does location matter? Urban Studies 44(5–6):915–937

Protopapas AL, Katchamart S, Platonova A (2000) Weather effects on daily water use in New York City. J Hydrol Eng 5(3):332–338

Ragab R (2013) Water governance in the Arab region: managing scarcity and securing the future. http://www.arabstates.undp.org/content/rbas/en/home/library/huma_development/watergovernance-in-the-arab-region.html. Accessed 17 June 2017

Renzetti S (2000) An empirical perspective on water pricing reforms: the political economy of water pricing reforms. Oxford University Press, UK

Saraswat C, Kumar P, Mishra BK (2016) Assessment of storm water runoff management practices and governance under climate change and urbanization: an analysis of Bangkok, Hanoi and Tokyo. Environ Sci Policy 64:101–117

SEI (2011) WEAP water evaluation and planning system: user guide for WEAP21. Stockholm Environment Institute, Boston

SEI (2015) WEAP water evaluation and planning system: user guide for WEAP21. Stockholm Environment Institute, Boston

Shrestha S, Shrestha M, Babel MS (2015) Assessment of climate change impact on water diversion strategies of Melamchi Water Supply Project in Nepal. Theoret Appl Climatol 128(1–2):311–323

Subedi P, Subedi K, Thapa B (2013) Application of a hybrid cellular automaton—Markov (CA-Markov) model in land-use change prediction: a case study of Saddle Creek Drainage Basin, Florida. Appl Ecol Environ Sci 1(6):126–132

Vairavamoorthy K, Gorantiwar SD, Pathirana A (2008) Managing urban water supplies in developing countries—Climate change and water scarcity scenarios. Phys Chem Earth Parts A/B/C 33(5):330–339

Water UN (2015) Water for a sustainable world. The United Nations World Water Development Report

WEAP (2014) Water evaluation and planning. history and credits. Stockholm Environment Institute. http://www.weap21.org/index.asp?action=219. Accessed 27 Jan 2016

WEAP (2015) Water evaluation and planning. history and credits. Stockholm Environment Institute. http://www.weap21.org/index.asp?action=219. Accessed 20 Aug 2016

Yates D, Sieber J, Purkey D, Huber-Lee A (2005) WEAP21—a demand-, priority-, and preference-driven water planning model: part 1: model characteristics. Water Int 30(4):487–500

Yoden K (2012) Analysis of domestic water use in the Kathmandu valley. In: Shrestha S, Pradhananga D, Pandey VP (eds) Kathmandu valley groundwater outlook. Asian Institute of Technology (AIT), The Small Earth Nepal (SEN), Center of Research for Environment Energy and Water (CREEW), International Research Centre for River Basin Environment-University of Yamanashi (ICRE-UY), Thailand, pp 77–89
Acknowledgements
This study was supported by the United Nations University, Institute for the Advanced Study of Sustainability, Tokyo. The first author, Chitresh Saraswat, would like to acknowledge that the research work is part of his masters dissertation work, also he would like to thank the officials from KUKL, Kathmandu Valley, for providing the required insights used in the study.
Additional information
Handled by Osamu Saito, United Nations University Institute for the Advanced Study of Sustainability, Japan.
About this article
Cite this article
Saraswat, C., Mishra, B.K. & Kumar, P. Integrated urban water management scenario modeling for sustainable water governance in Kathmandu Valley, Nepal. Sustain Sci 12, 1037–1053 (2017). https://doi.org/10.1007/s11625-017-0471-z
Received:

Accepted:

Published:

Issue Date:

DOI: https://doi.org/10.1007/s11625-017-0471-z
Keywords