Abstract
Indigenous communities are increasingly taking the lead in river restoration, using the process as an opportunity to re-engage deeply with their rivers, while revealing socio-cultural and political dimensions of restoration underreported in ecological and social science literatures. We engaged in collaborative research with representatives from three Indigenous nations in the United States, New Zealand, and Canada to explore the relationship between Indigenous ways of knowing and being (i.e., "Indigenous knowledges") and their restoration efforts. Our research project asks the following: how are Indigenous knowledges enacted through river restoration and how do they affect outcomes? How do the experiences of these Indigenous communities broaden our understanding of the social dimensions of river restoration? Our research reveals how socio-cultural protocols and spiritual practices are intertwined with restoration methodologies, showing why cultural approaches to restoration matter. We found that in many cases, a changing political or legal context helps create space for assertion of Indigenous spiritual and cultural values, while the restoration efforts themselves have the potential to both repair community relationships with water and empower communities vis-à-vis the wider society. We show that restoration has the potential to not only restore ecosystem processes and services, but to repair and transform human relationships with rivers and create space politically for decolonizing river governance.
This is a preview of subscription content, log in to check access.
Access options
Buy single article
Instant access to the full article PDF.
US$ 39.95
Price includes VAT for USA
Subscribe to journal
Immediate online access to all issues from 2019. Subscription will auto renew annually.
US$ 99
This is the net price. Taxes to be calculated in checkout.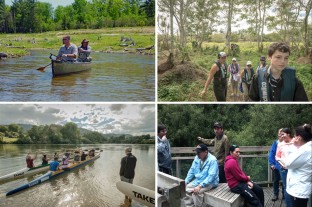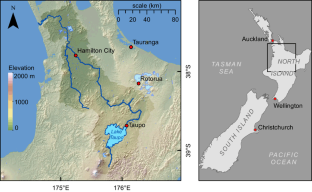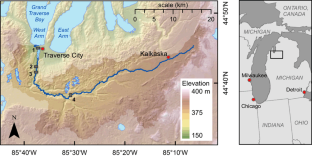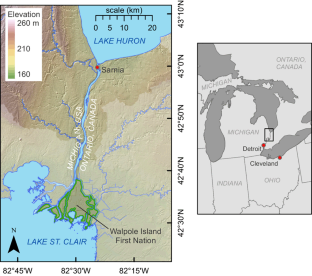 Notes
1.

2.

For example, the Penobscot Nation has overseen dam removal on the Penobscot River, the Lower Elwha Klallam Tribe was instrumental in the removal of the Elwha dams, and the Klamath Tribes have been key players in the Klamath Basin Restoration Agreement.

3.

This river is more commonly called the Boardman River. Ottaway is an Anishnaabe name.

4.

Raupatu is a Māori term that refers to the invasion and confiscation of Waikato lands.

5.

For an in depth analysis of the politics of various Waikato River Māori groups' care for their river, see Muru-Lanning 2016.

6.

The State of Michigan refuses to call this work "co-management" despite the fact that the provisions of the Great Lakes and inland consent decrees connected to the Treaty of 1836 follow very closely the definitions of co-management in the literature, e.g., Pinkerton 1994.

7.

For Waikato-Tainui, three or seven whakaritenga (ritual) are part of a prayer that seeks blessing, safepassage, and anointment by acknowledging the Mauri (life force) of the river and their ancestors.

8.
References
Arquette M, Cole M, Akwesasne Task Force on the Environment (2004) Restoring our relationship for the future. In: Blaser M, Feit H McRae G (ed) In the way of development: indigenous peoples, life projects and globalization. Zed books, New York, pp. 332–349

Arthington ÁH, Naiman RJ, McClain ME, Nilsson C (2010) Preserving the biodiversity and ecological services of rivers: new challenges and research opportunities. Freshw Biol 55:1–16

Berkes F (2009) Evolution of co-management: Role of knowledge generation, bridging organizations and social learning. J Environ Manage 90:1692–1702

Bogardi J, Dudgeon D, Lawford R, Flinerbusch E, Meyn A, Pahl-Wostl C, Vielhauer K, Vorosmarty C (2012) Water security for a planet under pressure: interconnected challenges of a changing world call for sustainable solutions. Curr Opin Environ Sustainabil 4:35–43

Collard R, Dempsey J, Sundberg J (2015) A manifesto for abundant futures. Ann Assoc Am Geogr 105(2):322–330

Cosens B, Chaffin B (2016) Adaptive governance of water resources shared with Indigenous peoples: the role of law. Water 8: 97

CTKW (Climate and Traditional Knowledáges Workgroup) (2014) Guidelines for Considering Traditional Knowledges in Climate Change Initiatives. https://climatetkw.wordpress.com. Accessed 10 June 2016)

Davidson-Hunt I, Berkes F (2010) Journeying and remembering anishinaabe landscape ethnoecology from Northwestern Ontario. In: Nazarea V (ed) Ethnoecology: situated knowledge/located lives, pp. 222–240

Deed of Settlement between the Crown and Waikato-Tanui in Relation to the Waikato River (2008)

Davidson-Hunt I, O'Flaherty R (2007) Researchers, Indigenous Peoples and Place-Based Learning Communities. Soc Nat Resour 20(4): 1–15

Eden S, Tunstall S (2006) Ecological versus social restoration? How urban river restoration challenges but also fails to challenge the science policy nexus in the United Kingdom. Environ Planning C: Govt Pol 24:661–680

Fisher PA, Ball TJ (2003) Tribal participatory research: Mechanisms of a collaborative model. Am J Community Psychol 32(3–4):207–216

Fletcher, MLM (2006) Politics, History, and Semantics: The Federal Recognition of Indian Tribes. NDL Rev. 82:487

Fox CA, Magilligan FJ, Sneddon CS (2016) "You kill the dam, you are killing a part of me": dam removal and the environmental politics of river restoration. Geoforum 70:93–104. doi:10.1016/j.geoforum.2016.02.013

Gearheard SF, Matumeak W, Angutikjuaq I, Maslanik J, Huntington HP, Leavitt J, Kagak DM, Tigullaraq G, Barry RG (2006) "It's not that simple": a collaborative comparison of sea ice environments, their uses, observed changes, and adaptations in barrow, Alaska, USA, and Clyde River, Nunavut, Canada. AMBIO: A. J Hum Environ 35(4):203–211

Gearheard SF (2013) The meaning of ice: people and sea ice in three Arctic communities. International Polar Institute

Gosnell H, Kelly EC (2010) Peace on the river? Social ecological restoration and large dam removal in the Klamath basin, USA. Water. Alternatives 3(2):361–383

Graf W (2001) Damage control: restoring the physical integrity of America's rivers. Ann Assoc Am Geogr 91(1):1–27

Harding A, Harper B, Stone D, O'Neill C, Berger P, Harris S, Donatuto J (2011) Conducting research with tribal communities: sovereignty, ethics and data-sharing issues. Environmental Health Perspectives, September, pp. 11–24

Harman W, Starr R, Carter M, Tweedy K, Clemmons M, Suggs K, Miller C (2012) A function-based framework for stream assessment and restoration projects. US Environmental Protection Agency, Office of Wetlands, Oceans, and Watersheds, Washington, DC EPA 843-K-12-006

Huntington HP, Gearheard SF, Mahoney AR, Salomon AK (2011) Integrating traditional and scientific knowledge through collaborative natural science field research: Identifying elements for success. Arctic 437–445

Holtgren M (2013) Bringing us back to the river. In: Auer, N, Dempsey, D (eds) The great lake sturgeon. Michigan State University Press, East Lansing, pp 133–147

Holtgren M, Ogren S, Whyte KP (2014) Renewing Relatives: Nmé Stewardship in a Shared Watershed. In: Adamson J (ed) Tales of Hope and Caution in Environmental Justice. Published online at the Humanities for the Environment Initiative website. http://hfe-observatories.org/project/renewing-relatives-nme-stewardship-in-a-shared-watershed/. Accessed 10 June 2016

Jackson S, Palmer L (2015) Reconceptualizing ecosystem services: Possibilities for cultivating and valuing the ethics and practices of care. Prog Human Geogr 39(2):122–145

Johnson JT, Howitt R, Cajete G, Berkes F, Louis RP, Kliskey A (2016) Weaving Indigenous and sustainability sciences to diversify our methods. Sustainability Sci 11(1):1–11

Kondolf GM, Yang CN, Darby S (2008) Planning river restoration projects: social and cultural dimensions, In: Darby S, Sear D (eds) River restoration: managing the uncertainty in restoring physical habitat. Wiley, Chichester. doi:10.1002/9780470867082.ch4

Lave R (2012a) Bridging political ecology and STS: a field analysis of the Rosgen Wars. Ann Assoc Am Geogr 102(2):366–382

Lave R (2014) Freedom and constraint: Generative expectations in the US stream restoration field. Geoforum 52:236–244

Long J, Tecle A, Burnette B (2003) Cultural foundations for ecological restoration on the White Mountain Apache Reservation. Ecol Soc 8(1):4

Lund J (2015) Integrating social and physical sciences in water management. Water Resources Res 51:5905–5918

McDonald A, Lane SN, Haycock NE, Chalk EA (2004) Rivers of dreams: on the gulf between theoretical and practical aspects of an upland river restoration. Trans Ins Br Geogr 29(1):257–281

McGregor D (2008) Linking traditional ecological knowledge and western science: aboriginal perspectives from the 2000 State of the Lakes Ecosystem Conference. Can J Native Stud 28(1):139–158

McGregor D (2014) Traditional knowledge and water governance: The ethic of responsibility. AlterNative 10(5)

Meurk C, Pauling C, Ataria J, Kirikiri R (2006) Hīkoi Whakakākahu—restoring the Mauri. Manaaki Whenua-Landcare Research New Zealand Ltd. Landcare Research contract report. URL: https://books.google.com/books?id=OGPOtgAACAAJ

Mitchell J (2013) N'me. In: Auer N, Dempsey D (eds) The Great Lake Sturgeon. Michigan State University Press, East Lansing, pp. 21–26

Morris JD, Ruru J (2010) Giving voice to rivers: legal personality as a vehicle for recognizing Indigenous peoples' relationships to water. Austr Indig Law Rev 14(2):49–62

Muru-Lanning M (2010) Tupuna awa and te awa tupuna: an anthropological study of competing discourses and claims of ownership to the Waikato River. PhD Dissertation. University of Auckland

Muru-Lanning M (2016) Tupuna Awa: people and politics of the Waikato river. Auckland University Press

Naveh Z (2005) Epilogue: Toward a transdisciplinary science of ecological and cultural landscape restoration. Restor Ecol 13(1):228–234

Newsom M (2009) Land, water and development: sustainable and adaptive management of rivers. Routledge, New York

Ngati Tuwharetoa, Raukawa, and Te Arawa River Iwi Waikato River Act 2010

Palmer M, Allan JD, Meyer J, Bernhardt ES (2007) River restoration in the twenty-first century: data and experiential knowledge to inform future efforts. Restor Ecol 15(3):472–481

Parrado-Rosselli A (2007) A collaborative research process studying fruit availability and seed dispersal within an indigenous community in the middle Caqueta River region, Colombian Amazon. Ecol Soc 12(2):39. http://www.ecologyandsociety.org/vol12/iss2/art39/

Pinkerton EW (1994) Local fisheries co-management: a review of international experiences and their implications for salmon management in British Columbia. Can J Fish Aquat Sci 51(10):2363–2378

Salmond A, Tadaki M, Gregory T (2014) Enacting new freshwater geographies: Te Awaroa and the transformative imagination. N Z Geogr 70:47–55

Shackelford N, Hobbs RJ, Burgar JM, Erickson TE, Fontaine JB, Laliberté E, Ramalho CE, Perring MP, Standish RJ (2013) Primed for change: developing ecological restoration for the 21st century. Restor Ecol 21(3):297–304

Small M, Doyle M (2012) Historical perspectives on river restoration design in the USA. Prog Phys Geogr 36(2):138–153

Smith LT (2012) Decolonizing methodologies: research and Indigenous peoples, 2nd edn. Zed Books, Chicago

Tadaki M, Sinner J (2014) Measure, model, optimise: Understanding reductionist concepts of value in freshwater governance. Geoforum 51:140–151

Te Aho L (2009) Negotiating co-management of the Waikato River. Resour Manag J 14–18

Tipa G (2009) Exploring indigenous understandings of river dynamics and river flows: a case from New Zealand. Environ Commun 3(1):95–120

von der Porten S, de Loe RC (2013) Collaborative approaches to governance for water and Indigenous peoples: a case study from British Columbia, Canada. Geoforum 50:149–160

Vorosmarty C, McIntyre P, Gessner M, Dudgeon D, Prusevich A, Green P, Glidden S, Bunn S, Sullivan S, Liermann C, Davies P (2010) Global threats to human water security and river biodiversity. Nature 467:555–561

Waikato-Tainui Raupatu Claims (Waikato River) Settlement Act 2010

White R (1995). The organic machine. Harper Collins Canada, Ltd, New York

Whyte KP (2016) Indigenous environmental movements and the function of governance institutions. In: Gabrielson T, Hall C, Meyer JM, Schlosberg D (eds) The Oxford handbook of environmental political theory. Oxford University Press, Oxford, pp 563–579

Whyte KP, Brewer JP II, Johnson JT (2015) Weaving Indigenous science, protocols and sustainability science. Sustainability Sci 11(1):25–32

Whyte KP, Cuomo CJ (2016) Ethics of caring in environmental ethics: Indigenous and feminist philosophies. In: Gardiner SM, Thompson A (eds) The Oxford handbook of environmental ethics. Oxford University Press, Oxford

Wilcock D, Brierly G, Howitt R (2013) Ethnogeomorphology. Aust Prog Phys Geogr 37(5):573–600

Wohl E, Angermeier PL, Bledsoe B, Kondlof GM, MacDonnell L, Merritt DM, Palmer MA, Poff NL, Tarboton D (2005) River restoration. Water Resour Res 41

Wohl E, Lane SN, Wilcox AC (2015) The science and practice of river restoration. Water Resour Res 51(8):5974–5997

Worster D (1985) Rivers of Empire. Oxford University Press, Oxford
Acknowledgements
We would like to thank the Ottaway, St. Claire and Waikato rivers for all that they have taught us before and during our knowledge exchange. We would also like to thank all the community members who welcomed us into their territories and participated in our exchange, including those named and unnamed in this manuscript. Thank you to the Porter Family Foundation for generously funding our research. We thank JoRee LaFrance for her participation and assistance throughout the research process and Jonathan Chipman for helping us create our map figures. Finally, we thank our editors and anonymous reviewers for helping to drastically improve this paper.
Additional information
Handled by Kyle Whyte, Michigan State University, USA.
Coleen Fox and Nicholas Reo served as co-first authors on this manuscript, co-leading the research and writing processes.
About this article
Cite this article
Fox, C.A., Reo, N.J., Turner, D.A. et al. "The river is us; the river is in our veins": re-defining river restoration in three Indigenous communities. Sustain Sci 12, 521–533 (2017). https://doi.org/10.1007/s11625-016-0421-1
Received:

Accepted:

Published:

Issue Date:
Keywords
River restoration

Indigenous knowledge

Māori

Anishinaabe