Abstract
New approaches have emerged in integrating ecosystem services, their structure and function for ecological restoration. As the concept relating with ecosystem services has become widely accepted in last decade in China, its linking with ecological restoration will provide good opportunities and make substantial progress towards sustainable development. By analyzing the traditional ecological restoration procedure in China, we developed a framework of ecological restoration based on ecosystem services valuation. Relevant researches of ecological restoration based on ecosystem services are also carefully reviewed. China's ecosystem services studies and payments for ecosystem services (PES) experiences were extensively discussed to show the ecological restoration strategy and its change. Two case studies in China were presented to show the framework for ecological restoration based on PES. We suggested that despite the limitations of valuation uncertainties at present, PES could be an opportunity for ecological restoration by evaluating the trade-offs of different stakeholders. In current state in China, challenges and opportunities coexist and scientists should work together in the integrated research of sustainable ecological management and economic development policies.
Access options
Buy single article
Instant access to the full article PDF.
US$ 39.95
Tax calculation will be finalised during checkout.
Subscribe to journal
Immediate online access to all issues from 2019. Subscription will auto renew annually.
US$ 79
Tax calculation will be finalised during checkout.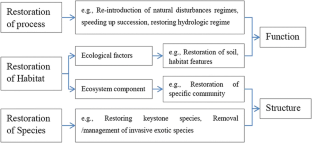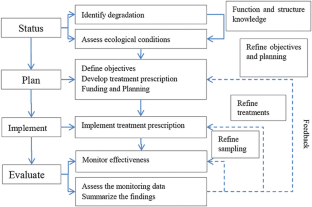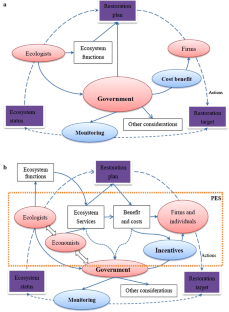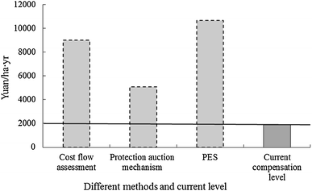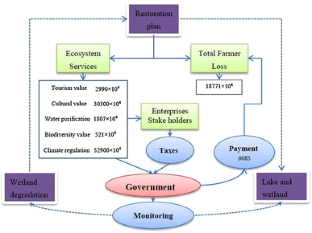 References
Biggs R, Schlüter M, Biggs D, Bohensky EL, BurnSilver S, Cundill G, Dakos V, Daw TM, Evans LS, Kotschy K, Leitch AM, Meek C, Quinlan A, Hearne CR, Robards MD, Schoon ML, Schultz L, West PC (2012) Toward principles for enhancing the resilience of ecosystem services. Annu Rev Env Resour 37(1):421–448

Bullock JM, Aronson J, Newton AC, Pywell RF, Rey-Benayas JM (2011) Restoration of ecosystem services and biodiversity: conflicts and opportunities. Trends Ecol Evol 26(10):541–549

Bulte EH, Lipper L, Stringer R, Zilberman D (2008) Payments for ecosystem services and poverty reduction: concepts, issues, and empirical perspectives. Environ Dev Econ 13:245–254

Chazdon RL (2008) Beyond deforestation: restoring forests and ecosystem services on degraded lands. SCI 320(5882):1458–1460

Chen S, Uitto JI (2002) Governing marine and coastal environment in China: building local government capacity through international cooperation. Chin Environ Ser 6:67–80

Chen ZX, Zhang XS (2000) The value of China's ecosystem services. Chin Sci Bull 45:17–22

Chen XL, He Y, Zhang DD, Zeng WZ (2008) Review on the eco-efficiency evaluate ion of forest ecosystem restoration and reconstruction in China. Issues For Econ 28(3):192–196

Chen X, Lupi F, An L, Sheely R, Vina A, Liu J (2012) Agent-based modeling of the effects of social norms on enrollment in payments for ecosystem services. Ecol Model 229:16–24

Costanza R, d'Arge R, de Groot R, Farber S, Grasso M, Hannon B, Limburg K, Naeem S, O'Neill RV, Paruelo J (1997) The value of the worlds' ecosystem services and natural capital. Nature 387:253–260

Engel S, Pagiola S, Wunder S (2008) Designing payments for environmental services in theory and practice: an overview of the issues. Ecol Econ 65:663–674

Farber SC, Costanza R, Wilson MA (2002) Economic and ecological concepts for valuing ecosystem services. Ecol Econ 41:375–392

Farley J, Aquino A (2010) Global mechanisms for sustaining and enhancing PES schemes. Ecol Econ 69:2075–2084

Fisher B, Turner RK, Morling P (2009) Defining and classifying ecosystem services for decision making. Ecol Econ 68(3):643–653

Gayton DV (2001) Ground work: basic concepts of ecological restoration in British Columbia. Southern Interior Forest Extension and Research Partnership, Kamloops, B.C. SIFERP Series 3

Goldstein JH, Pejchar L, Daily GC (2008) Using return-on-investment to guide restoration: a case study from Hawaii. Conserv Lett 1:236–243

Gómez-Baggethun E, de Groot R, Lomas PL, Montes C (2010) The history of ecosystem services in economic theory and practice: from early notions to markets and payment schemes. Ecol Econ 69(6):1209–1218

Han HY, Yu YH (2014) Research on the payment for ecosystem services of the "Grain for Green" program: cost basis, willingness to accept or ecological values. Issue Agric Econ 4:64–73

He H, Pan YZ, Zhu WQ, Liu XL, Zhang Q, Zhu XF (2005) Measurement of terrestrial ecosystem service value in China. Chin J Appl Ecol 16(6):1122–1127

Hobbs RJ, Norton DA (1996) Towards a conceptual framework for restoration ecology. Restor Ecol 4:93–110

Holl K, Howarth RB (2000) Paying for restoration. Restor Ecol 8:260–267

Jenkins WA, Murray BC, Kramer RA, Faulkner SP (2010) Valuing ecosystem services from wetlands restoration in the Mississippi Alluvial Valley. Ecol Econ 69(5):1051–1061

Jim CY, Chen WY (2008) Assessing the ecosystem service of air pollutant removal by urban trees in Guangzhou (China). J Environ Manag 88(4):665–676

Lewis RR (2000) Ecologically based goal setting in mangrove forest and tidal marsh restoration. Ecol Eng 15:191–198

Lewis RR (2005) Ecological engineering for successful management and restoration of mangrove forests. Ecol Eng 24(s):403–418

Li W (2004) Degradation and restoration of forest ecosystems in China. For Ecol Manag 201(1):33–41

Li T, Shilling F, Thorne JH, Li F, Schott H, Boynton R, Berry AM (2010) Fragmentation of China's landscape by roads and urban areas. Landsc Ecol 25(6):839–853

Li F, Liu X, Zhao D, Wang B, Jin J, Hu D (2011) Evaluating and modeling ecosystem service loss of coal mining: a case study of Mentougou district of Beijing, China. Ecol Complex 8(2):139–143

Liang D (2012) Payment schemes for forest ecosystem services in China: policy, practices and performance. Wageningen Academic Publishers, Wageningen, pp 27–30

Liu C, Wang S, Zhang W, Liang D (2007) Compensation for forest ecological services in China. For Stud Chin 9(1):68–79

Liu SL, Dong YH, Deng L, Liu Q, Zhao QH, Dong SK (2014) Forest fragmentation and landscape connectivity change associated with road network extension and city expansion: a case study in the Lancang River Valley. Ecol Indic 36:160–168

Lu CH, van Ittersum MK, Rabbinge R (2004) A scenario exploration of strategic land use options for the loess plateau in northern China. AGR Syst 79(2):145–170

Mao XQ, Zhong Y, Zhang S (2002) Conception, theory and mechanism of eco-compensation. Chin Popul Resour Environ 12(4):38–41

McCauley DJ (2006) Selling out on nature. Nature 443:27–28

Min QW, Xie GD, Hu D, Shen L, Yan MC (2004) Service valuation of grassland ecosystem in Qinghai Province. Resour Sci 26(3):56–60

Niu X, Wang B, Liu S, Liu C, Wei W, Kauppi PE (2012) Economical assessment of forest ecosystem services in China: characteristics and implications. Ecol Complex 11:1–11

Ouyang ZY, Wang XK, Miao H (1999) A primary study on Chinese terrestrial ecosystem services and their ecological economic values. Acta Ecol Sin 19(5):607–613

Ouyang ZY, Zhao TQ, Zhao JZ, Xiao H, Wang XK (2004) Ecological regulation services of Hainan Island ecosystem and their valuation. Chin J Appl Ecol 15(8):1395–1402

Palmer MA, Filoso S (2009) Restoration of ecosystem services for environmental markets. Science 325(5940):575–5766

Perrings C, Naeem S, Ahrestani F, Bunker DE, Burkill P, Canziani G, Elmqvist T, Ferrati R, Fuhrman J, Jaksic F, Kawabata Z, Kinzig S, Mace GM, Milano F, Mooney H, Richard AHP, Tschirhart J, Weisser W (2010) Ecosystem services for 2020. Science 330:323–324

Polasky S, Segerson K (2009) Integrating ecology and economics in the study of ecosystem services: some lessons learned. Annu Rev Resour Econ 1(1):409–434

Putz FE, Redford KH (2009) Dangers of carbon-based conservation. Global Environ Chang 19:400–401

Ren H, Shen WJ, Lu HF, Wen XY, Jian SG (2007) Degraded ecosystems in China: status, causes, and restoration efforts. Landsc Ecol Eng 3(1):1–13

Renaud FG, Szabo S, Matthews Z (2016) Sustainable deltas: livelihoods, ecosystem services, and policy implications. Sustain Sci 11(4):519–523

Rey Benayas JM, Newton AC, Diaz A, Bullock JM (2009) Enhancement of biodiversity and ecosystem services by ecological restoration: a meta-analysis. Science 325(5944):1121–1124

Sachs JD (2009) Biodiversity conservation and the millennium development goals. Science 325:1502–1503

Schiappacasse I, Nahuelhual L, Vasquez F, Echeverria C (2012) Assessing the benefits and costs of dryland forest restoration in central Chile. [Research Support, Non-U.S. Gov't]. J Environ Manag 97:38–45

SEPA and NBS (2006) SEPA and NBS publish the research achievements of green national accounting. SEPA news, release 07 Aug 2006

Shi Y, Zhou CB, Wang RS, Xu WY (2012) Measuring China's regional ecological development through "EcoDP". Ecol Indic 15(1):253–262

State Forestry Administration of China (2004) Statistical report of forest resource (1999–2003). State Forestry Administration of China, Beijing

Su C, Fu B, Wei Y, Lü Y, Liu G, Wang D, Mao K, Feng X (2012) Ecosystem management based on ecosystem services and human activities: a case study in the Yanhe watershed. Sustain Sci 7(1):17–32

Tan S, Heerink N, Qu F (2006) Land fragmentation and its driving forces in China. Land Use Policy 23(3):272–285

Tong C, Feagin RA, Lu J, Zhang X, Zhu X, Wang W, He W (2007) Ecosystem service values and restoration in the urban Sanyang wetland of Wenzhou, China. Ecol Eng 29(3):249–258

Townsend PV, Harper RJ, Brennan PD, Dean C, Wu S, Smettem KRJ, Cook SE (2012) Multiple environmental services as an opportunity for watershed restoration. For Policy Econ 17:45–58

Wang M, Sun X (2016) Potential impact of land use change on ecosystem services in China. Environ Monit Assess 188(4):1–13

Wang SP, Wang YF, Chen ZZ (2003) Management of Grazing ecosystem. Science Press, Beijing, pp 1–262 (In Chinese)

Wang B, Yang XS, Zhang B, Liu MC (2009) Dynamics of ecosystem services in China during 1973–2003. J Zhejiang For Coll 26(5):714–721

Warner R, Kaidonis M, Dun O, Rogers K, Shi Y, Nguyen TTX, Woodroffe CD (2016) Opportunities and challenges for mangrove carbon sequestration in the Mekong River Delta in Vietnam. Sustain Sci 11(4):661–677

Wong M (2003) Environment pollution and ecological restoration (in Chinese). Science Press, Beijing

Wunder S (2007) The efficiency of payments for environmental services in tropical conservation. Conserv Biol 21:48–58

Wunder S, Engel S, Pagiola S (2008) Taking stock: a comparative analysis of payments for environmental services programs in developed and developing countries. Ecol Econ 65:834–852

Xiong Y, Wang KL, Lan WL, Qi H (2004) Evaluation of the lake recovery area eco-compensation in Dongting Lake Wetland. Acta Geogr Sin 59(5):772–780

Xu JT, Yin RS, Li Z, Liu C (2006a) China's ecological rehabilitation: unprecedented efforts, dramatic impacts, and requisite policies. Ecol Econ 57:595–607

Xu Z, Xu J, Deng X, Huang J, Uchida E, Rozelle S (2006b) Grain for Green versus Grain: conflict between food security and conservation set-aside in China. World Dev 34(1):130–148

Yin RS (2009) An integrated assessment of China's ecological restoration programs. Springer, Dordrecht

Yin R, Zhao M (2012) Ecological restoration programs and payments for ecosystem services as integrated biophysical and socioeconomic processes: China's experience as an example. Ecol Econ 73:56–65

Yu DY, Shi PJ, Han GY, Zhu WQ, Du SQ, Xun B (2011a) Forest ecosystem restoration due to a national conservation plan in China. Ecol Eng 37(9):1387–1397

Yu YH, Suo AN, Jiang N (2011b) Response of ecosystem service to landscape change in Panjin coastal wetland. Proc Earth Planet Sci 2:340–345

Zhao J, Yang K (2007) Valuation of ecosystem services: characteristics, issues and prospects. Acta Ecol Sin 27(1):346–356

Zhao B, Kreuter U, Li B, Ma Z, Chen J, Nakagoshi N (2004) An ecosystem service value assessment of land-use change on Chongming Island, China. Land Use Policy 21:139–148
Acknowledgments
The work was funded by National Key Research and Development Project (No. 2016YFC0502103) and the National Natural Sciences Foundation of China (41571173).
Additional information
Handled by Vinod Tewari, The Energy and Resources Institute (TERI) University; National Institute of Urban Affairs, India.
About this article
Cite this article
Liu, S., Dong, Y., Cheng, F. et al. Practices and opportunities of ecosystem service studies for ecological restoration in China. Sustain Sci 11, 935–944 (2016). https://doi.org/10.1007/s11625-016-0390-4
Received:

Accepted:

Published:

Issue Date:
Keywords
Ecological restoration

Ecosystem service

Payments for ecosystem services

Valuation

China