Abstract
Interest in climate engineering research has grown rapidly owing to the slow progress of international climate negotiations. As some scientists are proposing to expand research and conduct field tests, there is an emerging debate about whether and how it should proceed. It is widely accepted both by the supporters and critics that public engagement from the early stage of research is necessary. Nonetheless, most, if not all, of existing research projects of climate engineering were designed predominantly by experts. To produce socially relevant knowledge, and hence, pursue transdisciplinary research that integrates interdisciplinary research and public engagement, it is desirable for scientists to decide together with the public on what kind of research should be done. In this paper, we both as Japanese scientists and stakeholders collaboratively identify 40 socially relevant research questions on climate engineering with a particular emphasis on stratospheric aerosol injection, using a method designed to encourage science–policy collaboration. While we acknowledge some methodological problems and the difficulty in obtaining active participation from stakeholders, the list of identified questions covers broad interdisciplinary perspectives and diverse interests, and may provide an important foundation for future transdisciplinary research on climate engineering. Given the dynamic nature of climate change and policy responses, research agendas should be periodically and iteratively reviewed and updated through transdisciplinary processes.
This is a preview of subscription content, log in to check access.
Access options
Buy single article
Instant access to the full article PDF.
US$ 39.95
Price includes VAT for USA
Subscribe to journal
Immediate online access to all issues from 2019. Subscription will auto renew annually.
US$ 99
This is the net price. Taxes to be calculated in checkout.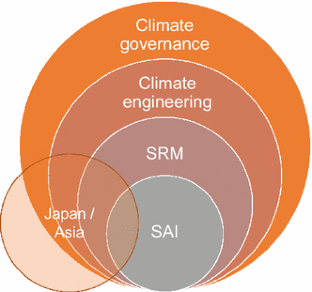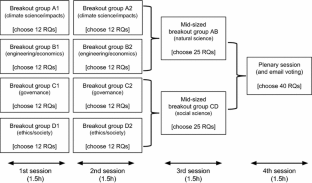 Notes
1.

While these reports all recognize mitigation and adaptation as first priorities, it is still significant that climate engineering has become an important part of the scientific discourse.

2.

Here we use the word "scientists" in a broad sense, which means that it includes not only natural scientists and engineers, but also social scientists and humanity scholars.

3.

Although we lump SRM and CDR/GGR together in this paper by following the previous literature, these two are more increasingly treated separately, because there are little common features between them (e.g., Boucher et al. 2014).

4.

Although not an SRM strictly speaking, there is another related technique which aims at thinning cirrus clouds to reduce warming effects of high clouds.

5.

The cost would nonlinearly increase with radiative forcing because of the particle size growth. In addition, the low cost may not be an inherent advantage and is the reason for the concern about unilateral deployment.

6.

Despite its naming, moral hazard is not limited to ethical issues and also concerned with risk management (Lin 2013).

7.

An exception is Schäfer et al. (2015).

8.

Two individuals in stakeholder groups (one from government ministries, the other from media) were also invited, but cancelled their attendance on the day of the workshop for personal reasons.

9.

Some researcher participants regularly consult with governments and participate in the science–policy interface, and the invited government agencies are closely related to funding agencies. We did not reach out to development organizations, because this workshop focused mostly on Japan, a developed country.
References
Barrett S (2014) Solar geoengineering's Brave New World: thoughts on the governance of an unprecedented technology. Rev Environ Econ Policy 8:249–269

Bodansky D (2013) The who, what, and wherefore of geoengineering governance. Clim Change 121(3):539–551

Boucher O, Forster PM, Gruber N, Ha-Duong M, Lawrence MG, Lenton TM, Maas A, Vaughan NE (2014) Rethinking climate engineering categorization in the context of climate change mitigation and adaptation. Wiley Interdiscipl Rev Clim Change 5(1):23–35

Cairns RC (2014) Climate geoengineering: issues of path-dependence and socio-technical lock-in. Wiley Interdiscipl Rev Clim Change 5(5):649–661

Caldeira K, Ricke KL (2013) Prudence on solar climate engineering. Nature Clim Change 3(11):941–942

Carr W, Preston CJ, Yung L, Szerszynski B, Keith DW, Mercer AM (2013) Public engagement on solar radiation management and why it needs to happen now. Clim Change 121(3):567–577

Caviezel C, Revermann C (2014) Climate engineering. Kann und soll man die Erderwärmung technisch eindämmen? edition sigma, Berlin, Germany

Clark WC (2007) Sustainability Science: a room of its own. Proc Natl Acad Sci USA 104:1737–1738

Corner A, Pidgeon N, Parkhill K (2012) Perceptions of geoengineering: public attitudes, stakeholder perspectives, and the challenge of "upstream" engagement. Wiley Interdiscipl Rev Clim Change 3(5):451–466

Crutzen PJ (2006) Albedo enhancement by stratospheric sulfur injections: a contribution to resolve a policy dilemma? Clim Change 77(3):211–220

Fiorino DJ (1990) Citizen participation and environmental risk: a survey of institutional mechanisms. Sci Technol Hum Val 15(2):226–243

Funtowicz SO, Ravetz JR (1993) Science for the post-normal age. Futures 25(7):739–755

Future Earth (2013) Future Earth initial design: report of the Transition Team. International Council for Science (ICSU), Paris, France

Future Earth (2014) Future Earth Strategic Research Agenda 2014. International Council for Science (ICSU). France, Paris

Gardiner S (2010) Is "arming the future" with geoengineering really the lesser evil? Some doubts about the ethics of intentionally manipulating the climate system. In: Gardiner SM, Caney S, Jamieson D, Shue H (eds) Climate ethics: essential readings. Oxford University Press, Oxford

Hamilton C (2013) Earthmasters: the dawn of the age of climate engineering. Yale University Press, New Haven

Horton JB (2011) Geoengineering and the myth of unilateralism: pressures and prospects for international cooperation. Stanford J Law Sci Policy IV(May):56–69

Hulme M (2014) Can science fix climate change?. Polity Press, Cambridge

Ingram JSI, Wright HL, Foster L, Aldred T, Barling D, Benton TG, Berryman PM, Bestwick CS, Bows-Larkin A, Brocklehurst TF, Buttriss J, Casey J, Collins H, Crossley DS, Dolan CS, Dowler E, Edwards R, Finney KJ, Fitzpatrick JL, Fowler M, Garrett DA, Godfrey JE, Godley A, Griffiths W, Houlston EJ, Kaiser MJ, Kennard R, Knox JW, Kuyk A, Linter BR, Macdiarmid JI, Martindale W, Mathers JC, McGonigle DF, Mead A, Millar SJ, Miller A, Murray C, Norton IT, Parry S, Pollicino M, Quested TE, Tassou S, Terry LA, Tiffin R, van de Graaf P, Vorley W, Westby A, Sutherland WJ (2013) Priority research questions for the UK food system. Food Security 5(5):617–636

Intergovernmental Panel on Climate Change (IPCC) (2014) Climate Change 2014: Synthesis Report. Contribution of Working Groups I, II and III to the Fifth Assessment Report of the Intergovernmental Panel on Climate Change [Core Writing Team, Pachauri RK, Meyer LA (eds)]. IPCC, Geneva, Switzerland

Jahn T, Bergmann M, Keil F (2012) Transdisciplinarity: between mainstreaming and marginalization. Ecol Econ 79:1–10

Jones A, Haywood JM, Alterskjær K, Boucher O, Cole JNS, Curry CL, Irvine PJ, Ji D, Kravitz B, Kristjánsson JE, Moore JC, Niemeier U, Robock A, Schmidt H, Singh B, Tilmes S, Watanabe S, Yoon J-H (2013) The impact of abrupt suspension of solar radiation management (termination effect) in experiment G2 of the Geoengineering Model Intercomparison Project (GeoMIP). J Geophys Res Atmos 118(17):9743–9752

Kates RW, Clark WC, Corell R, Hall JM, Jaeger CC, Lowe I, McCarthy JJ, Schellnhuber HJ, Bolin B, Dickson NM, Faucheux S, Gallopin GC, Grübler A, Huntley B, Jäger J, Jodha NS, Kasperson RE, Mabogunje A, Matson P, Mooney H, Moore BM III, O'Riordan T, Svedin U (2001) Sustainability science. Science 292(5517):641–642

Keith D (2013) A case for climate engineering. MIT Press, Cambridge

Keith DW, MacMartin DG (2015) A temporary, moderate and responsive scenario for solar geoengineering. Nature Clim Change 5(3):201–206

Keith DW, Parson E, Morgan MG (2010) Research on global sun block needed now. Nature 463(7280):426–427

Klenk NL, Meehan K, Mendez Pinel SL, Lima PT, Kammen DM (2015) Stakeholders in climate science: beyond lip service? Science 350:743–744

Komiyama H, Takeuchi K (2006) Sustainability science: building a new discipline. Sustain Sci 1(1):1–6

Kosugi T (2013) Fail-safe solar radiation management geoengineering. Mitig Adapt Strategies Glob Chang 18:1141–1166

Kravitz B, Caldeira K, Boucher O, Robock A, Rasch PJ, Alterskjær K, Karam DB, Cole JNS, Curry CL, Haywood JM, Irvine PJ, Ji D, Jones A, Kristjánsson JE, Lunt DJ, Moore JC, Niemeier U, Schmidt H, Schulz M, Singh B, Tilmes S, Watanabe S, Yang S, Yoon J-H (2013) Climate model response from the Geoengineering Model Intercomparison Project (GeoMIP). J Geophys Res Atmos 118(15):8320–8332

Lang DJ, Wiek A, Bergmann M, Stauffacher M, Martens P, Moll P, Swilling M, Thomas CJ (2012) Transdisciplinary research in sustainability science: practice, principles, and challenges. Sustain Sci 7(S1):25–43

Lin A (2013) Does geoengineering present a moral hazard? Ecol Law Q 40(3):673–712

Linnér BO, Wibeck V (2015) Dual high-stake emerging technologies: a review of the climate engineering research literature. Wiley Interdiscipl Rev Clim Change 6(2):255–268

Lloyd ID, Oppenheimer M (2014) On the design of an international governance framework for geoengineering. Glob Environ Polit 14(2):45–63

Long JCS, Loy F, Morgan MG (2015) Start research on climate engineering. Nature 518(7537):29–31

Markusson N, Ginn F, Ghaleigh NS, Scott V (2014) "In case of emergency press here": framing geoengineering as a response to dangerous climate change. Wiley Interdiscipl Rev Clim Change 5(2):281–290

McClellan J, Keith DW, Apt J (2012) Cost analysis of stratospheric albedo modification delivery systems. Environ Res Lett 7(3):034019

McCormack CG, Born W, Irvine PJ, Archterberg EP, Amano T, Ardron J, Foster PN, Gattuso J-P, Hawkins SJ, Hendy E, Kissling WD, Lluch-Cota SE, Murphy EJ, Ostle N, Owens NJP, Perry RI, Pörtner HO, Scholes RJ, Schurr FM, Schweiger O, Settele J, Smith RK, Smith S, Thompson J, Tittensor DP, van Kleunen M, Vivian C, Vohland K, Warren R, Watkinson AR, Widdicombe S, Williamson P, Woods E, Blackstock JJ, Sutherland WJ (2016) Key impacts of climate engineering on biodiversity and ecosystems, with priorities for future research. J Integr Env Sci. doi:10.1080/1943815X.2016.1159578

National Research Council (NRC) (2015) Climate intervention: reflecting sunlight to cool earth. The National Academies Press, Washington DC, USA

Pahl-Wostl C, Giupponi C, Richards K, Binder C, de Sherbinin A, Sprinz D, Toonen T, van Bers C (2013) Transition towards a new global change science: requirements for methodologies, methods, data and knowledge. Environ Sci Policy 28:36–47

Parson EA, Keith DW (2013) End the deadlock on governance of geoengineering research. Science 339(6125):1278–1279

Pidgeon N, Parkhill K, Corner A, Vaughan N (2013) Deliberating stratospheric aerosols for climate geoengineering and the SPICE project. Nature Clim Change 3(5):451–457

Pitari G, Aquila V, Kravitz B, Robock A, Watanabe S, Cionni I, De Luca N, Di Genova G, Mancini E, Tilmes S (2014) Stratospheric ozone response to sulfate geoengineering: results from the Geoengineering Model Intercomparison Project (GeoMIP). J Geophys Res Atmos 119(5):2629–2653

Polk M (2015) Transdisciplinary co-production: designing and testing a transdisciplinary research framework for societal problem solving. Futures 65:110–122

Preston CJ (2013) Ethics and geoengineering: reviewing the moral issues raised by solar radiation management and carbon dioxide removal. Wiley Interdiscipl Rev Clim Change 4(1):23–37

Pretty J, Sutherland WJ, Ashby J, Auburn J, Baulcombe D, Bell M, Bentley J, Bickersteth S, Brown K, Burke J, Campbell H, Chen K, Crowley E, Crute I, Dobbelaere D, Edwards-Jones G, Funes-Monzote F, Godfray HCJ, Griffon M, Gypmantisiri P, Haddad L, Halavatau S, Herren H, Holderness M, Izac A, Jones M, Koohafkan P, Lal R, Lang T, McNeely J, Mueller A, Nisbett N, Noble A, Pingali P, Pinto Y, Rabbinge R, Ravindranath NH, Rola A, Roling N, Sage C, Settle W, Sha JM, Shiming L, Simons T, Smith P, Strzepeck K, Swaine H, Terry E, Tomich TP, Toulmin C, Trigo E, Twomlow S, Vis JK, Wilson J, Pilgrim S (2010) The top 100 questions of importance to the future of global agriculture. Int J Agr Sustain 8(4):219–236

Rayner S, Heyward C, Kruger T, Pidgeon N, Redgwell C, Savulescu J (2013) The Oxford Principles. Clim Change 121(3):499–512

Reynolds J (2015) A critical examination of the climate engineering moral hazard and risk compensation concern. Anthropocene Rev 2(2):174–191

Robock A (2008) 20 reasons why geoengineering may be a bad idea. Bul. Atomic Scientists 64:14–18

Robock, A (2014) Stratospheric aerosol geoengineering. Issues Env. Sci. Tech. (special issue "Geoengineering of the Climate System") 38:162–185

Robock A, Marquardt A, Kravitz B, Stenchikov G (2009) Benefits, risks, and costs of stratospheric geoengineering. Geophys Res Lett 36(19):L19703

Robock A, Bunzl M, Kravitz B, Stenchikov GL (2010) A test for geoengineering? Science 327(5965):530–531

Royal Society (2009) Geoengineering the climate: science, governance and uncertainty. Royal Society, London

Schäfer S, Irvine PJ, Hubert A-M, Reichwein D, Low S, Stelzer H, Maas A, Lawrence MG (2013) Field tests of solar climate engineering. Nature Clim Change 3(9):766–767

Schäfer S, Lawrence M, Stelzer H, Born W, Low S, Aaheim A, Adriázola P, Betz G, Boucher O, Carius A, Devine-Right P, Gullberg A T, Haszeldine S, Haywood J, Houghton K, Ibarrola R, Irvine P, Kristjansson J-E, Lenton T, Link JSA, Maas A, Meyer L, Muri H, Oschlies A, Proelß A, Rayner T, Rickels W, Ruthner L, Scheffran J, Schmidt H, Schulz M, Scott V, Shackley S, Tänzler D, Watson M, Vaughan N (2015) The European Transdisciplinary Assessment of Climate Engineering (EuTRACE): removing greenhouse gases from the atmosphere and reflecting sunlight away from earth. Funded by the European Union's Seventh Framework Programme under Grant Agreement 306993. Available online at http://www.iass-potsdam.de/sites/default/files/files/rz_150715_eutrace_digital_0.pdf

Scholz RW, Steiner G (2015a) The real type and ideal type of transdisciplinary processes: part I—theoretical foundations. Sustain Sci 10(4):527–544

Scholz RW, Steiner G (2015b) The real type and ideal type of transdisciplinary processes: part II—what constraints and obstacles do we meet in practice? Sustain Sci 10(4):653–671

Sillmann J, Lenton TM, Levermann A, Ott K, Hulme M, Benduhn F, Horton JB (2015) Climate emergencies do not justify engineering the climate. Nature Clim. Change 5:290–292

Stilgoe J, Owen R, Macnaghten P (2013) Developing a framework for responsible innovation. Res Policy 42(9):1568–1580

Stirling A (2008) Opening up" and "closing down. Sci Technol Hum Val 33(2):262–294

Stokes DE (1997) Pasteur's Quadrant: Basic Science and Technological Innovation. Brookings Institution, Washington, DC

Sutherland WJ, Armstrong-Brown S, Armsworth PR, Tom B, Brickland J, Campbell CD, Chamberlain DE, Cooke AI, Dulvy NK, Dusic NR, Fitton M, Freckleton RP, Godfray HCJ, Grout N, Harvey HJ, Hedley C, Hopkins JJ, Kift NB, Kirby J, Kunin WE, MacDonald DW, Marker B, Naura M, Neale AR, Oliver T, Osborn D, Pullin AS, Shardlow MEA, Showler DA, Smith PL, Smithers RJ, Solandt J, Spencer J, Spray CJ, Thomas CD, Thompson J, Webb SE, Yalden DW, Watkinson AR (2006) The identification of 100 ecological questions of high policy relevance in the UK. J Appl Ecol 43(4):617–627

Sutherland WJ, Fleishman E, Mascia MB, Pretty J, Rudd MA (2011) Methods for collaboratively identifying research priorities and emerging issues in science and policy. Method Ecol Evol 2(3):238–247

Sutherland WJ, Bellingan L, Bellingham JR, Blackstock JJ, Bloomfield RM, Bravo M, Cadman VM, Cleevely DD, Clements A, Cohen AS, Cope DR, Daemmrich AA, Devecchi C, Anadon LD, Denegri S, Doubleday R, Dusic NR, Evans RJ, Feng WY, Godfray HCJ, Harris P, Hartley SE, Hester AJ, Holmes J, Hughes A, Hulme M, Irwin C, Jennings RC, Kass GS, Littlejohns P, Marteau TM, McKee G, Millstone EP, Nuttall WJ, Owens S, Parker MM, Pearson S, Petts J, Ploszek R, Pullin AS, Reid G, Richards KS, Robinson JG, Shaxson L, Sierra L, Smith BG, Spiegelhalter DJ, Stilgoe J, Stirling A, Tyler CP, Winickoff DE, Zimmern RL (2012) A collaboratively-derived science-policy research agenda. PLoS ONE 7(3):3–7

Sutherland WJ, Goulden C, Bell K, Bennett F, Burall S, Bush M, Callan S, Catcheside K, Corner J, D'arcy CT, Dickson M, Dolan JA, Doubleday R, Eckley BJ, Foreman ET, Foster R, Gilhooly L, Gray AM, Hall AC, Harmer M, Hastings A, Johnes C, Johnstone M, Kelly P, Kenway P, Lee N, Moore R, Ouchikh J, Plunkett J, Rowlingson K, Paul AS, Sefton TAJ, Shaheen F, Sodha S, Stearn J, Stewart K, Stone E, Tinsley M, Tomsett RJ, Tyrer P, Unwin J, Wall DG, Wollner PKA (2013) 100 Questions: identifying research priorities for poverty prevention and reduction. J Poverty Soc Just 21(3):189–205

Tilmes S, Fasullo J, Lamarque J-F, Marsh DR, Mills M, Alterskjær K, Muri H, Kristjánsson JE, Boucher O, Schulz M, Cole JNS, Curry CL, Jones A, Haywood J, Irvine PJ, Ji D, Moore JC, Karam DB, Kravitz B, Rasch PJ, Singh B, Yoon J-H, Niemeier U, Schmidt H, Robock A, Yang S, Watanabe S (2013) The hydrological impact of geoengineering in the Geoengineering Model Intercomparison Project (GeoMIP). J Geophys Res Atmos 118(19):11036–11058

Tuana N, Sriver RL, Svoboda T, Olson R, Irvine PJ, Haqq-Misra J, Keller K (2012) Towards integrated ethical and scientific analysis of geoengineering: a research agenda. Ethics Policy Environ 15(2):136–157

Victor DG, Morgan MG, Apt J, Steinbruner J, Ricke K (2009) The geoengineering option: a last resort against global warming? Foreign Aff 88(2):64–76
Acknowledgments
We sincerely express our gratitude to William Sutherland for spending time with us and sharing his insights. We thank Kayoko Namba for her excellent logistical and research assistance. We thank Yosuke Arino and Ryo Moriyama for their advice on the workshop design. We also extend our gratitude to all of the contributors to the initial set of research questions. We thank two anonymous reviewers for their constructive criticisms. This project was supported by the Japan Science and Technology Agency (JST) Research Institute of Science and Technology for Society (RISTEX) as part of the Future Earth project.
Additional information
Handled by Braden Allenby, Arizona State University, USA.
Electronic supplementary material
Below is the link to the electronic supplementary material.
About this article
Cite this article
Sugiyama, M., Asayama, S., Kosugi, T. et al. Transdisciplinary co-design of scientific research agendas: 40 research questions for socially relevant climate engineering research. Sustain Sci 12, 31–44 (2017). https://doi.org/10.1007/s11625-016-0376-2
Received:

Accepted:

Published:

Issue Date:
Keywords
Transdisciplinary research

Co-design of research agenda

Climate engineering

Stratospheric aerosol injection

Public engagement