Abstract
A promising approach for addressing sustainability problems is to recognize the unique conditions of a particular place, such as problem features and solution capabilities, and adopt and adapt solutions developed at other places around the world. Therefore, research and teaching in international networks becomes critical, as it allows for accelerating learning by sharing problem understandings, successful solutions, and important contextual considerations. This article identifies eight distinct types of research and teaching collaborations in international networks that can support such accelerated learning. The four research types are, with increasing intensity of collaboration: (1) solution adoption; (2) solution consultation; (3) joint research on different problems; and (4) joint research on similar problems. The four teaching types are, with increasing intensity of collaboration: (1) adopted course; (2) course with visiting faculty; (3) joint course with traveling faculty; and (4) joint course with traveling students. The typology is illustrated by extending existing research and teaching projects on urban sustainability in the International Network of Programs in Sustainability, with partner universities from Europe, North America, Asia, and Africa. The article concludes with challenges and strategies for extending individual projects into collaborations in international networks.
Access options
Buy single article
Instant access to the full article PDF.
USD 39.95
Price excludes VAT (USA)
Tax calculation will be finalised during checkout.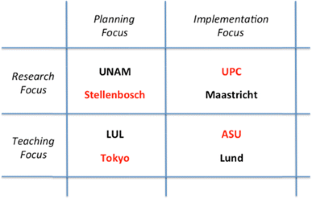 References
Ayala J (2009) Blended learning as a new approach to social work education. J Soc Work Educ 45(2):277–288

Brundiers K, Wiek A, Redman CL (2010) Real-world learning opportunities in sustainability: from classroom into the real world. Int J Sustain High Educ 11(4):308–324

Brundiers K, Wiek A, Kay K (2013) The role of transacademic interface managers in transformational sustainability research and education. Sustainability 5(11):4614–4636

Catálogo de Iniciativas de Innovación Social para la Superación de la Pobreza Extrema (2013) Agencia Nacional para la superación de la Pobreza Extrema (ANSPE), Bogotá, Colombia. ISBN 978-958-98374-6-7

Cayuela A, Robinson J, Campbell A, Coops N, Munro A (2013) Integration of operational and academic efforts in sustainability at the University of British Columbia. In: Caeiro S, Leal Filho W, Jabbour C, Azeiteiro UM (eds) Sustainability assessment tools in higher education institutions. Springer, Cham

Corcoran PB, Wals AE (2004) Higher education and the challenge of sustainability. Kluwer, Dordrecht

Crow M (2010) Organizing teaching and research to address the grand challenges of sustainable development. Bioscience 60(7):488–499

Davies M, Swilling M (2015). Intermediaries and learning in sustainability-oriented urban transitions: a transdisciplinary case study from Stellenbosch Municipality. Masters thesis, Stellenbosch University. http://markswilling.co.za/wp-content/uploads/2015/09/Davies_Swilling_C4.pdf

Downes S (2007) Learning networks in practice. In: Ley D (ed) Emerging technologies for learning. BECTA, London, pp 19–27

Forrest N, Wiek A (2014) Learning from success—towards evidence-informed sustainability transitions in communities. Environ Innov Soc Transit 12:66–88

Funtowicz SO, Ravetz JR (1993) The emergence of post-normal science. In: Science, politics and morality. Springer, Netherlands, pp 85–123

Kates R, Clark WC, Hall JM, Jaeger C, Lowe I, McCarthy JJ, Schellnhuber HJ, Bolin B, Dickson NM, Faucheux S, Gallopin GC (2001) Sustainability science. Science 292(5517):641–642

Koester RJ, Eflin J, Vann J (2006) Greening of the campus: a whole-systems approach. J Clean Prod 14(9):769–779

König A, Evans J (2013) Experimenting for sustainable development? Living laboratories, social learning, and the role of the university. In: König A (ed) Regenerative sustainable development of universities and cities—the role of living laboratories. Edward Elgar, Cheltenham, pp 1–24

Lang DJ, Wiek A (2013) The role of universities in fostering urban and regional sustainability. In: Mieg HA, Töpfer K (eds) Institutional and social innovation for sustainable urban development. Earthscan, London, pp 393–411

Leuphana University of Lüneburg (2014) The global classroom. http://www.leuphana.de/studium/bachelor/komplementaerstudium/global-classroom.html

Leuphana University of Lüneburg (2015) Global sustainability science. https://www.leuphana.de/no_cache/studium/master/global-sustainability-science.html

Lüdeke MK, Petschel-Held G, Schellnhuber HJ (2004) Syndromes of global change: the first panoramic view. GAIA-Ecol Perspect Sci Soc 13(1):42–49

Montoya J, Cuesta O, Flecha O, Viade D, Gallegos A, Morato J (2011) Moravia como ejemplo de transformación de áreas urbanas degradadas: tecnologías apropiadas para la restauración integral de cuencas hidrográficas. NOVA 9–15, 38–49, iSSN 1794-2470

Morató J (ed) (2013) Reciclar ciudad. Repensar la transformación de las ciudades. Cátedra UNESCO de Sostenibilidad de la UPC y Univ. Nacional Autónoma de Mexico. Kitbook, Barcelona. ISBN 978-84-941313-4-9

Morató J, Pires Carneiro A, Ortiz A (2011) Sustainable technologies for water treatment. In: Mulder K, Ferrer D, van Lente H (eds) What is sustainable technology? Perceptions, paradoxes and possibilities, chap 12. Greenleaf Publishing, pp 188–210. ISBN 978-1-906093-50-1

Preece J, Blunt R, Heagney M, Popov N (2000) Restructuring to broaden access: a comparative study. In: Thomas E, Cooper M (eds) Changing the culture of the campus: towards an inclusive higher education. Staffordshire University Press, Stoke-on-Trent, Staffordshire, pp 104–116

Reeger BJ, Bunders JFG (2009) Knowledge co-creation: interaction between science and society. A transdisciplinary approach to complex societal issues. RMNO, The Netherlands

Restrepo JIM (2011) Moravia como ejemplo de transformación de áreas urbanas degradadas: tecnologías apropiadas para la restauración integral de cuencas hidrográficas. NOVA 9(15)

Rockström J, Steffen W, Noone K, Persson Å, Chapin FS, Lambin EF et al (2009) A safe operating space for humanity. Nature 461(7263):472–475

Rovai A, Jordan HM. (2004) Blended learning and sense of community: A comparative analysis with traditional and fully online graduate courses. Intl Rev of Res Open Distrib Learning, 5(2)

Savan B, Sider D (2003) Contrasting approaches to community-based research and a case study of community sustainability in Toronto, Canada. Local Environ 8(3):303–316

Talwar S, Wiek A, Robinson J (2011) User engagement in sustainability research. Sci Public Policy 38(59):379–390

Trencher G, Bai X (2016) The role of university partnerships in urban sustainability experiments: evidence from Asia. In: Brauch HG, Spring U, Grin J, Scheffran J (eds) Sustainability transition and sustainable peace handbook. Springer, Berlin (in press)

Trencher G, Bai X, Evans J, McCormick K, Yarime M (2014a) University partnerships for co-designing and co-producing urban sustainability. Glob Environ Change 28:153–165

Trencher G, Yarime M, McCormick K, Doll CNH, Kraines S, Kharrazi A (2014b) Beyond the third mission: exploring the emerging university function of co-creation for sustainability. Sci Public Policy 41:151–179

Valkering P, Beumer C, De Kraker J, Ruelle C (2013) An analysis of learning interactions in a cross-border network for sustainable urban neighbourhood development. J Clean Prod 49:85–94

Wiek A, Kay B (2015) Learning while transforming—solution-oriented learning for urban sustainability in Phoenix, Arizona. Curr Opin Environ Sustain 16:29–36

Wiek A, Ness B, Brand FS, Schweizer-Ries P, Farioli F (2012) From complex systems analysis to transformational change: a comparative appraisal of sustainability science projects. Sustain Sci 7(Suppl 1):5–24

Wiek A, Bernstein MJ, Laubichler M, Caniglia G, Minteer B, Lang DJ (2013) A global classroom for international sustainability education. Creative Educ 4(04):19

Wiek A, Harlow J, Melnick R, van der Leeuw S, Fukushi K, Takeuchi K, Farioli F, Yamba F, Blake A, Geiger C, Kutter R (2015) Sustainability science in action—a review of the state of the field through case studies on disaster recovery, bioenergy, and precautionary purchasing. Sustain Sci 10(1):17–31

Wiek A, Kay B, Forrest N (2016) Worth the trouble?! An evaluative scheme for urban sustainability transition labs (USTL) and an application to the USTL in Phoenix, Arizona. In: Frantzeskaki N, Coenen L, Broto C, Loorbach D (eds) Urban sustainability transitions. Routledge series on sustainability transitions. Routledge, London (in press)

Yarime M, Trencher G, Mino T, Scholz RW, Olsson L et al (2012) Establishing sustainability science in higher education institutions: towards an integration of academic development, institutionalization, and stakeholder collaborations. Sustain Sci 7(1):101–113

Zilahy G, Huisingh D (2009) The roles of academia in regional sustainability initiatives. J Clean Prod 17:1057–1066
Acknowledgments
The authors express their gratitude to all those who supported and participated in the 2015 annual meeting and workshop of the International Network of Programs in Sustainability (NEPS). The research and teaching projects, ideas, and enthusiasm for collaboration shared during the workshop were critical inputs to this article. Thank you especially to the students, faculty, and administration staff at Leuphana University of Lüneburg, who made this workshop possible.
Additional information
Handled by Osamu Saito, United Nations University Institute for the Advanced Study of Sustainability (UNU-IAS), Japan.
About this article
Cite this article
Withycombe Keeler, L., Wiek, A., Lang, D.J. et al. Utilizing international networks for accelerating research and learning in transformational sustainability science. Sustain Sci 11, 749–762 (2016). https://doi.org/10.1007/s11625-016-0364-6
Received:

Accepted:

Published:

Issue Date:

DOI: https://doi.org/10.1007/s11625-016-0364-6
Keywords