Abstract
Mahalo (thank you) for reading our paper. What you will find is an attempt to synthesize and compare the strengths and weaknesses of Indigenous and Western perspectives on sustainability and a proposed path leading to the integration of these two perspectives into a sustainability framework that considers resources as much more than commodities. We enter into this discussion with 50 years of experience between us, both of us products of our experimentation with the integration that we are advocating. From this experimentation, we have concluded that sacred relationship must be the foundation of any successful sustainability effort, with success achieved only when resource management practices and policies engage the spirit and are aligned with equitable and respectful interactions among human and non-human. By sacred, we refer to those sentiments, actions, and commitments that emerge from spirit-based relationships that are founded on love, respect, care, intimate familiarity, and reciprocal exchange. By spirit, we refer to that which gives life to the material body, the enigma that is our collective conscious, subconscious, and unconscious beings. In formulating this paper, we made three assumptions: (1) the need to shift our spiritual selves, and our collective weight and resulting ecological footprints, is fully evidenced by the failure of purely Western approaches to sustain the social and biophysical world around us; (2) each and every citizen of our planet contributes to both sustainability's advancement and its demise; and (3) by engaging the spirit and reclaiming sacredness in all our relationships, we can help move the Earth community towards her fullest potential of wellbeing. Our hope here is that we are able to grow the connections among a nascent but rapidly evolving transformational vision for sustainability, the enlightened thinking of contemporaries, and inspired ancestral knowledge. To facilitate the continued emergence of this transformative vision, we marry Western sustainability concepts to an Indigenous sacredness framework.
Access options
Buy single article
Instant access to the full article PDF.
US$ 39.95
Tax calculation will be finalised during checkout.
Subscribe to journal
Immediate online access to all issues from 2019. Subscription will auto renew annually.
US$ 79
Tax calculation will be finalised during checkout.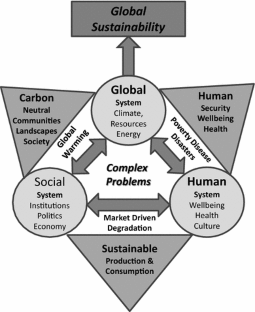 References
Abram D (1996) The spell of the sensuous. Vintage, New York

Berkes F (1999) Sacred ecology: traditional ecological knowledge and management systems. Taylor & Francis, Philadelphia, London

Berkes F (2007) Community-based conservation in a globalized world. Proc Nat Acad Sci 104:15188–15193

Berkes F, Colding J, Folke C (2000) Rediscovery of traditional ecological knowledge as adaptive management. Ecol Appl 10:1251–1262

Cajete G (1999) Look to the mountain; reflections on indigenous ecology. In: Cajete G (ed) A people's ecology: explorations in sustainable living, health, environment, agriculture, native traditions. Clear Light Publishers, Sante Fe

Chase A (1986) Playing god in yellowstone. The destruction of America's First National Park. Harcourt Brace and Co, New York

Crutzen PJ (2006) The "anthropocene". In: Ehlers E, Krafft T (eds) Earth system science in the anthropocene. Springer, Berlin, pp 13–18

Dirzo R, Young H, Galetti M, Ceballos G, Isaac N, Collen B (2014) Defaunation in the anthropocene. Science 345:401–406

Donatuto J, Grossman EE, Konovsky J, Grossman S, Campbell LW (2014) Indigenous community health and climate change: integrating biophysical and social science indicators. Coast Manag 42(4):355–373. doi:10.1080/08920753.2014.923140

Hawken P (2011) Blessed unrest. How the largest movement in the world came into being and why no one saw it coming. Penguin Books, Baltimore

Hessburg P, Reynolds K, Salter R, Dickinson J, Gaines W, Harrod R (2012) Landscape evaluation for restoration planning on the 46 Okanogan-Wenatchee National Forest. Sustainability, USA. doi:10.3390/su40x000x

Hobbs et al (2014) Managing the whole landscape: historical, hybrid, and novel ecosystems. Front Ecol Environ 10:557–564

Holling CS, Meffe GK (1996) Command and control and the pathology of natural resource management. Conserv Biol 10(2):328–337

Johnson J, Larsen S (2013) Deeper sense of place. OSU Press, Ohio

Komiyama H, Takeuchi K (2006) Sustainability science: building a new discipline. Sustain Sci 1:1–6

Lamb D, Erskine P, Parotta J (2005) Restoration of degraded tropical forest landscapes science. Science 310:1628–1632

Leopold A (1949) A sand county almanac, and sketches here and there. Oxford University Press, New York

Livingston D (1968) Some interstadial and postglacial pollen diagrams from eastern Canada. Ecol Monogr 38:87–125

Louv R (2006) Last child in the woods: saving our children from nature-deficit disorder. Algonquin Books, New York

Marris E (2011) Rambunctious garden: saving nature in a post-wild world. Bloomsbury, New York

McGregor DP, Morelli PT, Matsuoka JK, Minerbi L (2003) An ecological model of wellbeing. In: Becker HA, Vanclay F (eds) International handbook of social impact assessment: conceptual and methodological advances, chap 8. Edward Elgar Publishing, Inc, Cheltenham, pp 108–127. doi:10.4337/9781843768616.00019

Nash R (2014) Wilderness and the american mind. Yale University Press, London

Ostrom E (2009) A general framework for analyzing sustainability of social-ecological systems. Science 235:419–422

Root TL, Price JT, Hall KR, Schneider SH, Rosenzweig C, Pounds JA (2003) Fingerprints of global warming on wild animals and plants. Nature 421:57–60

Tallis H et al (2014) A call for inclusive conservation. Nature 515:27–28

Trenholm VC (1986) The arapahoe, our people. University of Oklahoma Press, Oklahoma

Vaughan MB (2014) 'Āina (land), that which feeds: researching community-based natural resource management at home. J Res Pract 10(2) (article N19)

Vaughan MB, Vitousek PM (2013) Mahele: sustaining communities through small-scale inshore fishery catch and sharing networks. Pac Sci 67:329–344. doi:10.2984/67.3.3

Vaughan-Lee L (2013) Spiritual ecology- the cry of the earth. The Golden Sufi Center Publishing, Inverness

Vignieri S (2014) Vanishing fauna: charting and reversing the decline. Science 345:392–395

Williams RA (1990) The American Indian in Western legal thought: The discourses of conquest. Oxford University Press, Oxford

Winthrop RH (2014) The strange case of cultural services: limits of the ecosystem services paradigm. Ecol Econ 108:208–214
Acknowledgments
This paper resulted from a 2012 National Science Funded workshop entitled: Weaving Indigenous and Sustainability Sciences: Diversifying our Methods. We thank our workshop host, Evergreen State College in Olympia, Washington; workshop organizers, especially Jay Johnson and Renee Pualani Fisher; and other workshop participants, who over the course of three days, provided much inspiration for this paper. We thank Paul Hessburg, Marla Emery, Tamara Ticktin, and Frank Lake for important insights into how integration of multiple knowledge systems can support efforts to foster sustainability. We thank Tamara Ticktin, Kealoha Kinney, Chris Heider, and an anonymous reviewer for helpful comments on earlier drafts of this manuscript.
Additional information
Handled by Renee Pualani Louis, The University of Kansas, USA.
About this article
Cite this article
Kealiikanakaoleohaililani, K., Giardina, C.P. Embracing the sacred: an indigenous framework for tomorrow's sustainability science. Sustain Sci 11, 57–67 (2016). https://doi.org/10.1007/s11625-015-0343-3
Received:

Accepted:

Published:

Issue Date:
Keywords
Hawaii

Aloha aina

Malama aina

Love

Relationship