Abstract
Many new forms of water governance are emerging in response to economic and social needs and wants, as well as water-related problems such as scarcity, injustice, and conflict. However, there is little evidence on how sustainable these governance regimes are, which would be critical for making progress toward sustainable and just water governance. In this article, we present the results of a transdisciplinary multi-criteria sustainability assessment of alternative governance regimes for Guanacaste Province, Costa Rica. The assessment specifies differences between sustainable and unsustainable governance regimes, while also pinpointing how the current water governance regime performs in comparison to those alternatives. The findings indicate that those governance regimes with just and deliberative stakeholder involvement, secure groundwater reserves, and healthy dry tropical ecosystems were considered sustainable and just. In contrast, the current state of water governance was found to be at high risk of digressing toward unsustainable systems where rural communities lack rights and influence, where economies favor agro-industry and high impact tourism at the expense of rural livelihoods, and where water scarcity overwhelms weak governance. This assessment study clarifies water sustainability goals, asserts the need for transformational change, and offers a pragmatic foundation for actions toward sustainable water governance.
Access options
Buy single article
Instant access to the full article PDF.
USD 39.95
Price includes VAT (USA)
Tax calculation will be finalised during checkout.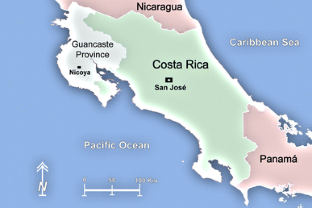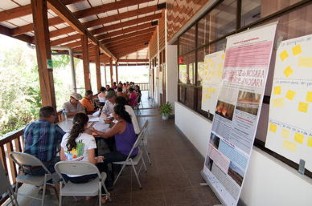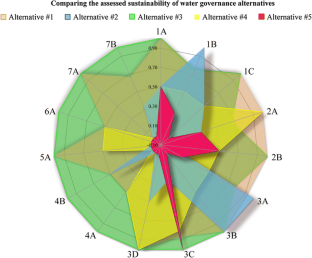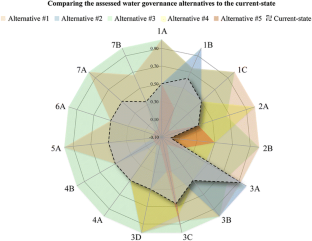 References
Anderson ER, Cherrington ER, Flores AI, Perez JB, Carrillo R, Sempris E (2008) Potential impacts of climate change on biodiversity in Central America, Mexico and the Dominican Republic. CATHALAC/USAID, Panama City, p 105

Barten F, Montiel PR, Espinoza E, Morales C (2002) Democratic governance—fairytale or real perspective? Lessons from Central America. Environ Urban 14(1):129–144

Bausch JC, Bojórquez-Tapia L, Eakin H (2014) Agro-environmental sustainability assessment using multicriteria decision analysis and system analysis. Sustain Sci 9:303–319. doi:10.1007/s11625-014-0243-y

Binder CL, Feola G, Steinberger JK (2010) Considering the normative, systemic, and procedural dimensions in indicator-based sustainability assessments in agriculture. Environ Impact Assess Rev 30:71–81. doi:10.1016/j.eiar.2009.06.002

Booth JA, Wade CJ, Walker TW (2010) Understanding Central America: global forces, rebellion, and change, 5th edn. Westview Boulder, CO

Casas-Zamora K (2011) The travails of development and democratic governance in Central America. Foreign Policy at Brookings, Policy Paper #28

Edelman M (1999) Peasants against globalization: rural social movements in Costa Rica. Stanford University Press, Stanford

Gasparatos A, El-Haram M, Horner M (2008) A critical review of reductionist approaches for assessing the progress toward sustainability. Environ Impact Assess Rev 28:286–311. doi:10.1016/j.eiar.2007.09.002

Gibson RB (2006) Sustainability assessment: basic components of a practical approach. Impact Assess Project Apprais 24(3):170–182. doi:10.3152/147154606781765147

Giordano M (2009) Global groundwater? Issues and solutions. Annu Rev Environ Resour 34(71–7):26. doi:10.1146/annurev.environ.030308.100251

Hajkowicz S, Higgins A (2008) A comparison of multiple criteria analysis techniques for water resources management. Eur J Oper Res 184:255–265. doi:10.1016/j.ejor.2006.10.045

INEC (2011) Costa Rica census. Instituto Nacional de Estadística y Censos de Costa Rica

Kiker GA, Bridges TS, Varghese A, Seager TP, Linkov I (2005) Application of multicriteria decision analysis in environmental decision making. Integr Environ Assess Manag 1(2):95–108

Kuzdas C, Wiek A (2014) Governance scenarios for addressing water conflicts and climate change impacts. Environ Sci Policy 42:181–196. doi:10.1016/j.envsci.2014.06.007

Kuzdas C, Yglesias M, Warner B (2013) Governing Costa Rica's Water Resources. Solut J 4(4):31–36. http://wwwthesolutionsjournal.com/node/23918

Kuzdas C, Wiek A, Warner B, Vignola R, Morataya R (2014) Sustainability appraisal of water governance regimes: the case of Guanacaste, Costa Rica. Environ Manag 54(2):205–222. doi:10.1007/s00267-014-0292-0

Kuzdas C, Wiek A, Warner B, Vignola R, Morataya R (2015a) Integrated and participatory analysis of water governance regimes: the case of the Costa Rican dry tropics. World Dev 66:254–268. doi:10.1016/j.worlddev.2014.08.018

Kuzdas C, Warner B, Wiek A, Ygelsias M, Vignola R, Ramírez-Cover A (2015b) Identifying the potential of governance regimes to aggravate or mitigate water conflicts in regions threatened by climate change. School of Sustainability working paper, Arizona State University

Lahdelma R, Salminen P, Hokkanen J (2000) Using multicriteria methods in environmental planning and management. Environ Manag 26(6):595–605. doi:10.1007/s002670010118

Larson KL, Wiek A, Keeler LW (2013) A comprehensive sustainability appraisal of water governance in Phoenix, AZ. J Environ Manag 116:58–71

Madrigal R, Alpízar F, Schlüter A (2011) Determinants of performance of community-based drinking water organizations. World Dev 39(9):1663–1675

Mata-Blanco A (2014) ¡Defensa el agua!, El grito Guanacasteco. La Nación: Revista Dominical (23 March 2014). http://www.nacion.com/ocio/revista-dominical/Defensa-agua-grito-guanacasteco_0_1404059600.html

Messner F, Zwirner O, Karkuschke M (2006) Participation in multi-criteria decision support for the resolution of a water allocation problem in the Spree River Basin. Land Use Policy 23:63–75. doi:10.1016/j.landusepol.2004.08.008

Munda G (2004) Social multi-criteria evaluation: methodological foundations and operational consequences. Eur J Oper Res 158:662–677. doi:10.1016/S0377-2217(03)00369-2

Nastar M (2014) What drives the urban water regime? An analysis of water governance arrangements in Hyderabad, India. Ecol Soc 19(2):57. doi:10.5751/ES-06570-190257

Ness B, Urbel-Piirsalu E, Anderberg S, Olsson L (2007) Categorizing tools for sustainability assessment. Ecol Econ 60:498–508. doi:10.1016/j.ecolecon.2006.07.023

Pahl-Wostl C, Holtz G, Kastens B, Knieper C (2010) Analyzing complex water governance regimes: the management and transition framework. Environ Sci Policy 13:571–581. doi:10.1016/j.envsci.2010.08.006

Proctor W, Drechsler M (2006) Deliberative multicriteria evaluation. Environ Plan C 24:169–190. doi:10.1068/c22s

Programa Estado de la Nación (2013). Decimonoveno Informe Estado de la Nación en Desarrollo Humano Sostenible. San José, Programa Estado de la Nación, p 430. http://www.estadonacion.or.cr/estado-nacion/informe-actual

Ramírez-Cover A (2007) Conflictos socioambientales y recursos hídricos en guanacaste; una descripción desde el cambio en el estilo de desarrollo (1997–2006). Anuario De Estudios Centroamericanos, pp 359–385

Rogers P (2002) Water governance in Latin America and the Caribbean. Presentation for Inter-American Development Bank. March 7, Fortaleza, Brazil

Rogers P, Hall AW (2003) Effective water governance. Global Water Partnership Technical Committee, Sweden

Sánchez-Jiménez A, Morales-Ramírez A, Samper-Villarreal J, Sánchez-Noguera C (2014) Percepción comunitaria y procesos de Gestión Integrada de Zonas Costeras en el Pacífico Norte de Costa Rica. Rev Biol Trop 62(Suppl 4):139–149

Schneider F, Rist S (2014) Envisioning sustainable water futures in a transdisciplinary learning process: combining normative, explorative, and participatory scenario approaches. Sustain Sci 9(4):463–481. doi:10.1007/s11625-013-0232-6

Schneider F, Bonriposi M, Graefe O et al (2014) Assessing the sustainability of water governance systems: the sustainability wheel. J Environ Plan Manag. doi:10.1080/09640568.2014.938804

Sheate WR, do Partidário MR, Byron H, Bina O, Dagg S (2008) Sustainability assessment of future scenarios: methodology and application to mountain areas of Europe. Environ Manag 41:282–299. doi:10.1007/s00267-007-9051-9

Straton AT, Jackson S, Marinoni O, Proctor W, Woodward E (2011) Exploring and evaluating scenarios for a river catchment in Northern Australia using scenario development, multi-criteria analysis and a deliberative process as a tool for water planning. Water Resour Manag 25(1):141–164

Warner BP, Kuzdas C (2015) Manufactured global change risk pathways in industrial-based agrarian development. Clim Dev (in press)

Warner BP, Kuzdas C, Yglesias MG, Childers DL (2015) Limits to adaptation to interacting global change risks among smallholder rice farmers in Northwest Costa Rica. Glob Environ Chang 30:101–112. doi:10.1016/j.gloenvcha.2014.11.002

Wiek A, Binder C (2005) Solution spaces for decision-making—A sustainability assessment tool for city-regions. Environ Impact Assess Rev 25(6):589–608

Wiek A, Lang DJ (2015) Transformational sustainability research methodology. In: Heinrichs H, Martens P, Michelsen G, Wiek A (eds) Sustainability science—an introduction. Springer, Berlin, New York

Wiek A, Larson KL (2012) Water, people, and sustainability—a systems framework for analyzing and assessing water governance regimes. Water Resour Manag 26(11):3153–3171. doi:10.1007/s11269-012-0065-6

Wiek A, Gasser L, Siegrist M (2009) Systemic scenarios of nanotechnology: sustainable governance of emerging technologies. Futures 41(5):284–300. doi:10.1016/j.futures.2008.11.016

Wiek A, Ness B, Brand FS, Schweizer-Ries P, Farioli F (2012) From complex systems analysis to transformational change: a comparative appraisal of sustainability science projects. Sustain Sci 7(1):5–24. doi:10.1007/s11625-011-0148-y

Zeleny M (1973) Compromise programming. In: Cocharane JL, Zeleny M (eds) Multiple criteria decision making. University of South Carolina Press, Columbia, pp 262–301
Acknowledgments
We are thankful for our many partners and collaborators in Guanacaste. The comments from two anonymous reviewers improved this article. The U.S. National Science Foundation (Award #1227305) and a U.S. Fulbright fellowship (awarded to Christopher Kuzdas) supported research presented here. Raffaele Vignola acknowledges support from the International G8 Belmont Forum Initiative on Freshwater (FuturAgua Project, G8MUREFU3FP-2200-139). Any opinions, findings, and conclusions or recommendations expressed in this material are those of the authors and do not reflect the views of the U.S. National Science Foundation or other sponsors.
Additional information
Handled by Zafar Adeel, UNU-International Network on Water, Environment and Health (INWEH), Canada.
About this article
Cite this article
Kuzdas, C., Warner, B., Wiek, A. et al. Sustainability assessment of water governance alternatives: the case of Guanacaste Costa Rica. Sustain Sci 11, 231–247 (2016). https://doi.org/10.1007/s11625-015-0324-6
Received:

Accepted:

Published:

Issue Date:
Keywords
Sustainability assessment

Multi-criteria decision analysis

Scenarios

Community planning

Water justice

Central America