Abstract
Cocoa farming has been a major driver of deforestation in West Africa, notably in Côte d'Ivoire, the world's leading cocoa producer. Cocoa has been a "pioneer crop" that was grown after forest clearing, and instead of replanting aging plantations, farmers usually migrated to the forest frontiers to establish a new cocoa farm. During the second half of the twentieth century, the cocoa frontier moved from the drier east to the wetter southwest of the country, fueled by massive immigration of prospective cocoa farmers from the savanna. It has been argued that the climate gradient was a major driver of these east–west migrations and that cocoa farmers, by replacing forest with farm land over vast areas, contributed to the further drying of the climate in a positive feedback cycle. If this were the case, then a hotter and drier future climate would likely continue to push cocoa farmers into the wetter southwest of the sub-continent, with the last forest reserves of southwestern Côte d'Ivoire and Liberia as the only remaining destinations. Based on an analysis of long-term rainfall measurements in major cocoa growing areas of Côte d'Ivoire and interviews with cocoa farmers about their history and motives of migration, we argue that climate and drought have been supporting factors, but not usually the main drivers of cocoa migrations, which were mostly a response to the perceived availability of forest land for planting. We also show that the observed decrease in rainfall in the cocoa regions during the 1970s and 1980s was not primarily a response to local deforestation related to cocoa farming, although deforestation may have caused microclimatic changes. Climate extremes like the 1982/3 drought have also triggered adaptations of farming practices like replanting and crop diversification. To prevent cocoa farming from continuing to act as a driver of deforestation in a hotter climate, governments and supply chain actors should discourage forest frontier dynamics and should help cocoa farmers adapt to environmental change by adopting more intensive and diversified farming practices, building on farmers' own risk mitigation and adaptation strategies.
Access options
Buy single article
Instant access to the full article PDF.
US$ 39.95
Tax calculation will be finalised during checkout.
Subscribe to journal
Immediate online access to all issues from 2019. Subscription will auto renew annually.
US$ 79
Tax calculation will be finalised during checkout.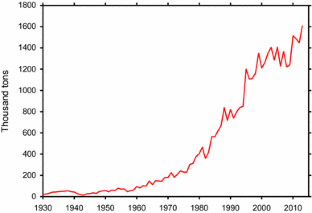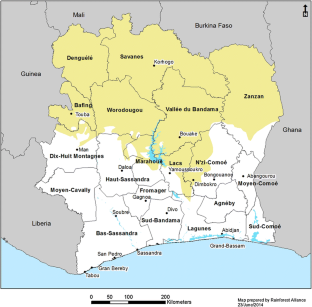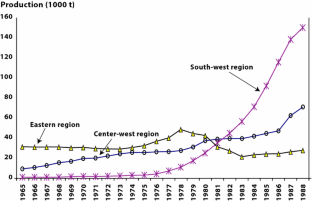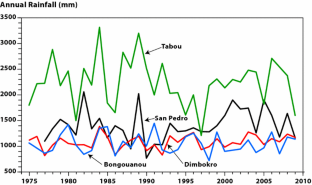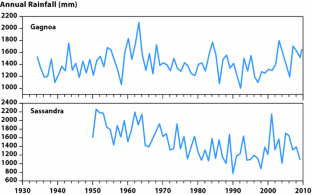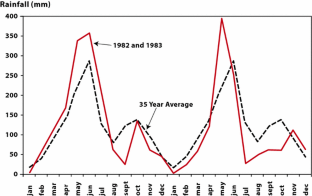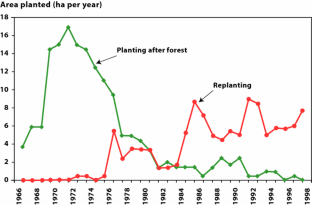 References
Benveniste C (1974) La Boucle du Cacao. Côte d'Ivoire, Étude Régionale de Circuits de Transports. Travaux et Documents de l'ORSTOM No. 31. ORSTOM, Paris

Black R, Adger WN, Arnell NW, Dercon S, Geddes A, Thomas DSG (2011) The effect of environmental change on human migration. Glob Environ Change 21S:1S–11S. doi:10.1016/j.gloenvcha.2011.10.001

Boserup E (1965) The conditions of agricultural growth: the economics of Agrarian change under population pressure. Allen and Unwin, London

Bouquet C (2008) Géopolitique de la Côte d'Ivoire. Armand Colin, Paris

Boutillier J-L (1960) Bongouanou. Berger-Levrault, Côte d'Ivoire

Boutillier J-L (1971) Croissance démographique et croissance économique en Côte d'Ivoire. Cahiers de l'ORSTOM, série Sciences humaines 8:73–79

Boutillier J-L, Quesnel A, Vaugelade J (1985) La migration de la jeunesse du Burkina. Cahiers de l'ORSTOM, série Sciences humaines 21:243–249

Brou YT (2005) Climat, Mutations Socio-économiques et Paysages en Côte d'Ivoire. Université des Sciences et Technologies de Lille, Lille

Carr MKV, Lockwood G (2011) The water relations and irrigation requirements of cocoa (Theobroma cacao L.): a review. Expl Agric 47:653–676. doi:10.1017/S0014479711000421

Chauveau JP, Léonard E (1996) Côte d'Ivoire's pioneer fronts: historical and political determinants of the spread of cocoa cultivation. In: Clarence-Smith WG (ed) Cocoa pioneer fronts since 1800. The role of smallholders, planters and merchants. MacMillan Press, London, pp 176–194

Clarence-Smith WG (1996) Cocoa pioneer fronts since 1800—the role of smallholders, planters and merchants. Macmillan Press, Houndmills

Clay J (2004) World agriculture and the environment. Island Press, Washington DC

Damnyag L, Saastamoinen O, Blay D, Dwomoh FK, Anglaaere LCN, Pappinen A (2013) Sustaining protected areas: identifying and controlling deforestation and forest degradation drivers in the Ankasa Conservation Area, Ghana. Biol Cons 165:86–94. doi:10.1016/j.biocon.2013.05.024

Epule ET, Peng C, Lepage L, Chen Z (2014) The causes, effects and challenges of Sahelian droughts: a critical review. Reg Environ Change. doi:10.1007/s10113-013-0473-z

Gockowski J, Sonwa DJ (2011) Cocoa intensification scenarios and their predicted impact on CO2 emissions, biodiversity conservation, and rural livelihoods in the Guinea rainforest of West Africa. Environ Manage 48:307–321. doi:10.1007/s00267-010-9602-3

Jagoret P, Michel-Dounias I, Snoeck D, Ngnogué HT, Malézieux E (2012) Afforestation of savannah with cocoa agroforestry systems: a small-farmer innovation in Central Cameroon. Agrofor Syst 86:493–504. doi:10.1007/s10457-012-9513-9

Kassin KE, Doffangui K, Kouamé B, Yoro RG, Assa A (2008) Variabilité pluviométrique et perspectives pour la replantation cacaoyère dans le Centre Ouest de la Côte d'Ivoire. J Appl Biosci 12:633–641

Kotir JH (2011) Climate change and variability in Sub-Saharan Africa: a review of current and future trends and impacts on agriculture and food security. Environ Dev Sustain 13:587–605. doi:10.1007/s10668-010-9278-0

Läderach P, Martinez A, Schroth G, Castro N (2013) Predicting the future climatic suitability for cocoa farming of the world's leading producer countries, Ghana and Côte d'Ivoire. Clim Change 119:841–854. doi:10.1007/s10584-013-0774-8

Léonard E, Oswald M (1996) Une agriculture forestière sans forêt. Changements agro-ecologiques et innovations paysannes en Côte d'Ivoire. Nat Sci Soc 4:202–216

Léonard E, Vimard P (2005) Crises et Recompositions d'une Agriculture Pionnière en Côte d'Ivoire. Karthala, Paris

Lilleor HB, Van den Broek K (2011) Economic drivers of migration and climate change in LDCs. Glob Environ Change S21:S70–S81. doi:10.1016/j.gloenvcha.2011.09.002

Lin BB (2011) Resilience in agriculture through crop diversification: adaptive management for environmental change. Bioscience 61:183–193. doi:10.1525/bio.2011.61.3.4

McLeman RA (2014) Climate and human migration—past experiences, future challenges. Cambridge University Press, Cambridge

Metz B (2010) Controlling climate change. Cambridge University Press, Cambridge

Ministère de l'Agriculture (1986) Annuaire des Statistiques Agricoles. République de Côte d'Ivoire, Abidjan

Mittermeier RA, Robles Gil P, Hoffmann M, Pilgrim J, Brooks T, Mittermeier CG, Lamoreux J, Fonseca GAB (2004) Hotspots revisited. CEMEX, Mexico City

Norris K, Asase A, Collen B, Gockowski J, Mason J, Phalan B, Wade ASI (2010) Biodiversity in a forest-agriculture mosaic—the changing face of West African rainforests. Biol Cons 143:2341–2350. doi:10.1016/j.biocon.2009.12.032

Petithuguenin P (1998) The natural conditions for cocoa production in Côte d'Ivoire, Ghana and Indonesia. Plantations, Recherche, Développement 5:393–411

Ruf F (1987) Eléments pour une théorie sur l'agriculture des régions tropicales humides I. De la forêt, rente différentielle, au cacaoyer, capital travail. Agron Trop 42:218–232

Ruf F (1988) Stratification Sociale en Économie de Plantation Ivoirienne. Doctoral Thesis. University of Paris X, Paris

Ruf F (1995) Booms et Crises du Cacao. Les Vertiges de l'Or Brun, Karthala

Ruf F (2001) Tree crops as deforestation and reforestation agents: the case of cocoa in Côte d'Ivoire and Sulawesi. In: Angelsen A, Kaimowitz D (eds) Agricultural technologies and tropical deforestation. CABI Publishing, Wallingford, pp 291–315

Ruf F (2007) Boom du cacao au Ghana, fuit de la libéralisation? Grain de Sel 38:5–6

Ruf F (2010) Les Baoulé ne sont pas des oiseaux pour manger du riz. Anthropol Food. http://aof.revues.org/6686

Ruf F (2011) The myth of complex cocoa agroforests: the case of Ghana. Human Ecol 39:373–388. doi:10.1007/s10745-011-9392-0

Ruf F, Schroth G (2004) Chocolate forests and monocultures—an historical review of cocoa growing and its conflicting role in tropical deforestation and forest conservation. In: Schroth G, Fonseca GAB, Harvey CA, Gascon C, Vasconcelos HL, Izac A-MN (eds) Agroforestry and biodiversity conservation in tropical landscapes. Island Press, Washington, pp 107–134

Ruf F, Schroth G (2013) Cultures Pérennes Tropicales: Enjeux Économiques et Écologiques de la Diversification. Editions Quae, Montpellier

Schroth G, Ruf F (2014) Farmer strategies for tree crop diversification in the humid tropics. A review. Agron Sustain Dev 34:139–154. doi:10.1007/s13593-013-0175-4

Schroth G, Läderach P, Dempewolf J, Philpott SM, Haggar JP, Eakin H, Castillejos T, Garcia-Moreno J, Soto-Pinto L, Hernandez R, Eitzinger A, Ramirez-Villegas J (2009) Towards a climate change adaptation strategy for coffee communities and ecosystems in the Sierra Madre de Chiapas, Mexico. Mitig Adapt Strateg Glob Change 14:605–625. doi:10.1007/s11027-009-9186-5

Schwartz A (1993) Sous-peuplement et Développement dans le Sud-Ouest de la Côte d'Ivoire. ORSTOM, Paris

van der Geest K, Vrieling A, Dietz T (2010) Migration and environment in Ghana: a cross-district analysis of human mobility and vegetation dynamics. Environ Urban 22:107–124

Verdeaux F, Alpha A (2004) Deforestation in Côte d'Ivoire: the exploitation of forest resources, Beyond tropical deforestation. UNESCO, Paris, pp 51–60

Wood GAR, Lass RA (2001) Cocoa. Blackwell Scientific, Oxford

Zuidema PA, Leffelaar PA, Gerritsma W, Mommer L, Anten NPR (2005) A physiological production model for cocoa (Theobroma cacao): model presentation, validation and application. Agric Syst 84:195–225. doi:10.1016/j.agsy.2004.06.015
Acknowledgments
This research was funded by CIRAD, France, as part of various consecutive projects between 1996 and 2006 in Côte d'Ivoire. Christian Schroth and David Hughell kindly drew the figures. Comments from two anonymous reviewers have improved the manuscript.
Additional information
Handled by Elias T. Ayuk, Institute for Natural Resources in Africa (UNU-INRA), Ghana.
About this article
Cite this article
Ruf, F., Schroth, G. & Doffangui, K. Climate change, cocoa migrations and deforestation in West Africa: What does the past tell us about the future?. Sustain Sci 10, 101–111 (2015). https://doi.org/10.1007/s11625-014-0282-4
Received:

Accepted:

Published:

Issue Date:
Keywords
Climate-driven migration

Côte d'Ivoire

Forest rent

Guinean forest

Technological change

Theobroma cacao

Vegetation–climate interaction