Abstract
Sustainability science still struggles with transitioning from problem-focused to solution-oriented endeavors that yield positive impacts on mitigating sustainability challenges. This article presents and compares three sustainability science studies on the reconstruction after the 2011 triple-disaster in Japan; limited energy and livelihood options in rural Africa; and toxic chemical dispersion in San Francisco. Research varied in design and conduct, with opportunities for improvement in transdisciplinary collaboration, institutional incentives and rewards, competency development in future researchers, articulation of relevant political economies, and orientation towards feasible solution options. Of particular interest are insights synthesized across the cases, mainly success factors and their transferability, sustainability science pedagogical opportunities, and potential future research areas. These insights emerged from presentations and breakout discussions of the three studies at the 2012 International Conference on Sustainability Science held at Arizona State University.
This is a preview of subscription content,
to check access.
Access this article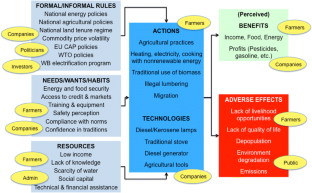 References
Aldrich DP (2011) Ties that bond, ties that build: social capital and governments in post disaster recovery. Stud Emerg Order 4:58–68

Amigun B, Musango JK, Stafford W (2011) Biofuels and sustainability in Africa. Renew Sustain Energy Rev 15(2):1360–1372

Barrett B (2012) After the nuclear disaster, Japan considers a green future. solutions—for a sustainable and desirable. Future 3:99–103

Berke PR, Kartez J, Wenger D (1993) Recovery after disaster: achieving sustainable development, mitigation and equity. Disasters 17:93–109

Birkmann J, Garschagen M, Kraas F, Quang N (2010) Adaptive urban governance: new challenges for the second generation of urban adaptation strategies to climate change. Sustain Sci 5:185–206

Blackstock KL, Carter CE (2007) Operationalising sustainability science for a sustainability directive? Reflecting on three pilot projects. Geogr J 173(4):343–357

Blackstock KL, Kelly G, Horsey BL (2007) Developing and applying a framework to evaluate participatory research for sustainability. Ecol Econ 60(4):726–742

Brundiers K, Wiek A (2013) Do we teach what we preach? An international comparison of problem- and project-based learning courses in sustainability. Sustainability 5:1725–1746

Chamlee-Wright E, Storr VH (2010) Expectations of government's response to disaster. Public Choice 144(1):253–274

Chapin FS III, Pickett STA, Power ME, Jackson RB, Carter DM, Duke C (2011) Earth stewardship: a strategy for social-ecological transformation to reverse planetary degradation. J Environ Stud Sci 1:44–53

Clark WC, Dickson NM (2003) Sustainability science: the emerging research program. Proc Natl Acad Sci USA 100:8059–8061

Clark WC, Tomich TP, van Noordwijk M, Guston D, Catacutan D, et al. (2011, in press) Boundary work for sustainable development: Natural resource management at the Consultative Group on International Agricultural Research (CGIAR). Proc Natl Acad Sci USA

Cotula L, Vermeulen S, Leonard R, Keeley J (2009) Land grab or development opportunity? Agricultural Investment and International Land Deals In Africa. IIED/FAO/IFAD, London/Rome

Crow MM (2010) Organizing teaching and research to address the grand challenges of sustainable development. Bioscience 60(7):488–489

Crow MM (2012) The moral basis of sustainability science. In: Wiek A, Harlow J, Melnick R, van der Leeuw S (eds) Third international conference on sustainability science (ICSS 2012): sustainability science in action. Conference report. Arizona State University, Tempe, pp 9–11

Dalal-Clayton B, Dalal-Clayton DB, Child B (2003) Lessons from luangwa: the story of the luangwa integrated resource development project, IIED, Zambia

Dauer LT, Zanzonico P, Tuttle RM, Quinn D, Strauss HW (2011) The Japanese Tsunami and resulting nuclear emergency at the Fukushima Daiichi power facility: technical, radiologic, and response perspectives. J Nucl Med 52:1423–1432

Davis C, Keilis-Borok V, Kossobokov V, Soloviev A (2012) Advance prediction of the March 11, 2011 great East Japan earthquake: a missed opportunity for disaster preparedness. Int J Disaster Risk Reduct 1:17–32

Dong, X. (2011). Post-disaster recovery planning and sustainable development—a lesson from the Wenchuan earthquake, China, 2008. Master Thesis. Department of urban & regional planning, University of Illinois at Urbana-Champaign

Dovers S, Handmer J (2012) The handbook of disaster and emergency policies and institutions. Earthscan, London

Farioli F (2009) Good practice assessment for bioenergy projects: Marli investment Jatropha biofuel project in Kabwe, Zambia. COMPETE documents

Farioli F (2013) Ensuring sustainability of bioenergy in practice. In: Kauffman J, Lee KM (eds) Handbook of sustainable engineering. Springer, Dordrecht, Heidelberg, London, New York

Farioli F, D'Ippolito B (2012a) Zambia Jatropha oil production of Marli investments Zambia Ltd. ICSS 2012 Documents

Farioli F, D'Ippolito B (2012b) Leguruki Energy Project—TaTEDO. ICSS 2012 Documents

Faulkner H, Parker D, Green C, Beven K (2007) Developing a translational discourse to communicate uncertainty in flood risk between science and the practitioner. AMBIO: J Hum Environ 36(8):692–704

Ferrer-Balas D, Lozano R, Huisingh D, Buckland H, Ysern P, Zilahy G (2010) Going beyond the rhetoric: system-wide changes in universities for sustainable societies. J Clean Prod 18:607–610

Fisker-Nielsen AM (2012) Grassroot responses to the Tohoku earthquake of 11 March 2011: overcoming the dichotomy between victim and helper (respond to this article at http://www.Therai.Org.Uk/at/debate). Anthropol Today 28(3):16–20

German L, Schoneveld GC, Gumbo D (2011) The local social and environmental impacts of smallholder-based biofuel investments in Zambia. Ecol Soc 16(4):12

Gilligan A (2011) Japan earthquake: calm after the storm. Telegraph (UK) 2011

Guston D (2008) Innovation policy: not just a jumbo shrimp. Nature 454:940–941

Hoogwijk M, Faaij A, Eickhout B, de Vries B, Turkenburg W (2005) Potential of biomass energy out to 2100, for four IPCC SRES land-use scenarios. Biomass Bioenergy 29(4):225–257

Janssen R, Rutz D (eds) (2012) Bioenergy for sustainable development in Africa. Springer, Dordrecht, Heidelberg, London, New York

Jerneck A, Olsson L (2011) Breaking out of sustainability impasses: how to apply frame analysis, reframing and transition theory to global health challenges. Environ Innov Soc Transit 1:255–271

Jerneck A, Olsson L, Ness B, Anderberg S, Baier M, Clark E et al (2011) Structuring sustainability science. Sustain Sci 6:69–82

Kates RW, Clark WC, Corell R, Hall JM, Jaeger CC, Lowe I et al (2001) Sustainability science. Science 292:641–642

Kauffman J (2009) Advancing sustainability science: report on the international conference on sustainability science (ICSS) 2009. Sustain Sci 4(2):233–242

Komiyama H, Takeuchi K (2006) Sustainability science: building a new discipline. Sustain Sci 1(1):1–6

Kurihara S, Maruyama A, Luloff AE (2012) Analysis of consumer behavior in the Tokyo metropolitan area after the great east japan earthquake. J Food Syst Res 18(4):415–426

Landrigan PJ, Schechter CB, Lipton JM, Fahs MC, Schwartz J (2002) Environmental pollutants and disease in american children: estimates of morbidity, mortality, and costs for lead poisoning, asthma, cancer, and developmental disabilities. Environ Health Perspect 110(7):721–728

Lang DJ, Wiek A (2012) The role of universities in fostering urban and regional sustainability. In: Mieg, HA, Töpfer K (Eds.). Institutional and social innovation for sustainable urban development. Earthscan, London, pp 393–411

Lang DJ, Wiek A, Bergmann M, Stauffacher M, Martens P, Moll P et al (2012) Transdisciplinary research in sustainability science—practice, principles, and challenges. Sustain Sci 7(Suppl):25–43

Loorbach D (2007) Transition management: new mode of governance for sustainable development. International Books, Utrecht

Lynd LR, Woods J (2011) A new hope for Africa. Nature 474:S20–S21

Matanle P (2011) The Great East Japan earthquake, tsunami and nuclear meltdown—towards the (re)construction of a safe, sustainable, and compassionate society Japan's shrinking regions. Local Environ 16(9):823–847

Matson P (2009) The sustainability transition. Issues Sci Technol 25(4):39–42

Matson P (2012) Linking knowledge to action for a transition to sustainability. In: Wiek A, Harlow J, Melnick R, van der Leeuw S (eds) Third international conference on sustainability science (ICSS 2012): sustainability science in action. Conference report. Arizona State University, Tempe, pp 12–23

McCullough EB, Matson PA (in press) Evolution of the knowledge system for agricultural development in the Yaqui Valley, Sonora, Mexico. Proc Natl Acad Sci USA

Mimura N, Yasuhara K, Kawagoe S, Yokoki H, Kazama S (2011) Damage from the great east japan earthquake and tsunami—a quick report. Mitig Adapt Strat Glob Change 16(7):803–818

Ministry of the Environment Japan, United Nations University Institute for sustainability and peace (2012) Building better partnerships—learning from the Great East Japan earthquake to create more sustainable societies based on Japan's experiences, Tokyo

Muir T, Zegarac M (2001) Societal costs of exposure to toxic substances: economic and health costs of four case studies that are candidates for environmental causation. Environ Health Perspect 109(6):885–903

Norio O, Ye T, Kajitani Y, Shi P, Tatano H (2011) The 2011 Easter Japan great earthquake disaster: overview and comments. Int J Disaster Risk Sci 2(1):34–42

Ogimoto K, Yamaguchi M (2012) Nuclear accident at the Fukushima Daiichi nuclear power plant, and its impact on Japanese energy and climate policy. Clim Chang Mitig Lect Notes Energy 4:223–244

Onuki M, Mino T (2009) Sustainability education and a new master's degree, the master of sustainability science: the graduate program in sustainability science (GPSS) at the University of Tokyo. Sustain Sci 4:55–59

Park J, Seager TP, Rao PS (2011) Lessons in risk- versus resilience-based design and management. Integr Environ Assess Manag 7(3):396–399

Pearce F, Aldhous P (2007) Biofuels may not be answer to climate change. New Sci 196(2634):6–7

Perrow C (1984) Normal accidents: living with high-risk technologies. Basic Books, New York

Perrow C (2011) Fukushima and the inevitability of accidents. Bull At Sci 67:44–52

Quay R (2010) Anticipatory governance. J Am Plann Assoc 76(4):1–16

Raphael DO, Geiger CA (2011) Precautionary policies in local government: Green chemistry and safer alternatives. New Solut: J Environ Occup Health Policy 21(3):345–358

Reconstruction Design Council (2011). Towards reconstruction: "Hope beyond the disaster" (Provisional translation). Retrieved from http://www.cas.go.jp/jp/fukkou/english/pdf/report20110625.pdf

Robinson J (2008) Being undisciplined: transgressions and intersections in academia and beyond. Futures 40:70–86

Romijn H, Caniels M (2011) The jatropha biofuels sector in Tanzania 2005–2009: evolution towards sustainability? Res Policy 40:618–636

Rowe D (2007) Education for a sustainable future. Science 317:323–324

Sarewitz D, Clapp R, Crumbley C, Kriebel D, Tickner J (2012) The sustainability solutions agenda. New Solut 22(2):139–151

Shaw WT (2011) The 2011 Tohoku, Japan quake and tsunami: provisional financial impact assessment. Social Science Research Network

Siebenhüner B (2004) Social learning and sustainability science: which role can stakeholder play? Int J Sustain Dev 7:146–163

Sipos Y, Battisti B, Grimm K (2008) Achieving transformative sustainability learning: engaging heads, hands and heart. Int J Sustain High Educ 9(1):68–86

Smeets EMW, Faaij APC, Lewandowski IM, Turkenburg WC (2007) A bottom-up assessment and review of global bio-energy potentials to 2050. Prog Energy Combust 33(1):56–106

Smith RJ, Verissiomo D, Leader-Williams N, Cowling RM, Kneight AT (2009) Let the locals lead. Nature 462:280–281

Spangenberg JH (2011) Sustainability science: a review, an analysis, and some empirical lessons. Environ Conserv 38:275–287

Suppasri A, Shuto N, Imamura F, Koshimura S, Mas E, Yalciner AC (2013) Lessons learned from the 2011 Great East Japan tsunami: performance of tsunami countermeasures, coastal buildings, and tsunami evacuation in Japan. Pure Appl Geophys 170(6–8):993–1018

Taele BM, Mokhutšoane L, Hapazari I, Tlali SB, Senatl M (2012) Grid electrification challenges, photovoltaic electrification progress and energy sustainability in Lesotho. Renew Sustain Energy Rev 16:973–980

Tainter J (2003) A framework for sustainability. World Futures: J Gen Evol 59(3–4):213–223

Takahashi S (2011) Fourfold disaster: renovation and restoration in post-tsunami coastal Japan. Anthropol News 52(7):5

Takeuchi K (2011) Rebuilding from the Great Eastern Japan earthquake: a message from the editor-in-chief. Sustain Sci 6(2):117–118

Takeuchi K, Hatakeyama M, Kauffman J, Turner N, Zhou DY (in preparation) Applying sustainability science to reconstruction of NE Japan from the great earthquake and tsunami of 2011

Talwar S, Wiek A, Robinson J (2011) User engagement in sustainability research. Sci Public Policy 38:379–390

Thomas DS, Phillips BD, Lovecamp WE, Fothergill A (2013) Social vulnerability to disasters. CRC Press, Boca Raton, FL

Tweed F, Walker G (2011) Some lessons for resilience from the 2011 multi-disaster in japan. Local Environ 16(9):937–942

United Nations (2013) The millennium development goals report 2013. United Nations, New York

Van der Leeuw S, Wiek A, Harlow J, Buizer J (2012) How much time do we have? Urgency and rhetoric in sustainability science. Sustain Sci 7(Suppl 1):115–120

Voss J, Bornemann B (2011) The politics of reflexive governance: challenges for designing adaptive management and transition management. Ecol Soc 16(2):9

Watson HK, Diaz-Chavez RA (2011) An assessment of the potential of drylands in eight sub-saharan african countries to produce bioenergy feedstocks. Interface Focus 1(2):263–270

Whitmer A, Ogden L, Lawton J, Sturner P, Groffman PM et al (2010) The engaged university: providing a platform for research that transforms society. Front Ecol 8(6):314–321

Wicke B, Smeets E, Watson H, Faaij A (2011) The current bioenergy production potential in semi-arid and arid regions in sub-saharan Africa. Biomass Bioenergy 35(7):2773–2786

Wiek A (2009). Analyzing sustainability problems and developing sustainable solution options. Working Paper. School of Sustainability, Arizona State University

Wiek A, Iwaniec D (in press) Quality criteria for visions and visioning in sustainability science. Sustain Sci

Wiek A, Ries R, Thabrew L, Brundiers K, Wickramasinghe A (2010) Challenges of sustainable recovery processes in tsunami affected communities. Disaster Prev Manag 19(4):423–437

Wiek A, Withycombe L, Redman CL (2011a) Key competencies in sustainability—a reference framework for academic program development. Sustain Sci 6:203–218

Wiek A, Withycombe L, Redman CL, Banas Mills S (2011b) Moving forward on competence in sustainability research and problem-solving. Environ: Sci Policy Sustain Dev 53:3–12

Wiek A, Farioli F, Fukushi K, Yarime M (2012a) Sustainability science—bridging the gap between science and society. Sustain Sci 7(Supplement 1):1–4

Wiek A, Ness B, Schweizer-Ries P, Brand F, Farioli F (2012b) From complex systems analysis to transformational change: a comparative appraisal of sustainability science projects. Sustain Sci 7(Supplement 1):5–24

Wiek A, Harlow J, Melnick R, van der Leeuw S (Eds.) (2012c) Third international conference on sustainability science (ICSS 2012): sustainability science in action. Conference report. Arizona State University, Tempe

Yamba F, Janssen R, Woods J, Diaz-Chavez R (2008) Declaration on sustainable bioenergy for Africa. Project document COMPETE (see http://www.compete-bioafrica.net)

Yarime M, Trencher G, Mino T, Scholz RW, Olsson L, Ness B, Frantzeskaki N, Rotmans J (2012) Establishing sustainability science in higher education institutions: towards an integration of academic development, institutionalization, and stakeholder collaborations. Sustain Sci 7(Supplement 1):101–113

Yin, Robert K (1994) Case study research methods: design and methods, 2nd edn. Sage Publications, London
Acknowledgments
The authors would like to thank all co-organizers, case study presenters, panelists, participants, and volunteers from the 2012 International Conference on Sustainability Science at Arizona State University (Tempe, AZ, February 20–23, 2012) for important contributions to and feedback on this article. We also recognize the support and valuable keynote inputs from ASU's President Michael Crow and Dean Pamela Matson from Stanford University. We acknowledge financial support from the University of Tokyo, Arizona State University, and the U.S. Environmental Protection Agency. We thank Michael Bernstein for editorial support.
Additional information
Handled by Fabrice Renaud, UNU-Institute for Environment and Human Security (EHS), Germany.
About this article
Cite this article
Wiek, A., Harlow, J., Melnick, R. et al. Sustainability science in action: a review of the state of the field through case studies on disaster recovery, bioenergy, and precautionary purchasing. Sustain Sci 10, 17–31 (2015). https://doi.org/10.1007/s11625-014-0261-9
Received:

Accepted:

Published:

Issue Date:

DOI: https://doi.org/10.1007/s11625-014-0261-9
Keywords