Abstract
While debates about sustainable development tend to focus on national- and international-scale problems, sustainability programs and research generally focus on the regional, county, municipal, or even household level. Less research has focused on evaluating the benefits of pairing two cities (i.e., sister city partnerships) with different needs and capabilities to jointly enhance the potential for sustainable practices between the cities. Given shrinking state and federal budgets and the nascent national climate policy, how might US cities use existing resources to achieve greater levels of sustainability? This paper presents a new data-driven mathematical tool—the partnership assessment for intra-regional sustainability—that city planners can use to explore the prospects for improving sustainability practices by leveraging existing resources and establishing synergistic partnerships with neighboring cities. The efficacy of the tool is assessed through the presentation of a Southern California case study and the results of a psychological survey of Southern California residents. Results indicate that cities of different size and scale would benefit from synergistic sustainability programs that pool the resources and needs of both cities. The paper concludes with a discussion of potential societal implications, methodological issues, and barriers to implementation.
Notes
An example of leveraging would be the expansion of an advanced recycling program implemented by one city to meet the additional demand of a neighboring community.

An example of a new initiative through reciprocity could be the pairing of farm waste and biofuel. If the transit authority of a city is importing biofuel for a bus fleet, they could turn to a neighboring community with large amounts of agricultural waste to produce biofuel locally. The transit authority would save money on fuel, and the farmers would have their waste removed at reduced cost.

such as those for water use, energy use, or new building construction.

Urban cities generate vast quantities of compostable food waste but lack the application for compost. Meanwhile, farmers are spending ever more on fertilizers due to rising energy costs for ammonia production, which could be the offset by a supply of compost from an urban sister city. The reciprocal trade of farm waste conversion to biofuel production completes the cycle with urban transit fleets often utilizing this local renewable fuel feedstock. The practices taken individually may benefit only one of the participating cities at the expense of the partner. A cross-sectorial analysis such as this example connecting the energy and transportation sector with food and agriculture demonstrates the mutual benefit from an urban–rural partnership.
References
Bailey MN, Elliott DJ (2009) The US financial and economic crisis: where does it stand and where do we go from here? Initiative on business and public policy. The Brookings Institution, USA

Benfield K (2012) The limits of metropolitan planning organizations: the Atlantic cities com. http://www.theatlanticcities.com/politics/2012/04/limits-metropolitan-planning-organizations/1878/. 30 May 2013

Betsill MM (2001) Mitigating climate change in U.S. cities: opportunities and obstacles. Local Environ 6:393–406. doi:10.1080/13549830120091699

Bulkeley H, Betsill MM (2003) Cities and climate change: urban sustainability and global environmental governance. Routledge Studies in Physical Geography and the Environment

Clarke N (2010) Town twinning in cold-war Britain: (dis)continuities in twentieth-century municipal internationalism. Contemp Br Hist 24:173–191. doi:10.1080/13619461003768272

Cremer RD, De Bruin A, DuPuis A (2001) International sister-cities: bridging the global-local divide. Am J Econ Sociol 60:377–401. doi:10.1111/1536-7150.00066

De Groot J, Steg L (2008) Value orientations to explain beliefs related to environmental significant behavior: how to measure egoistic, altruistic, and biospheric value orientations. Environ Behav 40:330–354. doi:10.1177/0013916506298797

Dernbach JC (2000) Moving the climate change debate from models to proposed legislation: lessons from state experience. Environmental law reporter 30, 10,933. SSRN: http://ssrn.com/abstract=1103064

Ewen S, Hebbert M (2007) European cities in a networked world during the long twentieth century. Environ Plan C Gov Pol 25:327–340. doi:10.1068/c0640

Fan P, Qi J (2010) Assessing the sustainability of major cities in China. Sustain Sci 5:51–68. doi:10.1007/s11625-009-0096-y

Gärling T, Loukopoulos P (2007) Effectiveness, public acceptance, and political feasibility of coercive measures for reducing car traffic. In: Gärling Tommy, Steg Linda (eds) Threats to the quality of urban life from car traffic: problems, causes, and solutions. Elsevier, Amsterdam, pp 313–324

Graymore MLM, Sipe NG, Rickerson RE (2008) Regional sustainability: how useful are current tools of sustainability assessment at the regional scale? Ecol Econ 67:362–372

Großpietsch J (2009) More than food and folk music? Geographical perspectives on European town twinning. Geogr Compass 3:1281–1304. doi:10.1111/j.1749-8198.2009.00238.x

Großpietsch J (2010) The changing geographies of international municipal relations in Europe: a study of British-German town twinning partnerships. Loughborough University Institutional Repository. https://dspace.lboro.ac.uk/2134/8346

Hardin G (1968) The tragedy of the commons. Science 162:1243–1248. doi:10.1126/science.162.3859.1243

Jayne M, Hubbard P, Bell D (2011) Worlding a city: twinning and urban theory. City 15:25–41. doi:10.1080/13604813.2010.511859

Kambuj A (2013) Climate action planning and policy in the city of Urbana. Proceedings from NEURUS-ICURD Workshop and Seminar, Urbana-Champaign

Karp DG (1996) Values and their effect on pro-environmental behavior. Environ Behav 28:111–133. doi:10.1177/0013916596281006

McKinley T (2008) Economic policies for growth and poverty reduction: PRSPs, neoliberal conditionalities and 'post-consensus' alternatives. IDS Bull 39:93–103. doi:10.1111/j.1759-5436.2008.tb00450.x

Milfont T (2003) Time perspective and values: an exploratory study of their relations to environmental attitudes. J Environ Psychol 26:72–82. doi:10.1016/j.jenvp.2006.03.001

Papagaroufali E (2005) Town twinning in Greece: reconstructing local histories through transposal sensory-affective performances. Hist Anthropol 16:335–347. doi:10.1080/02757200500219321

Payre R (2010) The importance of being connected. City networks and urban government: Lyon and Euro cities (1990–2005). Int J Urban Reg Res 34:260–280. doi:10.1111/j.1468-2427.2010.00937.x

Poortinga W, Steg L, Vlek C (2004) Values, environmental concern and environmentally significant behavior: a study into household energy use. Environ Behav 36:70–93. doi:10.1177/0013916503251466

Rittel HW, Webber MM (1973) Dilemmas in a general theory of planning. Policy Sci 4:155–169

Rosenfield PL (1992) The potential of transdisciplinary research for sustaining and extending linkages between the health and social sciences. Soc Sci Med 35:1343–1357

Satterthwaite D (2008) Cities' contribution to global warming: notes on the allocation of greenhouse gas emissions. Environ Urban 20:539–549. doi:10.1177/0956247808096127

Schade J, Schlag B (2003) Acceptability of urban transport pricing strategies. Trans Res 6:45–61. doi:10.1016/S1369-8478(02)00046-3

Schultz PW, Zelenzy L (1998) Values and proenvironmental behavior: a five-country survey. J Cross Cult Psychol 29:540–558. doi:10.1177/0022022198294003

Stern PC (2000) Toward a coherent theory of environmentally significant behavior. J Soc Issue 56:407–424. doi:10.1111/0022-4537.00175

Stern N (2007) The economics of climate change: the stern review. Cambridge University Press, Cambridge, UK p 457 doi:10.1111/j.1728-4457.2006.00153.x

Stern P, Dietz T, Kalof L (1993) Value orientations, gender, and environmental concern. Environ Behav 25:332–348

Stokols D (2006) Toward a science of transdisciplinary action research. Am J Community Psychol 38:63–77

Vieira J, Moura F, Viegas J (2007) Transport policy and environmental impacts: the importance of multi-instrumentality in policy integration. Trans Policy 14:421–432. doi:10.1016/j.tranpol.2007.04.007

Vion A (2002) Europe from the bottom up: town twinning in France during the cold war. Contemp Eur Hist 4:623–640. doi:10.1017/S096077730200406X

Wyatt K (2011) State budget cuts decimate mental health services. The Washington Post.com March 2011. Associated press. http://www.washingtonpost.com/wp-dyn/content/article/2011/03/09/AR2011030900507.html. 9 Mar 2013

Zelinski W (1991) The twinning of the world sister cities in geographic and historical perspective. Ann Assoc Am Geogr 81:1–31. doi:10.1111/j.1467-8306.1991.tb01676.x
Acknowledgments
The authors wish to acknowledge the University of California Irvine Sustainability Science Team Initiative, its Director, Professor Michael Prather, and Assistant Director, Susan Coons for their academic and financial support.
Additional information
Handled by Victor Savage, National University of Singapore, Singapore.
Appendix: Pairs: partnership assessment for intra-regional sustainability
Appendix: Pairs: partnership assessment for intra-regional sustainability
Water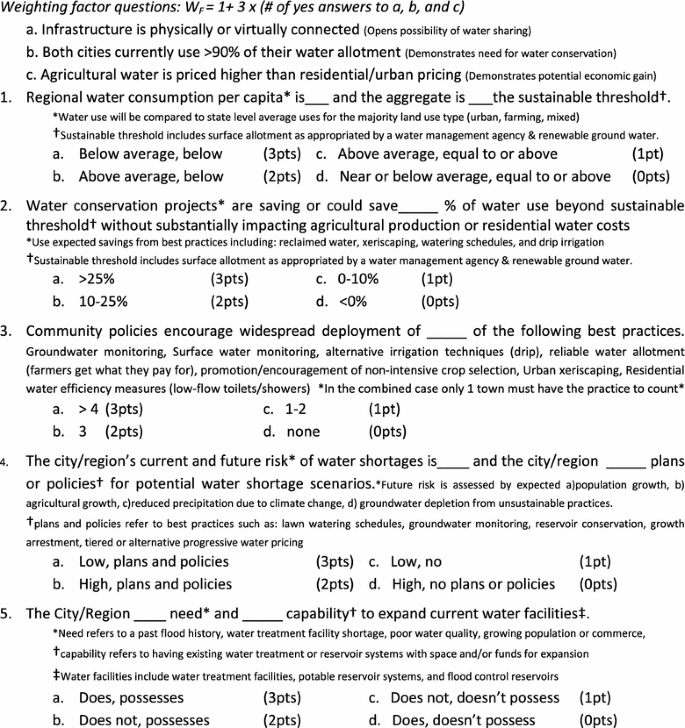 Energy/transportation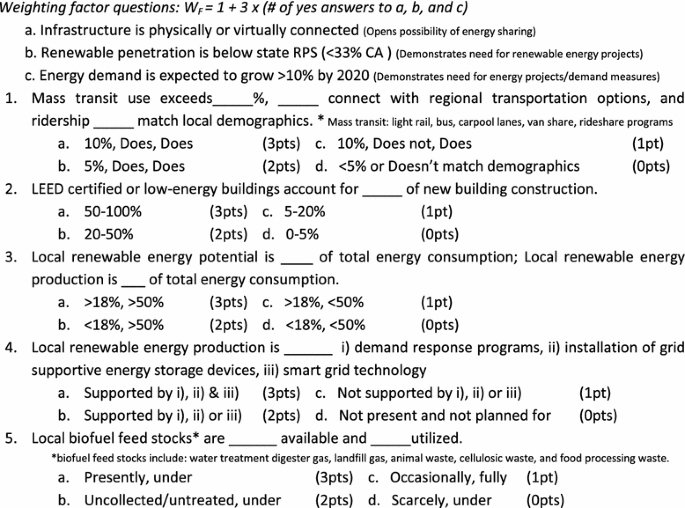 Food and agriculture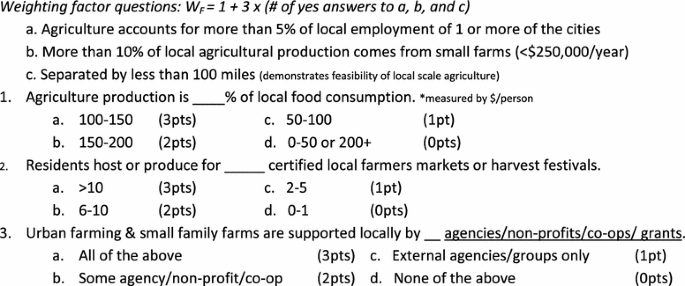 Sociogeographic compatibility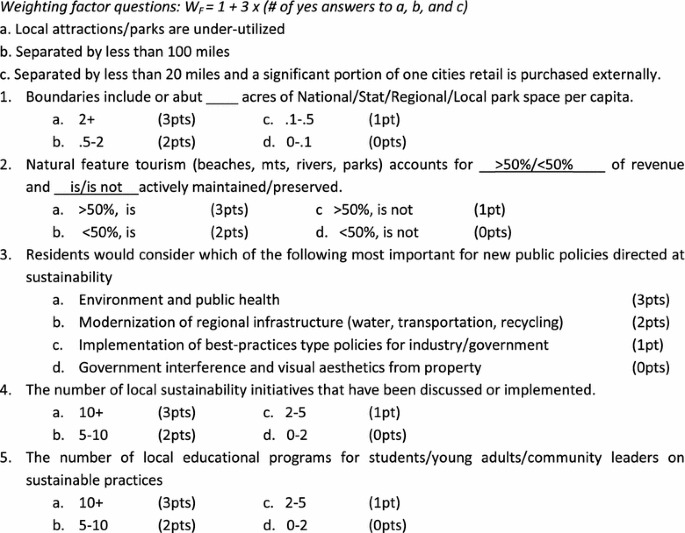 Waste management and recycling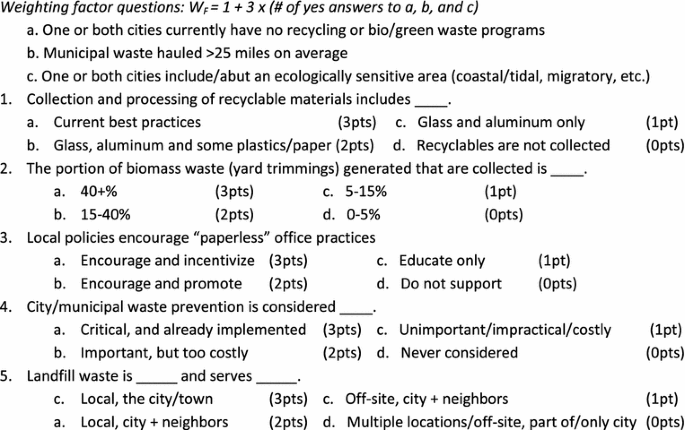 Amicability questions: combined city/district questions

Rights and permissions
Open Access This article is distributed under the terms of the Creative Commons Attribution License which permits any use, distribution, and reproduction in any medium, provided the original author(s) and the source are credited.
About this article
Cite this article
McLarty, D., Davis, N., Gellers, J. et al. Sisters in sustainability: municipal partnerships for social, environmental, and economic growth. Sustain Sci 9, 277–292 (2014). https://doi.org/10.1007/s11625-014-0248-6
Received:

Accepted:

Published:

Issue Date:

DOI: https://doi.org/10.1007/s11625-014-0248-6
Keywords
Sustainability

Cities

Metrics

Partnerships

Transdisciplinary

Local