Abstract
Atoll countries are particularly vulnerable to coastal hazards in the context of global change, which justifies the interest in population exposure assessments. This paper contributes to addressing this need by assessing the current exposure of the population of two areas of the South Tarawa Urban District (Tarawa Atoll, Republic of Kiribati) to coastal erosion and flooding. The assessment is based on data relating to island morphology (digital terrain models and shoreline change), land use (building extension and coastal works) and environmental changes reconstructed for the 1969–2008 period. The results highlight rapid changes in land use and significant differences in current population exposure to coastal erosion and flooding between and within study sites. Between 1969 and 2007–2008, the built area located less than 20 m from the reference shoreline has increased by a factor of 4.2 at Bairiki and by a factor of 32.2 at Eita–Bangantebure, enhancing population exposure given that land elevation is low (12.6 and 77.4 % <2 m at Bairiki and Eita–Bangantebure, respectively). Nevertheless, in Bairiki, 87.5 % of the built area is currently not exposed to coastal erosion (>20 m from the coastline) and flooding (>1.5 m). Building exposure is higher at Eita–Bangantebure, where 71.3 % of the built area is currently not exposed (using the same criteria), but 17.1 % shows medium to very high levels of exposure, due to very low land elevation (22.3 % of the land area <1.5 m) and shoreline recession. The Eita–Bangantebure case study exemplifies the maladaptive trajectories of change that have been reported in other atoll countries.
This is a preview of subscription content,
to check access.
Access this article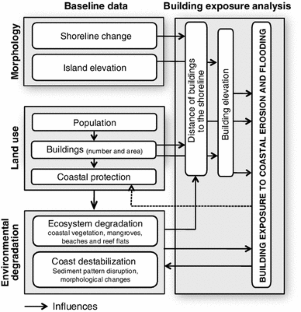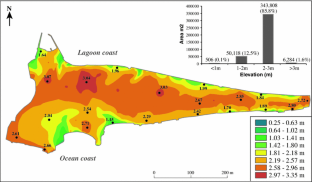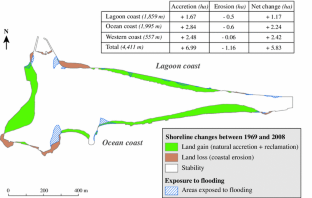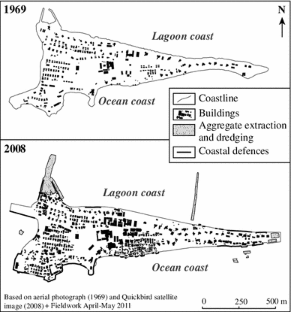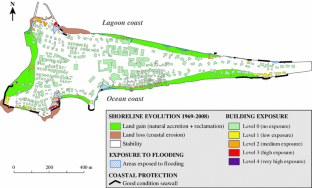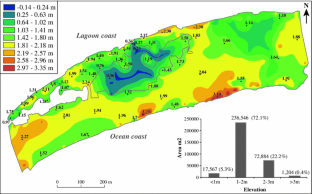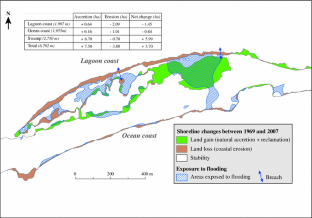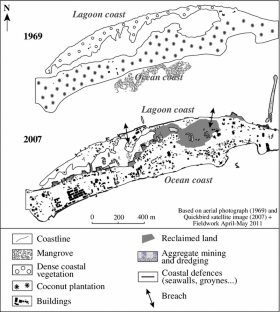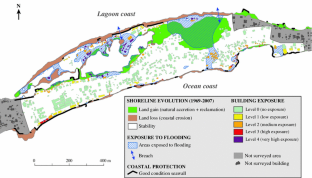 Similar content being viewed by others
Notes
In official censuses, the week previous to the survey date is the reference point for describing a person's employment situation (What work did this person do last week and was it a paid job?).

The Government of Kiribati distinguishes these three housing types in national statistics.

"Common house", public building.

The Nippon causeway connecting Bairiki and Betio is the most recent example. It was completed in 1987.

Buildings more than 3 m high represent only 2.0 % of the total number of buildings and 1.9 % of the total built area, and so we grouped them with buildings between 2 and 2.5 m high, and between 2.5 and 3 m high.
References
Asian Development Bank (ADB) (2008) Kiribati social and economic report. Managing development risk. Pacific series studies

Asian Development Bank (ADB), Ministry of Home Affairs and Rural Development (MHARD) (1996) South Tarawa integrated urban plans and programme study, vol 2. Final report

AUSAID (2007) Pacific country report on sea level and climate: their present state. Kiribati

Barnett J, Adger WN (2003) Climate dangers and atoll countries. Clim Change 61:321–337

Barnett J, Campbell J (2010) Climate change and small island states. Power, knowledge and the South Pacific. Earthscan, London

Burgess SM (1987) The climate and weather of Western Kiribati. Report 188. New Zealand Meteorological Service, Wellington

Cardona OD, Van Aalst MK, Birkmann J, Fordham M, McGregor G, Perez R, Pulwarty RS, Schipper ELF, Sinh BT (2012) Determinants of risk: exposure and vulnerability. In: Field CB, Barros V, Stocker TF, Qin D, Dokken DJ, Ebi KL, Mastrandrea MD, Mach KJ, Plattner GK, Allen SK, Tignor M, Midgley and PM (eds) Managing the risks of extreme events and disasters to advance climate change adaptation. A special report of working groups I and II of the intergovernmental panel on climate change (IPCC). Cambridge University Press, Cambridge, pp 65–108

Church JA, White NJ, Hunter JR (2006) Sea-level rise at tropical Pacific and Indian Ocean islands. Glob Planet Change 53:155–168. doi:10.106/j.gloplacha.2006.04.001

Damlamian H (2008) Hydrodynamic model of Tarawa water circulation and applications. SOPAC project report 134

Doran E (1960) Report on Tarawa Atoll, Gilbert Islands. Atoll Res Bull 72:1–68

Fazey I, Pettorelli N, Kenter J, Wagatora S, Schuett D (2011) Maladaptive trajectories of change in Makira, Solomon Islands. Glob Environ Change 21:1275–1289. doi:10.1016/j.gloenvcha.2011.07.006

Forbes DL (1995) Circulation and sand supply on Pacific atolls: coastal management challenges at Tarawa (Kiribati) and Aitutaki (Cook Islands). In: Proceedings, Canadian coastal conference 1995, Dartmouth, NS, pp 315–329

Forbes DL, Biribo N (1996) Shore zone sands, South Tarawa, Kiribati. SOPAC, Suva, technical report 235

Forbes DL, Hosoi Y (1995) Coastal erosion in South Tarawa. SOPAC technical report 225

Ford M (2012) Shoreline changes on an urban atoll in the Central Pacific Ocean: Majuro Atoll. Marshall islands. J Coast Res 28(1):11–22. doi:12.2112/JCOASTRES-D-11-00008.1

Gilmour AJ, Colman R (1990) A pilot environmental study of the outer island development program, Republic of Kiribati. Unpublished report, Macquarie University

Government of Kiribati (GoK) (2007) 2005 census of population. Basic information and tables, vol 1, revised version

Government of Kiribati (GoK) (2010) 2010 census of population. Preliminary results

Hay JE, Onorio K (2006) Kiribati. Country environmental analysis. Integrating environmental considerations in economic and development planning processes. Asian Development Bank Report

He C (2001) Assessment of the vulnerability of Bairiki and Bikenibeu, South Tarawa, Kiribati, to accelerated sea-level rise. SOPAC technical report 322

Jones P, Lea J (2007) What has happened to urban reform in the island Pacific? Some lessons from Kiribati and Samoa. Pac Aff 80:473–491

Lowe JA, Woodworth P, Knutson T, McDonald RE, McInnes KL, Woth K, Von Storch H, Wolf J, Swail V, Bernier NB, Gulev S, Horsburgh KJ, Unnikrishnan AS, Hunter JR, Weisse R (2010) Past and future changes in extreme sea levels and waves. In: Church JA, Woodworth PL, Aarup T, Wilson WS (eds) Understanding sea-level rise and variability. Wiley-Blackwell, Chichester, pp 326–375

Marshall JF, Jacobson G (1985) Holocene growth of a mid-Pacific atoll: Tarawa, Kiribati. Coral Reefs 4:11–17

Maude HE, Doran E (1966) The precedence of Tarawa Atoll. Ann Assoc Am Geogr 56:269–289

McArthur N, McCaig JB (1963) A report on the results of the census of the population 1963. Fiji Government Press of Suva

McLeman R (2010) Impacts of population change on vulnerability and the capacity to adapt to climate change and variability: a typology based on lessons from a hard country. Popul Environ 31:286–316. doi:10.1007/s11111-009-0087-z

Mimura N (1999) Vulnerability of island countries in the South Pacific to sea level rise and climate change. Clim Res 12:137–143

Mimura N, Nurse L, McLean RF, Agard L, Briguglio L, Lefale P, Payet R, Sem G (2007) Small islands. In: Parry ML, Canziani OF, Palutikof JP, Van der Linden PJ, Hanson CE (eds) Climate change 2007: impacts, adaptation and vulnerability. Contribution of working group II to the fourth assessment report of the intergovernmental panel on climate change. Cambridge University Press, Cambridge, pp 687–716

Novelo-Casanova DA, Suárez G (2010) Natural and man-made hazards in the Cayman Islands. Nat Hazards 55(3):441–466. doi:10.1007/s11069-010-9539-0

Novelo-Casanova DA, Suárez G (2012) Exposure of main critical facilities to natural and man-made hazards in Grand Cayman, Cayman Islands. Nat Hazards 61(3):1277–1292. doi:10.1007/s11069-011-9982-6

Nunn PD (2009) Responding to the challenges of climate change in the Pacific Islands: management and technological imperatives. Clim Res 40:211–231. doi:10.3354/cr00806

Rankey EC (2011) Nature and stability of atoll island shorelines: Gilbert Island chain, Kiribati, equatorial Pacific. Sedimentology. doi:10.1111/j.1365-3091.2011.01241.x

Rapaport M (1990) Population pressure on coral atolls: trends and approaching limits. Atoll Res Bull 340:1–33

Richmond BM (1992) Development of atoll islets in the Central Pacific. In: Proceedings of the 7th international coral reef symposium, vol 2, pp 1185–1194

Sachet H (1957) Climate and meteorology of the Gilbert Islands. Atoll Res Bull 60:20

Seneviratne SI, Nicholls N, Easterling D, Goodess CM, Kanae S, Kossin J, Luo Y, Marengo J, McInnes K, Rahimi M, Reichstein M, Sorteberg A, Vera C, Zhang K (2012) Changes in climate extremes and their impacts on the natural physical environment. In: Field CB, Barros V, Stocker TF, Qin D, Dokken DJ, Ebi KL, Mastrandrea MD, Mach KJ, Plattner G-K, Allen SK, Tignor M, Midgley PM (eds) Managing the risks of extreme events and disasters to advance climate change adaptation. A special report of working groups I and II of the intergovernmental panel on climate change (IPCC). Cambridge University Press, Cambridge, pp 109–230

Solomon SM, Forbes DL (1999) Coastal hazards and associated management issues on South Pacific Islands. Ocean Coast Manag 42:523–554

Spennemann DHR (1996) Non traditional settlement patterns and typhoon hazard on contemporary Majuro Atoll, Republic of the Marshall Islands. Environ Manag 20:337–348

Stoddart DR (1968) Catastrophic human interference with coral atoll ecosystems. Geography 53(1):25–40

Storey D, Hunter S (2010) Kiribati: an environmental 'perfect storm'. Aust Geogr 41(2):167–181. doi:10.1080/00049181003742294

Webb AP (2005) An assessment of coastal processes, impacts, erosion mitigation options and beach mining: Bairiki/Nanikaai causeway, Tungaru Central Hospital coastline and Bonriki runway. South Tarawa, Kiribati. Technical report 46

Webb AP (2006) Analysis of coastal change and erosion. Tebunginako village, Abaiang, Kiribati. Technical report 53

Webb AP, Kench PS (2010) The dynamic response of reef islands to sea-level rise: evidence from multi-decadal analysis of island change in the Central Pacific. Glob Planet Change 72:234–246. doi:10.1016/j.gloplacha.2010.05.003

Woodroffe CD (2008) Reef-island topography and the vulnerability of atolls to sea-level rise. Glob Planet Change 62:77–96. doi:10.1016/j.gloplacha.2007.11.001

Woodroffe CD, McLean RF (1992) Kiribati vulnerability to accelerated sea-level rise: a preliminary study. Unpublished report to Australian Government. University of Wollongong & Australian Defence Force Academy

Xue C (2001) Coastal erosion and management of Majuro Atoll, Marshall Islands. J Coast Res 17:908–918

Yamano H, Kayenne H, Yamaguchi T, Kuwahara Y, Yokoki H, Shimazaki H, Chikamori M (2007) Atoll island vulnerability to flooding and inundation revealed by historical reconstruction: Fongafale Islet, Funafuti Atoll, Tuvalu. Glob Planet Change 57:407–416. doi:10.1016/j.gloplacha.2007.02.007
Acknowledgments
First, the authors thank the Permanent Secretary of the Ministry of Fisheries and Marine Resources Development for granting the research permit for this study. The Ministry generously provided the aerial photographs without which this work would not have been completed. We address our very special thanks to Kabure Yeeting, Naomi Biribo and Romano Reo. Thanks to Amon Timan for interesting discussions on recent changes in South Tarawa and to Ueantabo Neemia MacKenzie (USP) for talks on coastal risks and social capital. Thanks to the many residents met on the coast who kindly agreed to answer our questions. Warm thanks to Arthur Webb (SOPAC) for interesting discussions about the South Tarawa situation. Thanks to Fabrice Lartigou (2D3DGIS) for giving us very helpful information before our first visit in Kiribati. This work was supported by the CNRS, the University of la Rochelle and the French National Research Agency (ANR). At LIENSs, special thanks to Cécilia Pignon-Mussaud and Dorothée James for the setting up of the GeoKiribati GIS, and to Camille Salmon for further work, particularly on the digitization of buildings. Great thanks to Pascal Brunello for help in finalizing maps. Last but not least, warm thanks to the anonymous reviewers and the editors for their helpful comments that improved this paper, and to James Johnson for his valuable support in English editing.
Additional information
Handled by Donald L. Forbes, Geological Survey of Canada/Natural Resources Canada, Canada.
About this article
Cite this article
Duvat, V., Magnan, A. & Pouget, F. Exposure of atoll population to coastal erosion and flooding: a South Tarawa assessment, Kiribati. Sustain Sci 8, 423–440 (2013). https://doi.org/10.1007/s11625-013-0215-7
Received:

Accepted:

Published:

Issue Date:

DOI: https://doi.org/10.1007/s11625-013-0215-7
Keywords