Abstract
Low-lying reef islands on atolls appear to be threatened by impacts of observed and anticipated sea-level rise. This study examines changes in shoreline position on the majority of reef islands on Tarawa Atoll, the capital of Kiribati. It investigates short-term reef-island area and shoreline change over 30 years determined by comparing 1968 and 1998 aerial photography using geographical information systems. Reef islands have substantially increased in size, gaining about 450 ha, driven largely by reclamations on urban South Tarawa, accounting for 360 ha (~80 % of the net change). Widespread erosion and high average accretion rates appear to be related to disjointed reclamations. In rural North Tarawa, most reef islands show stability, with localised changes in areas such as embayments, sand spits and beaches adjacent to, or facing, inter-island channels. Shoreline changes in North Tarawa are largely influenced by natural factors, whereas those in South Tarawa are predominantly affected by human factors and seasonal variability associated with El Niño—Southern Oscillation (ENSO). However, serious concerns are raised for the future of South Tarawa reef islands, as evidence shows that widespread erosion along the ocean and lagoon shorelines is primarily due to human activities and further encroachment onto the active beach will disrupt longshore sediment transport, increasing erosion and susceptibility of the reef islands to anticipated sea-level rise. Appropriate adaptation measures, such as incorporating coastal processes and seasonal variability associated with ENSO when designing coastal structures and developing appropriate management plans, are required, including prohibiting beach mining practices near settlements.
This is a preview of subscription content,
to check access.
Access this article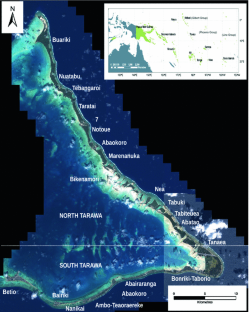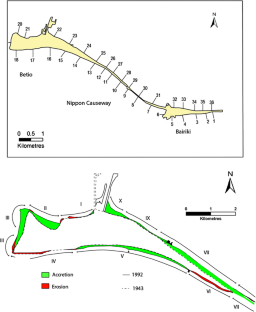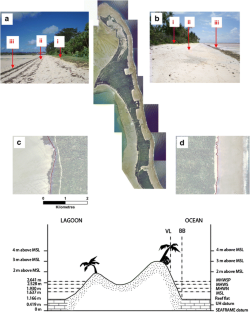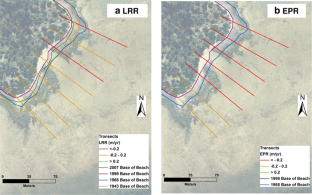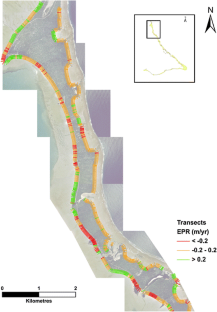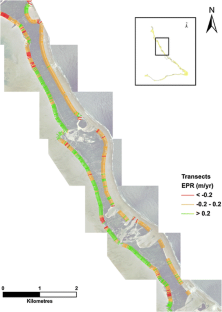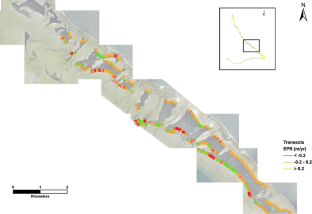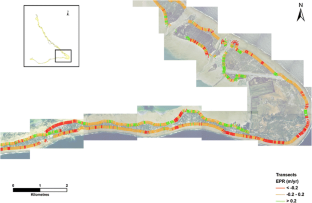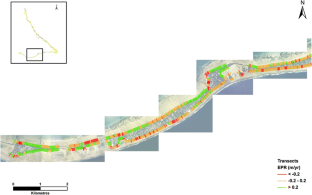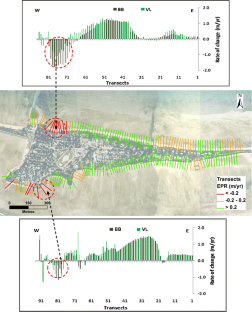 Similar content being viewed by others
References
Australian Bureau of Meteorology and CSIRO (2011) Climate change in the Pacific: scientific assessment and new research

Boak EH, Turner IL (2005) Shoreline definition and detection: a review. J Coast Res 21:688–703

Burne RV (1983) Origin and transportation of beach sand, Betio-Bairiki, Tarawa, Kiribati. SOPAC Technical Report CR0081, 79 pp

Byrne G (1991) Sediment movement on Tarawa, Kiribati. In: Workshop on coastal processes in the South Pacific Island Nations, Lae, Papua New Guinea, October 1987. SOPAC Technical Bulletin, vol 7, pp 155–159

Donner S (2012) Sea level rise and the ongoing Battle of Tarawa. EOS 93:169–176

Ebrahim MT (2000) Impact of anthropogenic environmental change on larger foraminifera: Tarawa Atoll, Kiribati, South Pacific. In: Martin RE (ed) Environmental micropaleontology: the application of microfossils to environmental geology, vol 15. Kluwer, New York, pp 105–117

Forbes DL, Biribo N (1996) Shore-zone sand and gravel of South Tarawa, Kiribati: preliminary assessment of selected sites. SOPAC Technical Report 235, 45 pp

Forbes DL, Hosoi Y (1995) Coastal erosion in South Tarawa, Kiribati. SOPAC Technical Report 225, 92 pp

Ford M (2012) Shoreline changes on an urban atoll in the central Pacific Ocean: Majuro Atoll, Marshall Islands. J Coast Res 28:11–22

Geer Consulting Services (2007) Kiribati Technical Report: Economic analysis of aggregate mining on Tarawa. Reducing Vulnerabilty of Pacific ACP States 71:1–112

Gillie RD (1993) Historical changes of shoreline accretion and erosion Betio Islet, South Tarawa, Kiribati. SOPAC Technical Bulletin 179, 21 pp

Harper JR (1989) Evaluation of beach profile data from Betio and Bairiki, Republic of Kiribati, 1982–1988. SOPAC Technical Report 94, 136 pp

Howorth R (1982) Technical report on coastal erosion in Kiribati; visit to South Tarawa 22 January–10 February, 1982. SOPAC Technical Report 22, 61 pp

Kench PS, Cowell PJ (2002) Erosion of low-lying reef islands. Tiempo 46:6–12

Kinsey DW, Hopley D (1991) The significance of coral reefs as global carbon sinks—response to Greenhouse. Palaeogeogr Palaeoclimatol Palaeoecol 89:363–377

Leney A (2012) Analysis of the socio-economic impacts of the ESAT program, and mitigation measures being taken to minimise any adverse impacts on the community of South Tarawa, Bairiki, Tarawa, 15 pp

Marshall JF, Jacobson G (1985) Holocene growth of a mid-Pacific atoll: Tarawa, Kiribati. Coral Reefs 4:11–17

McLean RF (2011) Atoll Islands (Motu). Encyclopedia of modern coral reefs: structure, form and process. Springer, The Netherlands, pp 47–51

Mimura N (1999) Vulnerability of island countries in the South Pacific to sea level rise and climate change. Clim Res 12:137–143

Ministry of Finance and Economic Planning (2010) 2010 census of population. Ministry of Finance and Economic Planning, Bairiki, Tarawa

Morton RA, Miller HL, Moore LJ (2004) National assessment of shoreline change: part 1, historical shoreline changes and associated coastal land loss along the U.S. Gulf of Mexico. USGS Open File Report 2004-1043

Nicholls RJ, Wong PP, Burkett VR, Codignotto JO, Hay JE, McLean RF, Ragoonaden S, Woodroffe CD (2007) Coastal systems and low-lying areas. In: Parry ML, Canziani OF, Palutikof JP, van der Linden P, Hanson CE (eds) Climate change 2007: impacts, adaptation and vulnerability. Contribution of Working Group II to the Fourth Assessment Report of the Intergovernmental Panel on Climate Change. Cambridge University Press, Cambridge, pp 315–357

Patel SS (2006) Climate science: a sinking feeling. Nature 440:734–736

Peletikoti N (2007) Kiribati Technical Report: 1) Extent of Household Aggregate Mining in South Tarawa; and 2) Proposed Integrated Monitoring Framework for Tarawa Lagoon EU EDF8 SOPAC Project Report 72, 70 pp

Ramsay DL, Stephens S, Gorman R, Oldman J, Bell R, Damalmian H (2010) Sea levels, waves, run-up and overtopping. Kiribati Adaptation Programme. Phase II: information for climate risk management. NIWA Ltd., Hamilton, 148 pp

Rankey EC (2011) Nature and stability of atoll island shorelines: Gilbert Island chain, Kiribati, equatorial Pacific. Sedimentology 58:1831–1859

Richmond BM (1992) Development of atoll islets in the central Pacific. In: Proceedings of the 7th International Coral Reef Congress, Guam, Micronesia, June 1992, vol 2, pp 1185–1194

Richmond BM (1993) Reconnaissance geology of the Gilbert Group, Western Kiribati. SOPAC Technical Report 77, 64 pp

Sheppard C, Dixon DJ, Gourlay M, Sheppard A, Payet R (2005) Coral mortality increases wave energy reaching shores protected by reef flats: examples from the Seychelles. Estuar Coast Shelf Sci 64:223–234

Solomon S (1997) Assessment of the vulnerability of Betio (South Tarawa, Kiribati) to accelerated sea level rise. SOPAC Technical Report 251, 66 pp

Solomon SM, Forbes DL (1999) Coastal hazards and associated management issues on South Pacific Islands. Ocean Coast Manag 42:523–554

Terry JP, Chui TFM (2012) Evaluating the fate of freshwater lenses on atoll islands after eustatic sea-level rise and cyclone-driven inundation: a modelling approach. Global Planet Change 88–89:76–84

Thieler ER, Himmelstoss EA, Zichichi JL, Ergul A (2009) The Digital Shoreline Analysis System (DSAS) version 4.0—an ArcGIS extension for calculating shoreline change. USGS Open-File Report 2008-1278, 79 pp

Webb AP, Kench PS (2010) The dynamic response of reef islands to sea-level rise: evidence from multi-decadal analysis of island change in the central Pacific. Global Planet Change 72:234–246

Weber JN, Woodhead PMJ (1972) Carbonate lagoon and beach sediments of Tarawa Atoll. Atoll Research Bulletin 157, 31 pp

Woodroffe CD (2008) Reef-island topography and the vulnerability of atolls to sea-level rise. Global Planet Change 62:77–96

Woodroffe CD, Morrison RJ (2001) Reef-island accretion and soil development on Makin, Kiribati, central Pacific. Catena 44:245–261

Yamano H, Kayanne H, Yamaguchi T, Kuwahara Y, Yokoki H, Shimazaki H, Chikamori M (2007) Atoll island vulnerability to flooding and inundation revealed by historical reconstruction: Fongafale Islet, Funafuti Atoll, Tuvalu. Global Planet Change 57:407–416
Acknowledgments
This study was undertaken during tenure of an AusAID scholarship by N.B. We are grateful to Schlencker Mapping for access to the photography and photogrammetry; we appreciate the support of the Government of Kiribati. Radiocarbon age analyses were undertaken under Grant AINGRA10073 from the Australian Institute of Nuclear Science and Engineering (AINSE). We appreciate the constructive comments from the reviewers and editors of this special issue.
Additional information
Handled by John E. Hay, Ibaraki University, Japan.
About this article
Cite this article
Biribo, N., Woodroffe, C.D. Historical area and shoreline change of reef islands around Tarawa Atoll, Kiribati. Sustain Sci 8, 345–362 (2013). https://doi.org/10.1007/s11625-013-0210-z
Received:

Accepted:

Published:

Issue Date:

DOI: https://doi.org/10.1007/s11625-013-0210-z
Keywords