Abstract
The importance of taking an integrative approach to research has long been integral to sustainability science, and has recently been highlighted as fundamental to the co-design of research and co-production of knowledge. Just what this means, however, and how to implement such a broad notion has escaped effective methodological development. In order to become more than a generic descriptor, integrative research needs to be conceptualized and presented in ways that offer guidance to researchers designing and conducting integrative research projects, whilst remaining broad enough to be relevant to the breadth and depth of sustainability-related problems. Drawing on complexity theory and fundamental aspects of integrative research, I present a methodological framing that seeks to achieve this balance. Using a definition of integrative research as "research in the context of complexity, with an action imperative", I draw from complexity theory that proposes minimal specifications, generative relationships, focusing on enablers and seeking diversity as core features of a complexity-based approach. On that basis I propose four principles that can be used by researchers to guide the design and implementation of their projects: embrace uncertainty; engage stakeholders; be transdisciplinary; and have a learning orientation. Each of these principles is explained, and their relationships to research design, methodological framing, choice of methods and project development are presented. Two integrative research project frameworks are presented as examples of how this principles-based approach can be implemented in research design. Using this approach offers a simple but powerful structure to guide integrative research for sustainability science at the project scale.
This is a preview of subscription content, log in to check access.
Access options
Buy single article
Instant access to the full article PDF.
US$ 39.95
Price includes VAT for USA
Subscribe to journal
Immediate online access to all issues from 2019. Subscription will auto renew annually.
US$ 99
This is the net price. Taxes to be calculated in checkout.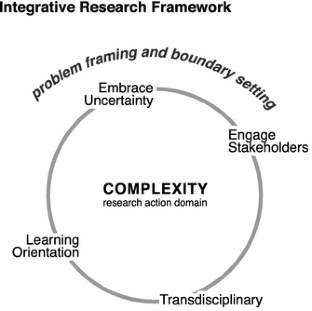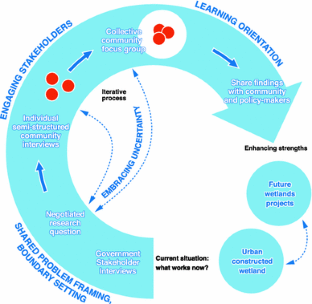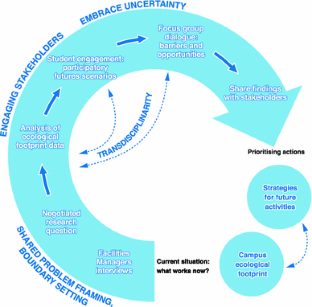 References
Agyeman J, Evans B (2004) 'Just sustainability': the emerging discourse of environmental justice in Britain? Geogr J 170:155–164

Allen P, Maguire S, McKelvey B (eds) (2011) The SAGE handbook of complexity and management. Sage, London

Allenby BR, Sarewitz DR (2011) The techno-human condition. MIT Press, Cambridge

Anon (2012) Co-designing knowledge: a common understanding of integrated global change research. Online report http://www.nkgcf.org/files/pdf/4%20pages%20Integration%20WS%20%20%28web%29.pdf. Accessed 10 June 2012

Bammer G (2005) Integration and implementation sciences: building a new specialization. Ecol Soc 20:6

Bardwell LV (1991) Problem-framing: a perspective on environmental problem-solving. Environ Manage 15:603–612

Blackstock KL, Carter CE (2007) Operationalising sustainability science for a sustainability directive? Reflecting on three pilot projects. Geogr J 173(4):343–357

Blackstock KL, Kelly GJ et al (2007) Developing and applying a framework to evaluate participatory research for sustainability. Ecol Econ 60(4):726–742

Brundiers K, Wiek A (2011) Educating students in real-world sustainability research—vision and implementation. Innov Higher Educ 36(2):107–124

Cartledge K, Dürrwächter C, Jimenez VH, Winder NP (2009) Making sure you solve the right problem. Ecol Soc 14:r3

Cleland D, Dray A, Perez P, Cruz-Trinidad A, Geronimo R (2012) Simulating the dynamics of subsistence fishing communities: REEFGAME as a learning and data-gathering computer-assisted role-play game. Simul Gaming 43:102–117

Cooperrider DL, Whitney DK (2005) Appreciative inquiry: a positive revolution in change. Berrett-Koehler, San Francisco

Evely AC, Fazey I, Lambin X, Lambert E, Allen S, Pinard M (2010) Defining and evaluating the impact of cross-disciplinary conservation research. Environ Conserv 37:442–450

Hadorn GH, Hoffmann-Riem H, Biber-Klemm S, Grossenbacher-Mansuy W, Joye D, Pohl C, Wiesmann U, Zemp E (eds) (2008) Handbook of transdisciplinary research. Springer, London

Ison RL (2010) Systems practice: how to act in a climate change world. Springer/Open University, London

Jahn T, Bergmann M, Keil F (2012) Transdisciplinarity: between mainstreaming and marginalization. Ecol Econ 79:1–10

Jerneck A, Olsson L et al (2011) Structuring sustainability science. Sustain Sci 6(1):69–82

Jones NA, Perez P, Measham TG, Kelly GJ, D'Aquino P, Daniell KA, Dray A, Ferrand N (2009) Evaluating participatory modeling: developing a framework for cross-case analysis. Environ Manage 44:1180–1195

Kasperson RE (2008) Coping with deep uncertainty: challenges for environmental assessment and decision-making uncertainty and risk. In: Bammer G, Smithson M (eds) Multidisciplinary perspectives. Earthscan, London, pp 356–367

Kasperson JX, Kasperson RE (2005) The social contours of risk. Earthscan, London

Keen M, Brown VA et al (2005) Social learning in environmental management : towards a sustainable future. Earthscan, London

Kolb DA (1984) Experiential learning: experience as the source of learning and development. Prentice-Hall, Englewood Cliffs

Kueffer C (2006) Integrative ecological research: case-specific validation of ecological knowledge for environmental problem solving. GAIA 15:115–120

Lang DJ, Wiek A, Bergmann M, Stauffacher M, Martens P, Moll P, Swilling M, Thomas CJ (2012) Transdisciplinary research in sustainability science: practice, principles, and challenges. Sustain Sci 7(Suppl 1):25–43

Leach M, Scoones I, Stirling A (2010) Dynamic sustainabilities: technology, environment, social justice. Earthscan, London

Liu Y, Gupta H, Springer E, Wagener T (2008) Linking science with environmental decision making: experiences from an integrated modeling approach to supporting sustainable water resources management. Environ Model Softw 23:846–858

Loorbach D (2010) Transition management for sustainable development: a prescriptive, complexity-based governance framework. Governance 23(1):161–183

Mathews LG, Jones A (2008) Using systems thinking to improve interdisciplinary learning outcomes: reflections on a pilot study in land economics. Issues Integr Stud 26:73–104

McDonald D, Bammer G, Deane P (2009) Research integration using dialogue methods. ANU E-press, Canberra

Merali Y, Allen P (2011) Complexity and systems thinking. In: Allen P, Maguire S, McKelvey B (eds) The SAGE handbook of complexity and management. SAGE, London, pp 31–52

National Office of Atmospheric Administration (2004) ICM basics: what does 'integrated' mean? Online source: http://icm.noaa.gov/story/icm_inte.html [Accessed 12 June 2012]

National Research Council (1999) Our common journey: a transition toward sustainability. The National Academies Press, Washington, DC

Plsek PE, Wilson T (2001) Complexity science: complexity, leadership, and management in healthcare organisations. Br Med J 323:746–749

Reason P, Bradbury H (eds) (2008) The SAGE handbook of action research: participative inquiry and practice. SAGE, London

Reed J (2007) Appreciative inquiry: research for change. SAGE, Thousand Oaks

Robinson J (2008) Being undisciplined: transgressions and intersections in academia and beyond. Futures 40:70–86

Roux DJ, Stirzaker RJ, Breen CM, Lefroy EC, Cresswell HP (2010) Framework for participative reflection on the accomplishment of transdisciplinary research programs. Environ Sci Policy 13:733–741

Rowe D (2007) Education for a sustainable future. Science 317:323–324

Russell AW, Wickson F, Carew AL (2008) Transdisciplinarity: context, contradictions and capacity. Futures 40:460–472

Schoolman ED, Guest JS, Bush KF, Bell AR (2012) How interdisciplinary is sustainability research? Analyzing the structure of an emerging scientific field. Sustain Sci 7:67–80

Shackley S, Wynne B, Waterton C (1996) Imagine complexity: the past, present and future potential of complex thinking. Futures 28:201–225

Sherren K, Fischer J, Clayton H, Schirmer J, Dovers S (2010) Integration by case, place and process: transdisciplinary research for sustainable grazing in the Lachlan River catchment, Australia. Landsc Ecol 25:1219–1230

Spangenberg JH (2011) Sustainability science: a review, an analysis and some empirical lessons. Environ Conserv 38(3):275–287

Stark R, Mandl H (2007) Bridging the gap between basic and applied research by an integrative research approach. Educ Res Eval 13:249–261

Stauffacher M, Walter A, Lang D, Wiek A, Scholz RW (2006) Learning to research environmental problems from a functional socio-cultural constructivism perspective: the transdisciplinary case study approach. Int J Sustain Higher Education 7:252–275

Stock P, Burton RJF (2011) Defining terms for integrated (multi-inter-trans-disciplinary) sustainability research. Sustainability 3:1090–1113

Talwar S, Wiek A et al (2011) User engagement in sustainability research. Sci Public Policy 38(5):379–390

Tress B, Tress G, Fry G (2005) Researchers' experiences, positive and negative, in integrative landscape projects. Environ Manage 36:792–807

Ulrich W, Reynolds M (2010) Critical systems heuristics. In: Reynolds M, Holwell S (eds) Systems approaches to managing change: a practical guide. Springer, London, pp 243–292

van de Fliert E, Braun AR (2002) Conceptualizing integrative, farmer participatory research for sustainable agriculture: from opportunities to impact. Agric Hum Values 19:25–38

van Kerkhoff L (2005) Integrated research: concepts of connection in environmental science and policy. Environ Sci Policy 8:452–463

van Kerkhoff L, Lebel L (2006) Linking knowledge and action for sustainable development. Annu Rev Environ Resour 31:445–477

Watkins JM, Mohr BJ (2001) Appreciative inquiry: change at the speed of imagination. Jossey-Bass/Pfeiffer, San Francisco

Wickson F, Carew AL, Russell AW (2006) Transdisciplinary research: characteristics, quandaries and quality. Futures 38:1046–1059

Wiek A, Withycombe L, Redman CL (2011) Key competencies in sustainability—a reference framework for academic program development. Sustain Sci 6(2):203–218

Wiek A, Farioli F, Fukushi K, Yarime M (2012a) Sustainability science: bridging the gap between science and society. Sustain Sci 7:1–4

Wiek A, Ness B et al (2012b) From complex systems analysis to transformational change: a comparative appraisal of sustainability science projects. Sustain Sci 7(Suppl. 1):5–24

Wuelser G, Pohl C, Hadorn GH (2011) Structuring complexity for tailoring research contributions to sustainable development: a framework. Sustain Sci 7:81–93
Additional information
Handled by Nobuo Mimura, Ibaraki University, Japan.
About this article
Cite this article
van Kerkhoff, L. Developing integrative research for sustainability science through a complexity principles-based approach. Sustain Sci 9, 143–155 (2014). https://doi.org/10.1007/s11625-013-0203-y
Received:

Accepted:

Published:

Issue Date:
Keywords
Integration

Complex systems

Sustainability science methodology

Research design

Transdisciplinarity

Systems thinking