Abstract
Since 1992, a boom of "sustainable development projects" has been registered in the Brazilian Amazon, turning it into a kind of open-air laboratory for sustainability. But their real impacts remain unclear, especially because of inadequate evaluation tools. A new device is therefore needed to unveil the inner mechanisms of development aid despite the difficulties linked with the diversity of contexts or the heterogeneity in the relevant parameters. Those are the challenges we met when we engaged in comparing the impacts of sustainable development programs in 13 sites throughout the Brazilian Amazon in order to identify determining factors of sustainability. To achieve our objective, we conceived an indicator system based on the results of intensive fieldwork, including social, economic, environmental, and biographical issues. Our results show that the most prominent problem of sustainability—evaluation of effectiveness—has not been tackled; life conditions and environmental preservation continue to appear antagonistic. At the same time, variability appears among outwardly coherent social groups, showing that a case-to-case approach is definitely indispensable and confirming the need to go "beyond panaceas" to find resolutions. This article successively addresses three points. First, we present the starting point of our research, or how the Amazon region was turned into a laboratory for sustainability and how our research project aimed at analyzing the consequences of this trend. Second, we discuss how available indicator systems fail to respond to the need for a multidimensional evaluation at the local level and, therefore, how we constituted our own analytical tool. Third, we focus on some results that can be derived from our system, especially in terms of identifying key factors needed to achieve sustainability in the Amazon.
Access options
Buy single article
Instant access to the full article PDF.
USD 39.95
Price excludes VAT (USA)
Tax calculation will be finalised during checkout.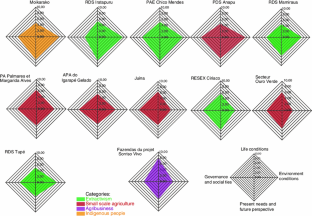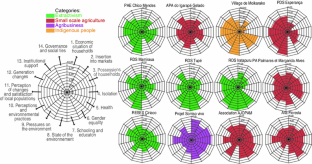 Notes
See a map of the location of each site in Figure S2 in the Supplementary Material.

Communities living from the non-destructive extraction of forest products.

The Amazon Cooperation Treaty was signed in 1978 by Bolivia, Brazil, Colombia, Ecuador, Guyana, Peru, Suriname, and Venezuela. Its objectives were to promote joint actions toward the harmonious development of the Amazon Basin. In 1995, the members of the treaty decided to create a permanent organization, which was installed in 2002 in Brasilia (Brazil). As part of its tasks, this organization did elaborate an indicator system for the Amazon region.

The fieldwork protocol included three questionnaires: one for households (socioeconomic), one for individuals (life history events), and one for stakeholders. All questionnaires had multiple-choice questions and open questions, such as "How do you understand sustainable development?" All households of a given site were surveyed when there were less than 80; above this number, a sample was determined on the basis of parameters that would ensure representativity. More than 900 households were surveyed in the 13 sites for a total number of more than 1,200 days in the field.

This work was not carried out for the Yanomami site because of an accident. Even without the indicators calculated, the knowledge gathered around this site was used when interpreting the data.
References
Anand S, Sen AK (1994) The human development index: methodology and measurement. University of Oxford, Oxford

Asner GP, Broadbent EN, Oliveira PJC, Keller M, Knapp DE, Silva JNM (2006) Condition and fate of logged forests in the Brazilian Amazon. P Natl Acad Sci USA 103(34):12947–12950

Ayong Le Kama A, Lagarenne C, Le Lourd P (2004) Indicateurs nationaux du développement durable: lesquels retenir? Rapport du groupe interministériel sur les indicateurs présenté à la Cour des Comptes et de l'Économie de l'Environnement, France, p 214

Berkes F (2003) Rethinking community-based conservation. Conserv Biol 18(3):621–630

Brondizio ES (2011) Forest resources, family networks and the municipal disconnect: examining recurrent underdevelopment in the Amazon estuary. In: Pinedo-Vasquez MA, Ruffino M, Padoch CJ and Brondízio ES (dirs) The Amazon Várzea, Springer, New York, pp 207–229

Brondizio ES, Cak A, Caldas M, Mena C, Bilsborrow R, Futemma CT, Moran EF, Batistella M and Ludewigs T (2009) Small farmers and deforestation in Amazônia. In: Keller M, Bustamante M, Gash J and Silva Dias P (eds) Amazônia and global change: a synthesis of LBA research, American Geophysical Union, Washington, DC, pp 117–143

Buclet B (2006) NGO networks and governance in the Amazon region. Autrepart 37:93–110

Bunker SG (1985) Underdeveloping the Amazon: extraction, unequal exchange, and the failure of the modern state, University of Chicago Press, USA

Carpentera SR, Mooney HA, Agard J, Capistrano D, DeFries RS, Díaz S, Dietz T, Duraiappah AK, Oteng-Yeboah A, Pereira HM, Perrings C, Reid WV, Sarukhan J, Scholes RJ, Whyte A (2009) Science for managing ecosystem services: beyond the Millennium Ecosystem Assessment. P Natl Acad Sci USA 106(5):1305–1312

Cash DW, Clark WC, Alcock F, Dickson NM, Eckley N, Guston DH, Jäger J, Mitchell RB (2003) Knowledge systems for sustainable development. P Natl Acad Sci USA 100(14):8086–8091

Daly HE, Cobb JB Jr (1989) For the common good: redirecting the economy toward community, the environment and a sustainable future. Beacon Press, Boston

De Mello NA (2010) Les politiques publiques de développement durable. In: Le Tourneau F-M, Droulers M (eds) L'Amazonie brésilienne et le développement durable. Belin, Paris, pp 47–72

Fearnside PM (2005) Deforestation in Brazilian Amazonia: history, rates and consequences. Conser Biol 19(3):680–688

Fearnside PM (2008) The roles and movements of actors in the deforestation of Brazilian Amazonia. Ecol Soc 13(1):23 [online], http://www.ecologyandsociety.org/vol13/iss1/art23/

Foley JA, DeFries R, Asner P, Barford C, Bonan G, Carpenter SR, Chapin FS, Coe MT, Daily GC, Gibbs HK, Helkowski JH, Holloway T, Howard EA, Kucharik CJ, Monfreda C, Patz JA, Prentice IC, Ramankutty N, Snyder PK (2005) Global consequences of land use. Science 309(5734):570–574

Geffray C (1995) Chroniques de la servitude en Amazonie brésilienne. Karthala, Paris

Goodland RJA, Irwin HS (1975) Amazon jungle: green hell to red desert?. An ecological discussion of the environmental impact of the highway construction program in the Amazon Basin, Elsevier

Hall A (2008) Better red than dead: paying the people for environmental services in Amazonia. Philos T R Soc B 363(1498):1925–1932

Hecht SB, Cockburn A (1989) The fate of the forest: developers, destroyers and defenders of the Amazon. Verso, New York

Jah R, Murthy KVB (2003) A critique of the Environmental Sustainability Index. Australian National University Division of Economics Working Paper, Canberra

Kohlhepp G (1995) The international pilot programme for Amazonia: an approach to sustainable regional development. Int Geogr Union Bull 45:17–30

Lahsenm M, Nobre CA (2007) The challenge of connecting international science and local level sustainability: the case of the LBA. Environ Sci Policy 10:62–74

Laurance WF, Cochrane MA, Bergen S, Fearnside PM, Delamônica P, Barber C, D'Angelo S, Fernandes T (2001) The future of the Brazilian Amazon. Science 291(5503):438–439

Le Tourneau FM, Droulers M (2010) L'Amazonie brésilienne et le développement durable. Belin, Paris

Le Tourneau FM, Greissing A (2010) A quest for sustainability: Brazil nut gatherers of São Francisco do Iratapuru and the Natura Corporation. Geogr J 176(4):334–349

Levett R (1998) Sustainability indicators: integrating quality of life and environmental protection. J Roy Stat Soc A Sta 161(3):291–302

Lobato Ribeiro A (2002) Modelo de indicadores para mensuração do desenvolvimento sustentável na Amazônia. PhD thesis, Federal University of Pará, Brazil

Loh J, Harmon D (2005) A global index of biocultural diversity. Ecol Indic 5:231–241

Loh J, Green RE, Ricketts T, Lamoreux J, Jenkins M, Kapos V, Randers J (2005) The living planet index: using species population time series to track trends in biodiversity. Phil Trans R Soc B 360:289–295

Malhia Y, Aragão LE, Galbraith D, Huntingford C, Fisher R, Zelazowski P, Sitch S, McSweeney C, Meir P (2009) Exploring the likelihood and mechanism of a climate-change-induced dieback of the Amazon rainforest. P Natl Acad Sci USA 106(49):20610–20615

Marchand, G. (2010) Un système d'indicateurs pour évaluer les impacts territoriaux des politiques de développement durable dans les zones rurales d'Amazonie brésilienne : l'expérience IDURAMAZ. PhD thesis, IHEAL/University Paris 3 Sorbonne-Nouvelle, http://tel.archives-ouvertes.fr/tel-00536985_v1/

Marks N, Abdallah S, Simms A, Thompson S (2006) The unhappy planet index: an index of human well-being and environmental impact. New Economics Foundation, London

MMA (Brazil Ministry of Environment) (2004) PPG-7. Subprograma projetos demonstrativos. estudos da Amazônia: avaliação de 20 projetos. Série Experiências PDA 5

Moran E (1981) Developing the Amazon: the social and ecological impact of settlement along the transamazon highway. Indiana University Press, Bloomington

Morsello C (2006) Company-community non-timber forest product deals in the Brazilian Amazon: a review of opportunities and problems. For Pol Econ 8:485–494

Morsello C, Adger NW (2007) Do partnerships between large corporations and Amazonian indigenous groups help or hinder communities and forests? In: Ros-Tonen MAF (ed) Partnerships in sustainable forest resource management: learning from Latin America, CLAS 94. Brill e-books, Boston, pp 147–167

Munda G (2005) "Measuring sustainability": a multi-criterion framework. Environ Dev Sustain 7:117–134

Nogueira EM, Fearnside PM, Walker Nelson B, Imbrozio Barbosa R, Hermanus Keizer EW (2008) Estimates of forest biomass in the Brazilian Amazon: new allometric equations and adjustments to biomass from wood-volume inventories. Forest Ecol Manag 256:1853–1867

OECD (2004) OECD key environmental indicators. OECD Environment Directorate, Paris

Ostrom E, Nagendra H (2006) Insights on linking forests, trees, and people from the air, on the ground, and in the laboratory. P Natl Acad Sci USA 103(51):19224–19231

Prescott-Allen R (2001) The well being of nations: a country-by-country index of quality of life and the environment. Island Press, Washington, DC

RAISG (Red Amazónica de Información Socioambiental Georeferenciada) (2010) Mapa da Amazonia 2010—Áreas protegidas e terrotórios indígenas, ISA, São Paulo, Brazil

Reed MS, Fraser EDG, Dougill AJ (2006) An adaptive learning process for developing and applying sustainability indicators with local communities. Ecol Econ 59:406–418

Rodrigues ASL, Ewers RM, Parry L, Souza C Jr, Veríssimo A, Balmford A (2009) Boom-and-bust development patterns across the Amazon deforestation frontier. Science 324(5933):1435–1437

Santilli J (2005) Socioambientalismo e novos direitos. Peirópolis, São Paulo

Schwartzman S, Zimmerman B (2005) Conservation alliances with indigenous peoples of the Amazon. Conserv Biol 19(3):721–727

Soares-Filho BS, Nepstad DC, Curran LM, Coutinho Cerqueira G, Alexandrino Garcia R, Azevedo Ramos C, Voll E, McDonald A, Lefebvre P, Schlesinger P (2006) Modelling conservation in the Amazon basin. Nature 440(23):520–523

Stokke K, Mohan G (2001) The convergence around local civil society and the dangers of localism. Soc Scientist 29(11/12):3–24

Talberth J, Cobb C, Slattery N (2006) The genuine progress indicator 2006. A tool for sustainable development, Redefining Progress, Oakland, CA

Tasaki T, Kameyama Y, Hashimoto S, Moriguchi Y, Harasawa H (2010) A survey of national sustainable development indicators. Int J Sust Dev 13(4):337–361

Valentin A, Spangenberg JH (2006) A guide to community sustainability indicators. Environ Impact Assess Rev 20(2000):381–392

Wackernagel M, Monfreda C, Moran D, Wermer P, Goldfinger S, Deumling D, Murray M (2005) National footprint and biocapacity accounts 2005: the underlying calculation method. Global Footprint Network, Oakland

Woodley E, Crowley E, Dey de Pryck J, Carmen A (2006) Cultural indicators of indigenous peoples' food and agro-ecological systems, Food and Agriculture Organization and International Indian Treaty Council, Rome, http://www.fao.org/sard/common/ecg/3045/en/Cultural_Indicators_paperApril2008.pdf
Additional information
Handled by Osamu Saito, UNU-Institute of Sustainability and Peace (ISP), Japan.
Electronic supplementary material
Below is the link to the electronic supplementary material.
About this article
Cite this article
Le Tourneau, FM., Marchand, G., Greissing, A. et al. Assessing the impacts of sustainable development projects in the Amazon: the DURAMAZ experiment. Sustain Sci 8, 199–212 (2013). https://doi.org/10.1007/s11625-013-0200-1
Received:

Accepted:

Published:

Issue Date:

DOI: https://doi.org/10.1007/s11625-013-0200-1
Keywords