Abstract
This article examines challenges to food security in areas especially vulnerable to the effects of climate variability and change, and the potential contribution of seasonal climate forecasting. Drawing on long-term study of the way environmental information is developed and circulates, and on recent fieldwork in Western Kenya, the article describes how climate variability exacerbates food insecurity; the kinds of climate information that are now being developed; and the kinds of technologies, organizations, and expertise that will be needed if new forms of climate information are to benefit vulnerable populations. Findings indicate that new forms of expertise need to be developed at all scales, and that linkage among stakeholders and between organizations functioning at different scales will be a considerable challenge.
Access options
Buy single article
Instant access to the full article PDF.
USD 39.95
Price includes VAT (USA)
Tax calculation will be finalised during checkout.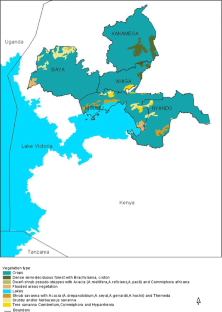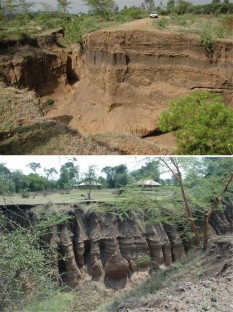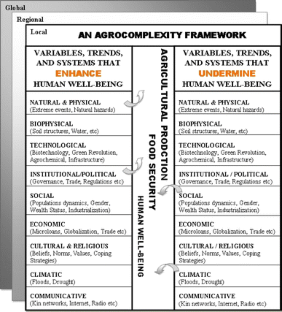 Notes
1.

The 1996 Rome declaration includes the commitment to achieving food security for all and eradicating hunger in all countries, with a view to reducing the number of undernourished people to half by 2015.

2.

3.

4.

5.

6.

Tacchi defines "communicative ecology" as a milieu of agents who are connected in various ways by various exchanges of mediated and unmediated forms of communication. According to Tacchi, communication is based on the principle that in order to understand one aspect of communication with particular settings, you need to understand how it fits into the wider 'communicative ecologies'—meaning use, function, flow, channels and interconnectedness.

7.

Elsewhere, K. Fortun examines in greater depth and argues for the importance of complex digital information systems to support environmental assessment (2004).
References
Aalst MV (2006) Managing climate risk: integrating adaptation into World Bank group operation. The World Bank, Washington, DC

Achoka JSK, Maiyo J (2008) Horrifying disasters in western Kenya: impact on education and national development. Educational Res Rev 3:154–161

Agrawala S, Broad K, Guston DH (2001) Integrating climate forecasts and societal decision making: challenges to an emergent boundary object. Sci Technol Human Values 26(4):454–477

Amadalo B, Jama B, Noording Q, Nyasimi M, Place F, Franzel S, Baniest J (2003) Improved fallows for Western Kenya. The World Agroforestry Center (ICRAF), Nairobi

Amissah-Arthur A (2004) Targeting climate forecasts for agricultural applications in Sub-Saharan Africa: situating farmers in user-space. Clim Change 58(1–2):73–92

Atkins PJ, Bowler IR (2001) Food in society: economy, culture, geography. Arnold, London

Babaleye T (2005) Can cassava solve Africa's food crisis? Afr Bus 314:24–25

Barrett CB, Lynam J, Place F, Reardon T, Aboud AA (2002) Towards improved natural resources management in African agriculture. CAB International, Natural Resources Management in African Agriculture, pp 287–296

Blench R (1999) Seasonal climatic forecasting: who can use it and how should it be disseminated? Nat Resour Perspect 47 (November)

Chambers R, Arnold P, Lori AT (1989) Farmer first: farmer innovation and agricultural research. Intermediate Technology Publications, London

CIESIN (2006) Where the poor are: an atlas of poverty. Centre for International Earth Science Information Network (CIESIN), The Earth Institute at Colombia University, New York

Collins HM, Evans RJ (2002) The third wave of science studies: studies of expertise and experience. Soc Stud Sci 32(2):235–296

Corbera E, Conway D, Goulden M, Vincent K (2006) Climate change in Africa: linking science and policy for adaptation. Tyndall Centre for Climate Change Research and International Institute for Environment and Development (IIED), London

Daily Nation (2009) State of emergency as hunger looms. The Daily Nation, Nairobi. January 9, 2009

ERM (2002) Predicted impact of global climate change on poverty and the sustainable achievement of the millennium development goals. Environmental Resources Management, London

FAO (2004) The state of food insecurity in the world 2004. Food and Agriculture Organization of the United Nations, Rome

FAO (2006a) The special programme for food security. Food and Agriculture Organization of the United Nations, Rome

FAO (2006b) The state of food insecurity in the world 2006: eradicating world hunger—taking stock ten years after the World Food Summit. Food and Agriculture Organization of the United Nations, Rome

FAO (2008) The state of food insecurity in the world 2008. High food prices and food security—threats and opportunities. Food and Agriculture Organization of the United Nations, Rome

Fields S (2005) Continental divide: Why Africa's climate change burdens is greater. Environ Health Perspect 113(8):A534–A537

Fortun K (2004a) Environmental information systems and appropriate technology. Des Issues 20(3):54–65

Fortun K (2004b) From Bhopal to the informating of environmental health: risk communication in historical perspective. OSIRIS 19(1):283–296 (special issue: Landscapes of exposure: knowledge and illness in modern environments)

Fortun K (2009) Environmental right-to-know and the transmutations of law, catastrophe: law, politics and the humanitarian impulse. In: Austin Sarat (ed). University of Massachusetts Press, Amhers

Franzel S, Cooper P, Denning IG (2001) Scaling-up the benefits of agroforestry research: lessons learned and research challenges. Dev Pract Oxfam 11:524–534

Galison P (1997) Image & logic: a material culture of microphysics. The University of Chicago Press, Chicago

GHA (2006) Food security bulletin—September 2006. Accessed 3 October 2007, from http://www.fews.net/centers/files/East_200608en.pdf

GoK (2002) The 9th National Development Plan 2000–2008: effective management for sustainable economic growth and poverty reduction. Government of Kenya (GoK), Nairobi

GoK (2005) Strategic plan 2005–2009. Ministry of Agriculture, Nairobi

Hansen JW, Indeje M (2004) Linking dynamic seasonal climate forecasts with crop simulation for maize yield prediction in semi-arid Kenya. Agric For Meteorol 125(1–2):143–157

Hansen JW, Challinor A, Ines AVM, Wheeler T, Moron V (2006) Translating climate forecasts into agricultural terms: advances and challenges. Clim Res 33:27–41

Harding S (1991) Whose science? Whose knowledge? Thinking from women's lives. Cornell University Press, Ithica

Harding S (1998) Is science multicultural? Post colonialism, feminism, and epistemologies. Indiana University Press, Bloomington

Hersman (2007) Farmers in Kenya Using a Mobile Information Exchange. http://whiteafrican.com/2007/03/19/farmers-in-kenya-using-a-mobile-information-exchange/. Accessed 15 Nov 2009

ICRAF (2004) Restoring Kenya's degraded land: ICRAF scientist launch a major project in Western Kenya. Annual Report 2004: Trees and the Environment. http://www.worldagroforestrycentre.org/ar2004/downloads/AnnualReport-PartII.pdf. Accessed 29 September 2006

IEA (2008) Agriculture and Rural Development Sector: budget performance 2003–2008 and emerging policy issues, Institute of Economic Affairs (IEA). http://www.ieakenya.or.ke/documents/Budget%20Focus%2021%20Agriculture.pdf. Accessed 15 Nov 2009

IPCC (2007) Climate change 2007: synthesis. IPCC fourth assessment report, Intergovernmental Panel on Climate Change

Karanja FK, Mutua FM (2000) Reducing the impact of environmental emergencies through early warning and preparedness. The case of El Niño–Southern Oscillation (ENSO). Impacts of the 1997–98 El Niño events in Kenya. http://www.unu.edu/env/govern/ElNino/CountryReports/pdf/kenya.pdf. Accessed 5 January 2007

Leach M, Fairhead J (2002) Manners of contestation: "citizen science" and "indigenous knowledge" in West Africa and the Caribbean. Int Soc Sci J 53(3):299–311

Linthicum KJ, Anyamba A, Tucker CJ, Kelley PW, Myers MF, Peters CJ (1999) Climate and satellite indicators to forecast Rift Valley fever epidemics in Kenya. Science 285(5426):397–400

Luseno WK, McPeak JG, Barrett CB, Little PD, Gebru G (2003) Assessing the value of climate forecast information for pastoralists. Evidence from Southern Ethiopia and Northern Kenya. World Dev 31(9):1477–1494

Mackenzie AFD (1998) Land, ecology and resistance in Kenya, 1880–1952. Heinemann, Portsmouth

Mason S (2002) Seasonal climate forecasting. Tiempo. http://www.cru.uea.ac.uk/tiempo/portal/archive/issue47/t47a2.htm. Accessed 21 Dec 2008

Meza FJ, Hansen JW, Osgood D (2008) Economic value of seasonal climate forecasts for agriculture: review of ex-ante assessments and recommendations for future research. J Appl Meteorol Climatol 47(5):1269–1286

Mjelde JW, Hill HSJ, Griffiths JF (1998) A review of current evidence on climate forecasts and their economic effects in agriculture. Am J Agric Econ 80(5):1089–1095

Mjelde JW, Penson JB, Nixon CJ (2000) Dynamic aspects of the impact of the use of improved climate forecasts in the corn belt region. J Appl Meteorol 39:67–79

Morgan BW, Solarz AJ (1994) Agricultural crisis in Sub-Saharan Africa: development constraints and policy problems. Geogr J 160(1):57–73

Mungai D, Swallow B, Mburu J, Onyango L, Njui A (2004) Reversing environmental and agricultural decline in the Nyando river basin. World Agroforestry Centre, Nairobi

Ngecu MW, Mathu ME (2002) The El Nino triggered landslides and their economic impacts on Kenya. Department of Geology, University of Nairobi, Nairobi, pp 284–288

O'Brien K, Leichenko MR (2000) Double exposure: assessing the impacts of climate change within the context of economic globalization. Glob Environ Change 10:221–232

Ochola A (2006) Gulley, soil erosion threatens rural life. The East African Standard, April 23. Nairobi, Kenya

Ongwae J, Karanja F (2005) Coping with drought and climate change in Kenya. Paper presented at The Coping with Drought and Climate Change-project Advisory committee meeting held at UNDP/DDC, Nairobi, Kenya on 29–30 August 2005

Rarieya M (2007) Environmental degradation, food security, and climate change: an STS perspectives on sustainable development in Western Kenya, Rensselaer Polytechnic Institute. Publication # 3286339

Richards M (2003) Poverty reduction, equity and climate change: challenges for global governance. Nat Resour Perspect 83 (April)

Rocheleau D, Wachira K, Malaret L, Wanjohi MB (1989) Local knowledge for agroforestry and native plants. In: Chambers R, Arnold P, Lori AT (eds) Farmer first: farmer innovation and agricultural research. Short Run Press, Exeter, pp 14–23

Sanchez PA, Swaminathan MS, Dobie P, Yuksel N (2005) Halving hunger: it can be done. Earthscan, London

Schreck CJ, Semazzi HM (2004) Variability of the recent climate of eastern Africa. Int J Climatol 24(6):665–793

Serageldin I (1999) Sustainable agriculture for a food secure third world. Soc Res 66(1):105–115

Smestad TB, Tiessen H, Buresh RJ (2002) Short fallow of Tithonia diversifolia and Crotalaria grahamiana for soil fertility improvement in Western Kenya. Agrofor Syst 55:181–194

Swallow B, Okono A, Ong C, Place F (2003) TransVic: improved land management across the Lake Victoria Basin. In: Harwood RR, Kassam HA (eds) Research towards integrated natural resources management: examples of research problems, approaches and partnerships in action with the CGIAR. CGIAR-Consultative Group on International Agricultural Research, pp 65–78

Tacchi JA (2006) Studying communicative ecologies: an ethnographic approach to information and communication technologies (ICTs). In: Proceedings of 56th annual conference of the International Communication Association, Dresden, Germany, 19–23 June 2006

Thomson MC, Indeje M, Connora S, Dilleya M, Warda N (2003) Malaria early warning in Kenya and seasonal climate forecasts. Lancet 362(9383):580

Thomson MC, Manson SJ, Phindela T, Connor SJ (2005) Rainfall and sea-surface temperature monitoring for malaria early warning in Botswana. Am J Trop Med Hyg 73:214–221

UN (2006) The millennium development goals report. United Nations, New York

UNEP (2003) Adaptation to climate change. Twenty-second session of the Governing Council/Global Ministerial Environment Forum, Nairobi, 3–7 February 2003, United Nations Environmental Programme

UNEP (2004) Coping with floods in KENYA: vulnerability, impacts and adaptation options for the flood prone areas of Western Kenya. Nairobi, Drought Monitoring Centre (DCMN) and United Nations Environmental Programme (UNEP)
Acknowledgments
This field research was supported financially by the Humanities, Arts, Architecture and Social Science (HAAS) Fellowship, Rensselaer Polytechnic Institute. The completion of this manuscript was made possible by the Japan Society for the Promotion of Science (JSPS) fellowship award. Although many individuals have contributed in many ways, we take responsibility for the material presented in this article.
Additional information
Edited by Mitsuru Osaki and Ademola Braimoh, Hokkaido University, Japan.
About this article
Cite this article
Rarieya, M., Fortun, K. Food security and seasonal climate information: Kenyan challenges. Sustain Sci 5, 99–114 (2010). https://doi.org/10.1007/s11625-009-0099-8
Received:

Accepted:

Published:

Issue Date:
Keywords
Climate variability and change

Environmental degradation

Food security

Sustainable agriculture

Modes of expertise

Climate forecast information