Abstract
There is an implicit assumption in Content- and Language Integrated Learning that the acquired knowledge is represented independently of the language of instruction. However, it could be shown in several experimental intervention studies that cognitive costs (i. e. longer reaction times and lower accuracy) arise when the languages of study and retrieval do not match. In the present study, we focused on arithmetic fact learning and investigated whether these cognitive costs generalize to more complex contexts. In addition, we explored the relationship between the cognitive costs and individual differences in executive functions, intelligence, mathematical competence and second language (L2) proficiency. Participants were 58 German-French bilingual university students (L2 proficiency B2 or above). They studied multiplication facts for 3 consecutive days in either their L1 or L2, followed by a test in both languages on the 4th day. Cognitive costs caused by language switching between training and test were found for both problems requiring simple fact retrieval and problems requiring knowledge application in novel, more complex text problems. The costs were negatively related with L2 proficiency and positively with inhibition. This study shows for the first time that language switching costs can be found in situations when knowledge needs to be applied in a new context, as it is often necessary in classroom learning. Implications of this study will be discussed with regards to bilingual arithmetic learning.
Zusammenfassung
Bei fremdsprachlichem Fachunterricht wird implizit davon ausgegangen, dass das erworbene Wissen unabhängig von der Instruktionssprache repräsentiert ist. In mehreren experimentellen Interventionsstudien konnte allerdings gezeigt werden, dass kognitive Kosten in Form von längeren Reaktionszeiten und höheren Fehlerzahlen entstehen, wenn die Sprache beim Wissensabruf nicht mit der Instruktionssprache übereinstimmt. In der vorliegenden Studie wurde für arithmetisches Faktenlernen untersucht, ob sich diese Kosten auf komplexere Aufgaben übertragen. Weiterhin wurde deren Zusammenhang mit exekutiven Funktionen, Intelligenz, Rechen- und Sprachkompetenzen in der Zweitsprache (L2) geprüft. Die Studienteilnehmer waren 58 zweisprachige (deutsch-französisch) Studierende (L2-Sprachfähigkeiten B2 oder höher). Sie lernten die Ergebnisse von Multiplikationsaufgaben über 3 aufeinanderfolgende Tage in der L1 oder L2, mit einem anschließenden Test auf beiden Sprachen am 4. Tag. Kognitive Kosten durch Sprachwechsel zwischen Training und Testung wurden für die Reaktionszeiten bei Aufgaben, die einen einfachen Faktenabruf erforderten, sowie bei Transferaufgaben, die Anwendung des Wissens in einem neuen, komplexeren Kontext erfordern, gefunden. Das Ausmaß der Kosten zeigte negative Zusammenhänge mit den Sprachfähigkeiten in L2 und positive Zusammenhänge mit Inhibition. Mit dieser Studie konnte erstmalig gezeigt werden, dass kognitive Kosten auch in Situationen entstehen, in denen Gelerntes in einen neuen Kontext gestellt wird, wie es im Rahmen schulischen Lernens erforderlich ist. Implikationen der Studie werden im Hinblick auf zweisprachiges Mathematiklernen diskutiert.
Access options
Buy single article
Instant access to the full article PDF.
USD 39.95
Price excludes VAT (USA)
Tax calculation will be finalised during checkout.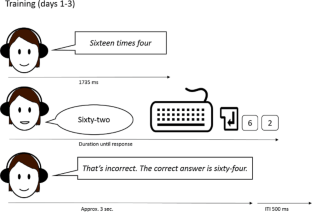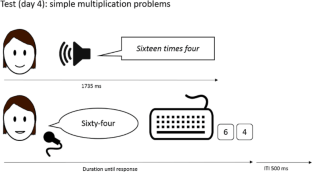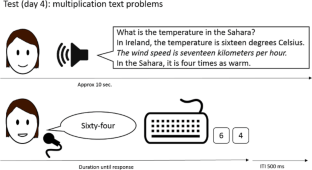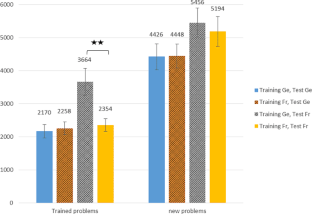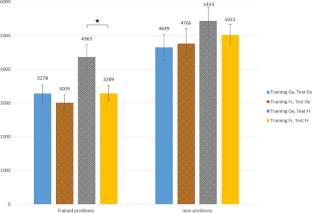 References
Abedi, J., & Lord, C. (2001). The language factor in mathematics tests. Applied Measurement in Education, 14(3), 219–234.

de Abreu, E. P. M. J., Cruz-Santos, A., Tourinho, C. J., Martin, R., & Bialystok, E. (2012). Bilingualism enriches the poor: enhanced cognitive control in low-income minority children. Psychological Science, 23(11), 1364–1371.

Bergström, K., Klatte, M., Steinbrink, C., & Lachmann, T. (2016). First and second language acquisition in German children attending a kindergarten immersion program: a combined longitudinal and cross-sectional study. Language Learning, 66(2), 386–418.

Bialystok, E. (2006). Effect of bilingualism and computer video game experience on the Simon task. Canadian Journal of Experimental Psychology, 60(1), 68–79.

Bialystok, E. (2009). Bilingualism: the good, the bad, and the indifferent. Bilingualism: Language and Cognition, 12(01), 3.

Bialystok, E. (2015). Bilingualism and the development of executive function: the role of attention. Child Development Perspectives, 9(2), 117–121.

Bialystok, E., & Martin, M. M. (2004). Attention and inhibition in bilingual children: evidence from the dimensional change card sort task. Developmental Science, 7(3), 325–339.

Bialystok, E., Craik, F. I. M., Klein, R., & Viswanathan, M. (2004). Bilingualism, aging, and cognitive control: evidence from the Simon task. Psychology and aging, 19(2), 290–303.

Bialystok, E., Craik, F. I., Grady, C., Chau, W., Ishii, R., Gunji, A., & Pantev, C. (2005). Effect of bilingualism on cognitive control in the Simon task: evidence from MEG. NeuroImage, 24(1), 40–49.

Blum, W., & Niss, M. (1991). Applied mathematical problem solving, modelling, applications, and links to other subjects ?: State, trends and issues in mathematics instruction. Educational Studies in Mathematics, 22(1), 37–68.

Brysbaert, M. (2013). LexTALE_FR: A fast, free, and efficient test to measure language proficiency in French. Psychologica Belgica, 53(1), 23–37.

Carlson, S. M., & Meltzoff, A. N. (2008). Bilingual experience and executive functioning in young children. Developmental Science, 11(2), 282–298.

Cheng, L., Li, M., Kirby, J. R., Qiang, H., & Wade-Woolley, L. (2010). English language immersion and students' academic achievement in English, Chinese and mathematics. Evaluation & Research in Education, 23(3), 151–169.

Council for Cultural Co-operation (2009). Common European Framework of Reference for Languages: learning, teaching, assessment (10th edn.). Cambridge: Cambridge University Press.

Council of Europe (2002). Common European framework of reference for languages: learning, teaching, assessment; case studies. Language policies. Strasbourg: Council of Europe Publishing.

Crystal, D. (2008). Two thousand million? English Today, 24(01), 3–6.

Dallinger, S., Jonkmann, K., Hollm, J., & Fiege, C. (2016). The effect of content and language integrated learning on students' English and history competences—Killing two birds with one stone? Learning and Instruction, 41, 23–31.

Dowker, A. (2005). Individual differences in arithmetic: Implications for psychology, neuroscience and education. Hove: Psychology Press.

EACEA, Eurydice, & Eurostat (2012). Key data on teaching languages at school in Europe. Brussels: Eurydice.

Ekstrom, R. B., French, J. W., Harman, H. H., & Dermen, D. (1976). Kit of factor-referenced cognitive tests

Eurydice (2006). Content and Language Integrated Learning (CLIL) at School in Europe. Brussels: Eurydice.

Geary, D. C. (2013). Early foundations for mathematics learning and their relations to disabilities. Current directions in psychological science, 22(1), 23–27.

Gentner, D., & Goldin-Meadow, S. (2003). Language in mind: advances in the study of language and thought. Cambridge: MIT Press.

Grabner, R. H., & De Smedt, B. (2012). Oscillatory EEG correlates of arithmetic strategies: a training study. Frontiers in Psychology, 3(428), 1–11.

Grabner, R. H., Ischebeck, A., Reishofer, G., Koschutnig, K., Delazer, M., Ebner, F., & Neuper, C. (2009). Fact learning in complex arithmetic and figural-spatial tasks: the role of the angular gyrus and its relation to mathematical competence. Human Brain Mapping, 30(9), 2936–2952.

Grabner, R. H., Saalbach, H., & Eckstein, D. (2012). Language-switching costs in bilingual mathematics learning. Mind, Brain, and Education, 6(3), 147–155.

Green, D. W. (1998). Mental control of the bilingual lexico-semantic system. Bilingualism: Language and Cognition, 1(02), 67.

Gumperz, J. J., & Levinson, S. C. (1996). Rethinking linguistic relativity

Hilchey, M. D., & Klein, R. M. (2011). Are there bilingual advantages on nonlinguistic interference tasks? Implications for the plasticity of executive control processes. Psychonomic bulletin & review, 18(4), 625–658.

Iluz-Cohen, P., & Armon-Lotem, S. (2013). Language proficiency and executive control in bilingual children. Bilingualism: Language and Cognition, 16(04), 884–899.

Imai, M., Schalk, L., Saalbach, H., & Okada, H. (2014). All giraffes have female-specific properties: influence of grammatical gender on deductive reasoning about sex-specific properties in German speakers. Cognitive science, 38(3), 514–536.

Jäger, A. O., Süß, H.-M., & Beauducel, A. (1997). Berliner Intelligenzstruktur-Test: BIS-Test Form 4. Göttingen: Hogrefe.

Jäppinen, A. K. (2005). Thinking and content learning of mathematics and science as cognitional development in content and language integrated learning (CLIL): teaching through a foreign language in Finland. Language and Education, 19(2), 147–168.

Karbach, J., & Kray, J. (2009). How useful is executive control training? Age differences in near and far transfer of task-switching training. Developmental Science, 12(6), 978–990.

Kempert, S., Saalbach, H., & Hardy, I. (2011). Cognitive benefits and costs of bilingualism in elementary school students: the case of mathematical word problems. Journal of Educational Psychology, 103(3), 547–561.

Lo, Y. Y., & Lo, E. S. C. (2014). A meta-analysis of the effectiveness of English-medium education in Hong Kong. Review of Educational Research, 84(1), 47–73.

Mackworth, J. F. (1959). Paced memorizing in a continuous task. Journal of Experimental Psychology, 58(3), 206–211.

Malt, B. C., & Wolff, P. (2010). Words and the mind: how words capture human experience.

Marian, V., & Fausey, C. M. (2006). Language-dependent memory in bilingual learning. Applied Cognitive Psychology, 20(8), 1025–1047.

Martin-Rhee, M. M., & Bialystok, E. (2008). The development of two types of inhibitory control in monolingual and bilingual children. Bilingualism: Language and Cognition, 11(01), 81–93. https://doi.org/10.1017/S1366728907003227.

Miller, K. F., & Stigler, J. W. (1987). Counting in Chinese: cultural variation in a basic cognitive skill. Cognitive Development, 2(3), 279–305.

Miller, K. F., Smith, C. M., Zhu, J., & Zhang, H. (1995). Preschool origins of cross-national differences in mathematical competence: the role of number-naming systems. Psychological Science, 6(1), 56–60.

Mishra, R. K., Hilchey, M. D., Singh, N., & Klein, R. M. (2012). On the time course of exogenous cueing effects in bilinguals: higher proficiency in a second language is associated with more rapid endogenous disengagement. The Quarterly journal of experimental psychology, 65(8), 1502–1510.

Miyake, A., Friedman, N. P., Emerson, M. J., Witzki, A. H., Howerter, A., & Wager, T. D. (2000). The unity and diversity of executive functions and their contributions to complex "Frontal Lobe" tasks: a latent variable analysis. Cognitive psychology, 41(1), 49–100.

Möller, J., Hohenstein, F., Fleckenstein, J., & Baumert, J. (2017). Formen und Effekte des Fremdsprachenerwerbs und der bilingualen Beschulung. In J. Möller, F. Hohenstein, J. Fleckenstein, O. Köller, & J. Baumert (Eds.), Erfolgreich integrieren – die Staatliche Europa-Schule Berlin. Münster: Waxmann.

Paetsch, J., Felbrich, A., & Stanat, P. (2015). Der Zusammenhang von sprachlichen und mathematischen Kompetenzen bei Kindern mit Deutsch als Zweitsprache. Zeitschrift für Pädagogische Psychologie, 29(1), 19–29.

Piesche, N., Jonkmann, K., Fiege, C., & Keßler, J. U. (2016). CLIL for all? A randomised controlled field experiment with sixth-grade students on the effects of content and language integrated science learning. Learning and Instruction, 44, 108–116.

Saalbach, H., Imai, M., & Schalk, L. (2012). Grammatical gender and inferences about biological properties in german-speaking children. Cognitive science, 36(7), 1251–1267.

Saalbach, H., Eckstein, D., Andri, N., Hobi, R., & Grabner, R. H. (2013). When language of instruction and language of application differ: cognitive costs of bilingual mathematics learning (PSYNDEXshort). Learning and Instruction, 26, 36–44.

Saalbach, H., Gunzenhauser, C., Kempert, S., & Karbach, J. (2016). Der Einfluss von Mehrsprachigkeit auf mathematische Fähigkeiten bei Grundschulkindern mit niedrigem sozioökonomischen Status. Frühe Bildung, 5(2), 73–81.

Simon, J. R., & Rudell, A. P. (1967). Auditory SR compatibility: the effect of an irrelevant cue on information processing. Journal of applied psychology, 51(3), 300.

Spelke, E. S., & Tsivkin, S. (2001). Language and number: a bilingual training study. Cognition, 78(1), 45–88.

Turnbull, M., Hart, D., & Lapkin, S. (2003). Grade 6 French immersion students' performance on large-scale reading, writing, and mathematics tests: building explanations. Alberta Journal of Educational Research, 49(1), 6–23.

Verschaffel, L., Greer, B., & de Corte, E. (2002). Everyday knowledge and mathematical modeling of school word problems. In K. Gravemeijer, R. Lehrer, B. van Oers, & L. Verschaffel (Eds.), Symbolizing, modeling and tool use in mathematics education (pp. 257–276). Dordrecht: Springer.

Yan, S., & Nicoladis, E. (2009). Finding le mot juste: differences between bilingual and monolingual children's lexical access in comprehension and production. Bilingualism: Language and Cognition, 12(03), 323–335.

Zaunbauer, A. C. M., & Möller, J. (2010). Schulleistungsentwicklung immersiv unterrichteter Grundschüler in den ersten zwei Schuljahren. Psychologie in Erziehung und Unterricht, 57(1), 30–45.

Zied, K. M., Phillipe, A., Karine, P., Valerie, H. T., Ghislaine, A., & Arnaud, R. (2004). Bilingualism and adult differences in inhibitory mechanisms: evidence from a bilingual Stroop task. Brain and cognition, 54(3), 254–256.
Appendix
Appendix
About this article
Cite this article
Volmer, E., Grabner, R.H. & Saalbach, H. Language switching costs in bilingual mathematics learning: Transfer effects and individual differences. Z Erziehungswiss 21, 71–96 (2018). https://doi.org/10.1007/s11618-017-0795-6
Published:

Issue Date:

DOI: https://doi.org/10.1007/s11618-017-0795-6
Keywords
Arithmetic text problems

Bilingual education

Cognitive costs

Content- and language integrated learning (CLIL)

Executive functions

Language Switching Costs

Transfer
Schlüsselwörter
Mathematische Textaufgaben

Bilingualer Unterricht

Kognitive Kosten

Fremdsprachlicher Fachunterricht

Exekutive Funktionen

Sprachwechselkosten

Transfer