Zusammenfassung
Dieser theoretisch-konzeptionelle Beitrag reflektiert die bisherigen Bemühungen, Öffentlichkeit unter digitalen Bedingungen neu zu denken, um anschließend eine alternative Perspektive aufzuzeigen: Durch eine Verbindung von Öffentlichkeitstheorie und relationaler Soziologie wird es möglich, die Transformation von Öffentlichkeit als eine Transformation der Kommunikationsbeziehungen innerhalb von Öffentlichkeit zu verstehen. Dabei spielen vor allem semiöffentliche Kommunikationsbeziehungen eine große Rolle, die weder privat noch öffentlich, sondern graduell dazwischen verortet werden können. Die Unterscheidung von öffentlicher, semiöffentlicher und privater Kommunikation in Verbindung mit verschiedenen Formen sozialer Beziehungen erlaubt konzeptionelle Differenzierung, ohne den Öffentlichkeitsbegriff zu überdehnen. Abschließend skizziert der Beitrag einige Folgen des Aufstiegs von Semiöffentlichkeit für Kommunikation, Medien und Gesellschaft.
Abstract
In this theoretical contribution we reflect previous attempts to re-conceptualize the public sphere in a digital era and suggest an alternative perspective: to combine public sphere theory with relational sociology. By doing so, we are better able to understand the transformation of public spheres as a transformation of communicative relations within public spheres.
In the past decades, scholars have addressed these transformations by mainly two strategies: a fragmentation and/or a conceptual extension of the public sphere. The first approach, fragmenting the public sphere concept, deals with the question if and how new publics emerge as a result of digital communication tools. It sees the "remnants" of the mass-mediated public sphere as only one of many new public spheres—and not necessarily as a central one in network societies, resulting in a differentiation of new types of public spheres. The second approach, extending the public sphere, focuses mainly on how digital communication technologies change traditional, mass-mediated publics. In this view, the multiple forms of digital communication add to the mass-mediated public sphere: The public sphere now contains the diversity of mass media, the Internet and mobile media. Thus, the public sphere now encompasses all forms of mediated communication, resulting in more complex structures.
This contribution argues that the current "relational turn" promises new avenues to understand what changes within public spheres in a digital era. Relational sociology shares its roots with network theories, but it focuses on the edges, the links between nodes, thereby overcoming the nodocentrism of network approaches. Relations are seen as the constitutive elements, molecules of society and public spheres. In a relational paradigm, all analysis of public spheres begins with social relations. This means that it is no longer necessary to define a new "space" for new forms of interaction, such as virtual public spheres, digital public spheres or networked public spheres. Instead, we add new forms of interactions and social relations that constitute public spheres. In this view, social relations within public spheres are diversified, not public spheres as such. The argument continues with a discussion of different types of social relations: chains, triads and categorical pairs.
In connection with public sphere theories, social relations can be differentiated as public, semi-public and private. Based on the notion that public communication, whether personal or impersonal, always requires an addressee beyond the closest circle of friends, family and acquaintances, public social relations are defined as relations containing strangers. In this perspective, private social relations take place between social entities that know each other and are shielded from strangers. Public social relations, on the contrary, take place between social entities that are (still) strangers to each other and, in principle, open for participation. If private social relations must not encompass strangers, and public social relations must encompass strangers, then semi-public social relations can encompass strangers: either as addressees or only as observers and otherwise passively involved social entities. Thus, semi-public social relations are delimited, as are private social relations (not open for everyone), but the demarcation is permeable for strangers. The public sphere contains only specific social relations based on communication: those that can encompass strangers and those that must encompass strangers. Thus, we can define the public sphere as a dynamic configuration of social relations of various types that encompass strangers.
It is argued that with the waning dichotomy of public and private, semi-public social relations are a major consequence of the current transformations within public spheres. In connection with the different kinds of relations introduced above, we then discuss private, semi-public and public chains, triads and categorical pairs, illustrating them with examples.
A focus on communicative relations that constitute public spheres allows to understand—across micro, meso and macro perspectives—how different platforms and their affordances impact the formation of social phenomena, e. g., how protest publics emerge from low-threshold interactions and below the radar of mass media. Semi-public relations are key: Public spheres are no longer built only on addressing as many strangers as possible (in the form of an audience), as was and is the modus operandi of mass media. Social media enable individuals to communicate beyond their private networks: friends of friends, weak ties bringing visibility, relevance, reach for information from non-redundant, socially distant sources. Semi-public communicative relations enable the formation of protest groups from Facebook groups of friendship circles (e. g., the German right-wing nationalist movement Pegida), proliferate "fake news" and stimulate public discourse through hashtags (e. g., #metoo). A relational perspective of semi-public communication allows for a better understanding of viral phenomena. Due to the current transformations of the public sphere, we do not only experience more semi-public communication, but a diversification of semi-public communicative relations.
This is a preview of subscription content,
to check access.
Access this article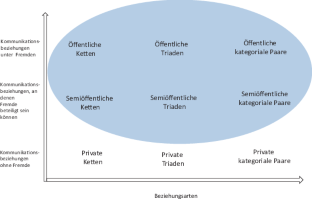 Notes
Auch das Publikum konstituiert sich relational, vgl. Litt und Hargittai (2016).
Literatur
Adolf, M. (2015). Öffentliche Kommunikation und kommunikative Öffentlichkeiten. Zur Konstitution von Öffentlichkeit im Zeitalter der digitalen Medien. In O. Hahn, R. Hohlfeld & T. Knieper (Hrsg.), Digitale Öffentlichkeit(en) (S. 51–63). Konstanz: UVK.

Alexanyan, K., Barash, V., Etling, B., Faris, R., Gasser, U., Kelly, J., & Roberts, H. (2012). Exploring Russian cyberspace: digitally-mediated collective action and the networked public sphere. Berkman Center Research Publication. https://papers.ssrn.com/sol3/papers.cfm?abstract_id=2014998. Zugegriffen: 13. März 2017.

Ausserhofer, J., & Maireder, A. (2013). National politics on Twitter: structures and topics of a networked public sphere. Information, Communication & Society, 16, 291–314.

Baker, S. A. (2011). The mediated crowd: new social media and new forms of rioting. Sociological Research Online, 16, 21.

Barnett, C. (2008). Convening publics: the parasitical spaces of public action. In K. Cox, M. Low & J. Robinson (Hrsg.), The SAGE handbook of political geography (S. 403–417). London: SAGE.

Baym, N. K., & Boyd, D. (2012). Socially mediated publicness: an introduction. Journal of Broadcasting & Electronic Media, 56, 320–329.

Beck, K. (2010). Soziologie der Online-Kommunikation. In W. Schweiger & K. Beck (Hrsg.), Handbuch Online Kommunikation (S. 15–35). Wiesbaden: VS.

Blumler, J. G., & Coleman, S. (2015). Democracy and the media—revisited. Javnost-The Public, 22, 111–128.

Boyd, (2007). Why youth (heart) social network sites: the role of networked publics in teenage social life. In D. Buckingham (Hrsg.), Youth, identity, and digital media (S. 119–142). Cambridge: MIT Press.

Boyd, (2010). Social network sites as networked publics: affordances, dynamics, and implications. In Z. Papacharissi (Hrsg.), A networked self: identity, community, and culture on social network sites (S. 39–58). New York: Routledge.

Brundidge, J. (2010). Political discussion and news use in the contemporary public sphere: the "accessibility" and "traversability" of the Internet. Javnost-The Public, 17, 63–81.

Bruns, A. (2008). Life beyond the public sphere: towards a networked model for political deliberation. Information Polity, 13(1–2), 65–79.

Bruns, A., & Highfield, T. (2016). Is Habermas on Twitter? Social media and the public sphere. In C. Christensen, A. Bruns, G. Enli, E. Skogerbo & A. Larsson (Hrsg.), The Routledge companion to social media and politics (S. 56–73). New York: Routledge.

Bucher, T., & Helmond, A. (2018). The affordances of social media platforms. In J. Burgess, T. Poell & A. Marwick (Hrsg.), The SAGE handbook of social media (S. 233–253). London: SAGE.

Burkitt, I. (2016). Relational agency: relational sociology, agency and interaction. European Journal of Social Theory, 19, 322–339.

Burt, R. S. (2000). The network structure of social capital. Research in organizational behavior, 22, 345–423.

Cammaerts, B. (2008). Critiques on the participatory potentials of Web 2.0. Communication, Culture & Critique, 1, 358–377.

Cammaerts, B., & Audenhove, L. (2005). Online political debate, unbounded citizenship, and the problematic nature of a transnational public sphere. Political Communication, 22, 179–196.

Castells, M. (2000). The rise of the network society. Malden: Blackwell.

Castells, M. (2008). The new public sphere: global civil society, communication networks, and global governance. The aNNalS of the American academy of Political and Social Science, 616(1), 78–93.

Castells, M. (2013). Communication power. Oxford: OUP.

Chadwick, A. (2013). The hybrid media system: politics and power. Oxford: OUP.

Collier, D., & Levitsky, S. (1997). Democracy with adjectives: conceptual innovation in comparative research. World Politics, 49, 430–451.

Crossley, N. (2013). Interactions, juxtapositions and tastes. In C. Powell & F. Dépelteau (Hrsg.), Conceptualizing relational sociology (S. 123–144). London: Palgrave.

Dahlgren, P. (2005). The Internet, public spheres, and political communication: dispersion and deliberation. Political Communication, 22, 147–162.

Dépelteau, F. (2018). The Palgrave handbook of relational sociology. London: Palgrave Macmillan.

Donati, P. (2011). Relational sociology: a new paradigm for the social sciences. London: Routledge.

Duncan, F. (2016). So long social media: the kids are opting out of the online public square. The Conversation. http://theconversation.com/so-long-social-media-the-kids-are-opting-out-of-the-online-public-square-53274 (Erstellt: 2. Febr. 2016). Zugegriffen: 13. März 2017.

Dutton, W. H. (2009). The fifth estate emerging through the network of networks. Prometheus, 27, 1–15.

Eacott, S. (2018). The relational turn in social sciences. In S. Eacott (Hrsg.), Beyond leadership (S. 25–41). Singapore: Springer.

Flaxman, S., Goel, S., & Rao, J. M. (2016). Filter bubbles, echo chambers, and online news consumption. Public Opinion Quarterly, 80(S1), 298–320.

Fuchs, C. (2009). Information and communication technologies and society: a contribution to the critique of the political economy of the Internet. European Journal of Communication, 24, 69–87.

Fuhse, J. A. (2015). Theorizing social networks: the relational sociology of and around Harrison White. International Review of Sociology, 25, 15–44.

Gerhards, J., & Neidhardt, F. (1990). Strukturen und Funktionen moderner Öffentlichkeit: Fragestellungen und Ansätze. No. FS III. (S. 90–101). Berlin: Wissenschaftszentrum Berlin für Sozialforschung.

Gerhards, J., & Neidhardt, F. (1993). Strukturen und Funktionen moderner Öffentlichkeit. In W. R. Langenbucher (Hrsg.), Politische Kommunikation (S. 52–88). Wien: Braumüller.

Gillespie, T. (2010). The politics of "platforms". New Media & Society, 12, 347–364.

Gillespie, T. (2016). Algorithms, clickworkers, and the befuddled fury around Facebook trends. http://www.niemanlab.org/2016/05/algorithms-clickworkers-and-the-befuddled-fury-around-facebook-trends/. Zugegriffen: 13. März 2017.

Gollatz, K. (2014). Online free expression in the corporate realm: corporations' policies and practices shaping private speech on communication platforms. Nova Acta Leopoldina, NF, 119(403), 49–55.

Granovetter, M. S. (1973). The strength of weak ties. American Journal of Sociology, 78, 1360–1380.

Habermas, J. (1992). Faktizität und Geltung. Beiträge zur Diskurstheorie des Rechts und des demokratischen Rechtsstaats. Frankfurt: Suhrkamp.

Hampton, K. N., & Gupta, N. (2008). Community and social interaction in the wireless city: wi-fi use in public and semi-public spaces. New Media & Society, 10, 831–850.

Hepp, A. (2016). Kommunikations- und Medienwissenschaft in datengetriebenen Zeiten. Publizistik, 61, 225–246.

Holzer, B. (2009). Netzwerktheorie. In G. Kneer & M. Schroer (Hrsg.), Handbuch Soziologische Theorien (S. 253–276). Wiesbaden: VS.

Jarren, O., & Klinger, U. (2017). Öffentlichkeit und Medien im digitalen Zeitalter: Zwischen Differenzierung und Neu-Institutionalisierung. In H. Gapski, M. Oberle & W. Staufer (Hrsg.), Medienkompetenz als Herausforderung für Politik, politische Bildung und Medienbildung (S. 33–42). Bonn: Bundeszentrale für politische Bildung.

Katzenbach, C. (2012). Technologies as institutions: rethinking the role of technology in media governance constellations. In M. Puppis & N. Just (Hrsg.), Trends in communication policy research: new theories, methods and subjects (S. 117–138). Bristol: Intellect.

Keane, J. (1995). Structural transformations of the public sphere. Communication Review, 1, 1–22.

Klinger, U. (2018). Semiöffentlichkeit und politische Mobilisierung. Social Media in der mediatisierten Stadt. In A. Hepp, S. Kubitschko & I. Marszolek (Hrsg.), Die mediatisierte Stadt: Kommunikative Figurationen des urbanen Zusammenlebens (S. 195–209). Wiesbaden: VS.

Klinger, U., & Svensson, J. (2015). The emergence of network media logic in political communication: a theoretical approach. New Media & Society, 17, 1241–1257.

Klinger, U., & Svensson, J. (2016). Network media logic: some conceptual considerations. In A. Bruns, G. Enli, E. Skogerbø, A. O. Larsson & C. Christensen (Hrsg.), Routledge companion to social media and politics (S. 23–38). New York: Routledge.

Kriesi, H. (1998). The transformation of cleavage politics. European Journal of Political Research, 33, 165–185.

Lin, N. (1999). Building a network theory of social capital. Connections, 22, 28–51.

Litt, E., & Hargittai, E. (2016). The imagined audience on social network sites. Social Media & Society, 2, 1–12.

De Maeyer, J. (2013). Towards a hyperlinked society: a critical review of link studies. New Media & Society, 15, 737–751.

Marwick, A. E., Diaz, D. M., & Palfrey, J. (2010). Youth, privacy and reputation. Harvard Law School Public Law & Legal Theory working paper series. (S. 10–29).

Mejias, U. A. (2010). The limits of networks as models for organizing the social. New Media & Society, 12, 603–617.

Möckli, D. (2016). Exclusion from public space: a comparative constitutional analysis. Cambridge: CUP.

Münker, S. (2009). Emergenz digitaler Öffentlichkeiten. Die Sozialen Medien im Web 2.0. Frankfurt: Suhrkamp.

Nahon, K., & Hemsley, J. (2013). Going viral. Malden: Polity.

Neuberger, C. (2014). Konflikt, Konkurrenz und Kooperation. Interaktionsmodi in einer Theorie der dynamischen Netzwerköffentlichkeit. Medien und Kommunikationswissenschaft, 62, 567–587.

Papacharissi, Z. (2002). The virtual sphere. The internet as a public sphere. New Media & Society, 4, 9–27.

Papacharissi, Z. (2010). A private sphere: democracy in a digital age. Cambridge: Polity Press.

Powell, C., & Dépelteau, F. (Hrsg.). (2013). Conceptualizing relational sociology: ontological and theoretical issues. New York: Palgrave Macmillan.

Rauchfleisch, A., & Schäfer, M. S. (2015). Multiple public spheres of Weibo: a typology of forms and potentials of online public spheres in China. Information, Communication & Society, 18, 139–155.

Schäfer, M. S. (2015). Digital public sphere. In G. Mazzoleni (Hrsg.), The international encyclopedia of political communication (S. 322–328). London: Wiley-Blackwell.

Schmidt, J. H. (2014). Twitter and the rise of personal publics. In K. Weller, A. Bruns, J. Burgess, M. Mahrt & C. Puschmann (Hrsg.), Twitter and society (S. 3–14). New York: Peter Lang.

Schubert, H. J. (2009). Pragmatismus und Symbolischer Interaktionismus. In G. Kneer & M. Schroer (Hrsg.), Handbuch Soziologische Theorien (S. 345–359). Wiesbaden: VS.

Selg, P. (2016). Two faces of the "relational turn". PS: Political Science & Politics, 49, 27–31.

Sunstein, C. R. (2008). Neither Hayek nor Habermas. Public Choice, 134, 87–95.

Tilly, C. (1998). Durable inequality. Berkeley: UCP.

Trepte, S., & Reinecke, L. (Hrsg.). (2011). Privacy online: perspectives on privacy and self-disclosure in the social web. Business Media: Springer.

Vorderer, P. (2015). Der mediatisierte Lebenswandel. Permanently online, permanently connected. Publizistik, 60, 259–276.

Vosoughi, S., Roy, D., & Aral, S. (2018). The spread of true and false news online. Science, 359(6380), 1146–1151.

Warner, M. (2002). Publics and counterpublics. New York: Zone Books.

Weber, M. (1922). Wirtschaft und Gesellschaft. Grundriss der verstehenden Soziologie. http://www.textlog.de/7319.html. Zugegriffen: 13. März 2017.

Wessler, H., & Brüggemann, M. (2012). Diskursive Kommunikation. In H. Wessler & M. Brüggemann (Hrsg.), Transnationale Kommunikation: Eine Einführung (S. 53–72). Wiesbaden: VS.

West, A., Lewis, J., & Currie, P. (2009). Students' Facebook 'friends': public and private spheres. Journal of Youth Studies, 12, 615–627.

York, J. C. (2010). Policing content in the quasi-public sphere. OpenNet Initiative Bulletin. http://opennet.net/policing-content-quasi-public-sphere. Zugegriffen: 12. März 2018.

Zimmermann, A. C. (2007). Online-Öffentlichkeiten als Gegenstand empirischer Forschung. Berliner Journal für Soziologie, 17, 167–187.

Zuiderveen Borgesius, F., Trilling, D., Moeller, J., Bodó, B., de Vreese, C. H., & Helberger, N. (2016). Should we worry about filter bubbles? Internet Policy Review. Journal on Internet Regulation, 5(1). https://ssrn.com/abstract=2758126
About this article
Cite this article
Klinger, U. Aufstieg der Semiöffentlichkeit: Eine relationale Perspektive. Publizistik 63, 245–267 (2018). https://doi.org/10.1007/s11616-018-0421-5
Published:

Issue Date:

DOI: https://doi.org/10.1007/s11616-018-0421-5
Schlüsselwörter
Keywords