Zusammenfassung
Im vorliegenden Beitrag wird vergleichend analysiert, wie gut generisch maskuline Personenbezeichnungen (z. B. die Studenten) und alternative geschlechtergerechte Formen (z. B. die Studentinnen und Studenten) für Nachrichtentexte geeignet sind. Dabei ist von Interesse, ob die Verwendung der jeweiligen Formen zu einem angemessenen gedanklichen Einbezug der am berichteten Ereignis beteiligten Frauen führt, ob der Text gut lesbar bleibt und ob das Publikum die Textästhetik positiv beurteilt. Die Befunde zweier experimenteller Studien deuten darauf hin, dass der Einsatz bestimmter geschlechtergerechter Personenbezeichnungen im Vergleich zur Verwendung generisch maskuliner Formulierungen zu einer angemesseneren gedanklichen Berücksichtigung von Frauen beiträgt, ohne dabei die Lesbarkeit und sprachliche Ästhetik zu beeinträchtigen. Die Ergebnisse werden im Hinblick auf Möglichkeiten des Einsatzes geschlechtergerechter Sprache in Pressemedien diskutiert.
Abstract
The article compares the suitability of generic masculine references (e.g. die Studenten) and gender-equitable references (e.g. die Studentinnen und Studenten) to address mixed gender groups in news texts. Suitability is evaluated on three dimensions. It is analyzed whether or not the different forms warrant a) appropriate perceptions of the part of women involved in a group that is described in a text, b) text readability and c) the text`s aesthetic quality. Results of two experimental studies imply that in comparison to generic masculine word forms, the use of certain gender-equitable references leads to a more adequate consideration of women without compromising the text's readability or its aesthetic qualities. Results are discussed with regard to possibilities of implementing gender-equitable language in print media.
This is a preview of subscription content, log in to check access.
Access options
Buy single article
Instant access to the full article PDF.
US$ 39.95
Price includes VAT for USA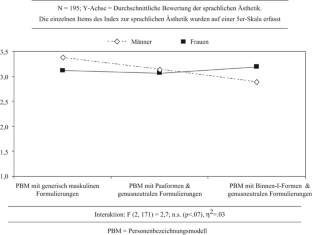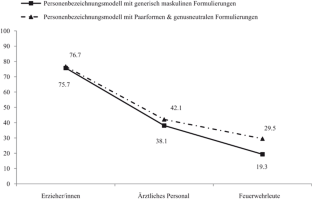 Literatur
Bransford, J. D., & Franks, J. J. (1971). The abstraction of linguistic ideas. Cognitive Psychology, 2, 331–350.

Braun, F., Gottburgsen, A., Sczesny, S., & Stahlberg, D. (1998). Können Geophysiker Frauen sein? Generische Personenbezeichnungen im Deutschen. Zeitschrift für germanistische Linguistik, 26, 165–283.

Braun, F., Sczesny, S., & Stahlberg, D. (2005). Cognitive effects of masculine generics in German: An overview of empirical findings. Communications, 30, 1–21.

Garrod, S. (1995). Distinguishing between explicit and implicit focus during text comprehension. In G. Rickheit & C. Habel (Hrsg.), Focus and coherence in discourse processing (S. 3–17). Berlin: Walter de Gruyter.

Groeben, N. (1982). Leserpsychologie: Textverständnis – Textverständlichkeit. Münster: Aschendorff.

Holtz-Bacha, C., & König-Reiling, N. (Hrsg.). (2007). Warum nicht gleich? Wie die Medien mit Frauen in der Politik umgehen. Wiesbaden: VS.

Irmen, L., & Linner, U. (2005). Die Repräsentation generisch maskuliner Personenbezeichnungen. Eine theoretische Integration bisheriger Befunde. Zeitschrift für Psychologie, 213, 167–175.

Irmen, L., & Roßberg, N. (2004). Gender markedness of language: The impact of grammatical and nonlinguistic information on the mental representation of person information. Journal of Language and Social Psychology, 23, 272–307.

Kalverkämper, H. (1979). Die Frauen und die Sprache. Linguistische Berichte, 62, 55–71.

Klein, J. (1988). Benachteiligung der Frau im generischen Maskulinum – eine feministische Schimäre oder psycholinguistische Realität? In N. Oellers (Hrsg.), Das Selbstverständnis der Germanistik. Aktuelle Diskussionen (S. 310–319). Tübingen: Niemeyer.

Klimmt, C., Pompetzki, V., & Blake, C. (2008). Geschlechterrepräsentation in Nachrichtentexten: Der Einfluss von geschlechterbezogenen Sprachformen und Fallbeispielen auf den gedanklichen Einbezug von Frauen und die Bewertung der Beitragsqualität. Medien & Kommunikationswissenschaft, 56, 5–22.

Logan, G. (1997). Automaticity and reading: Perspectives from the instance theory of automatization. Reading and Writing Quarterly, 13, 123–138.

Martyna, W. (1978). Use of the generic masculine. Journal of Communication, 28, 131–138.

Morgenpost.de. (2008). Chlorgas-Alarm im Fitness-Studio: Elf leicht Verletzte. Bei der Reinigung des Pools Chemikalien falsch gemixt. http://www.morgenpost.de/content/2002/05/07/bezirke/518031.html. Zugegriffen: 02. Feb. 2008.

Rothmund, J., & Christmann, U. (2002). Auf der Suche nach einem geschlechtergerechten Sprachgebrauch. Führt die Ersetzung des generischen Maskulinums zu einer Beeinträchtigung von Textqualitäten? Muttersprache, 112(4), 115–135.

Rothmund, J., & Scheele, B. (2004). Personenbezeichnungsmodelle auf dem Prüfstand. Lösungsmöglichkeiten für das Genus-Sexus-Problem auf Textebene. Zeitschrift für Psychologie, 212, 40–54.

Silveira, J. (1980). Generic masculine words and thinking. In C. Kramarae (Hrsg.), The voices and words of women and men (S. 165–178). Oxford: Pergamon.

Stahlberg, D., Sczesny, S., & Braun, F. (2001). Name your favourite musician. Effects of masculine generics and their alternatives in German. Journal of Language and Social Psychology, 20, 464–469.

Teigeler, P. (1968). Verständlichkeit und Wirksamkeit von Sprache und Text. Karlsruhe: Nadolski.

Trömel-Plötz, S. (1978). Linguistik und Frauensprache. Linguistische Berichte, 57, 49–68.

Velte, P. J. (1996). Wahrhaftige Unterrichtung der Öffentlichkeit. Aus der Spruchpraxis des deutschen Presserats. In W. Wunden (Hrsg.), Wahrheit als Medienqualität (S. 73–84). Frankfurt a. M.: GEP.

Zwaan, R. A., & Radvansky, G. A. (1998). Situation models in language comprehension and memory. Psychological Bulletin, 123, 162–185.
About this article
Cite this article
Blake, C., Klimmt, C. Geschlechtergerechte Formulierungen in Nachrichtentexten. Publizistik 55, 289–304 (2010). https://doi.org/10.1007/s11616-010-0093-2
Schlüsselwörter
Geschlechtergerechte Sprache

Situationsmodelle

Lesbarkeit

Textästhetik

Rezeption

Medienwirkung

Experiment
Keywords
Gender-equitable language

Situation models

Readability

Aesthetic language

Media reception

Media effects

Experiment