Zusammenfassung
Wir argumentieren, dass die Mehrheitswahl die Verantwortlichkeit der Regierung gegenüber dem Wähler stärkt und die Verhältniswahl die Wählernachfrage nach Politik im Parlament und in Koalitionsregierungen breiter repräsentiert. Wir zeigen an den Ergebnissen der Bundestagswahlen von 1949 bis 2017 diese Wirkung der beiden Wahlsysteme. Dabei stehen Erststimmen und direkt gewählte Abgeordnete für die Mehrheitswahl und Zweitstimmen und alle Abgeordneten für die Verhältniswahl. Unsere empirische Analyse dient dem Nachweis, dass die Parteianteile der direkt gewählten Abgeordneten stärker auf wahrgenommene Leistungsunterschiede der Parteien reagieren als die Fraktionsstärken insgesamt. Wahlsystemänderungen könnten die beiden Teile des deutschen Wahlsystems optimal kombinieren.
Abstract
We argue that plurality systems strengthen the accountability of governments towards the electorate while proportional systems lead to a broad representation of voter interests in parliament and coalition governments. We demonstrate these effects in an analysis of all German federal elections from 1949 to 2017 using first-tier votes and directly elected deputies as reflecting the plurality segment and second-tier votes and the seat shares of parties as reflecting the proportional representation segment. We show that the percentages of directly elected deputies react more to differences in perceived party competences (party valences) than the percentages of all party deputies. Electoral system reforms should take into account the effects of both parts of the German electoral system.
This is a preview of subscription content, log in to check access.
Access options
Buy single article
Instant access to the full article PDF.
US$ 39.95
Tax calculation will be finalised during checkout.
Subscribe to journal
Immediate online access to all issues from 2019. Subscription will auto renew annually.
US$ 213
Tax calculation will be finalised during checkout.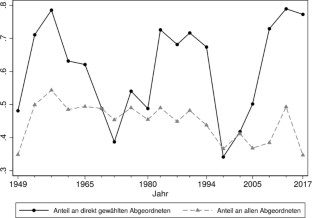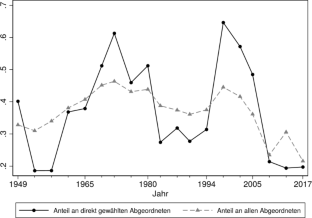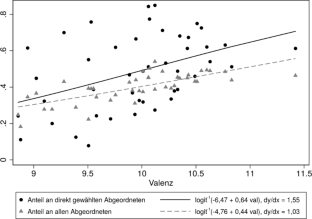 Notes
1.

Der in der politikwissenschaftlichen Literatur eingeführte Begriff der accountability umfasst sowohl die Fähigkeit als auch die Möglichkeit zur Zuschreibung von Verantwortung für Politikergebnisse an die Regierung. Wir übersetzen ihn im Folgenden mit Verantwortlichkeit und grenzen ihn ab von der allgemeinen Responsivität, die sich an der Kongruenz von Politikangebot und Politikoutput festmacht.

2.

Derartige Mischwahlsysteme treten in zwei Formen auf: als compensatory mixed oder mixed member proportional systems und als parallel oder mixed member majoritarian systems (vgl. Htun und Powell 2013, S. 109–110). Letztere werden in Deutschland als Grabenwahlsysteme bezeichnet. Es findet keine Verrechnung der Erfolge in einem Segment auf die Sitzzuteilung im anderen Segment statt. Für erstere verwenden wir hier den Begriff kompensatorische Mischwahlsysteme.

3.

Denkbar ist auch eine negative oder umgekehrte Responsivität, die auftritt, wenn Stimmenzuwächse im unteren Bereich mit überproportional vielen Stimmen einhergehen. Institutionelle Vorkehrungen, welche die Repräsentation von Minderheiten garantieren, sind ein Beispiel hierfür.

4.

Wir verwenden den von King (1990) vorgeschlagenen maximum likelihood-Schätzer.

5.

Wir greifen auf die Schätzungen in Pappi et al. (2018) zurück, die aus den Skalometereinstufungen Schätzungen für Parteivalenzen und Links-Rechts-Positionen der Parteien und Befragten auf der Basis von Vorwahlstudien bzw. seit 1980 von Politbarometern geschätzt haben. Seit 1990 erfolgte die Schätzung getrennt nach West und Ost.

6.

Berlin zählen wir bei den Abgeordneten zu Ostdeutschland, obwohl die Parteivalenzen für Westberlin zusammen mit den westdeutschen Ländern geschätzt wurden. Wegen der einheitlichen Landeslisten für Berlin ergibt es wenig Sinn, die Abgeordneten nach West- und Ostberlin zu trennen.

7.

Wir schätzen ein fraktionales Logit-Regressionsmodell.

8.

Da unsere Zeitreihe hier mit 2013 endet, haben wir die AfD als Partei, die nicht im Bundestag vertreten war, für die Vorwahlzeit 2013 noch nicht berücksichtigt.
Literatur
Adams, James F., Samuel Merrill III, und Bernard Grofman. 2005. A unified theory of party competition. Cambridge: Cambridge University Press.

American Political Science Association, und Committee on Political Parties. 1950. Toward a more responsible two-party system. American Political Science Review 44(3 Suppl):1–96.

Ansolabehere, Stephen, und James Snyder. 2000. Valence politics and equilibrium in spatial election models. Public Choice 103:227–336. https://doi.org/10.1023/A:1005020606153.

Behnke, Joachim. 2017. Die mögliche Vergrößerung des Bundestags durch Überhang- und Ausgleichsmandate. Gesellschaft Wirtschaft Politik 66(1):59–70. https://doi.org/10.3224/gwp.v66i1.06.

Behnke, Joachim, und Florian Grotz. 2011. Das Wahlsystem zwischen normativer Begründung, empirischer Evidenz und politischen Interessen. Ein Kommentar zu Gerd Strohmeier sowie Franz Urban Pappi und Michael Herrmann. Zeitschrift für Parlamentsfragen 42(2):419–425. https://doi.org/10.5771/0340-1758-2011-2-419.

Behnke, Joachim, Frank Decker, Florian Grotz, Robert Vehrkamp, und Philipp Weinmann. 2017a. Reform des Bundestagswahlsystems. Bewertungskriterien und Reformoptionen. Gütersloh: Bertelsmann Stiftung.

Behnke, Joachim, Florian Grotz, und Christof Hartmann. 2017b. Wahlen und Wahlsysteme. Berlin: De Gruyter.

BVerfG. 2012. Urteil des Zweiten Senats vom 25. Juli 2012 – 2 BvF 3/11 – Rn. (1–164). http://www.bverfg.de/e/fs20120725_2bvf000311.html. Zugegriffen: 10. Jan. 2018.

Caramani, Daniele. 2017. Will vs. Reason: the populist and technocratic forms of political representation and their critique to party government. American Political Science Review 111(1):54–67. https://doi.org/10.1017/S0003055416000538.

Decker, Frank. 2017. Reformen der Stimmgebung. Rückkehr zum Einstimmensystem von 1949 und Einführung einer Ersatzstimme. In Reform des Bundestagswahlsystems. Bewertungskriterien und Reformoptionen, Hrsg. Joachim Behnke, Frank Decker, Florian Grotz, Robert Vehrkamp, Philipp Weinmann, 97–136. Gütersloh: Bertelsmann.

Der Bundestagspräsident. Wahlrechtsreform. Presseerklärung am 13. April 2016. https://www.bundestag.de/bundestagswahl2017/wahlrechtsreform-lammert/487942. Zugegriffen: 10. Jan. 2018.

Der Bundeswahlleiter (Hrsg.). 2017. Wahl zum 19. Deutschen Bundestag am 24. September 2017, Endgültige Ergebnisse nach Wahlkreisen, Heft 3. Wiesbaden: Der Bundeswahlleiter.

Downs, Anthony. 1957. An economic theory of democracy. New York: Harper & Row.

Duverger, Maurice. 1959. Die politischen Parteien. Tübingen: J.C.B. Mohr, Paul Siebeck.

Enelow, James M., und Melvin J. Hinich. 1982. Nonspatial candidate characteristics and electoral competition. Journal of Politics 44(1):115–130. https://doi.org/10.2307/2130286.

Ganghof, Steffen. 2016. Reconciling representation and accountability: three visions of democracy compared. Government and Opposition 51(2):209–233. https://doi.org/10.1017/gov.2015.15.

Groseclose, Timothy. 2001. A model of candidate location when one candidate has valence advantage. American Journal of Political Science 45(4):862–886. https://doi.org/10.2307/2669329.

Grotz, Florian. 2016. Reform der Reform? Eine kritische Würdigung des neuen Bundestagswahlsystems. In Wahlen und Demokratie, Hrsg. Tobias Mörschel, 77–100. Baden-Baden: Nomos.

Htun, Mala, und G. Bingham Powell Jr. (Hrsg.). 2013. Political science, electoral rules, and democratic governance. Washington: American Political Science Association.

Ipsen, Jörn. 2017. Erneute Wahlrechtsreform geboten? Recht und Politik 53(4):393–399. https://doi.org/10.3790/rup.53.4.393.

Jesse, Eckhard. 2016. Aktuelle Reformvorschläge zum Wahlrecht: die Modifizierung der Fünfprozentklausel durch die Einführung einer Nebenstimme und die Abschaffung des Zweistimmensystems. In Wahlen und Demokratie. Reformoptionen des deutschen Wahlrechts, Hrsg. Tobias Mörschel, 119–140. Baden-Baden: Nomos.

Katz, Richard S. 1997. Democracy and elections. New York: Oxford University Press.

King, Gary. 1990. Electoral responsiveness and partisan bias in multiparty democracies. Legislative Studies Quarterly 15(2):159–181. https://doi.org/10.2307/440124.

King, Gary, und Robert Browning. 1987. Democratic representation and partisan bias in congressional elections. American Political Science Review 81(4):1251–1273. https://doi.org/10.2307/1962588.

Laakso, Markku, und Rein Taagepera. 1979. 'Effective' number of parties: a measure with applications to West Europe. Comparative Political Studies 12(1):3–27. https://doi.org/10.1177/001041407901200101.

Lijphart, Arend. 1999. Patterns of democracy: government forms and performance in thirty-six countries. London: Yale University Press.

Loewenstein, Karl. 2000. Verfassungslehre. Tübingen: Mohr Siebeck.

Manin, Bernard, Adam Przeworski, und Susan C. Stokes. 1999. Elections and representation. In Democracy, accountability, and representation, Hrsg. Adam Przeworski, Susan C. Stokes, Bernard Manin, 29–54. Cambridge: Cambridge University Press.

Manow, Philip. 2010. Dimensionen der Disproportionalität – Erststimmen und Direktmandate in den Bundestagswahlen von 1953 bis 2009. Politische Vierteljahresschrift 51(3):433–455.

Meyer, Hans. 2010. Die Zukunft des Bundestagswahlrechts. Zwischen Unverstand, obiter dicta, Interessenkalkül und Verfassungsverstoß. Baden-Baden: Nomos.

Nohlen, Dieter. 2014. Wahlrecht und Parteiensystem, 7. Aufl., Opladen: Barbara Budrich.

Pappi, Franz Urban, Alexander Herzog, und Ralf Schmitt. 2006. Koalitionssignale und die Kombination von Erst- und Zweitstimme bei den Bundestagswahlen 1953 bis 2005. Zeitschrift für Parlamentsfragen 37(3):493–513.

Pappi, Franz Urban, Anna-Sophie Kurella, und Thomas Bräuninger. 2017a. Valence advantage and the electoral mean. Strategic positioning of German district candidates. Beitrag präsentiert bei New Developments in Spatial Models of Party Competition Conference, Universität Konstanz, Juli 2017.

Pappi, Franz Urban, Anna-Sophie Kurella, und Thomas Bräuninger. 2017b. Wettbewerbssituation und Erststimmen generierende Merkmale der Direktkandidaten bei der Bundestagswahl 2013. Zeitschrift für Politikwissenschaft 27(3):305–326. https://doi.org/10.1007/s41358-017-0111-2.

Pappi, Franz Urban, Anna-Sophie Kurella, und Thomas Bräuninger. 2018. Die Beurteilung von Parteien und Kanzlerkandidaten vor den Bundestagswahlen von 1961 bis 2013. In Wählerverhalten und Parteiensystem im Wandel – 40 Jahre Politbarometer, Hrsg. Christof Wolf, Christina Eder, 20–28. Köln: GESIS – Leibniz-Institut für Sozialwissenschaften.

Piolatto, Amedeo. 2011. Plurality versus proportional electoral rule: which is most representative of voters? European Journal of Political Economy 27:311–327. https://doi.org/10.1016/j.ejpoleco.2010.12.002.

Pitkin, Hanna F. 1967. The concept of representation. Berkeley: University of California Press.

Powell, G. Bingham. 2000. Political responsiveness and constitutional design. In Democracy and institutions: The Life Work of Arend Lijphart, Hrsg. Markus M. L. Crepaz, Thomas A. Koelble, David Wilsford, 9–42. Ann Arbor: University of Michigan Press.

Schattschneider, Elmer E. 1960. The semisovereign people: A realist's view of democracy in America. New York: Holt, Rinehart and Winston.

Schofield, Norman. 2003. Valence competition in the spatial stochastic model. Journal of Theoretical Politics 15(4):371–383. https://doi.org/10.1177/0951692803154001.

Shikano, Susumu. 2009. Simulating party competition and vote decision under mixed member electoral systems. AUCO Czech Economic Review 3(3):270–291.

Shugart, Matthew Soberg, und Martin P. Wattenberg. 2001. Mixed-member electoral systems: a definition and typology. In Mixed-member electoral systems. The best of both worlds?, Hrsg. Matthew Soberg Shugart, Martin P. Wattenberg, 9–24. Oxford: Oxford University Press.

Theil, Henri. 1969. The desired political entropy. American Political Science Review 63(2):521–525. https://doi.org/10.1017/S0003055400262382.
About this article
Cite this article
Pappi, F.U., Bräuninger, T. Elektorale Responsivität als Kriterium zur Beurteilung des deutschen Bundestagswahlrechts. Polit Vierteljahresschr 59, 199–219 (2018). https://doi.org/10.1007/s11615-018-0086-8
Schlüsselwörter
Mischwahlsysteme

Elektorale Responsivität

Verantwortlichkeit der Regierung

Koalitionsregierungen

Parteivalenzen
Keywords
Mixed-member electoral systems

Electoral responsiveness

Accountability

Coalition governments

Party valence