Abstract
Our article examines new potentials for systemic irritation in the Internet age and focuses on the processes of synchronization between media, politics, and law. First, we discuss antipodal assessments of what is accelerated in the digital society: (a) the frequency and accessibility of attempts at "correcting society", or (b) the perceived need for societal rectification. Based on empirical case studies on social protest movements, investigative journalism, and online petition platforms, we subsequently elaborate our main thesis that the technical improvement of communication structures per se does not necessarily increase the likelihood of the addressed societal systems evaluating the correction queries. Instead, the search for and the design of opportune forms of irritation remain a complex organizational process. To irritate other societal contexts effectively, civil counter forces exercise self-control particularly regarding temporality, retarding their operations according to the operational speed of the addressed meaning systems. This deliberate deceleration in operational timing is considerably facilitated by digital technologies. In the final chapter, we contextualize our empirical findings within a broader evolutionary perspective on social reality construction.
Zusammenfassung
Unser Beitrag untersucht neue Irritationspotentiale im Internet-Zeitalter und fokussiert Synchronisationsprozesse zwischen Massenmedien, Politik und Recht. Zunächst diskutieren wir die unterschiedlichen Einschätzungen bezüglich dessen, was in der digitalen Gesellschaft beschleunigt wird: (a) die Häufigkeit und Durchlässigkeit von gesellschaftlichen Korrekturversuchen oder (b) der Bedarf an Gesellschaftskorrektur. Auf Grundlage empirischer Fallskizzen zu Protestbewegungen, Investigativ-Journalismus und Online-Petitionsplattformen kommen wir zu unserer Kernthese, dass die technische Effektivierung von Kommunikation allein nicht mit einer erhöhten Wahrscheinlichkeit der Aufnahme solcher Korrekturanfragen in den Zielsystemen einhergeht. Stattdessen bleibt die Gestaltung anschlussgünstiger Formen ein organisational aufwändiger Prozess. Um andere gesellschaftliche Kontexte nachhaltig zu irritieren, üben sich zivilgesellschaftliche Gegenmächte in einer insbesondere die Zeitdimension betreffenden Zurückhaltung, passen ihre Taktung an die Operationsgeschwindigkeit der adressierten Sinnsysteme an. Diese Entschleunigung wird wesentlich durch Digitaltechnologien ermöglicht. Im letzten Abschnitt ordnen wir unsere Ergebnisse in eine evolutionäre Perspektive gesellschaftlicher Wirklichkeitskonstruktion ein.
This is a preview of subscription content, log in to check access.
Access options
Buy single article
Instant access to the full article PDF.
US$ 39.95
Price includes VAT for USA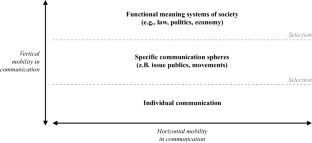 Notes
1.

The following descriptions still hold true for the more recent "Paradise Papers.".

2.

Despite modern outlets emphasis on getting rid of a scoop-mentality, persistence may not be as recent as it seems: Hugo de Burgh (2008, p. 44 f.) already indicated persistence as a constitutive feature in the emergence of investigative journalism, which first became visible in William T. Steads "The Maiden Tribute of Modern Babylon" (1885): "Stead published it in segments over several weeks, cliff-hangers attracting customer loyalty. His story was talked of everywhere and commented upon by innumerable other papers, circulation rose and touts sold copies at two hundred times the cover price. Investigative journalism had been invented.".

3.

4.

Dyck et al. (2013, p. 549) see the end of the "muckraking period" in 1917 as the "muckraking magazines' success […] reduced the newsworthiness of additional inquiries by saturating the public with news of scandals.".

5.
References
Alexander, Anne, and Miriyam Aouragh. 2014. Egypt's unfinished revolution: the role of the media revisited. International Journal of Communication 8:890–915.

Altman, Jon B. 2011. The Revolution will not be tweeted. The Washington Quarterly 34:103–116.

Baecker, Dirk. 2007. The network synthesis of social action I. Towards a sociological theory of next society. Cybernetics and Human Knowing 14:9–42.

Baldwin, Carliss, and Eric von Hippel. 2011. Modeling a paradigm shift: from producer innovation to user and open collaborative innovation. Organization Science 22:1399–1417.

Bautz, Christoph. 2008. Campact – Demokratie in Aktion. Forschungsjournal Neue Soziale Bewegungen 21:107–113.

Benkler, Yochai. 2006. The wealth of networks. New Haven: Yale University Press.

Benkler, Yochai. 2011. A free irresponsible press: Wikileaks and the battle over the soul of the networked fourth estate. Harvard Civil Rights-Civil Liberties Law Review 46:311–397.

Bennett, W. Lance, and Alexandra Segerberg. 2013. The logic of connective action. Digital media and the personalization of contentious politics. Cambridge: Cambridge University Press.

Bröckling, Ulrich. 2016. Zukunftsmanagement zwischen Planung, Selbstorganisation und Prävention. In Die neue Wirklichkeit. Semantische Neuvermessungen und Politik seit den 1970er-Jahren, ed. Ariane Leendertz, Wencke Meteling, 269–280. Frankfurt a. M.: Campus.

de Burgh, Hugo. 2008. The emergence of investigative journalism. In Investigative journalism, ed. Hugo de Burgh, 32–52. London/New York: Routledge.

Carpentier, Nico, Peter Dahlgren, and Francesca Pasquali. 2013. Waves of media democratization. A brief history of contemporary participatory practices in the media sphere. Convergence 19:287–294.

Carty, Victoria. 2015. Social movements and new technology. Boulder: Westview Press.

Castells, Manuel. 2013. Networks of outrage and hope. Social movements in the Internet age. Cambridge: Polity Press.

Curran, James, Natalie Fenton, and Des Freedman. 2016. Misunderstanding the internet. London: Routledge.

Dencik, Lina, and Oliver Leistert (eds.). 2015. Critical perspectives on social media and protest. London: Rowman & Littlefield.

Dickel, Sascha, and Jan-Felix Schrape. 2017. The logic of digital utopianism. Nano Ethics 11(1):47–58.

Dobusch, Leonhard. 2013. ACTA as a case of strategic ambiguity. In Governance across borders: transnational fields and transversal themes, ed. Leonhard Dobusch, Philip Mader, and Sigrid Quack, 124–126. Berlin: Epubli.

Dolata, Ulrich, and Jan-Felix Schrape. 2018. Collectivity and power on the Internet. A sociological perspective. London/Cham: Springer.

Dyck, Alexander, David Moss, and Luigi Zingales. 2013. Media versus special interests. Journal of Law and Economics 56:521–553.

Felixberger, Peter, and Evelin Schultheiß. 2016. Ein Gespräch mit Günter Metzges-Diez, Mitgründer des größten deutschen Kampagnen-Netzwerks. Kursbuch 187:74–92.

Finkbeiner, Florian, Hannes Keune, Julian Schenke, Lars Geiges, and Stine Marg. 2016. Stop-TTIP-Proteste in Deutschland. Wer sind, was wollen und was motiviert die Freihandelsgegner? Forschungsbericht Göttinger Institut für Demokratieforschung, Vol. 2016-01. Göttingen: Göttinger Institut für Demokratieforschung.

Fuchs, Christian. 2017. Social media: a critical introduction. London: SAGE.

Gerbaudo, Paolo. 2012. Tweets and the streets. Social media and contemporary activism. London: Pluto.

Hall, Nina. 2017. Innovations in activism in the digital era. Campaigning for refugee rights in 2015–2016. In The Governance Report 2017, ed. Hertie School of Governance, 143–156. Oxford: Oxford University Press.

Halupka, Max. 2014. Clicktivism: A systematic heuristic. Policy & Internet 6(2):115–132.

Hamilton, James T. 2016. Democracy's detectives. The economics of investigative journalism. Cambridge: Harvard University Press.

Houston, Brant. 2010. The Future of Investigative Journalism. Dædalus 139:45–56.

Kaldewey, David. 2017. The grand challenges discourse. Transforming identity work in science and science policy. Minerva https://doi.org/10.1007/s11024-017-9332-2.

Kavada, Anastasia. 2015. Creating the collective: social media, the occupy movement and its constitution as a collective actor. Information, Communication & Society 18:872–886.

Kjaer, Poul F. 2014. Constitutionalism in the global realm. A sociological approach. London: Routledge.

Laux, Henning, and Hartmut Rosa. 2015. Clockwork Politics – Fünf Dimensionen politischer Zeit. In Zeit der Politik. Demokratisches Regieren in einer beschleunigten Welt Leviathan. Berliner Zeitschrift für Sozialwissenschaft, Vol. 43, ed. Holger Straßheim, Tom Ulbricht. Sonderband, 52–70. Baden-Baden: Nomos.

Losey, James. 2014. The anti-counterfeiting trade agreement and European civil society: a case study on networked advocacy. Journal of Information Policy 4:205–227.

Luhmann, Niklas. 1988. Erkenntnis als Konstruktion. Bern: Bertolli.

Luhmann, Niklas. 1990. Gleichzeitigkeit und Synchronisation. In Konstruktivistische Perspektiven Soziologische Aufklärung, Vol. 5, ed. Niklas Luhmann, 92–125. Opladen: Westdeutscher Verlag. 6 Bände.

Luhmann, Niklas. 2000. The reality of the mass media. Stanford: Stanford University Press.

Luhmann, Niklas. 2002. The cognitive program of constructivism and the reality that remains unknown. In Theories of Distinction, ed. Niklas Luhmann, William Rasch, 128–154. Stanford: Stanford University Press.

Luhmann, Niklas. 2012. Theory of society. Vol. 1. Stanford: Stanford University Press.

Luhmann, Niklas. 2013. Theory of Society. Vol. 2. Stanford: Stanford University Press.

Luhmann, Niklas. 2017. Risk. A Sociological Theory. Milton Park: Taylor & Francis.

Milkman, Ruth, Stephanie Luce, and Penny Lewis. 2013. Changing the subject: a bottom-up account for occupy wall street in New York City. New York: The Murphy Institute, City University of New York.

Mölders, Marc. 2014. Irritation expertise. Recipient design as instrument for strategic reasoning. European Journal of Futures Research 2(1):32.

Mölders, Marc. 2017. Shaping pressure: on the regulatory effects of publicity. In Society, regulation and governance: new modes of shaping social change?, ed. Regine Paul, Marc Mölders, Alfons Bora, Michael Huber, and Peter Münte, 121–137. Cheltenham: Edward Elgar Publishing.

Münte, Peter. 2017. Improving modern society: governing science and technology by engineered participation. In Society, regulation and governance: new modes of shaping social change?, ed. Regine Paul, Marc Mölders, Alfons Bora, Michael Huber, and Peter Münte, 166–180. Cheltenham: Edward Elgar.

Obermayer, Bastian, and Frederik Obermaier. 2017. The Panama papers. Breaking the story of how the rich and powerful hide their money. London: Oneworld.

Rauchfleisch, Adrian, and Marco Kovic. 2016. The Internet and generalized functions of the public sphere: Transformative potentials from a comparative perspective. Social Media + Society 2(2):1–15.

Renn, Joachim. 2006. Übersetzungsverhältnisse. Perspektiven einer pragmatistischen Gesellschaftstheorie. Weilerswist: Velbrück.

Rheingold, Howard. 1993. The virtual community. Boston: Addison Wesley.

Rosa, Hartmut. 2013. Social acceleration. A new theory of modernity. New York: Columbia University Press.

Rosa, Hartmut. 2016. Resonanz. Eine Soziologie der Weltbeziehung. Berlin: Suhrkamp.

Rosa, Hartmut, and William E. Scheuermann (eds.). 2009. High-speed society. Social acceleration, power, and modernity. University Park: Penn State University Press.

Rosa, Hartmut, Klaus Dörre, and Stephan Lessenich. 2017. Appropriation, activation and acceleration. The escalatory logics of capitalist modernity and the crises of dynamic stabilization. Theory, Culture & Society 34(1):53–73.

Schrape, Jan-Felix. 2017a. Reciprocal irritations: Social media, mass media and the public sphere. In Society, regulation and governance: New modes of shaping social change?, ed. Regine Paul, Marc Mölders, Alfons Bora, Michael Huber, and Peter Münte, 138–150. Cheltenham: Edward Elgar Publishing.

Schrape, Jan-Felix. 2017b. Der Akteur: Konstruktion und Dekonstruktion einer Beobachtungskategorie. Österreichische Zeitschrift für Soziologie 42(4):387–405.

Shirky, Clay. 2009. Here comes everybody.The power of organizing without organizations. New York: Penguin Books.

Teubner, Gunther. 1983. Substantive and reflexive elements in modern law. Law & Society Review 17(2):239–285. https://doi.org/10.2307/3053348.

Teubner, Gunther. 2011. A Constitutional Moment? The Logics of "Hitting the Bottom". In The financial crisis in constitutional perspective: the dark side of functional differentiation, ed. Poul F. Kjaer, Gunther Teubner, and Alberto Febbrajo, 9–51. Oxford: Hart.

Teubner, Gunther. 2013. The project of constitutional sociology: irritating nation state constitutionalism. Transnational Legal Theory 4(1):44–58. https://doi.org/10.2139/ssrn.2419062.

Thornhill, Chris. 2014. Rights and constituent power in the global constitution. International Journal of Law in Context 10(3):357–396.

Tilly, Charles. 2002. Stories, identities, and political change. Lanham: Rowman & Littlefield.

Tratschin, Luca. 2016. Protest und Selbstbeschreibung: Selbstbezüglichkeit und Umweltverhältnisse sozialer Bewegungen. Bielefeld: transcript.

Verhoeven, Imrat, and Jan W. Duyvendak. 2017. Understanding governmental activism. Social Movement Studies 16(5):564–577.

Voss, Kathrin. 2013. Campact & Co. Wie Hybridorganisationen das Grassrootscampaigning verändern. In Grassroots-Campaigning, ed. Rudolf Speth. Wiesbaden: Springer VS.

Willke, Helmut. 1992. Societal governace through law? In State, law and economy as Autopoietic systems. Regulation and autonomy in a new perspective, ed. Alberto Febbrajo, Gunther Teubner, 353–387. Milan: Giuffrè.
About this article
Cite this article
Mölders, M., Schrape, J. Digital Deceleration. Protest and Societal Irritation in the Internet Age. Österreich Z Soziol 44, 199–215 (2019). https://doi.org/10.1007/s11614-019-00354-3
Keywords
Acceleration

Civil society

Digitization

Internet

Irritation

Movements

Protest

Social reality construction

Synchronization
Schlüsselwörter
Beschleunigung

Bewegungen

Digitalisierung

Gesellschaftliche Wirklichkeitskonstruktion

Internet

Irritation

Protest

Synchronisation

Zivilgesellschaft