Abstract
The social sciences and humanities (SSH) traditionally have a close relationship to the nation-state and there are substantial disciplinary differences across countries. Drawing on Bourdieu's theory of the academic field, the present article examines how academic autonomy and heteronomy are applied as discursive strategies as the SSH compete for funding in the transnational European arena established by the European Research Council (ERC). To this end, we analyze mission statements of ERC Starting Grant projects in the SSH, using a mixed methods approach of statistical text analysis (topic modeling) and qualitative content analysis. Although the ERC puts the SSH under the constraints of academic capitalism, the classical humanities secure a strong position by signaling academic autonomy and engaging in the construction and consecration of European culture. However, economics and other social sciences gravitate toward a more heteronomous self-representation, emphasizing the political and social utility of their research, while disciplines like neuro-science and psychology exhibit self-representations closely related to the "hard sciences"—and relatively alien to the SSH.
Zusammenfassung
Die Sozial- und Geisteswissenschaften (SSH) stehen traditionell in enger Beziehung zum Nationalstaat, und im Ländervergleich bestehen erhebliche disziplinäre Unterschiede. Ausgehend von Bourdieus Theorie des akademischen Feldes untersucht der vorliegende Aufsatz, wie Signale akademischer Autonomie und Heteronomie als diskursive Strategien im durch den ERC etablierten transnationalen Wettbewerb um Forschungsgelder eingesetzt werden. Hierzu analysieren wir die mission statements von ERC-Starting-Grant-Projekten in den SSH mithilfe einer Kombination qualitativer Inhaltsanalyse und statistischer Textanalyse (topic modeling). Obwohl das im ERC vorherrschende Paradigma des akademischen Kapitalismus die Sozial- und Geisteswissenschaften unter Druck setzt, gelingt es insbesondere den klassischen Geisteswissenschaften durch ihre Mitarbeit an der Konstruktion und Konsekration einer europäischen Kultur eine starke Position zu besetzen. Die Ökonomie und andere Sozialwissenschaften tendieren demgegenüber zu einer heteronomen Selbstdarstellung und betonen den politischen und gesellschaftlichen Nutzen ihrer Forschung, während Disziplinen wie die Neuro-Wissenschaft und Psychologie eine an die "hard sciences" angelehnte, für die SSH recht ungewöhnliche Selbstdarstellung an den Tag legen.
Access options
Buy single article
Instant access to the full article PDF.
USD 39.95
Price excludes VAT (USA)
Tax calculation will be finalised during checkout.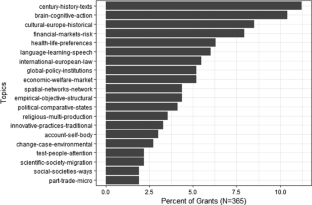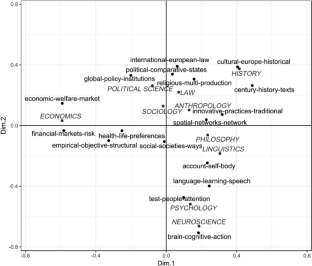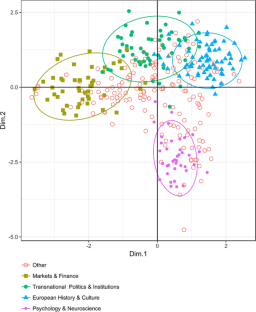 Notes
One of these requirements is to situate the research project in the ERC's structure of evaluation panels. The ERC's peer review process operates with a nested structure of panels, each covering a number of academic disciplines and sub-disciplines. The top-level category "SSH" is made up of six sub-categories of panels which relate to broad disciplinary groups in the social sciences and humanities, e. g. "The Study of the Human Past", "The Human Mind and Its Complexity" or "Individuals, Institutions and Markets". Each of these is in turn subdivided into eleven to fourteen more specific sub-categories, e. g. "Macroeconomics", "International trade" and "Banking, corporate finance, accounting" in the aforementioned panel "Individuals, Institutions and Markets". Of course, this structure of thematic review panels influences the way in which the research summaries are written, and might also have a bearing on the prevalence and clustering of research topics. In the context of academic autonomy discussed here, it would be interesting to see how closely funded projects adhere to the formal structures of the ERC's application procedure and whether specific projects or disciplines differ in this regard. Unfortunately, our data does not allow us to compare the panel structure to the statistically constructed research topics in a systematic manner. Nevertheless, our more inductive approach enables us to identify traces of these structural contexts as well as differentials of strategic compliance in the project summaries.

For example, the ERC Work Programme "encourages proposals of an interdisciplinary nature which cross the boundaries between different fields of research, pioneering proposals addressing new and emerging fields of research or proposals introducing unconventional, innovative approaches and scientific inventions." (ERC 2015, p. 8) In our context, it is interesting to see how projects in different regions of the topic space respond to this demand with different self-representation strategies.

The data on nation-state references were obtained by screening the project summaries for mentions of six states which together receive 69.8% of all the ERC Starting Grants in our data set: UK, Germany, France, Spain, Italy and the Netherlands. These states are simultaneously the largest in Europe.
References
Anderson, Benedict. 2006. Imagined communities: reflections on the origin and spread of nationalism. London, New York: Verso.

Beck, Ulrich. 2007. The cosmopolitan condition: why methodological nationalism fails. Theory, Culture & Society 24(7–8):286–290. https://doi.org/10.1177/02632764070240072505.

Blei, David M. 2012. Probabilistic topic models. Communications of the ACM 55(4):77. https://doi.org/10.1145/2133806.2133826.

Bourdieu, Pierre. 1990. The logic of practice. Stanford: Stanford Univ. Press.

Bourdieu, Pierre. 1992. Homo academicus. Frankfurt am Main: Suhrkamp.

Bourdieu, Pierre. 1996. The rules of art: genesis and structure of the literary field. Stanford: Stanford University Press.

Bourdieu, Pierre. 1998. Vom Gebrauch der Wissenschaft. Konstanz: UVK.

Bourdieu, Pierre. 2014. Über den Staat: Vorlesungen am Collège de France 1989–1992. Berlin: Suhrkamp.

Calligaro, Oriane. 2013. Negotiating Europe. EU promotion of Europeanness. Basingstoke: Palgrave Macmillan.

Chessa, Alessandro, et al, 2013. Is europe evolving toward an integrated research area? Science 339(6120):650–651. https://doi.org/10.1126/science.1227970.

ERC. 2015. Work programme 2015—annex to the decision European commission C(2014)5008 of 22 July 2014. http://erc.europa.eu/sites/default/files/document/file/ERC_Work_Programme_2015.pdf. Accessed 11 Apr 2014.

ERCEA. 2017. European Research Council Executive Agency: ERC Frontier Research Grants. Information for Applicants to the Advanced Grant 2017 Call. http://ec.europa.eu/research/participants/data/ref/h2020/other/guides_for_applicants/h2020-guide17-erc-adg_en.pdf. Accessed December 2017.

EURECIA. 2012. Understanding and assessing the impact and outcomes of the ERC and its funding schemes. Final synthesis report. https://erc.europa.eu/sites/default/files/document/file/eurecia_final_synthesis_report.pdf. Accessed December 2017.

Flink, Tim. 2016. Die Entstehung des Europäischen Forschungsrates: Marktimperative – Geostrategie – Frontier Research. Weilerswist: Velbrück.

Gengnagel, Vincent. 2014. Beiträge zu einer politischen Soziologie transnationaler Felder. Berliner Journal für Soziologie 24(2):289–303.

Gengnagel, Vincent, and Julian Hamann. 2014. The making and persisting of modern German humanities. Balancing acts between autonomy and social relevance. In The modern humanities The Making of the Humanities, Vol. III, ed. Rens Bod, Jaap Maat, and Thijs Weststeijn, 641–654. Amsterdam: Amsterdam University Press.

Gengnagel, Vincent, Nilgun Massih-Tehrani, and Christian Baier. 2016a. Der European research council als Ordnungsanspruch des europäischen Projekts im akademischen Feld. Berliner Journal für Soziologie 26(1):61–84.

Gengnagel, Vincent, Daniel Witte, and Andreas Schmitz. 2016b. Die zwei Gesichter der Autonomie. In Macht in Wissenschaft und Gesellschaft, ed. Julian Hamann, Jens Maeße, Vincent Gengnagel, and Alexander Hirschfeld, 383–423. Wiesbaden: Springer VS.

Georgakakis, Didier, and Jay Rowell. 2013. The field of Eurocracy: mapping EU actors and professionals. Houndmills, Basingstoke, Hampshire; New York: Palgrave Macmillan.

Griffiths, Thomas L., and Mark Steyvers. 2004. Finding scientific topics. Proceedings of the National Academy of Sciences of the United States of America 101(Suppl. 1):5228–5235.

Grün, Bettina, and Kurt Hornik. 2011. Topicmodels: an R package for fitting topic models. Journal of Statistical Software 40(13): https://doi.org/10.18637/jss.v040.i13.

Hobsbawm, Eric J. 1996. The age of revolution: Europe 1789–1848. London: Weidenfeld & Nicolson.

Hönig, Barbara. 2014. The making of 'excellence' in the European research area: how research funding organizations work. In Knowledge for whom?, ed. Christian Fleck, Andreas Hess, 127–146. Farnham: Ashgate.

Hönig, Barbara. 2017. Europe's new scientific elite: social mechanisms of science in the European research area. Abingdon, New York: Routledge.

Kant, Immanuel. 1996. The conflict of the faculties. In Religion and rational theology, 233–328. Cambridge, New York: Cambridge University Press.

Kauppi, Niilo. 2013. A political sociology of transnational Europe. Essex: ECPR Press.

Kauppi, Niilo, and David Madsen. 2013. Transnational power elites: the new professionals of governance, law and security. London: Routledge.

König, Thomas. 2017. The European research council. Cambridge, Malden: Polity.

Lebaron, Frédéric. 2000. The space of economic neutrality: types of legitimacy and trajectories of central bank managers. International Journal of Contemporary Sociology 37(2):208–229.

Luukkonen, Terrttu. 2014. The European research council and the European research funding landscape. Science and Public Policy 41(1):29–43.

Massih-Tehrani, Nilgun, Christian Baier, and Vincent Gengnagel. 2015. EU-Forschungsförderung im deutschen Hochschulraum: Universitäten zwischen Wissensökonomie und akademischer Selbstbestimmung. Soziale Welt 66(1):55–74.

Mayring, Philipp. 2000. Qualitative Content Analysis. Forum Qualitative Sozialforschung/Forum: Qualitative Social Research 1, Nr. 2. http://www.qualitative-research.net/index.php/fqs/article/view/1089. Accessed December 2017.

Mudge, Stephanie L., and Antoine Vauchez. 2016. Fielding supranationalism: the European central bank as a field effect. The Sociological Review Monographs 64(2):146–169. https://doi.org/10.1002/2059-7932.12006.

Münch, Richard. 2014. Academic capitalism. Universities in the global struggle for excellence. London & New York: Routledge.

Nedeva, Maria. 2013. Between the global and the national: organising European science. Research Policy 42:220–230. https://doi.org/10.1016/j.respol.2012.07.006.

Nowotny, Helga. 2013. Preserve the European research council's legacy. Nature 504:189.

Ringer, Fritz. 1990. The intellectual field, intellectual history, and the sociology of knowledge. Theory and Society 19(3):269–294. https://doi.org/10.1007/BF00149840.

Schmitz, Andreas, Daniel Witte, and Vincent Gengnagel. 2017. Pluralizing field analysis: Toward a relational understanding of the field of power. Social Science Information/information Sur Les Sciences Sociales 56(1):49–73.

Shumway, David R. 1998. Nationalist nnowledges: the humanities and nationality. Poetics Today 19:357–373.

Slaughter, Sheila, and Brendan Cantwell. 2012. Transatlantic moves to the market: the United States and the European Union. Higher Education 63(5):583–606.

Slaughter, Sheila, and Gary Rhoades. 2004. Academic capitalism and the new economy: markets, state, and higher education. Baltimore: Johns Hopkins University Press.

Steinmetz, George. 1999. State/culture: state-formation after the cultural turn. The wilder house series in politics, history, and culture. Ithaca: Cornell Universtity Press.

Vauchez, Antoine, and Bruno de Witte. 2013. Lawyering Europe: European law as a transnational social field. Oxford United, Kingdom; Portland, Oregon: Hart Pub.
Acknowledgements
We would like to thank both anonymous reviewers as well as Stephanie Beyer for their thorough reading and helpful comments.
About this article
Cite this article
Baier, C., Gengnagel, V. Academic Autonomy Beyond the Nation-State. Österreich Z Soziol 43 (Suppl 1), 65–92 (2018). https://doi.org/10.1007/s11614-018-0297-7
Published:

Issue Date:

DOI: https://doi.org/10.1007/s11614-018-0297-7
Keywords
Social sciences

Humanities

Academic autonomy

Bourdieu

ERC

Topic model
Schlüsselwörter
Sozialwissenschaften

Geisteswissenschaften

Akademische Autonomie

Bourdieu

ERC

Topic Model